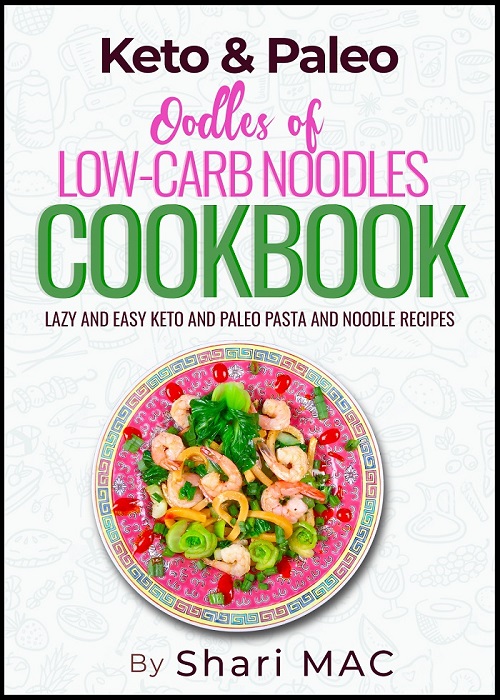 Your FREE copy of KETO & PALEO Oodles of Low-Carb Noodles Cookbook Signup Here
For over 5 years I lived a gluten-free lifestyle and ate far too much rice. I love rice, especially in dishes like risotto. But I've discovered that a grain-free lifestyle is more aligned with my need for reduced inflammation. Now I eat KETO, LOW-CARB, and PALEO.
I love this recipe so much! The dish allows you to experience that rich, creamy, cheesy flavour of risotto but without the rice.
WHAT IS THE NUTRITIONAL VALUE OF KETO LOW-CARB PALEO CREAMY CAULIFLOWER RISOTTO?
For a long time, I stuck with one of my favourites, mashed cauliflower to replace my addiction to mashed potatoes. Since then, I have ventured down a winding road lined with cauliflower. Cauliflower can be the star in a whole range of vegetarian, Paleo, Keto, diabetic, and low carb cultural dishes. The cauliflower pizza crust is all the rage, at the moment. Other fabulous dishes include:
Parmesan Roasted Cauliflower
Cauliflower Tempura
Cauliflower Parmigiana
Cauliflower and Chickpea Tacos
Cauliflower and Cheddar Soup
Cauliflower Tika Masala
Cauliflower Buffalo Wings,
Cauliflower and Sausage Roast with Cheddar Cheese
the list is endless
No wonder this cruciferous vegetable is so popular. It is not only versatile but high in fiber, thus feeding the healthy bacteria in our gut. This aids in our digestion and helps to reduce inflammation. It also possesses anti-oxidant properties, protecting our cells from free radicals and inflammation. And its phytonutrients help protect against cancers.
Did you know that cauliflower contains choline. Choline helps protect our heart, prevents cholesterol from accumulating in our liver, boosts our metabolism, and helps to keep our brain healthy. Choline helps to improve memory and cognition. Without sufficient choline, we are at the risk of liver and heart disease and neurological disorders such as dementia and Alzheimer's.
WHAT IS THE TASTE PROFILE OF KETO LOW-CARB PALEO CREAMY CAULIFLOWER RISOTTO?
Oh, man! When we think of cauliflower, thoughts of a simple, tasteless vegetable comes to mind. But that's not the case with this cauliflower risotto. It's loaded with richness and flavour! The predominant taste sensations are fattiness due to the cream and saltiness from the Parma.
WHAT WINE HARMONIZES WITH KETO LOW-CARB PALEO CREAMY CAULIFLOWER RISOTTO?
Barrel fermented Chardonnay or Unoaked Chardonnay, I suggest? How can I make a suggestion of 2 diametrically opposed wine tastes, flavours, and sensations to be paired with the same dish? Easy folks, they both will send you and your lover into a culinary orgasm complete with the MOAN factor! But for different reasons.
This dish is lusciously fatty in texture, due to the cream and cheese. A well-made barrel fermented and aged Chardonnay is usually high in glycerine and alcohol (at least 13%), thus possessing a fatty texture, as well. So, the creaminess of this dish will harmonize with the creamy texture of the wine. Chardonnay classically has an apple fruit character. Cheese and fruit work nicely together so the wine's apple notes enhance the flavour of vegan Parmesan.
But maybe you don't like that big creamy fattiness in both the dish and the wine and want your partnership to harmonically clash. Let's choose a wine that is zinging with acidity and so cleans the palate between creamy, rich bites of risotto. An unoaked or stainless steel fermented Chardonnay will also stand up to this dish quite well. The wine's bright acidity will nicely offset the saltiness of parmesan. This clean experience of acidity will also refresh the palate between bites of richness.
Or maybe buy both wines and compare them during dinner. In any case, both wines should be chilled for at least 2 hours in the refrigerator.
You can also serve this risotto as a side dish to your protein.
HOW DO I PREPARE KETO LOW-CARB PALEO CREAMY CAULIFLOWER RISOTTO?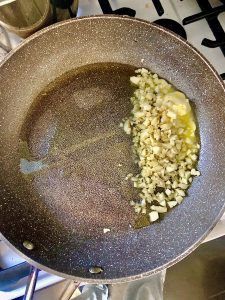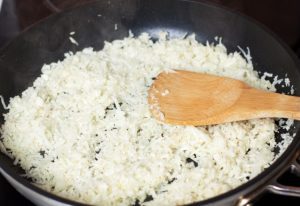 You can purchase already prepared cauliflower rice or make it from scratch and with or without a food processor. Here is a video to show you how:
Print
KETO LOW-CARB PALEO CREAMY CAULIFLOWER RISOTTO
Keto Low-Carb Paleo Creamy Cauliflower Risotto is a easy, but gourmet dish to enjoy in the summer and at any time of the year for lunch, brunch, or dinner.  The recipe uses cauliflower, garlic, parmesan, cream, and fresh chives.  If you are hunting for a rich but easy Keto Low-Carb Paleo risotto recipe paired with wine, check out this recipe!
Author: KETO PALEO SHARI MAC
Prep Time:

15

Cook Time:

15

Total Time:

30

Yield:

4

Category:

KETO PALEO

Method:

SAUTING

Cuisine:

DINNER

Diet:

Gluten Free
2 heaping tablespoons grass-fed or plant-based butter melted or ghee
4 cloves minced fresh garlic
1/4 cup of dry white wine (optional)
1 pound of riced cauliflower (purchased or homemade)
¾ cup whipping cream (Keto) or cashew cream or coconut cream (Paleo Whole30)
2.5 cups grated Parmesan (Keto) or vegan parmesan (Paleo Whole30)*
Freshly ground black pepper to taste
Chopped chives (for garnish)
*For vegan parmesan recipe click link: 
Instructions
In a large skillet melt butter.  Add garlic.  Add wine.  Simmer for 2 minutes. Add cauliflower and saute, making sure all pieces are coated in butter.  When cauliflower begins to soften add cream.  Saute on low for 10 minutes until cauliflower is just a tad crunchy.  Fold in vegan parmesan.  When cheese is melted, transfer to serving dish or divide between bowls.  Garnish with more Parma if desired, season with pepper, and chopped chives.
Notes
The nutritional value is based on keto version of the recipe and is approximate. 
Nutrition
Serving Size:

1

Calories:

162

Sugar:

1.5

Sodium:

283

Fat:

12.5

Carbohydrates:

4.7

Fiber:

1.4

Protein:

7.2
Keywords: keto, keto-recipes, ketogenic-diet, ketogenic-recipes, low-carb, low-carb-recipes, lazy-keto, sugar-free, sugar-free-recipes, keto-and-wine, paleo, paleo-diet, paleo-recipes, lazy-paleo, , paleo-and-wine, primal-diet, primal-diet-recipes, caveman-diet, caveman-diet-recipes, gluten-free, gluten-free-recipes, gluten-free-with-wine, grain-free, grain-free-diet, grain-free-recipes, grain-free-recipes-with-wine, anti-inflammatory-diet, anti-inflammatory-recipes, dairy-free-diet, dairy-free-recipes, dairy-free-recipes-with-wine,
FREE e-cookbook called OODLES OF LOW CARB NOODLES
Join our family to get your FREE e-cookbook OODKES OF LOW CARB NOODLES + new recipes in your inbox.