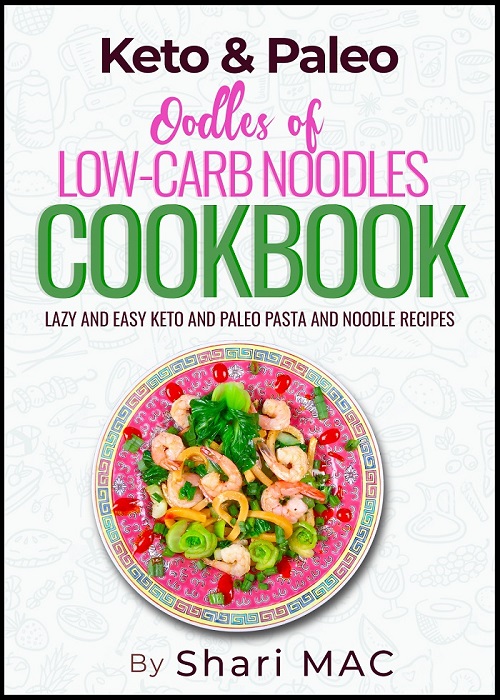 Your FREE copy of KETO & PALEO Oodles of Low-Carb Noodles Cookbook Signup Here
Since maintaining a KETO, LOW-CARB and PALEO lifestyle, I have not prepared any foods for clients or friends. But I used to.
In 2007 I prepared a range of hors d'oeuvres for my girlfriend's wedding. I created eight various hors d'oeuvres, including locally smoked trout with homemade cream cheese and chives on potato canapes. I also brought my mini pizza oven and prepared fresh, hot gourmet pizzas. Each married to a harmonizing wine. To my surprise, the pizzas were the first to be devoured by guests. I thought, "Wow, this crowd loves pizza." I did not think further about this, other than having a new appreciation for my pizza talent.
In the spring of 2012, I created and initiated an extensive wine and food festival in my town. Over the day, we saw over 5,000 participants. Vendors offered gourmet appetizers made with local ingredients and wines from around the world. At the end of the event, I was surprised to discover that our local pizza maker garnered the highest net profit! Locals came to this exceptional gourmet food and wine event, bought admission tickets and food tickets. With these tickets, they purchased the same food that they could get any day of the week – pizza.
I realized that pizza is a staple in North America. Italian immigrants brought their comfort food to the US at the beginning of the 20th century. In 1905 Grocery owner Gennaro Lombari opened the first pizzeria in New York City. Pizzerias popped up across North America everywhere. In 1962 Greek-Canadian Sam Panopoulos created the first Hawaiian pizza with pineapple and ham at the Satellite Restaurant in Chatham, Ontario, Canada. Today over 5 billion pizzas are consumed each year around the world. Did you know that Americans eat 3 billion of these? Calculated another way, Americans eat over 350 slices of pizza every second. We consume pizza for breakfast, lunch, brunch, dinner, an evening snack, and party necessity.
WHAT IS THE TASTE PROFILE OF KETO LOW-CARB PALEO BBQ CRUSTLESS PIZZA?
This crustless pizza has all the flavours as a classic one. The tomato sauce and pepperoni provide the palate with that comfort food pizza feeling. If you add plant-based mozzarella adds that melted cheese creaminess.
WHAT WINE HARMONIZES WITH KETO LOW-CARB PALEO BBQ CRUSTLESS PIZZA?
The predominant sensation of crustless pizza is the mouthfeel, fattiness from the pepperoni, and vegan shreddable and melt-able mozzarella. For this reason, choose a nice red wine, a quaffer (inexpensive wine) in fact, with lots of alcohol to match. This is pizza and there's no need to spend a small fortune on a bottle of wine. Keep it simple. Look for a red wine with higher alcohol (at least 13%), which adds viscosity, weight to the wine, allowing it to stand up to the fattiness of crustless pizza. The wine's natural backbone of acidity will complement the tanginess of the tomato sauce. Merlot and Shiraz are ideal varietals.
WHAT IS THE NUTRITIONAL VALUE OF KETO LOW-CARB PALEO BBQ CRUSTLESS PIZZA?
While considered junk food, pizza (this version at least) has some nutritional benefits in the ground beef (65 grams of protein); spinach (an excellent source of vitamin K, vitamin A (carotenoids), manganese, folate, copper, vitamin B2, vitamin B6, vitamin E, calcium, and vitamin C); mushrooms (vitamin D and B12); tomato sauce (dietary fiber, vitamin K, Thiamin, Niacin, Vitamin B6, Magnesium and Manganese, Vitamin A, Vitamin C, Vitamin E, Potassium and Copper.
I like to use an iron skillet on the BBQ. Cook the beef, mushrooms, onions, and spinach in the skillet on the stovetop.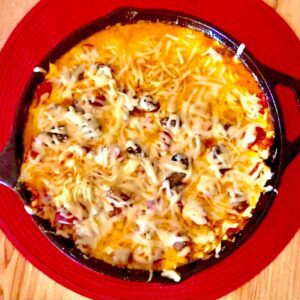 Print
KETO LOW-CARB PALEO BBQ CRUSTLESS PIZZA
Keto Low-Carb Paleo Fresh Crustless Pizza is a hefty Italian dish that can be done on the BBQ or in the oven.  A slice will do you for lunch, brunch, or dinner.  The recipe uses ground beef, mushrooms, spinach, tomato sauce, and cheese. If you are hunting for a filling and satisfying Keto Low-Carb pizza recipe paired with wine, check out this recipe!
Author: KETO PALEO SHARI MAC
Prep Time:

15

Cook Time:

10

Total Time:

25

Yield:

8

Category:

KETO PALEO

Method:

BBQ

Cuisine:

LUNCH, DINNER

Diet:

Gluten Free
1 tablespoon olive oil
1 pound (16 ounces) grass-fed lean ground beef
1 cup chopped mushrooms, divided into 2
1 onion, diced
8 ounces baby spinach, washed
6 cloves garlic, minced
1 cup shredded mozzarella (Keto) or vegan mozzarella (Paleo) (divided in half)*
1 cup marinara sauce (low sodium)
20 slices of compliant pepperoni
*Check out my blog on making delicious shreddable vegan mozzarella:
Instructions
Preheat the BBQ to 350 F. In an iron skillet, heat oil. On medium heat, add ground beef, mushrooms, onion. Cook until the beef has browned and the onions and half the mushrooms are soft, about 7 to 10 minutes. Fold in the spinach. Cook another 2 minutes until the spinach has wilted. Remove the skillet from heat. Add the garlic and half the cheese. Fold it all together. Spread the marinara sauce over the mixture. Arrange the pepperoni and the other half of the mushrooms on top of the mixture. Set the iron skillet on the BBQ grill on indirect heat. Close the lid and grill for 5 to 10 minutes or until the mushrooms cook. When cooked, turn off the heat. Sprinkle the remaining cheese on the mixture. Close the BBQ lid and continue to cook until the cheese has melted. Remove the skillet from the grill. Let it sit for 10 minutes. Slice and serve.
Notes
The nutritional value of this dish is based on the Keto version and is approximate.  One serving has 5.8 net carbs.  Add any toppings you like to this style of pizza!
Nutrition
Serving Size:

1

Calories:

537

Sugar:

3.6

Sodium:

551

Fat:

29.4

Saturated Fat:

11.9

Carbohydrates:

7.8

Fiber:

1.9

Protein:

52.1

Cholesterol:

167
Keywords: keto, keto-recipes, ketogenic-diet, ketogenic-recipes, low-carb, low-carb-recipes, lazy-keto, sugar-free, sugar-free-recipes, keto-and-wine, paleo, paleo-diet, paleo-recipes, lazy-paleo, , paleo-and-wine, primal-diet, primal-diet-recipes, caveman-diet, caveman-diet-recipes, gluten-free, gluten-free-recipes, gluten-free-with-wine, grain-free, grain-free-diet, grain-free-recipes, grain-free-recipes-with-wine, anti-inflammatory-diet, anti-inflammatory-recipes, dairy-free-diet, dairy-free-recipes, dairy-free-recipes-with-wine,
FREE e-cookbook called OODLES OF LOW CARB NOODLES
Join our family to get your FREE e-cookbook OODKES OF LOW CARB NOODLES + new recipes in your inbox.