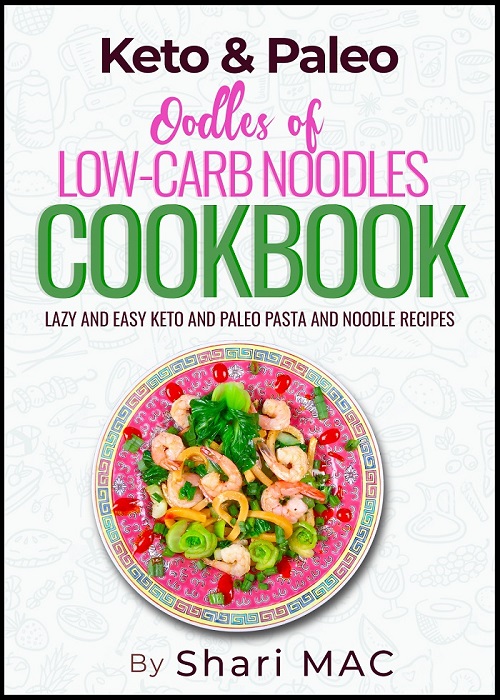 Your FREE copy of KETO & PALEO Oodles of Low-Carb Noodles Cookbook Signup Here
In living this KETO LOW-CARB, and PALEO lifestyle, I rely a great deal on unsweetened coconut milk for savoury and sweet recipes.  In following the KETO path, you can have dairy cream. But I like to incorporate coconut milk when pursuing both paths because it is so damn healthy. Good saturated fat!
Unsweetened coconut milk is a staple in our household. I use this culinary delicacy in so many ways, including in my caffeine-free Bengal Spice tea. I mix it with yogurt topped with low glycemic fruit (berries), and make from it the most delicious KETO and PALEO healthy ice cream on the planet! With its silky texture, natural sweetness, and healthy saturated fat, coconut milk can be easily incorporated into your culinary repertoire and diet.
You can make a whole range of flavoured ice cream versions, such as:
Mint and Chocolate Chip
Fresh Vanilla
Coconut and Lime Sherbet (mix coconut milk with dairy or coconut yogurt)
Chocolate and Unsweetened Peanut Butter (Keto) or Almond Butter (Paleo)
Salted Caramel
Chocolate with Brownies (Use Keto or Paleo protein bar broken up)
Adjust your sweetness preference by using a natural sweetener (Keto) or using coconut sugar (Paleo).
WHAT IS THE NUTRITIONAL VALUE OF KETO LOW-CARB PALEO CHOCOLATE COCONUT ICE CREAM?
Coconut milk is dairy-free. In fact, it isn't milk at all. Its heavenly rich liquid comes from inside mature coconuts stored within the "meat." When cracked open, the coconut's liquid is watery (coconut water). When this water is blended with the coconut meat and strained, the substance becomes thicker and is referred to as coconut milk.
Younger coconuts are higher in water and contain more natural sugar and certain electrolytes, while mature ones are higher in the 'meat', thus higher in healthy saturated fatty acids (from the oil) and calories.
Coconut milk contains beneficial fat called lauric acid, a medium-chain fatty acid easily absorbed and utilized by the body. Lauric acid is antibacterial and antiviral, hence a great ingredient to be consumed in cold and flu season.
Coconuts' fatty acids are also believed to be "good-for-you" saturated fat that reduces inflammation of the body and brain, improves circulation, and keeps blood vessels flexible and free from plaque buildup. This, in turn, helps to lower cholesterol levels, improve blood pressure, and potentially prevent heart attacks and strokes. Due to its healthy fats, this drupe improves digestion and relieves constipation, thus improving gut health as well.
Its fat content is believed to aid in slowing the rate at which sugar is released into the bloodstream, thereby controlling insulin levels and preventing a sugar high.
Rich and delicious coconut milk makes for the most scrumptious frozen desserts. I absolutely love this refined sugar-free, dairy-free, soy-free, gluten-free ice cream. It's also vegan and paleo diet-friendly.
WHAT IS THE TASTE PROFILE OF KETO LOW-CARB PALEO CHOCOLATE COCONUT ICE CREAM?
The predominant taste sensation in this ice cream is fattiness and richness and sweetness from the coconut milk and sweetener.
Print
KETO LOW-CARB PALEO CHOCOLATE COCONUT ICE CREAM
Keto Low-Carb Paleo coconut milk chocolate ice cream is so satisfying on a hot, summer evening.  This treat, however, is yummy in every season! The recipe uses unsweetened coconut milk, unsweetened coconut powder, erythritol (keto), or coconut sugar (Paleo). 
Author: KETO PALEO SHARI MAC
Prep Time:

10

Cook Time:

3

Total Time:

3 hours, 10 minutes

Yield:

6

1

x
Category:

KETO LOW-CARB PALEO

Method:

FREEZING

Cuisine:

DESSERT

Diet:

Gluten Free
2 cans (16 ounces) full-fat, unsweetened coconut milk
2 heaping tablespoons unsweetened cocoa powder
3 tablespoons erythritol (Keto) or coconut sugar (Paleo Whole30) 
Crushed peanuts (optional for garnish, not compliant)*
*Can be substituted for almond slivers, walnuts, or cashews
Instructions
Shake the cans of coconut milk to mix the water and fat-soluble elements together. Open the cans. Set 2 tablespoons of coconut milk aside. Place a sheet of parchment paper on a rimmed baking sheet.
Shake the cans of coconut milk to mix the water and fat-soluble elements together. Open the cans. Set 2 tablespoons of coconut milk aside. Pour the remaining coconut milk onto the parchment paper and then freeze for several hours, until hard. By freezing the milk on the parchment paper, it freezes faster and allows you to break it into pieces to fit into a food processor or blender. Once it is frozen, pull it from the freezer and break the slab into pieces. Place the pieces into the food processor or blender. Process, scraping down the sides when necessary. Add the cocoa, sweetener, and 2 tablespoons of coconut milk. Process until silky.  Place the mixture into a glass bowl and set it in the freezer. Every half hour, stir the ice cream until frosty with the texture of real ice cream.  
Notes
The nutritional value of this ice cream is based on the Keto version of the recipe and is approximate.  The value does not include nut topping.  Net carbs per serving is 8.6.
Nutrition
Serving Size:

1

Calories:

44

Sugar:

7.9

Sodium:

5

Fat:

4.3

Saturated Fat:

3.8

Carbohydrates:

9.2

Fiber:

0.6

Protein:

0.7
Keywords: keto, keto-recipes, ketogenic-diet, ketogenic-recipes, low-carb, low-carb-recipes, lazy-keto, sugar-free, sugar-free-recipes, keto-and-wine, paleo, paleo-diet, paleo-recipes, lazy-paleo, , paleo-and-wine, primal-diet, primal-diet-recipes, caveman-diet, caveman-diet-recipes, gluten-free, gluten-free-recipes, gluten-free-with-wine, grain-free, grain-free-diet, grain-free-recipes, grain-free-recipes-with-wine, anti-inflammatory-diet, anti-inflammatory-recipes, dairy-free-diet, dairy-free-recipes, dairy-free-recipes-with-wine,
FREE e-cookbook called OODLES OF LOW CARB NOODLES
Join our family to get your FREE e-cookbook OODKES OF LOW CARB NOODLES + new recipes in your inbox.