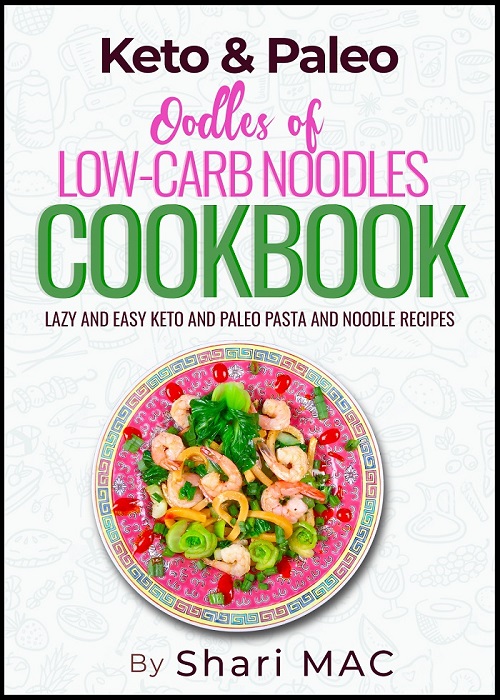 Your FREE copy of KETO & PALEO Oodles of Low-Carb Noodles Cookbook Signup Here
Suffering without a bowl of pasta on this KETO LOW-CARB and PALEO path is now a thing of the past!
I remember the first time I ever tasted pasta smothered in pesto. It was 1988. I was managing a fitness center located in The Village in downtown Toronto. I had ordered this pesto dish from the menu of Ciao Restaurant. This little Italian café catered to Toronto's gay community located in The Village at Church and Wellesley. The Village is an enclave for Toronto's gay community. It has bustling cafes, eateries, and bars. This area is also known for its week-long, offbeat Halloween celebrations and buzzy club scene. In June, the neighbourhood celebrates Toronto Pride Month with concerts, parties, and parades.
Tasting the pesto tossed with al dente pasta felt as though I had reached culinary bliss. I have been enjoying various versions of pesto ever since, using all sorts of nuts, herbs, and other complementary ingredients.
Originating in Genoa, northern Italy, pesto was prepared with crushed garlic, basil, olive oil, European pine nuts, and true Parmigiano-Reggiano cheese made from sheep's milk. I love this version! When I'm doing Keto, I indulge. Then I'll switch it up and eat vegan parmesan when following my Paleo path.
You can add pesto to a whole array of foods. I remember enjoying pesto fries with a chilled glass of fatty Chardonnay in Napa Valley! Pesto complements gnocchi, gnudi, chicken, salmon, meatballs, burgers, cream sauces, pizza, salads, and so much more.
WHAT IS THE TASTE PROFILE OF KETO LOW-CARB PALEO FRESH PASTA WITH PISTACHIO PESTO?
This pesto recipe is vegan and does not contain cheese. Its predominant taste, flavour, and chemosensory sensations are fatty (mouthfeel), nutty, herbaceous, and garlicky.
WHAT WINE HARMONIZES WITH KETO LOW-CARB PALEO FRESH PASTA WITH PISTACHIO PESTO?
With the predominant sensations being fatty, nutty, herbaceous, and garlic, along with the density of grain-free noodles, this dish requires a bit, fat, white wine. Examples are barrel fermented and aged Chardonnay or Fume Blanc. We need a wine with higher alcohol (14%) which provides that extra viscosity. Viscosity occurs on the palate as creaminess or fattiness. A big, fat, white wine will be able to match the fattiness of this dish. We also want a wine with a good backbone of acidity to marry well with the lemon tanginess and herbaceous notes in this pesto.
WHAT ARE THE HEALTH BENEFITS OF BASIL?
This little jar of deliciousness is also packed with nutrition. Fresh basil, the key to pesto, is super healthy, helping us:
• Digest better
• Reduces inflammation
• Helps to fight free radical activity in the body
• Helps fight depression
• Helps us to manage diabetes
• Supports liver function
• Helps to detoxify the body
• Helps to promote a healthy gut.
WHAT ARE THE HEALTH BENEFITS OF PISTACHIOS?
Pistachios are just as healthy for us. They are:
• Loaded with nutrients
• High in antioxidants
• Low in calories yet high in protein
• Help contribute to weight loss
• Help promote healthy gut bacteria
• Help to lower bad cholesterol
• Help to lower blood pressure
• Help promote blood vessel health
• Help to lower blood sugar
HOW DO YOU STORE PESTO?
This pesto can be refrigerated for up to five days. Pour into a sterilized, airtight glass jar. Pour a little olive oil on top to cover the surface. You can also freeze this pesto.
HOW DO YOU PREPARE KETO LOW-CARB PALEO PASTA NOODLES?
My Keto Paleo pasta noodles are super healthy. They are low in carbs — only 5.23 grams per serving (by themselves). The noodles also contain healthy monounsaturated fat, are high in fiber and protein, and contain zero sodium.
Print
KETO LOW-CARB PALEO FRESH PASTA WITH PISTACHIO PESTO
Keto Low-Carb Paleo Fresh Pasta with Pistachio Pesto is nothing short of gourmet and yet so simple to make for lunch, brunch, or dinner.  The recipe uses low-carb pasta, pistachios, olive oil, garlic and parmesan (or vegan parm).   If you are hunting for a downright satisfying Keto Low-Carb pasta recipe paired with wine, check out this recipe!
Author: KETO PALEO SHARI MAC
Prep Time:

20

Cook Time:

5

Total Time:

25

Yield:

4

1

x
Category:

KETO PALEO

Method:

BOILING

Cuisine:

DINNER

Diet:

Gluten Free
NOODLES:
2 1/2 to 3 cups almond flour
3 teaspoons xanthan gum
¼ cup flax meal
4 eggs
1 teaspoon olive oil
PESTO:
1.5 cups fresh basil
1/2 cup salt-free pistachios
1 teaspoon freshly squeezed lemon juice
4 large clove of garlic, minced
1/2 cup parmesan (Keto) or vegan parmesan (Paleo)*
Freshly ground black pepper to taste
1/2 cup extra virgin olive oil
*Check out this blog for the Paleo & Whole30 Vegan Parmesan recipe:
KETO PALEO 3-MINUTE VEGAN PARMESAN
Instructions
These Keto/Paleo pasta or noodles are very dense and filling. Make the dough in a bowl and by hand or in a food processor or mixer. (Mixer is easiest.) Place all ingredients in the bowl.  Mix well. If making by hand pull the dough together with your hands. Start with 2 ½ cup of almond flour.  Add more if needed.  Dough should be firm. Transfer to a clean bowl.  Cover and refrigerate for 24 hours. 
When ready to use, cut the dough in half.  Cover half of the dough ball with a wet cloth.  Transfer the other half to a large piece of parchment paper.  Flatten the ball on the parchment. Using the flat side of a long knife or pastry cutter, shape the ball into a 4" X 4" square. Top the square with another sheet of parchment paper. Using a rolling pin, and roll out a square about 8" X 8". Lift the top parchment paper. Using a long knife or pizza cutter, cut the dough into 1/8th-inch noodles. 
When ready to dine, boil the water.  Add olive oil to water.  Add the noodles.  Boil the noodles for 3 minutes. Drain the noodles in a colander and run cool water over them to prevent sticking.  
To make pesto, place all ingredients into your food processor and process until either chunky or smooth. Start with about 1/3 cup of olive oil and add more as needed, until the desired consistency is reached. Adjust seasoning.  Toss noodles with pesto and serve.
Notes
The nutritional value is based on the Keto version of this recipe and is approximate.  The total net carbs per person is 14.7.  Keto pasta noodles (by themselves) are 12 grams of net carbs (without the pesto).  You can make pesto from a variety of herbs and nuts.   One serving of the dish with pesto and noodles comes to 10.17 net carbs, which is approximate.
Nutrition
Serving Size:

1

Calories:

822

Sugar:

3.5

Sodium:

446

Fat:

66.9

Saturated Fat:

11.4

Carbohydrates:

50.8

Fiber:

36.1

Protein:

28.5
Keywords: keto, keto-recipes, ketogenic-diet, ketogenic-recipes, low-carb, low-carb-recipes, lazy-keto, sugar-free, sugar-free-recipes, keto-and-wine, paleo, paleo-diet, paleo-recipes, lazy-paleo, , paleo-and-wine, primal-diet, primal-diet-recipes, caveman-diet, caveman-diet-recipes, gluten-free, gluten-free-recipes, gluten-free-with-wine, grain-free, grain-free-diet, grain-free-recipes, grain-free-recipes-with-wine, anti-inflammatory-diet, anti-inflammatory-recipes, dairy-free-diet, dairy-free-recipes, dairy-free-recipes-with-wine,
FREE e-cookbook called OODLES OF LOW CARB NOODLES
Join our family to get your FREE e-cookbook OODKES OF LOW CARB NOODLES + new recipes in your inbox.