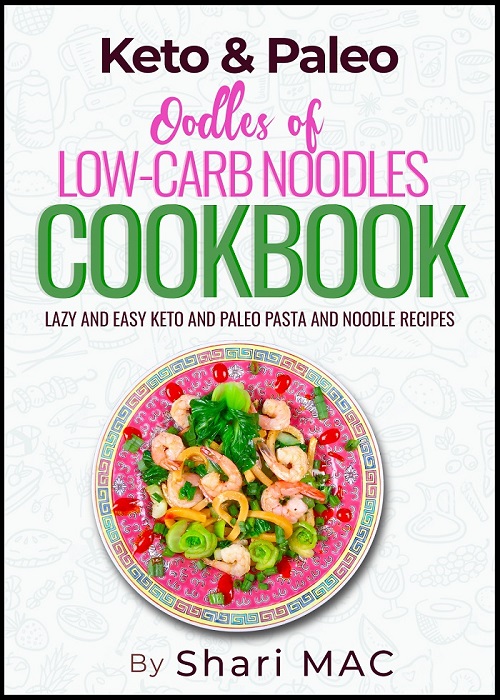 Your FREE copy of KETO & PALEO Oodles of Low-Carb Noodles Cookbook Signup Here
For some people following a KETO LOW-CARB PALEO lifestyle, tomatoes are not compliant because they are considered nightshades, which can cause inflammatory pain, for some people. Luckily, I don't have this issue. I love tomatoes and they are a huge part of my KETO LOW-CARB PALEO path.
In my twenties, I lived in St. Catharines, a city inside Canada's banana belt called the Niagara Peninsula, Ontario. Here I tasted, for the first time, a fresh tomato sauce with the flavour of raw garlic. The tomatoes had this wonderful vinous quality to them, as though they had just been picked from the vine moments before. After dinner, I headed to the restaurant's kitchen to talk to the chef. I asked him what kind of tomatoes he used for this fresh sauce. He said, "Campari." I fell in love with those tomatoes and that sauce that day. I have been buying these tomatoes and using this fresh sauce ever since. Both my husband and I LOVE this fresh tomato sauce over our fresh grain-free pasta.
WHAT IS THE TASTE PROFILE FOR KETO LOW-CARB PALEO FRESH PASTA WITH FRESH TOMATO SAUCE WITH CAPERS?
This recipe has a beautiful summer tangy flavour, due to the acidity in the tomatoes and lemon. Capers add a lovely saltiness to the dish. Both of the pasta recipes create delicious chewy, dense, al dente noodles!
WHAT IS THE NUTRITIONAL VALUE PER SERVING (BASED ON 4 SERVINGS)?
Keto Almond-Flour-Based Pasta Keto 2 Ingredient Pasta
Calories: 260 Calories: 771.14
Net Carbs: 2.7. Net Carbs: 6.49
Fiber: 18.8g Fiber: Zero
Sodium: 493 mg Sodium: 1110.82 mg
Saturated Fat: 2.9 g Saturated Fat: 54.77 g
Zoodles also an option. However, for me they do not satisfy that al dente craving. Don't get me wrong, I do like zoodles in summer cold pastas drizzled in a light oil. Refreshing! But not al dente.
WHAT ARE THE KETO LOW-CARB PALEO PASTA'S MAIN INGREDIENTS?
The main ingredients in this pasta are almond flour, xanthan gum, flax meal, and eggs.
WHAT WINE HARMONIZES WITH KETO LOW-CARB PALEO FRESH PASTA WITH FRESH TOMATO SAUCE WITH CAPERS?
The predominant taste sensations of this dish are tanginess (due to the tomatoes) and saltiness (from the capers). This recipe requires a wine with good acidity to match the tomatoes and lemon and to offset that lovely saltiness from the capers. Choose a crisp, dry white wine, such as Sauvignon Blanc. The wine's acidity will match the tanginess of tomatoes.
If you do desire red, choose a light, fruity red meant to be chilled for at least a half-hour in the refrigerator. Pinot Noir will do the trick.
WHAT ARE CAMPARI TOMATOES?
Often referred to as the tomato lover's tomato, the Campari variety is slightly bigger than the cherry tomato. You'll find these tomatoes still on the vine in the grocery store. This variety offers a 'vinous' quality to the flavour, giving the perception of freshly picked tomatoes.
This vinous quality earns the Campari an extraordinary place in our culinary repertoire. Cherry tomatoes are ideal for hors d 'oeuvres and to toss in salads. Regular-sized tomatoes can be used in cooking. But the Campari is just the right-sized tomato to slice for appetizers, sandwiches, pasta and as a pizza topping.
The Campari is aromatic, sweet, firm, and juicy. Its best quality, in my opinion, is low acidity, making this tomato a friendly ingredient in dishes to be paired with white wine or a light, fruity red wine. The natural acidity in fresh tomatoes typically demands the crisp acidity of white wine. Tomatoes, once cooked or slow-roasted, can work with red wine. But the Campari, when fresh, can complement Burgundy, Pinot Noir or Gamay.
Campari tomatoes should never be refrigerated, as cold temperatures tend to cause them to lose their flavour and become pulpous. They should be stored at room temperature, with stems up to avoid bruising. Keep these little gems out of sunlight as well, otherwise, they will dehydrate.
Like most tomato varieties, the Campari is packed with nutrition and health benefits. First of all, one Campari tomato contains only five calories! Tomatoes, in general, are rich in beta-carotene, lycopene, and vitamins A, C, and E. Their antioxidants support and strengthen the immune system and contain the B vitamins and vitamin K.
HOW TO YOU PREPARE KETO LOW-CARB PALEO PASTA AND NOODLES?
The best Keto pasta noodles are made from the ingredients of almond flour, xanthan gum, psyllium husks, and eggs. These noodles are far more nutritious and healthy than the 2 ingredient Keto noodles made from mozzarella cheese and egg yolks. Here is a link to the recipe:
Click this link for the Keto Low-Carb Paleo Best Pasta recipe:
Print
KETO LOW-CARB PALEO FRESH PASTA WITH FRESH TOMATO SAUCE & CAPERS
Keto Low-Carb Paleo Fresh Pasta with Fresh Tomato Sauce sings of summer flavours.  The recipe uses low-carb pasta, fresh Campari tomatoes, garlic, capers, and olive oil.   If you are hunting for a filling and satisfying Keto Low-Carb fresh pasta dish paired with wine, check out this recipe!
Author: KETO PALEO SHARI MAC
Prep Time:

45

Cook Time:

15

Total Time:

60

Yield:

4

1

x
Category:

KETO PALEO

Method:

BOILING

Cuisine:

DINNER

Diet:

Gluten Free
KETO PASTA NOODLES: 
2 cups almond flour
3 teaspoons xanthan gum
¼ cup flax meal
4 eggs
1 teaspoon olive oil
SAUCE:
2 pounds Campari tomatoes
1/4 cup extra virgin olive oil
1 teaspoon crushed red pepper flakes
4 medium cloves of garlic, finely chopped
Freshly ground black pepper to taste
Zest of one lemon
1/2 cup capers, drained (for garnish)
Instructions
These Keto/Paleo pasta or noodles are very dense and filling. Make the dough in a bowl and by hand or in a food processor or mixer. (Mixer is easiest.) Place all ingredients in the bowl.  Mix well. If making by hand pull the dough together with your hands. Start with 2 ½ cup of almond flour.  Add more if needed.  Dough should be firm. Transfer to a clean bowl.  Cover and refrigerate for 24 hours. 
When ready to use, cut the dough in half.  Cover half of the dough ball with a wet cloth.  Transfer the other half to a large piece of parchment paper.  Flatten the ball on the parchment. Using the flat side of a long knife or pastry cutter, shape the ball into a 4" X 4" square. Top the square with another sheet of parchment paper. Using a rolling pin, and roll out a square about 8" X 8". Lift the top parchment paper. Using a long knife or pizza cutter, cut the dough into 1/8th-inch noodles. 
When ready to dine, boil the water.  Add olive oil to water.  Add the noodles.  Boil the noodles for 3 minutes. Drain the noodles in a colander and run cool water over them to prevent sticking.  Serve with your favorite sauce and toppings.
In a blender or food processor, add Campari tomatoes. Puree until chunky. Transfer tomato sauce, olive oil, red pepper flakes, garlic, pepper, and lemon zest to the skillet. Heat quickly on high for about 1 minute. Do not cook the sauce. The idea is to keep it tasting like fresh tomatoes. When the sauce is bubbling, remove it from the heat. Stir in the lemon zest.  
To the skillet, add noodles. Gently toss (so as not to break noodles) until well coated and heated through—divide noodles with sauce between plates. Garnish with capers. 
Notes
The nutritional value is based on the keto version of this recipe and is approximate.   The net carbs are about 18.4 per serving.
Nutrition
Serving Size:

1

Calories:

1027

Sugar:

6.5

Sodium:

705

Fat:

88.8

Saturated Fat:

11.6

Carbohydrates:

57.8

Fiber:

38.4

Protein:

20.2
Keywords: keto, keto recipes, keto-and-wine, paleo, paleo recipes, paleo dinner, paleo-and-wine, Whole30, Whole30r recipes, whole30dinner, gluten free, gluten free recipes, gluten free dinner, gluten free recipes for dinner, anti-inflammatory diet recipes, anti-inflammatory recipes, grain free, grain free diet, grain free recipes, grain free dinner, grain free recipes, paleo and wine, dairy free diet, dairy free recipes, dairy free dinner,
FREE e-cookbook called OODLES OF LOW CARB NOODLES
Join our family to get your FREE e-cookbook OODKES OF LOW CARB NOODLES + new recipes in your inbox.