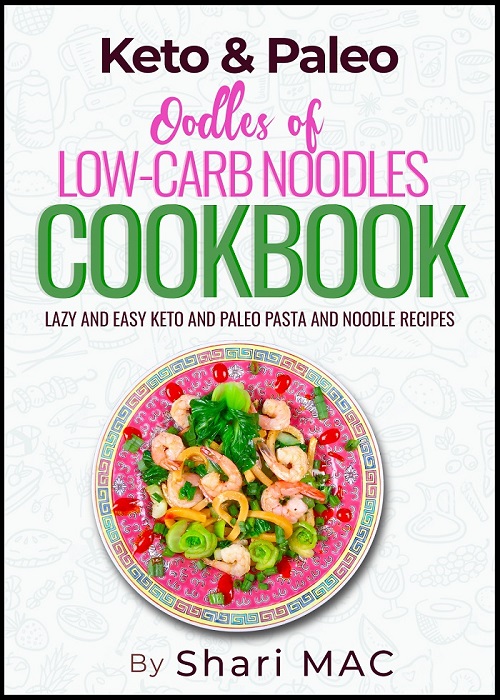 Your FREE copy of KETO & PALEO Oodles of Low-Carb Noodles Cookbook Signup Here
I like to eat KETO LOW-CARB, and PALEO salads alongside a protein source like chicken, pork, beef, or fish on a regular basis. Sometimes my husband and I get to that point where the thought of another green salad seems unappetizing. Because we both work out regularly and lift weights, we tend to rely on more protein sources for fuel and muscle growth on our KETO, LOW-CARB, and PALEO paths.
This salad is has more carbs because it is an entire meal,not just one recipe within a meal. It's a great choice if you are on the Keto or Paleo path, not looking to go into ketosis. It offers loads of nutrition from the actual salad with a hefty source of beef protein. This salad is higher in net carbs due to the green mango. Ideal for your Paleo path or your Keto cheat day. If you're lifting weights this is a great salad to enjoy on a cheat day when you want to take in more carbs. Remember carbs are necessary for muscle growth.
To lower the carbs for your Keto path, substitute the green mango with zoodles.
WHAT IS THE NUTRITIONAL VALUE OF KETO LOW-CARB PALEO GREEN MANGO BEEF SALAD?
The exciting aspect of using green mango in your culinary repertoire is that it has health benefits when under-ripe and/or green and when ripe and sweet. Unripe or green mangoes increase the secretion of bile acids and clean the intestines of bacterial infections, thus helping the liver. When underripe, mangos offer more antioxidants and vitamin C. And let's talk about vitamin C in mango. A recent study shows that one green mango yields as much Vitamin C as 35 apples, 18 bananas, nine lemons and three oranges. Now that's impressive to me! Its antioxidants also help to protect the body against cancer and cardiovascular diseases. Green mango also boosts your metabolism and contain less sugar, making them perfect for your Paleo, Whole30 or diabetic diet.
WHAT IS THE TASTE PROFILE OF KETO LOW-CARB PALEO GREEN MANGO BEEF SALAD?
The predominant taste sensations in this meal come from the vinaigrette. The vinaigrette sings with saltiness (from the coconut aminos), tanginess (from the fresh lime juice), heat from the hot sauce. The slight sweetness from the sweetener brings all the ingredients together to create an overall delicious salad covering.
WHAT WINE HARMONIZES WITH KETO LOW-CARB PALEO GREEN MANGO BEEF SALAD?
To have this dish work with a dry white wine, you'll want to also forgo the hot sauce. The hot sauce will alter the flavour of the wine's delicious acidity, making it taste rancid. Instead, drizzle the salad with the vinaigrette minus the heat. Without the heat, the vinaigrette is salty from the coconut aminos and tangy from the fresh lime. This dish calls for a bright white with zesty acidity. The wine's acidity will offset the saltiness and harmonize with the lime tanginess. Think Sauvignon Blanc, dry Riesling, Vinho Verde, Pinot Gris, Pinot Grigio. If you are not watching your net carbs so closely, then add the hot sauce to the dish and pair this dish with an off-dry white wine, such as off-dry Riesling or off-dry Gewurztraminer.
HOW DO YOU PREPARE THE KETO LOW-CARB PALEO GREEN MANGO BEEF SALAD?
HOW DO YOU CUT A MANGO (GREEN OR RIPE)?
Here is a video to show you the different ways to cut a mango, whether it's green or ripe:
Print
KETO LOW-CARB PALEO GREEN MANGO & BEEF SALAD
Keto Low-Carb Paleo Green Mango and Beef Salad is a meal in itself that you can enjoy for lunch, brunch, or dinner.  The recipe uses green mango, beef, red bell pepper, carrot, green onion, garlic, ginger, lime juice, sesame oil, mint, cilantro, basil.  If you are hunting for a satisfying Lazy Keto Low-Carb Paleo salad recipe paired with wine, check out this recipe!
Author: KETO PALEO SHARI MAC
Prep Time:

15

Cook Time:

20

Total Time:

35

Yield:

4

1

x
Category:

KETO LOW-CARB PALEO

Method:

BBQ or FRY

Cuisine:

MAIN COURSE

Diet:

Gluten Free
Keto Paleo Sriracha:
1 1/2 pound red jalapeno peppers, stem cut off
6 cloves garlic peeled
1/4 cup coconut aminos  
1/2 cup distilled white wine vinegar
Vinaigrette:
1/2 cup coconut aminos
3 tablespoons erythritol (Keto) or coconut sugar (Paleo)
4 cloves garlic, minced
3 teaspoons fresh ginger, grated
2 teaspoon Red Boat fish sauce (optional)
1/4 cup fresh lime juice
3 teaspoon sesame oil
Salad Ingredients:
2  green mango, julienned or zoodles (for a lower carb count)
2 red bell pepper julienned
2 carrots, julienned
2 green onions, julienned
2 tablespoons finely chopped fresh mint
2 tablespoons finely chopped fresh cilantro
2 tablespoons finely chopped fresh basil (Thai basil if possible)
Steaks:
2 (6 ounces) grass-fed striploins, (3 ounces per person)
Freshly ground black pepper
1/2 cup unsalted cashew pieces (for garnish, optional)
*Keto Paleo homemade sriracha (for garnish, optional)
Instructions
To make sriracha, make it in advance.  This condiment tastes better if left to ferment for a few days before using.  Place all ingredients except vinegar in a high-speed blender. Pulse a few times to chop, and then turn the blender on fast and blend until smooth and liquified. Pour mixture into a sterilized, large glass jar. Cover the jar with a kitchen towel.  Wrap an elastic around the mouth to secure the towel.  Place the jar in a dark closet away from the kitchen heat for between 3 to 5 days.  Stir the mixture once per day.  It will begin to bubble, which means it is fermenting.  When it bubbles add the vinegar to halt the fermentation. Transfer the mixture back to the blender and puree again until very smooth.  Pour the mixture into sterilized jars and refrigerate.  Use as needed.  Will last in the refrigerator for up to 4 months.
To make vinaigrette, place all ingredients in a bowl and mix well.  Transfer to a sterilized glass jar and refrigerate until needed.
To prepare salad, use a large bowl and prepare salad.  Refrigerate until needed.
To prepare steaks, season with black pepper.  Place steak on the grill and grill until golden brown and slightly charred, 4 to 5 minutes. Turn the steaks over and continue to grill 3 to 5 minutes for medium-rare (an internal temperature of 135 degrees F (57 C); 5 to 7 minutes for medium at 140 degrees F (60 C); or 8 to 10 minutes for medium-well at 150 degrees F (65 C).  Remove from oven.  Cut each steak into slices.
Pour vinaigrette over salad ingredients and toss.  Divide between bowls.  Arrange sliced beef on each salad. 
Garnish salad with cashew pieces.  Drizzle with homemade sriracha.
Notes
You can always substitute the Sriracha with Frank's hot sauce.  Less work and still compliant.  The nutritional value of this recipe is based on the keto version and is approximate.  One serving has 16.55 net carbs (not including sriracha).
Nutrition
Serving Size:

1

Calories:

305.50

Sugar:

8.55

Sodium:

248

Fat:

17.85

Saturated Fat:

5.25

Carbohydrates:

18.15

Fiber:

1.6

Protein:

22.30

Cholesterol:

46.5
Keywords: keto, keto-recipes, ketogenic-diet, ketogenic-recipes, low-carb, low-carb-recipes, lazy-keto, sugar-free, sugar-free-recipes, keto-and-wine, paleo, paleo-diet, paleo-recipes, lazy-paleo, , paleo-and-wine, primal-diet, primal-diet-recipes, caveman-diet, caveman-diet-recipes, gluten-free, gluten-free-recipes, gluten-free-with-wine, grain-free, grain-free-diet, grain-free-recipes, grain-free-recipes-with-wine, anti-inflammatory-diet, anti-inflammatory-recipes, dairy-free-diet, dairy-free-recipes, dairy-free-recipes-with-wine,
FREE e-cookbook called OODLES OF LOW CARB NOODLES
Join our family to get your FREE e-cookbook OODKES OF LOW CARB NOODLES + new recipes in your inbox.