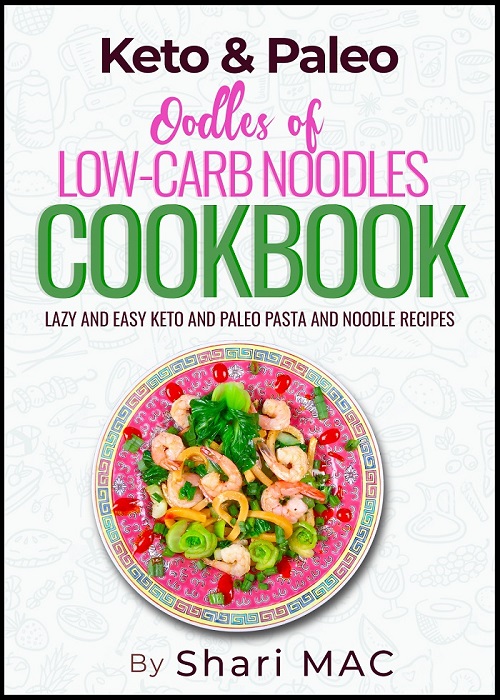 Your FREE copy of KETO & PALEO Oodles of Low-Carb Noodles Cookbook Signup Here
This PALEO WHOLE30 Bread Pudding with Vanilla sauce will enhance the ending of any festive meal…or after any meal!
Bread pudding, also known as poor man's pudding, has a history that dates back to the 11th and 12th centuries when frugal cooks looked for ways to use stale and leftover bread, not letting it go to waste.
Many bread pudding warm sauces exist, such as those made with rum and butter, bourbon, caramel, and vanilla. Since you are following a Paleo diet, I've included a vanilla sauce. If you are following a Paleo OR Whole30 path, you may want to add a little alcohol to the sauce for that umami flavour bonus!
WHAT IS THE NUTRITiONAL VALUE OF DATE PASTE?
This recipe calls for homemade date paste which is allowable on the Paleo Whole30 path. The paste is super easy to make and nutritious. Did you know that dates are higher in polyphenols than any of the most commonly consumed fruits and vegetables? Polyphenols neutralize free radicals, helping to reduce the damage caused by inflammation. Inflammation is directly associated with heart disease, diabetes, arthritis, Alzheimer's, and a list of autoimmune diseases. Dates are also a good source of various vitamins and minerals, and fibre and contain calcium, iron, phosphorus, potassium, magnesium, and zinc. This recipe also calls for unsweetened apple sauce and fresh apples. Apple sauce is low in saturated fat, cholesterol, and sodium. It is also a decent source of fibre and vitamin C. While the date paste and apple sauce are natural sugars, the bread pudding is unlikely to spike blood sugar levels. The reason is that the DOH, primarily made with almond flour and the fibre in the dates and apples helps to slow the digestion of the sugar in the dates and apples.
WHAT IS THE TASTE PROFILE OF BREAD PUDDING WITH VANILLA SAUCE?
Date paste is a great alternative to brown sugar in recipes. The predominant taste sensation of this dessert is sweetness from the date paste, apple sauce, apples, coconut cream, and raisins. The texture is dense and chewy like bread pudding!
WHAT WINE HARMONIZES WITH BREAD PUDDING WITH VANILLA SAUCE?
With the predominant taste profile being sweet, this dessert demands a wine with more sweetness. But this can add too much sweetness to your meal. Remember we don't want an insulin spike! Instead of pairing the sweetness of the dessert with the sweetness in the wine, which is a classic principle, do the opposite. Pair this dessert with a brut (bone-dry) bubbly.
Print
PALEO BREAD PUDDING WITH VANILLA SAUCE
This PALEO WHOLE30 Bread Pudding with Vanilla Sauce is gluten-free, grain-free, refined-sugar-free, and dairy-free.  So healthy and yet…downright sinful.  The recipe uses an almond flour dough sweetened with date paste and apple sauce with added nuts, apple chunks, and raisins.  If you are hunting for a healthy bread pudding recipe to enjoy at the end of your dinner paired with wine, check out this recipe!
Author: KETO PALEO SHARI MAC
Prep Time:

10

Cook Time:

50

Total Time:

60

Yield:

8

to

12

1

x
Category:

PALEO/WHOLE30

Method:

BAKING

Cuisine:

DESSERT

Diet:

Gluten Free
Bread Pudding:
1.5 cups almond flour (170 g)
1.5 cups tapioca flour (228 grams)
1 teaspoon sea salt (6 grams)
1 teaspoon Guar Gum (2 grams)
1 tablespoon gluten-free baking powder
2 eggs
½ cup water plus 1 tablespoon at a time as needed
¼ cup grass fed or plant-based butter or ghee 
2 cups unsweetened apple sauce
1 cup date paste*
1 teaspoon vanilla
Fold Into Dough:
2 cups chopped apple (1 large or 2 small apples peeled and cut into ¼-inch chunks
1/3 cup pecans (or favourite nut)
1/3 cup raisins (optional)
Vanilla Sauce:
2 cups coconut cream**
1/2 cup date paste
¼ cup grass-fed or plant-based butter or ghee
1 teaspoon vanilla
*For date paste recipe click this link: 
**To make coconut cream open can of coconut milk.  The coconut fat will have separated from coconut water.  Remove fat from can and transfer to a bowl.  Feed water to your cat!
Instructions
Preheat oven to 350 F (170 C).  Transfer all dough ingredients to food processor or mixer. Mix until dough is goowy.   Remove from the mixer stand.  Fold in apple, pecans, and raisins.  Transfer dough mixture to an 8" X 8" baking pan sprayed with non-stick avocado cooking spray.  Bake for 50 to 60 minutes, until a toothpick inserted into the center of the loaf, comes out clean.  Remove from oven.  Transfer bread pudding to rack to cool. 
Meanwhile, make the vanilla sauce.  In a food processor or blender add coconut cream, date paste, butter, and vanilla.  Puree until smooth.  Transfer to a saucepan.  On low heat, heat sauce for about 3 minutes.  Keep warm.
To serve, cut pieces of the bread pudding.  Transfer to plates.  Serve with warm sauce.
Notes
The recipe baking temperature and time is an estimate.  Follow your own oven's temperature and cooking time. It takes a gas oven 10-15 minutes to reach the desired temperature. Electric ovens can take 10 minutes longer than that.  The age of your oven will also determine the temperature, time for roasting or baking, and where you want to place your dish in the oven.  The bottom of your oven may be hotter than the top, depending on its condition.  This also includes where to set your dish under the broiler.  So use your own best judgment based on the type, condition, and age of your oven.  Prep times will also vary depending on how slow or quickly you like to work.
Keywords: PALEO DESSERT, WHOLE30 DESSERT, GLUTEN-FREE DESSERT, GRAIN-FREE DESSERT, PALEO DIET, WHOLE30 DIET, GRAIN-FREE DIET, GLUTEN-FREE DIET, PALEO RECIPES, PALEO DESSERT, WHOLE30 RECIPES, WHOLE30 DESSERT, GLUTEN-FREE RECIPES, GLUTEN-FREE DESSERT, GRAIN-FREE RECIPES, GRAIN-FREE DESSERT
FREE e-cookbook called OODLES OF LOW CARB NOODLES
Join our family to get your FREE e-cookbook OODKES OF LOW CARB NOODLES + new recipes in your inbox.