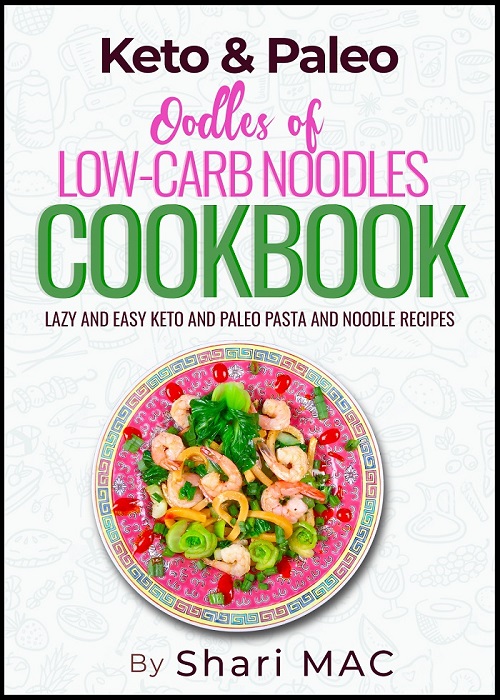 Your FREE copy of KETO & PALEO Oodles of Low-Carb Noodles Cookbook Signup Here
Banana bread is one of my 'go-to' foods, even when I'm on my PALEO (Whole30) life journey. It's not really the main course food and also is not sweet enough to serve as dessert. Well, maybe it is! Banana bread is really a snack food, I think, one loaded with great taste and nutrition.
WHAT IS THE NUTRITIONAL VALUE OF PALEO BANANA BREAD WITH BLUEBERRIES?
The added blueberries in this recipe add flavour, moisture, and nutrition. Blueberries are packed with antioxidants and phytoflavinoids. They are are also high in potassium and vitamin C. For these reasons blueberries help to lower your risk of heart disease and cancer and are also anti-inflammatory.
We know now that a banana a day is better for you than an apple! Bananas are packed with potassium, fiber, and natural sugars. Possessing vitamin C, fiber, potassium, and other vitamins and minerals, bananas help to maintain overall good heart health. They are considered a super food!
WHAT WINE PAIRED WITH PALEO WHOLE30 BANANA BREAD WITH BLUEBERRIES?
The predominant taste sensation of banana bread with blueberries is sweetness, requiring a sweet wine to match. Icewine would be far too sweet. Choose a late harvest wine, such as Late Harvest Riesling, Vidal, or Gewurztraminer. Just always make sure that the wine is sweeter than all the sweet items on your dessert plate.
HOW DO YOU PREPARE PALEO WHOLE30BANANA BREAD WITH BLUEBERRIES?
Print
PALEO WHOLE30BANANA BREAD WITH BLUEBERRIES
This Paleo Whole30 banana bread with blueberries (and walnuts if desired) is a fabulous way to get your morning or lunch time fix.   Dense, sweet, and nutritious!  The recipe uses almond flour, tapioca starch, bananas, guar gum, eggs, fresh blueberries and walnuts, if desired.  Add nuts if you like. If you are hunting for a filling and satisfying banana blueberry bread to enjoy on its own or with a glass of wine, check out this recipe!
Author: KETO PALEO SHARI MAC
Prep Time:

5

Cook Time:

50

Total Time:

60

Yield:

12

1

x
Category:

KETO PALEO

Method:

BAKING

Cuisine:

DESSERT

Diet:

Gluten Free
1.5 cups almond flour (170 g)
1.5 cups tapioca flour (228 grams)
1 teaspoon sea salt (6 grams)
1 teaspoon Guar Gum (2 grams)
2 eggs
1 tablespoon gluten-free baking powder
3 very ripe bananas
1 cup blueberries
1/2 cup unsalted walnut pieces or favourite nuts (optional)
Instructions
Preheat oven to 350 F (170 C).  Add all dry ingredients, eggs, and baking powder to a food processor or mixer.  Minto a goowey dough.  Remove bowl from machine.  Fold in blueberries  and nuts (optional).  Transfer goowey dough to well-greased loaf pan (4 cup/4″ X 8″).   Bake for 50 to 60 minutes, until a toothpick inserted into the center of the loaf, comes out clean. Let bread cool in the pan for 10 minutes, then turn out onto a wire rack.  Let cool.  Slice and serve or toast and serve!
Notes
With this banana bread recipe you can add any nuts or other fruits, including raisins and dried apricots.
The recipe baking temperature and time is an estimate.  Follow your own oven's temperature and cooking time. It takes a gas oven 10-15 minutes to reach the desired temperature. Electric ovens can take 10 minutes longer than that.  The age of your oven will also determine the temperature, time for roasting or baking, and where you want to place your dish in the oven.  The bottom of your oven may be hotter than the top, depending on its condition.  This also includes where to set your dish under the broiler.  So use your own best judgment based on the type, condition, and age of your oven.  Prep times will also vary depending on how slow or quickly you like to work.
Keywords: paleo dessert, whole30 dessert, paleo banana bread, whole30 banana bread, paleo, paleo recipes, paleo dinner, Whole30, Whole30 recipes, gluten free, gluten free recipes, gluten free recipes ford dinner, anti inflammatory diet, grain free, grain free diet, grain free recipes, paleo and wine gluten free and wine
FREE e-cookbook called OODLES OF LOW CARB NOODLES
Join our family to get your FREE e-cookbook OODKES OF LOW CARB NOODLES + new recipes in your inbox.