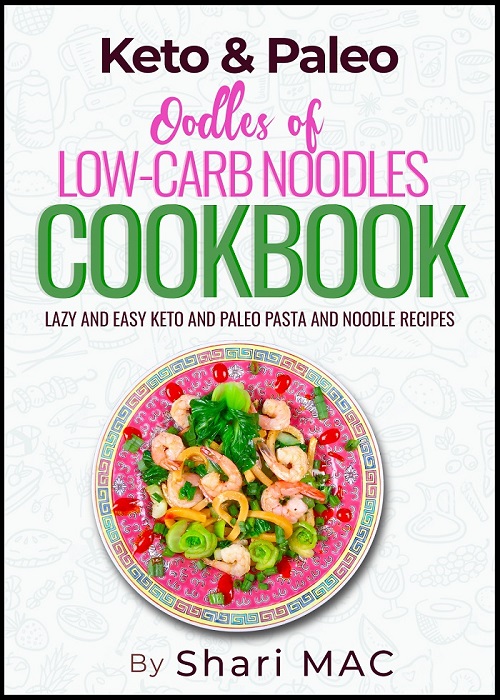 Your FREE copy of KETO & PALEO Oodles of Low-Carb Noodles Cookbook Signup Here
On your Paleo Whole30 journey, you can enjoy low glycemic fruits like blueberries and peaches all year long. I love peaches for all the reasons everyone does! Peaches taste so sweet, you get that "sweetness" craving handled on your PALEO & WHOLE30 diet!
The peach is an expression of summer, juicy, sweet, and nutritious. The key to cooking with peaches is to make sure they are ripe! Soft and juicy. But not bruised or overripe.
This tart takes some time to prepare and bake. It's the ideal dessert if you're entertaining family and friends this summer.
WHAT IS THE NUTRITIONAL VALUE OF PALEO WHOLE30 PEACH & BLUEBERRY CRUMBLE?
Peaches aid in our digestion, promote heart health, keeps our skin moist, helps to prevent certain cancers, help reduce allergy symptoms, and boost our immune system Did you know that one peach also provides the following?
Calories: 58
Protein: 1 gram
Fat: less than 1 gram
Carbs: 14 grams
Fiber: 2 grams
Vitamin C: 17% of the Daily Value (DV)
Vitamin A: 10% of the DV
Potassium: 8% of the DV
Niacin: 6% of the DV
Vitamin E: 5% of the DV
Vitamin K: 5% of the DV
Copper: 5% of the DV
Manganese: 5% of the DV
WHAT IS THE TASTE PROFILE PALEO WHOLE30 PEACH & BLUEBERRY CRUMBLE?
The predominant taste sensation of this tart is sweetness, due to the peaches, blueberries, and vanilla sauce.
WHAT WINE HARMONIZES WITH PALEO WHOLE30 PEACH & BLUEBERRY CRUMBLE?
The natural sweetness of this tart demands a white wine with more sweetness like a late harvest white (Gewurztraminer or Riesling), Icewine, or Sauternes. Choose a Vidal or. Riesling Icewine.
HOW IS THE RECIPE FOR PALEO WHOLE30 PEACH & BLUEBERRY CRUMBLE PREPARED?
Here is a video to show you how to make the crust:
Here is a video to show you how to make the Paleo Whole30 Peach & Blueberry Crumble
Print
PALEO WHOLE30 PEACH & BLUEBERRY CRUMBLE
Paleo Whole30 Peach & Blueberry Crumble sings with summer flavours.  Using fresh fruit and date paste, this all natural dessert will satisfy that comfort food craving. The recipe is time consuming, but worth it.  The recipe uses fresh peaches, blueberries, an almond flour crust and a delicious vanilla sauce and crumble.   If you are hunting for a delicious summer tart, check out this recipe!
Author: KETO PALEO SHARI MAC
Prep Time:

45

Cook Time:

30

Total Time:

1.5 hours

Yield:

8

to

12

1

x
Category:

PALEO & WHOLE30

Method:

BAKING

Cuisine:

DESSERT

Diet:

Gluten Free
Vanilla Sauce:
2 cups coconut cream*
1/2 cup date paste**
¼ cup grass-fed or plant-based butter or ghee
1 teaspoon vanilla
Pie Filling
4 ripe peaches slices
1 cup blueberries
1 cup vanilla sauce*
Crust:
1.5 cups almond flour (170 g)
1.5 cups tapioca flour (228 grams)
1 teaspoon sea salt (6 grams)
1 teaspoon Guar Gum (2 grams)
2 eggs
1 tablespoon gluten-free baking powder
¼ cup plant-based butter or ghee
1 tablespoon of water at a time as needed  
Crumble:
¼ dough ball
1 cup walnuts or mixed nuts
1 teaspoon cinnamon
¼ cup grass-fed, plant-based butter or ghee
*To make coconut cream open a can of coconut milk.  The coconut fat will have separated from coconut water.  Remove fat from the can and transfer to a bowl.  Feed the coconut water to your cat!
**For the date paste recipe click the link below: 
Instructions
To make the vanilla sauce: Meanwhile, make the vanilla sauce.  In a food processor or blender add coconut cream, date paste, butter, and vanilla.  Puree until smooth.  Transfer to a saucepan.  On low heat, heat sauce.  Keep warm.
To make the pie filling: Preheat oven to 350 F (170 C).  In a bowl combine peach slices and blueberries.  Fold in vanilla sauce. Set aside.
To make the crust add dough dry ingredients to a bowl or  to the bowl of food processor or mixer.  Add eggs and plant-based butter.  Mix until butter is well mixed.  Add water as needed.  Mix until you have a sticky dough.  Transfer dough to piece of parchment.  Roll into a ball.  Cut off ¼ of the ball (to use for the crumble and set aside.  Re-roll dough into a ball again. Cover with another piece of parchment.  Roll into a circle about 6 to 7-inches in diameter.  Remove the top piece of parchment and smooth out the rough edges into a symmetrical circle.  Replace parchment.  Flip dough in parchment over and roll dough about 1-inch in diameter larger than the standard size (9″) pie plate. 
Remove top parchment again.  Place the pie plate face side down on dough.  Flip over so dough is inside the plate. You will have to fix the broken edges, using pieces of the thicker sides to patch up the thinner sides so that the sides of the dough is uniform.  No worries.  You won't see the patchwork.  
Par-bake the crust for 10 minutes.  Remove.  Let cool. 
To make the crumble: In a bowl combine all ingredients.  Work together with your fingers to make the crumble.   Sprinkle crumble over the tart. 
Replace in oven and bake another 30 minutes until peaches are cooked and soft. Remove from the oven.  Let cool.  Serve warm or hot.
Notes
Use any fruit combination you choose for this tart.
The recipe baking temperature and time is an estimate.  Follow your own oven's temperature and cooking time. It takes a gas oven 10-15 minutes to reach the desired temperature. Electric ovens can take 10 minutes longer than that.  The age of your oven will also determine the temperature, time for roasting or baking, and where you want to place your dish in the oven.  The bottom of your oven may be hotter than the top, depending on its condition.  This also includes where to set your dish under the broiler.  So use your own best judgment based on the type, condition, and age of your oven.  Prep times will also vary depending on how slow or quickly you like to work.
Keywords: Paleo dessert recipes, paleo dessert, whole30 dessert recipes, whole30 dessert, grain-free dessert, gluten-free dessert, paleo peace tart, whole30 peach tart, grain-free peach tart, gluten-free peach tart, paleo, paleo recipes, paleo dinner, Whole30, Whole30 recipes, gluten free, gluten free recipes, gluten free recipes ford dinner, anti inflammatory diet, grain free, grain free diet, grain free recipes, paleo and wine gluten free and wine
FREE e-cookbook called OODLES OF LOW CARB NOODLES
Join our family to get your FREE e-cookbook OODKES OF LOW CARB NOODLES + new recipes in your inbox.