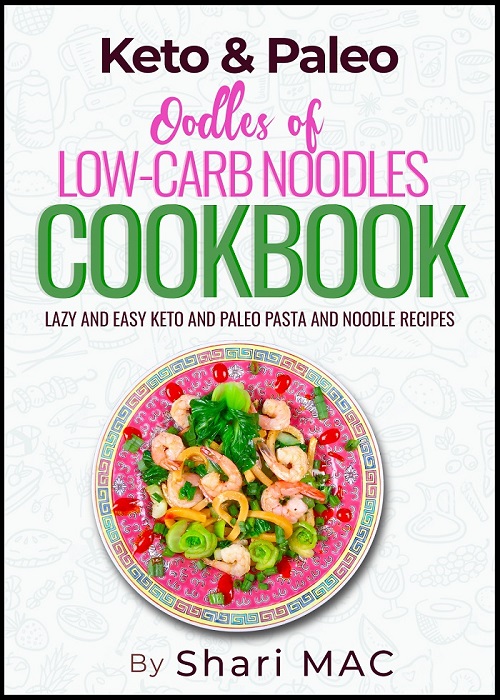 Your FREE copy of KETO & PALEO Oodles of Low-Carb Noodles Cookbook Signup Here
In my previous Keto Low-Carb Paleo blogs, I've overstated that I am a cheese hound. I say "am" in the present tense because sometimes I just crave it. But in following the Keto Paleo paths more rigidly to completely rid my body of pain associated with a car accident injury, I vowed to give up cheese for a while.
In making fresh vegan cheese, I soon discovered that I absolutely love them! Cashew or almond-based vegan cream cheese gives you all the same texture and tanginess that you enjoy from the dairy version. Albeit, there's a distinctive "dairy" flavour to dairy-based cheeses. That is the only difference, really.
In vegan cheeses you also get the added benefit of the rich, animal-free protein from the almonds or cashews!
This vegan cream cheese can be used just as you would use any cream cheese, such as on grain-free bagels, served with fruit, added to recipes or served as a savoury dip.
I made enough cream cheese in my last batch that I was able to prepare both a dip and a fruit tart.
To make the Bacon, Basil, and Olive Oil Dip, simply place the cream cheese on a plate, sprinkle with compliant, crispy bacon, sprinkle with basil, and drizzle with olive oil (quality stuff!)
WHAT IS THE NUTRITIONAL VALUE OF THIS KETO LOW-CARB PALEO VEGAN CREAM CHEESE?
This recipe includes raw cashews, which are low in sugar and rich in fiber, heart-healthy fats, and plant protein. They are also a good source of copper, magnesium, and manganese — nutrients important for energy production, brain health, immunity, and bone health. Consuming raw cashews may also help prevent blood disease, helps to protect our eyes, and helps to make our skin glow.
Nutritional yeast is another ingredient. It is naturally low in sodium and calories, and it is fat-free, sugar-free, gluten-free, and vegan! Nutritional yeast also helps to lower bad cholesterol thus protecting the body from free radical damage.
WHAT IS THE TASTE PROFILE OF KETO LOW-CARB PALEO VEGAN CREAM CHEESE?
The predominant taste sensations of this cream cheese are tanginess (from the lemon) and umami (roundness and depth of flavour) from the nutritional yeast. It's chemo-sensory sensation is creaminess. So rich and delicious.
WHAT WINE HARMONIZES WITH KETO LOW-CARB PALEO VEGAN CREAM CHEESE?
With the predominant taste sensation of this cream cheese being tanginess and umami, choose a wine with equal tanginess. The delicate nature of this cheese also makes it harmonize with lighter whites rather than fatty whites. If you want an ideal pairing between the cream cheese and a crisp, dry white wine, add salt to the cheese recipe. This way the hint of saltiness in the cheese will nicely offset the acidity in the white wine. The tanginess from the lemon will complement the wine's acidity. Examples of crisp, dry white wines include Pinot Gris, Pinot Grigio, dry Riesling, Sauvignon Blanc, or even Vinho Verde.
If you add another taste sensation to the cream cheese then the wine partner will change as well. For example, if you use the cream cheese to make a dip and drizzle the dip with olive oil, choose a big, fat white wine, such as Chardonnay. This way the fattiness from the dip will harmonize with the viscosity in the Chardonnay. If you are eating "lazy" and want to add fruit to the dip, you'll need sweetness in the wine to match. Stick to Keto/Paleo-compliant fruits, such as blueberries. Choose a white wine with a hint of natural sweetness to match the sweetness in the fruit. If you add smoked salmon to the dip you're adding far more saltiness. In this case choose a crisp, white wine zinging with acidity like a bone-dry Riesling or Vinho Verde. The wine's super bright acidity will nicely offset the saltiness in smoked salmon.
HOW DO YOU MAKE KETO L0W-CARB PALEO VEGAN CREAM CHEESE?
Print
KETO LOW-CARB PALEO VEGAN CULTURED CREAM CHEESE
Keto Low-Carb Paleo Vegan Cream Cheese is creamy and satisfying. The recipe uses 3 ingredients — raw cashews, plain yogurt (Keto) or coconut yocurt (Paleo) and salt.  The cream cheese can be enjoyed on its own or in recipes just like dairy cream cheese and in any season.  Keto Low-Carb Vegan Cream Cheese can be paired with wine, check out this recipe!
Author: admin
Prep Time:

24 hours

Total Time:

24 hours

Yield:

2 cups

(

16 ounces

)

1

x
Category:

KETO LOW-CARB PALEO

Method:

Resting

Cuisine:

BREAKFAST, LUNCH, BRUNCH, DINNER

Diet:

Gluten Free
2 cups raw cashews (or raw almonds) soaked overnight in filtered water
2 tablespoons plain, unsweetened non-dairy yogurt (see notes)
1/2 teaspoon sea salt (plus more to taste)
Filtered water as needed to blend
Instructions
Sterilize all the equipment you intend to use including inside the mixer bowl, spoons, etc.  Sterilize the glass container to be used to store the cream cheese.  Set aside.   Place nuts in bowl and cover with boiling water.  Cover and refrigerator for 24 hours. 
Drain water from soaked cashews.  Place cashews in blender or food processor and blend until smooth.  It can take some time.  Stop to scrape down the sides as often as needed; you can add water as needed to make it smooth.  Add the yogurt, pulse more to mix.  Transfer mixture to your glass jar. Cover.  Let sit out at room temperature for 24 hours. (If your house is air-conditioned in the summer, put the glass jar in the oven with the light on to keep it a room temp.  When done, add salt.  Store in the refrigerator for up to 1 week. 
Notes
The nutritional value of this recipe is based on the Keto version and is approximate.  One serving offers 5.2 net carbs.
Here are some tips for making this delicious vegan cheese:
1.  I use So Delicious Plain Unsweetened Cultured Coconut Milk as my non-dairy yogurt of choice (for Paleo).
2.  When you are letting the cheese sit out to develop the tanginess, I usually don't wait 24 hours.  Taste the cheese occasionally.  The longer the cheese sits out the tangier it becomes.   If left too long the cheese will taste more like yogurt than cream cheese. 
3.  This recipe makes cultured cashew cream cheese with a texture more like "whipped" dairy cream cheese. For a firmer texture like block cream cheese, press out some of the liquid from the cheese.  Do this by placing a cheesecloth in a sieve over a bowl.  Place the cream cheese in the cheesecloth.  Place the cheese in the refrigerator for 24 hours, allowing more liquid to drain from the cheese.   
Nutrition
Serving Size:

1 ounce

Calories:

100

Sugar:

1

Sodium:

63

Fat:

8

Saturated Fat:

1.6

Carbohydrates:

5.7

Fiber:

0.5

Protein:

2.7

Cholesterol:

0
Keywords: keto, keto-recipes, ketogenic-diet, ketogenic-recipes, low-carb, low-carb-recipes, lazy-keto, sugar-free, sugar-free-recipes, keto-and-wine, paleo, paleo-diet, paleo-recipes, lazy-paleo, , paleo-and-wine, primal-diet, primal-diet-recipes, caveman-diet, caveman-diet-recipes, gluten-free, gluten-free-recipes, gluten-free-with-wine, grain-free, grain-free-diet, grain-free-recipes, grain-free-recipes-with-wine, anti-inflammatory-diet, anti-inflammatory-recipes, dairy-free-diet, dairy-free-recipes, dairy-free-recipes-with-wine,
FREE e-cookbook called OODLES OF LOW CARB NOODLES
Join our family to get your FREE e-cookbook OODKES OF LOW CARB NOODLES + new recipes in your inbox.