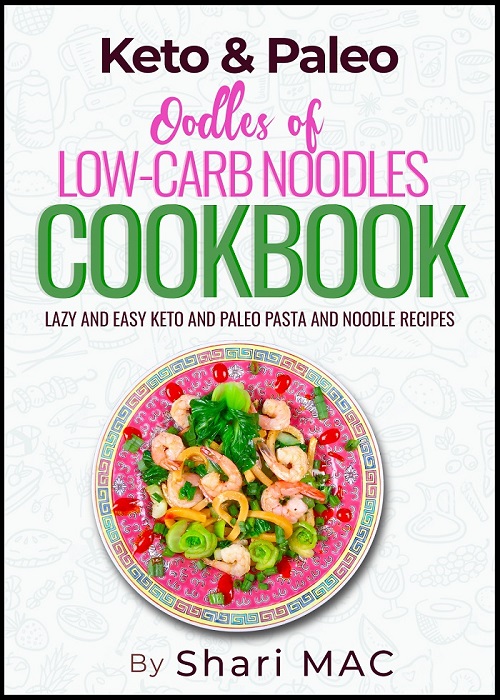 Your FREE copy of KETO & PALEO Oodles of Low-Carb Noodles Cookbook Signup Here
On my Keto, Low-Carb, and Paleo paths, I go through stages where I'll make a lot of baked goods, or then chicken legs, or vegan cheeses.  To spice things up, I like to make grated vegan parmesan from both raw cashews and raw almonds.  A day ago I ran out of my parmesan and rather than going to the supermarket to purchase more raw nuts I decided to try making it from almond flour.  The result was awesome.  My husband Shawn loves this vegan parmesan the best.  It's perfect to enjoy sprinkled over savory dishes like pasta, baked food, pizza, salads
WHAT IS THE NUTRITIONAL VALUE OF KETO LOW-CARB PALEO 3-MINUTE VEGAN ALMOND PARMESAN?
Both almond flour and nutritional yeast is high in protein. Almond flour is also considered as one of the best flour for weight loss. The reason is that it is low in carbs with an extremely low glycemic index. Nutritional yeast has so many health benefits.
Nutritional yeast is also super healthy. It helps to boost our immune system, aids in supporting the digestive system, boosts energy, helps to regulate our nervous system, helps to protect us from cancers. Nutritional yeast is high in protein, fiber, B12, and folic acid.
WHAT IS THE TASTE PROFILE OF KETO LOW-CARB PALEO 3-MINUTE VEGAN ALMOND PARMESAN?
The predominant taste sensations of this vegan parmesan is umami and saltiness. One of the ingredients in this recipe is nutritional yeast. Nutritional yeast is loaded with the 5th taste sensation of umami. This ingredient adds depth of flavour and roundness of flavour to this cheese, much like the same experience you get from real dairy parmesan — an aged cheese. As dairy cheese ages is become complex and moves from simple to complex umami. The greater the age of the cheese, the greater the umami sensation. This vegan parmesan offers similiar depth and roundness of flavour without the dairy! Let's be real. This vegan cheese does not replace true Parmigianno. However, when cooking you can use this cheese in place of the dairy version to increase your healthy fat (monounsaturated) and decrease your sodium intake.
IS VEGAN PARMESAN HEALTHIER THAN DAIRY PARMESAN?
Dairy parmesan and vegan parmesan are just different, both providing beneficial attributes. When it comes to a Keto diet (as apposed to lazy or dirty), it's important to maximize where you're getting your net carbs daily. When I'm aiming for ketosis, I pick and choose where I'm going to get my net carbs. In aiming and staying in ketosis, I would prefer a tablespoon of unsweetened chocolate (with a sweetener added) in my homemade ice cream, rather than getting those few additional carbs from cheese used to season a dish.
As a major cheese hound, I must point out that I'm looking at the nutritional value of both dairy and vegan parmesan… "in the context of using parmesan as a seasoning ingredient within a dish." When it comes to eating cheese by itself I will take Parmigiano-Reggiano over ANY vegan version made. A hunk of Parmigiano-Reggiano paired with a mouthful of Zinfandel will be my choice always.
Here are some comparison nutritional values to consider…
WHAT WINE HARMONIZES WITH KETO LOW-CARB PALEO 3-MINUTE VEGAN ALMOND PARMESAN?
With the predominant taste sensations of vegan parmesan being saltiness and umami, a. full-bodied white wine with good acidity is the ideal partner. The idea is to find a wine that sings both before and after. Remember, you are using this cheese as a seasoning agent within a recipe. So, there are more than just the cheese flavours to consider. In any case, a white with some viscosity (high alcohol at 13.5 to 14.5 percent) works.  This includes Australian Chardonnay, California Chardonnay, California Pinot Gris, California Sauvignon Blanc, California Viognier, Chilean Chardonnay, French Sauternes, South African Chenin Blanc.
HOW DO YOU MAKE KETO LOW-CARB PALEO 3-MINUTE VEGAN ALMOND PARMESAN?
Print
KETO LOW-CARB PALEO 3 MINUTE VEGAN ALMOND PARMESAN
 Keto Low-Carb Paleo 3 minute parmesan is a fabulous choice to using in all recipes that require this cheese.  High in healthy fats.  Lower in calories.  Low in sodium.  The recipe uses balanced almond flour, nutritional yeast, garlic powder, onion powder, black pepper, and optional salt.  Quick and easy to add to all your favourite Italian dishes. Check out the recipe.
Author: KETO PALEO SHARI MAC
Prep Time:

3 MINUTES

Cook Time:

ZERO

Total Time:

3 MINUTES

Yield:

2.5 CUPS

(

20 OUNCES

)

1

x
Category:

KETO LOW-CARB PALEO

Method:

MIXING

Cuisine:

BREAKFAST, LUNCH, BRUNCH, DINNER

Diet:

Gluten Free
2 cups almond flour
1/3 cup nutritional yeast
1 teaspoon garlic powder
1 teaspoon onion powder
1 teaspoon freshly ground black pepper
½ teaspoon sea salt (optional)
Instructions
Mix all ingredients in a bowl.  Transfer to a sterilized glass container.  Store in the cupboard and use as needed.  Will last up to 6 months.
Notes
Store in the cupboard for up to a month.  This recipe is based on the keto version and is approximate.  The nutritional information is based on a one-ounce serving of cheese.
Nutrition
Serving Size:

1 ounce

Calories:

77

Sugar:

0

Sodium:

99

Fat:

5.5

Saturated Fat:

0.4

Carbohydrates:

3.7

Fiber:

1.9

Protein:

3.7

Cholesterol:

0
Keywords: keto, keto-recipes, ketogenic-diet, ketogenic-recipes, low-carb, low-carb-recipes, lazy-keto, sugar-free, sugar-free-recipes, keto-and-wine, paleo, paleo-diet, paleo-recipes, lazy-paleo, , paleo-and-wine, primal-diet, primal-diet-recipes, caveman-diet, caveman-diet-recipes, gluten-free, gluten-free-recipes, gluten-free-with-wine, grain-free, grain-free-diet, grain-free-recipes, grain-free-recipes-with-wine, anti-inflammatory-diet, anti-inflammatory-recipes, dairy-free-diet, dairy-free-recipes, dairy-free-recipes-with-wine,
FREE e-cookbook called OODLES OF LOW CARB NOODLES
Join our family to get your FREE e-cookbook OODKES OF LOW CARB NOODLES + new recipes in your inbox.