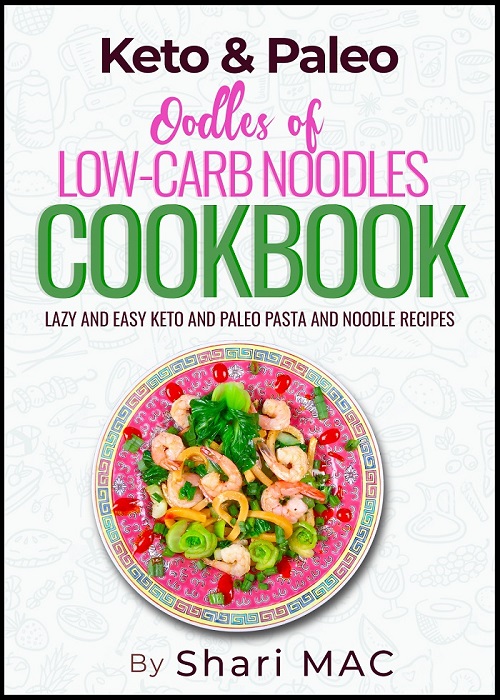 Your FREE copy of KETO & PALEO Oodles of Low-Carb Noodles Cookbook Signup Here
I follow a pretty committed Keto Low-Carb and Paleo path, depending on my exercise regime. My husband Shawn participates because I do most of the cooking. However, we both focus on protein as the primary source of our meals because of our high-intensity workouts, weight lifting. For this reason, I'm always hunting for Keto Paleo Low-Carb ways to enjoy pork chops. They are tasty, loaded with protein, and inexpensive.
WHAT IS THE NUTRITIONAL VALUE OF KETO LOW-CARB PALEO PORK CHOPS WITH SPINACH RICOTTA STUFFING?
A 6-ounce pork chop offers about 35.17 grams of protein. One chop offers more than enough protein per meal when the recommended amount is about 25 grams. The chop is one of the leaner cuts and is an excellent source of important vitamins and minerals, such as thiamin, selenium, protein, niacin, vitamin B-6 and phosphorus, zinc, riboflavin, and potassium.
WHAT IS THE TASTE PROFILE OF KETO LOW-CARB PALEO PORK CHOPS WITH SPINACH RICOTTA STUFFING?
The predominant taste sensation of this recipe is umami that comes from the nutritional yeast in the stuffing, as well as from the cooked pork. In fact, pork happens to be exceptionally high in umami, which is roundness and depth of flavour.
WHAT WINE HARMONIZES WITH KETO LOW-CARB PALEO PORK CHOPS WITH SPINACH RICOTTA STUFFING?
With the predominant taste sensation of this recipe being umami, you can go with either a full-bodied white or red wine. Make sure you're wine has loads of alcohol, which adds viscosity or thickness to the wine. You'll want this added richness in the wine to match the pork umami and creaminess of the ricotta stuffing.
Recipe:
Print
KETO LOW-CARB PALEO PORK CHOPS WITH SPINACH RICOTTA STUFFING
Keto Low-Carb Paleo Pork Chops with Spinach Ricotta Stuffing offers a delicious alternative to a simple pork chop.  Ideal for dinner.   The recipe uses fresh spinach, garlic, fresh basil, ricotta (or vegan ricotta), pork chops, and parmesan (or vegan parm).  If you are hunting for a satisfying Keto Low-Carb Paleo pork chop recipe to pair with wine, check out this recipe!
Author: KETO LOW-CARB PALEO
Prep Time:

10

Cook Time:

30

Total Time:

40

Yield:

4

1

x
Category:

KETO LOW-CARB PALEO

Method:

BAKING

Cuisine:

DINNER

Diet:

Gluten Free
Stuffing:
2 cups fresh spinach 
2 cloves garlic, minced
1 tablespoon fresh basil
Freshly ground black pepper to taste
1 cup whole milk ricotta (Keto) or vegan ricotta cheese*
1 tablespoon olive oil 
4 bone-in pork chops (about one inch thick/6 ounces each)
1/2 cup parmesan (Keto) or vegan parmesan (Paleo)**
*Click this link for a fresh vegan ricotta recipe:
KETO LOW-CARB PALEO FRESH VEGAN RICOTTA
**Click this link for vegan Parmesan Recipe:
Instructions
Preheat an oven to 375°F.
In a small pot with a colander, steam the spinach until wilted.  About 5 minutes. Remove from pot.  Place in a bowl and squeeze liquid from spinach.  Let cool. Add garlic, basil, and vegan ricotta. Season with pepper.  Rinse and pat dry the pork chops. Preheat the ovenproof skillet over medium/high heat. Add olive oil. Add the pork chops and sear them for a few minutes on both sides until they get a beautiful golden color.  Remove the chops from the pan.  Add ¼ cup of ricotta spinach stuffing to the top of each chop.  Spread evenly over chop.  Sprinkle stuffing with parmesan. Bake, covered with foil, for about 30 minutes or to an internal temperature of 145F.  Remove foil and bake another 5 minutes.  The amount of baking time will depend on the thickness of your pork chops.). Check the temperature at the thickest part of the cut without touching any bone.  Remove from the oven. Serve hot.
Notes
The nutritional value of this recipe is based on the Keto version and is approximate.  Each serving has 3 net carbs.
Note: The recipe baking temperature and time is an estimate.  Follow your own oven's temperature and cooking time. It takes a gas oven 10-15 minutes to reach the desired temperature. Electric ovens can take 10 minutes longer than that.  The age of your oven will also determine the temperature, time for roasting or baking, and where you want to place your dish in the oven.  The bottom of your oven may be hotter than the top, depending on its condition.  This also includes where to set your dish under the broiler.  So use your own best judgment based on the type, condition, and age of your oven.  Prep times will also vary depending on how slow or quickly you like to work.
Nutrition
Serving Size:

1

Calories:

724

Sugar:

0.4

Sodium:

417

Fat:

55.9

Saturated Fat:

22.9

Carbohydrates:

3

Fiber:

0.6

Protein:

51.4

Cholesterol:

182
Keywords: keto, keto-recipes, ketogenic-diet, ketogenic-recipes, low-carb, low-carb-recipes, lazy-keto, sugar-free, sugar-free-recipes, keto-and-wine, paleo, paleo-diet, paleo-recipes, lazy-paleo, , paleo-and-wine, primal-diet, primal-diet-recipes, caveman-diet, caveman-diet-recipes, gluten-free, gluten-free-recipes, gluten-free-with-wine, grain-free, grain-free-diet, grain-free-recipes, grain-free-recipes-with-wine, anti-inflammatory-diet, anti-inflammatory-recipes, dairy-free-diet, dairy-free-recipes, dairy-free-recipes-with-wine,
FREE e-cookbook called OODLES OF LOW CARB NOODLES
Join our family to get your FREE e-cookbook OODKES OF LOW CARB NOODLES + new recipes in your inbox.