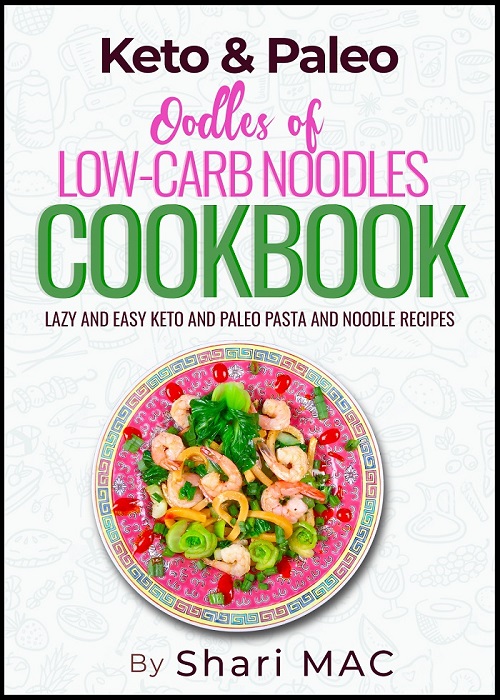 Your FREE copy of KETO & PALEO Oodles of Low-Carb Noodles Cookbook Signup Here
Long before my Keto Paleo journey, back in the '90s, I was immersed in the food and wine world. In my food and wine columns and cookbooks, I wrote a lot about umami as the 5th taste sensation and its importance in our recipes. Umami adds roundness and depth of flavour to many dishes. It is glutamic acid — glutamate. Umami is the Japanese word for yummy or delicious (umai).
Some foods naturally possess glutamate (umami), such as ripe tomatoes, asparagus, and raw potatoes. These foods have simplistic umami. The addition of the slow cooking, and/or aging process, and/or through fermentation can dramatically increase the level of umami in food. Raw potatoes possess simplistic umami. The moment they are cooked, this umami moves to synergistic. That's why cooked potatoes in various forms are comfort food. Mashed potatoes and French fries are high in umami. We are addicted to them. Raw asparagus taste okay. Once steamed, however, and asparagus become yummy!
The umami in cheese or beef is increased through the aging process. The umami in aged cheese or beef is synergistic. Broccoli soup is palatable. But when you add aged cheese to this soup, its flavour is increased. The soup gains roundness and depth of flavour from the umami in the cheese. You can intensify the umami in broccoli soup with vegan parmesan, as well. Vegan parmesan contains nutritional yeast high in simplistic umami.
Soy sauce, high in synergistic umami, is made from fermented soybeans. Asian recipes use soy sauce and it is a "must-have" condiment for Asian people. In North America, we are also now addicted to soy sauce.
North Americans also have another addictive condiment high in umami – ketchup!
Ketchup is made from slow-roasted (creates synergistic) tomatoes (simplistic). As mentioned above fresh, ripe tomatoes have simplistic umami. Add the slow roasting process and that umami becomes synergistic.
North American tomato sauce contains sugar (and other added spices), which is not compliant with a Paleo or Whole30 diet. This is why we must make homemade ketchup from scratch to eat as a condiment or to add to recipes.
You could say that this ketchup recipe is an umami bomb! It is jam-packed with umami ingredients and processes. This ketchup contains tomato paste (synergistic umami from slow cooking), coconut aminos (synergistic umami from fermentation), nutritional yeast (simplistic umami, its natural glutamate)! Add to this that the tomato paste has been slow-cooked twice, and you will be adding an additional slow cooking.
In the making of tomato paste, fresh tomatoes are cooked for several hours to reduce their water content. The sauce is strained to remove the seeds and skin and then cooked again to reduce the sauce to a thick rich concentrate. All this slow-cooking increased the umami in the resulting tomato paste.
Coconut Aminos offers synergistic umami, due to the fermentation process. This sauce is also gluten-free, non-GMO, soy-free, MSG-free, kosher, Paleo-friendly, Whole 30 compliant.
Nutritional yeast possesses natural glutamate (simplistic umami).
So while this ketchup recipe may not taste like commercial sold ketchup, it is still delicious and an umami bomb!
WHAT IS THE NUTRITIONAL VALUE OF TOMATOES?
Tomato paste offers all the same health benefits of tomatoes. Choose a brand low in sodium, such as "Hunts." One study found lycopene levels from ingesting tomato paste were 2.5 times higher than eating raw tomatoes! Lycopene:
Supports a healthy immune system
Is high in antioxidants
Can help prevent cancer
Promote good eye health
Helps to prevent heart disease
Helps to relieve neuropathic pain
Helps to control bad cholesterol
Helps with brain cognition
WHAT IS THE TASTE PROFILE OF PALEO WHOLE30 DA BOMB KETCHUP?
The ketchup tastes super-rich with lots of flavour explosions going on – some heat, cinnamon spice, rich sweet tomato, and a slight tang.
WHAT WINE HARMONIZES WITH PALEO WHOLE30 DA BOMB KETCHUP?
The ketchup is well balanced in its partnership between tangy, sweet, spicy, salty. Any well balanced white or red will work with this ketchup.
HOW DO YOU PREPARE PALEO WHOLE30 DA BOMB KETCHUP?
Print
PALEO WHOLE30 DA BOMB KETCHUP
Paleo Whole30 Da Bomb Ketchup can be used in a plethora of recipes! The recipe uses tomato paste, coconut aminos, date paste, apple cider vinegar, nutritional yeast, and a whole lotta spice!  If you are hunting for a Ketchup with no refined sugar this is the one for you!  It's absolutely delicious, singing with depth and roundness of flavour – umami!  Check out this recipe!
Author:
Prep Time:

15

Cook Time:

30

Total Time:

45 minutes

Yield:

2 cups

1

x
Category:

PALEO WHOLE30

Method:

SIMMERING

Cuisine:

BREAKFAST, LUNCH, BRUNCH, DINNER

Diet:

Gluten Free
1.5 cups tomato paste (organic is possible)
1 cup water
½ cup coconut aminos
2/3 cup date paste*
1/2 cup apple cider vinegar
2 teaspoon onion powder
2 teaspoon garlic powder
2 teaspoons smoked paprika
1/4 teaspoon ground cinnamon
2 teaspoons nutritional yeast
1 teaspoon fine sea salt
1 teaspoon chili flakes (optional for spiciness)
Click link for date paste recipe:
Instructions
In a food processor or blender add all ingredients.  Blend until smooth.  Transfer sauce to a small pot. Bring to a slow simmer, place a lid on the pot, and cook for 30 minutes. Stir the ketchup every 5 minutes and give it a taste after 15 minutes. You may want more monk fruit to make it sweeter, or more vinegar, but trust me, the balance of flavors should be right. After 30 minutes, remove the lid and let cook another 15 minutes. The texture should be slightly looser than ketchup and will thicken after it cools. Carefully blend the ketchup using a hand blender or blender, this will whip some air into it and make the ketchup smooth.
Transfer the ketchup into sterilized glass jar(s).  Allow to cool.  Store in the fridge for up to 3 weeks, or freeze for 6 months. Enjoy in a variety of sauces.
Keywords: paleo, paleo recipes, paleo dinner, Whole30,#Whole30r recipes, whole30dinner, gluten free, gluten free recipes, gluten free dinner, gluten free recipes for dinner, anti-inflammatory diet, anti-inflammatory recipes, grain free, grain free diet, grain free recipes, grain free dinner, paleo and wine, gluten free and wine, dairy free diet, dairy free recipes, dairy free dinner,
FREE e-cookbook called OODLES OF LOW CARB NOODLES
Join our family to get your FREE e-cookbook OODKES OF LOW CARB NOODLES + new recipes in your inbox.