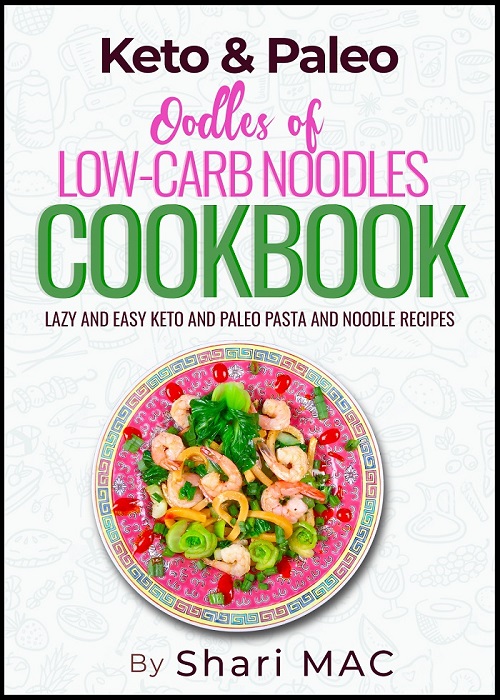 Your FREE copy of KETO & PALEO Oodles of Low-Carb Noodles Cookbook Signup Here
When first starting my Keto, Low-Carb, Paleo and sometimes Keto journey, I really thought I would have to sacrifice certain foods like bread and bread-related products, such as bread crumbs.  The more I experimented in this culinary world, the more I realized that there are few foods that are without substitutions.  This is a recipe for Keto, Low-Carb, Paleo bread crumbs. 
The almonds and almond-based parmesan can be made with raw cashews as well. I prefer the flavour of the almonds in the breadcrumbs and cheese. Almonds have a milder flavour and closer to the taste of real bread crumbs. But cashews work just as well if you prefer this nut. Or you can make the bread crumbs using a combination of both the raw almonds and the raw cashews.
These bread crumbs can be made in a couple of minutes and used in a whole array of dishes, such as
Breaded chicken strips
Meatballs
Meatloaf
Cutlets
Gratin for casseroles
Gratin for Mac and Cheese
Fish
Shrimp or crab cakes
Buffalo chicken
Coconut chicken or shrimp
Chicken wings
Pork chops
This list is endless…
WHAT IS THE NUTRIONAL VALUE OF KETO, LOW-CARB PALEO BREAD CRUMBS?  
The breadcrumbs are rich in all the nutrients and health benefits of almonds and nutritional yeast. Both almond flour and nutritional yeast are high in protein. Almond flour is also considered one of the best flour for weight loss. The reason is that it is low in carbs with an extremely low glycemic index. Nutritional yeast has so many health benefits.
Nutritional yeast is also super healthy. It helps to boost our immune system, aids in supporting the digestive system, boosts energy, helps to regulate our nervous system, helps to protect us from cancers. Nutritional yeast is high in protein, fiber, B12, and folic acid.
WHAT IS THE TASTE PROFILE OF KETO, LOW-CARB PALEO BREAD CRUMBS?  
The nutritional yeast in the parmesan gives the breadcrumbs a real bread-like yeastiness. The bread crumbs are also slightly salty.
WHAT WINE HARMONIZES WITH KETO, LOW-CARB PALEO BREAD CRUMBS?  
You will be using the bread crumbs in a whole variety of ways. So choose a wine according to the most predominant taste sensation of the dish you are making with the bread crumbs.
HOW ARE KETO, LOW-CARB PALEO BREAD CRUMBS PREPARED?
Will last for about 2 weeks in the refrigerator.
Print
KETO LOW-CARB PALEO BREAD CRUMBS
Keto Low-Carb Paleo bread crumbs can be used for a whole array of delicious recipes, such as meatballs, casserole toppings, meatloaf, breading for chicken or chicken wings.  The list is endless.  The recipe uses raw almonds, vegan parmesan, chili flakes, and black pepper.  If you're looking to add a substantial element to your dishes, check out this recipe!
Author:
Prep Time:

5

Total Time:

5

Yield:

2 cups

(

16 ounces

)

1

x
Category:

KETO LOW-CARB PALEO

Method:

MIXING

Cuisine:

BREAKFAST, LUNCH, BRUNCH, DINNER

Diet:

Gluten Free
1 cup raw almonds
1 /4 cups vegan parmesan (made with almond flour)*
1 tsp dried parsley
1 teaspoon black pepper
½ teaspoon chili flakes
To make vegan parmesan click the link below:
Instructions
Combine all ingredients in a food processor or blender and pulsate until you have a coarse consistency.  Store in an airtight container for future use.
Notes
This recipe is based on the keto version and is approximate.  One ounce contains 0.9 net carbs.
Nutrition
Serving Size:

1 ounce

Calories:

49

Sugar:

0.3

Sodium:

1

Fat:

4.1

Saturated Fat:

0.3

Carbohydrates:

1.9

Fiber:

1

Protein:

1.8
Keywords: keto, keto-recipes, ketogenic-diet, ketogenic-recipes, low-carb, low-carb-recipes, lazy-keto, sugar-free, sugar-free-recipes, keto-and-wine, paleo, paleo-diet, paleo-recipes, lazy-paleo, , paleo-and-wine, primal-diet, primal-diet-recipes, caveman-diet, caveman-diet-recipes, gluten-free, gluten-free-recipes, gluten-free-with-wine, grain-free, grain-free-diet, grain-free-recipes, grain-free-recipes-with-wine, anti-inflammatory-diet, anti-inflammatory-recipes, dairy-free-diet, dairy-free-recipes, dairy-free-recipes-with-wine,
FREE e-cookbook called OODLES OF LOW CARB NOODLES
Join our family to get your FREE e-cookbook OODKES OF LOW CARB NOODLES + new recipes in your inbox.