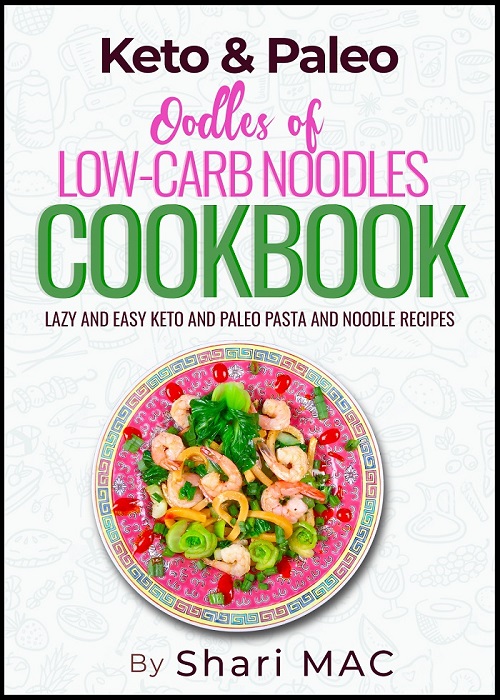 Your FREE copy of KETO & PALEO Oodles of Low-Carb Noodles Cookbook Signup Here
In living a Keto Low-Carb Paleo lifestyle, we eat whole foods and stay away from processed food that is super high in sodium, generally, more than our body requires daily. When aiming or maintaining ketosis, the body requires sodium. Living the lifestyle however does not require high levels of sodium.
As we know, sodium is an essential electrolyte our body requires. It helps to maintain the balance of water in our cells, is vital for proper muscle and nerve function, and helps to maintain our blood pressure levels.
Too much sodium in our diet, associated with processed foods, can damage the heart, aorta, and kidneys (kidney disease) without ever-increasing blood pressure.
It's important to read nutritional labels, especially on any non-whole foods. Just because a food is shelved in the grocery store as healthy or organic does not ensure it is actually healthy. Many processed foods – even organic ones – can be extraordinarily high in sodium.
Health Canada and the 2015 to 2020 Dietary Guidelines for Americans set the adequate intake of sodium for women and men. The tolerable amount is between 1,500 and, on the high end, 2,300 mg per day. We need to put this into perspective. Did you know that 2,300 mg of sodium is found in but one teaspoon of salt? The goal is to keep sodium intake to 700 mg per meal X 3 meals per day.
While Paleo enthusiasts focus on eating whole foods and cooking from scratch, we can still consume far too much-hidden sodium daily.
Bottled water contains 25 mg of sodium. In drinking between four and five bottles of water per day, you are consuming 100 to 125 mg of sodium. It's smart to read bottled water labels.
Discovering hidden sources of sodium can be shocking. How about a Starbuck's Venti Caffe Latte with two percent milk? It's coffee and milk, right? Wrong! This specialty beverage contains 220 mg of sodium!
On our Paleo diet, we focus on protein. Our supermarkets can cook this protein for us.
On the odd occasion when I don't feel like cooking and want to maintain my Paleo commitment, I've grabbed a cooked rotisserie chicken at the supermarket. These chickens may include other ingredients besides the actual flesh. For example, a Costco rotisserie chicken includes the actual meat, seasonings, potato dextrin, carrageenan, sugar, dextrose, spice extractives.
What about its sodium level? Costco chicken is also about 3 pounds/48 ounces of flesh. A 3.5-ounce serving contains 347 mg of sodium. This works out to 4,758 mg of sodium per 3-pound bird. This is roughly 2 days of our daily recommended sodium intake.
The average Walmart rotisserie chicken contains 660 mg of sodium in a 3-ounce portion. The average chicken weighs 3 pounds/48 ounces. Every ounce contains 220 mg of sodium. This calculates to 10,560 mg of sodium in one chicken. This is roughly 5 days of sodium intake in one chicken.
What about frozen non-breaded shrimp? A 3-ounce portion (4 or 5 shrimp) can contain as much as 800 mg of sodium.
You can make protein choices to meet without surpassing your sodium intake. For example, roast your own chicken, buy fresh shrimp when possible, and choose fresh ham over the cured version.
When buying fresh steak, choose plain ones over those seasoned by the butcher. Prepare the seasoning yourself.
Here's a salt-free sugar-free Montreal steak spice seasoning to add to your next delicious fresh steak.
WHAT IS THE TASTE PROFILE OF KETO LOW-CARB PALEO SALT-FREE SUGAR-FREE MONTREAL STEAK SPICE?
The seasonings in the mix include paprika, onion powder, garlic powder, coriander, dried dill, and black pepper.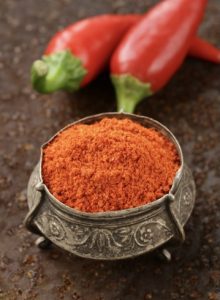 PAPRIKA
Paprika offers a variety of beneficial compounds, including vitamin A, capsaicin, and carotenoid antioxidants. These substances may help prevent inflammation and improve your cholesterol, eye health, and blood sugar levels, among other benefits
.
ONION POWDER
Onion powder is rich in essential vitamins like vitamin B and C. It contains minerals like manganese, calcium, iron and potassium, and a myriad of antioxidants. Onion powders is used in treating mouth sores, heart problems, headaches, high blood sugar, and even cancer.
GARLIC POWDER
Garlic powder has been proven to lower cholesterol and thin the blood. This helps in preventing stroke, high blood pressure, and heart disease. It is believed to help block the growth of cancer cells. Garlic powder is also believed to help regulate blood sugar levels.
CORIANDER
Coriander is rich in antioxidants and is believed to benefit the heart, brain, digestive tract, and skin.
DRIED DILL
Dried dill is rich in antioxidants and is a good source of vitamin C, magnesium, and vitamin A. Dill has many benefits, such as protection against heart disease and cancer
.
BLACK PEPPER
Black pepper is sharp and spicy and adds nutrition to your meal. Black pepper is high in antioxidants, contains anti-inflammatory properties, contributes to brain health, helps to improve blood sugar control, helps to lower bad cholesterol, contains cancer-fighting properties, helps promote gut health, and reduces appetite.
Print
KETO LOW-CARB PALEO SALT-FREE SUGAR-FREE MONTREAL STEAK SPICE
Keto Low-Carb Paleo Salt-free Sugar-Free Montreal Steak Spice is super delicious.  It an be used on steaks, roast beef, chicken, pork, turkey, and even fish.  The recipe uses paprika, black pepper, garlic powder, onion powder, coriander, dill, red pepper flakes,   If you are hunting for a highly flavourful spice rub, this is it!  Check out the recipe.
Author:
Prep Time:

3 MINUTES

Total Time:

3 MINUTES

Yield:

8 tablespoons

1

x
Category:

KETO LOW-CARB PALEO

Method:

MIXING

Cuisine:

LUNCH, BRUNCH, DINNER

Diet:

Gluten Free
2 tablespoons paprika
3 tablespoons coarse black pepper
1 tablespoon garlic powder
1 tablespoon onion powder
1 tablespoon coriander
1 tablespoon dried dill
1 tablespoon red pepper flakes
Instructions
Mix all ingredients together in a bowl.  Transfer to a sterilized glass jar with an airtight lid.
Notes
The recipe is based on the keto version and is approximate.  One tablespoon (1 serving) has 2.9 net carbs.
Nutrition
Serving Size:

1 tablespoon

Calories:

21

Sugar:

0

Sodium:

3

Fat:

0

Saturated Fat:

0

Carbohydrates:

4.6

Fiber:

1.7

Protein:

1

Cholesterol:

0
Keywords: keto, keto-recipes, ketogenic-diet, ketogenic-recipes, low-carb, low-carb-recipes, lazy-keto, sugar-free, sugar-free-recipes, keto-and-wine, paleo, paleo-diet, paleo-recipes, lazy-paleo, , paleo-and-wine, primal-diet, primal-diet-recipes, caveman-diet, caveman-diet-recipes, gluten-free, gluten-free-recipes, gluten-free-with-wine, grain-free, grain-free-diet, grain-free-recipes, grain-free-recipes-with-wine, anti-inflammatory-diet, anti-inflammatory-recipes, dairy-free-diet, dairy-free-recipes, dairy-free-recipes-with-wine,
FREE e-cookbook called OODLES OF LOW CARB NOODLES
Join our family to get your FREE e-cookbook OODKES OF LOW CARB NOODLES + new recipes in your inbox.