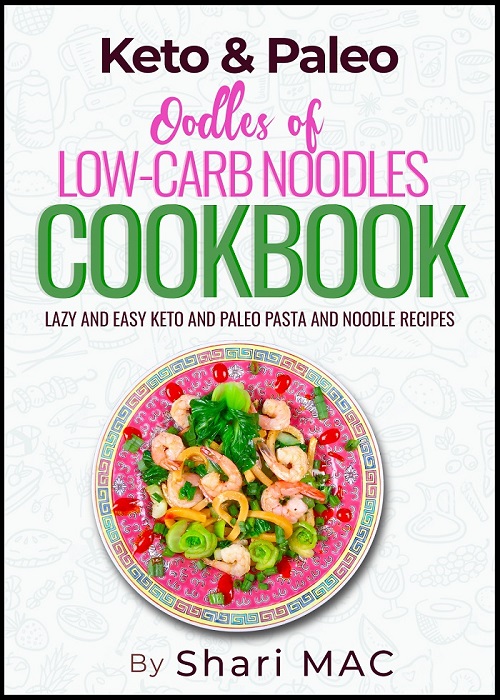 Your FREE copy of KETO & PALEO Oodles of Low-Carb Noodles Cookbook Signup Here
On this Keto Low-Carb and Paleo journey it may seem that you must abstain from enjoying your culinary lifestyle. That is simply not the case. If entertaining family and friends, you can still serve a variety of hors d'oeuvres or tapas before dinner. Your guests would not even notice that the little nuggets are Keto Low-Carb and Paleo compliant. I love Spanish tapas.  
My husband Shawn loves zucchini for its taste and nutrition and mostly because it's anti-inflammatory. So I'm always searching for new ways to enjoy this fruit! Yes, it's a fruit.
WHAT ARE TAPAS?
Tapas are Spanish. In Spain, they are small bite-sized appetizers or snacks that can be enjoyed with wine. They can be room temperature, cold, or hot and can be healthy or fried! These zucchini tapas are super healthy, super easy to make, and super delicious.
IS ZUCCHINI A VEGETABLE OR FRUIT?
While we enjoy this food in savoury dishes like hors d'oeuvres, appetizers, soups, salads, and entrees, it's a fruit. It's summer squash. Zucchini contains seeds and grows on the flowering part of the zucchini plant.
WHAT IS THE BEST WAY TO EAT ZUCCHINI?
Some of the most flavourful ways to enjoy Zucchini include raw with dips, pan-frying, sauteing, BBQing, and baking.
It can also be spiraled into zoodles for Keto Paleo and Whole30 dishes, but also ribboned or grated for salads and sandwiches.
WHAT IS ZUCCHINI'S NUTRITIONAL VALUE?  
Zucchini Health Nutritional Value includes:
One cup (223 grams) of cooked zucchini provides:
• Calories: 17
• Protein: 1 gram
• Fat: less than 1 gram
• Carbs: 3 grams
• Sugar: 1 gram
• Fiber: 1 gram
• Vitamin A: 40% of the Reference Daily Intake (RDI)
• Manganese: 16% of the RDI
• Vitamin C: 14% of the RDI
• Potassium: 13% of the RDI
• Magnesium: 10% of the RDI
• Vitamin K: 9% of the RDI
• Folate: 8% of the RDI
• Copper: 8% of the RDI
• Phosphorus: 7% of the RDI
• Vitamin B6: 7% of the RDI
• Thiamine: 5% of the RDI
WHAT ARE ZUCCHINI'S HEALTH BENEFITS?
Zucchini offers a plethora of health benefits, such as:
Good for the skin: packed with vitamins A, E, and C that help lift sagging areas, reduce puffiness, builds collagen, and helps fights damage from free radicals.
Good for the bowls and digestion: Zucchini contains both soluble and insoluble fiber and water, which contributes to healthy digestion and bowel movements.
Good for the eyes, heart, and skin: Zucchini is loaded in the carotenoids called lutein, zeaxanthin, and beta-carotene, helping to reduce the risk of cancers and contributing to the health of our eyes and heart.
IS ZUCCHINI OKAY TO EAT RAW?
Zucchini is safe to eat raw, however, too much may cause bloating in some people. You may not enjoy it as much raw if you are a sensitive supertaster. Raw zucchini can taste bitter to some people. This bitterness comes from cucurbitacins, which are a class of compounds found in members of the Cucurbitaceae family. Zucchini is a member of this family.
DO YOU PEEL ZUCCHINI?
Zucchini skin is soft and edible, especially when shredded or ribboned. The skin offers the highest level of antioxidants.
WHAT DOES KETO LOW-CARB PALEO ZUCCHINI SPANISH TAPAS TASTE LIKE?
These tasty little gems are dense and meaty with some fattiness from the pan-frying and lots of garlicky pleasure.
WHAT WINE HARMONIZES WITH KETO LOW-CARB PALEO ZUCCHINI SPANISH TAPAS?
This zucchini tapa dish offers a delicious garlicky pleasure that needs to be paired with a wine to match. Zucchini even pan-fried has some vegetable flavour that works nicely with wines with similar tones, such as Sauvignon Blanc. The wine's acidity will also nicely offset the little fattiness from the olive oil frying.
HOW IS THIS RECIPE KETO LOW-CARB AND PALEO FRIENDLY?
Zucchini, garlic, parsley, salt, and olive oil are all Keto, Paleo, and Whole30 compliant, so go to town and enjoy yourself!
HOW IS KETO LOW-CARB PALEO ZUCCHINI SPANISH TAPAS PREPARED?
Print
KETO LOW-CARB PALEO ZUCCHINI SPANISH TAPAS
Keto Low-Carb Paleo Zucchini Spanish Tapas are so damn tasty!  The zucchini is meaty and dense and the topping adds that POW of flavour.  Enjoy these gems as an hors d'oeuvres or for lunch, brunch, or as a dinner side dish.  The recipe uses fresh zucchini, garlic, parsley, and olive oil.  That's it!   If you are hunting for big flavoured hors d'oeuvre recipe paired with wine, check out this recipe!
Author:
Prep Time:

10

Cook Time:

12

Total Time:

21 Minutes

Yield:

6 (18 pieces)

Category:

KETO LOW-CARB PALEO

Method:

SEARING

Cuisine:

LUNCH, BRUNCH, DINNER

Diet:

Gluten Free
3 zucchini, washed and sliced into ½" pieces
Salt as needed
6 cloves garlic, finely chopped
½ cup fresh parsley, finely chopped
4 tablespoons olive oil (1+1+1+1 as needed)
Instructions
Slice zucchini into 1/2" cubes (6 pieces per zucchini).  Lay zucchini cubes on a cookie sheet lined with paper towel.  Sprinkle salt on cubes and let sit for a half hour.  The salt brings the water inside the zucchini to the surface.  Turn the cubes over and sprinkle with more salt.  Let sit another half hour to draw moisture from cubes.
Rinse zucchini cubes.  Dry with paper towel.  Heat up dry iron skillet for 2 minutes until hot.  Add 1 tablespoon of olive oil.  Add as many cubes as you can to the pan.  Fry on one side for about 3 to 4 minutes or until golden.  Turn over and fry the other side.  Set golden cubes on clean paper towel.  Add another tablespoon of olive oil to hot pan and add more cubes.  When these are done, add remaining 1 tablespoon of olive oil and fry remaining cubes.  Let cool.
On a cutting board mix chopped garlic and chopped fresh parsley together and dice as small as possible.  (You can also grind together in a mortar and pestle.)
When skillet cools, wipe out old oil.  Add a new tablespoon of olive oil.  Heat for a minute and add garlic parsley mixture.  Saute until garlic is aromatic.  Do not over fry or burn garlic.  Transfer mixture to a bowl.  Let cool.
Notes
The nutritional value of this recipe is based on the keto version and is approximate.  One serving (3 pieces) has 3.2 net carbs.
Nutrition
Serving Size:

1 (3 pieces)

Calories:

99

Sugar:

1.9

Sodium:

21

Fat:

8.8

Saturated Fat:

1.3

Carbohydrates:

5.5

Fiber:

1.8

Protein:

1.9

Cholesterol:

0
Keywords: keto, keto-recipes, ketogenic-diet, ketogenic-recipes, low-carb, low-carb-recipes, lazy-keto, sugar-free, sugar-free-recipes, keto-and-wine, paleo, paleo-diet, paleo-recipes, lazy-paleo, , paleo-and-wine, primal-diet, primal-diet-recipes, caveman-diet, caveman-diet-recipes, gluten-free, gluten-free-recipes, gluten-free-with-wine, grain-free, grain-free-diet, grain-free-recipes, grain-free-recipes-with-wine, anti-inflammatory-diet, anti-inflammatory-recipes, dairy-free-diet, dairy-free-recipes, dairy-free-recipes-with-wine,
FREE e-cookbook called OODLES OF LOW CARB NOODLES
Join our family to get your FREE e-cookbook OODKES OF LOW CARB NOODLES + new recipes in your inbox.