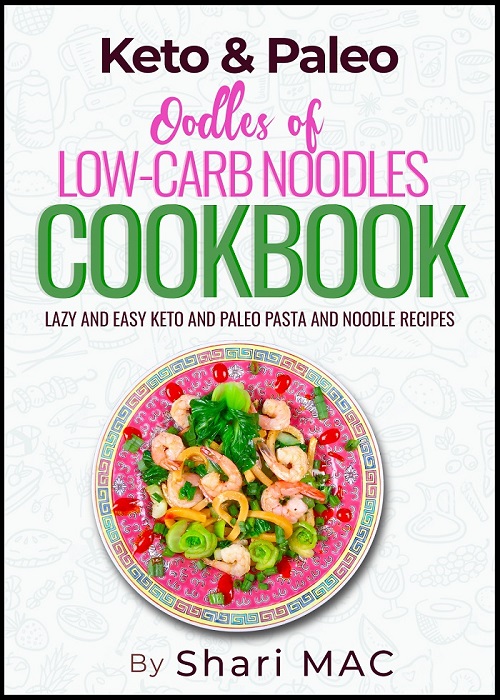 Your FREE copy of KETO & PALEO Oodles of Low-Carb Noodles Cookbook Signup Here
Long before my Keto, Low-Carb and Paleo journey, I was addicted to Middle Eastern food, specifically dishes originally derived from Jordan. From the age of 15, I would leave school to head to my best friend Dina's house for dinner.
Her mother was always preparing a feast of Jordanian cuisine! I would eat Mrs. Zeronian's dishes then head home for a second dinner. (Being skinny and into sports I could eat 2 dinners per day!)
The Middle Eastern diet is similar to the Mediterranean diet. Though the cultures and culinary diets are distinctly different, they do share some flavour similarities. For example, both cultures enjoy garlic, lemon juice, flatbreads, roasted meat, and hummus.
I've always loved homemade hummus. However, on the Keto, Low-Carb Paleo diet chickpeas are non-compliant. The reason is that chickpeas are legumes containing phytates and lectins. Phytates and lectins are considered anti-nutrients or plant toxins that bind to vitamins and minerals, making those nutrients bio-unavailable. So, to still enjoy one of my favourite Middle Eastern dishes – hummus – I decided to make it from roasted cauliflower.
WHAT IS THE NUTRITIONAL VALUE OF CAULIFLOWER?
Here is an overview of the nutrients found in 1 cup, or 128 grams, of raw cauliflower (1):
Calories: 25
Fiber: 3 grams
Vitamin C: 77% of the RDI
Vitamin K: 20% of the RDI
Vitamin B6: 11% of the RDI
Folate: 14% of the RDI
Pantothenic acid: 7% of the RDI
Potassium: 9% of the RDI
Manganese: 8% of the RDI
Magnesium: 4% of the RDI
Phosphorus: 4% of the RDI
WHAT ARE THE BENEFITS OF EATING CAULIFLOWER?
Cauliflower offers many health benefits, such as:
Being high in fiber and so is excellent for your digestive system and gut health. Cauliflower is also high in 2 groups of antioxidants called glucosinolates and isothiocyanates that have been shown to slow the growth of cancer.
In being low carb and high in fiber and 92% water, cauliflower aids in weight loss.
High in choline. Choline is aids in brain development and the production of neurotransmitters necessary for a healthy nervous system. What's more, choline helps prevent cholesterol from accumulating in the liver.
High in sulforaphane. Sulforaphane appears to protect against colon and prostate cancer, and may also help in protecting against breast, leukemia, pancreatic, and melanoma cancers.
WHY IS CAULIFLOWER BAD FOR YOU?
While considered super healthy, cauliflower can cause indigestion and bloat with overconsumption for some people.
WHAT IS THE HEALTHIEST WAY TO EAT CAULIFLOWER?
Steaming and roasting help this vegetable keep its nutrients. Boiling reduces its nutrients. Cauliflower is a super versatile vegetable on the Keto Paleo and Whole30 diets. It can be used in place of rice, mashed potatoes, creamy sauces, pureed to thicken soups, and enjoyed in a plethora of side dishes.
WHAT DOES CAULIFLOWER HUMMUS TASTE LIKE?
Let's face it, nothing is as delicious as true hummus made from chickpeas. Authentic hummus has earthy tones. Cauliflower hummus is still tasty but has its own taste profile. It's delicious, just different. The predominant taste sensation is fattiness from the olive oil in the tahini and drizzled on the hummus itself. More earthly flavours include earthiness from the tahini and garlic.
This dish also has a slight tanginess form the lemon.
WHAT ARE THE INGREDIENTS IN CAULIFLOWER HUMMUS?
The ingredient in this dish are as follows:
Roasted cauliflower
Extra virgin olive oil
Tahini
Garlic
Lemon juice
Sea salt
Cumin
Paprika
Water
HOW TO FREEZE CAULIFLOWER HUMMUS?
This recipe makes a large portion of hummus that you probably won't eat in one sitting. You can freeze the hummus in a freezer bag for 3 to 5 months. Be sure to bring to room temperature before eating.
You can freeze roasted cauliflower hummus if you can't eat it all or want to have some for later. Just keep the paleo hummus in a container with a lid that's freezer safe and airtight.
WHAT TO SERVE WITH CAULIFLOWER HUMMUS?
Depending on how many carbs you plan on eating with your hummus, you can slice cucumber or break up florets of raw broccoli, red pepper, yellow pepper, green pepper. You might also like to make tortillia chips using toasted Keto wraps.
While cauliflower is somewhat neutral, the other taste sensations in the hummus must be considered when choosing wine. The tahini uses a good portion of olive oil (or grapeseed oil) alone with the natural oiliness of the sesame seeds. Fattiness is a taste sensation that must be considered here. Add to this the lemon tanginess and you need a big white wine with viscosity (to match the fattiness) with bright acidity to harmonize with the lemon.
WHAT WINE WORKS WITH CAULIFLOWER HUMMUS?
Choose a big white, such as barrel-fermented and/or aged Chardonnay or Viognier. You might also like to contrast the wine against the hummus. Showcase opposite taste sensations. In this case, choose a bone dry (brut) sparkling wine or Champagne.
The wine's acidity will harmonize with the lemon but cut through the fattiness in the hummus.
HOW IS THIS RECIPE KETO PALEO AND/OR WHOLE30 FRIENDLY?
All the ingredients in this hummus comply with the Keto, Paleo, and Whole30 diet or lifestyle – cauliflower, olive oil (or grapeseed oil), garlic, lemon, and tahini (sesame seeds).
HOW IS THIS RECIPE MADE?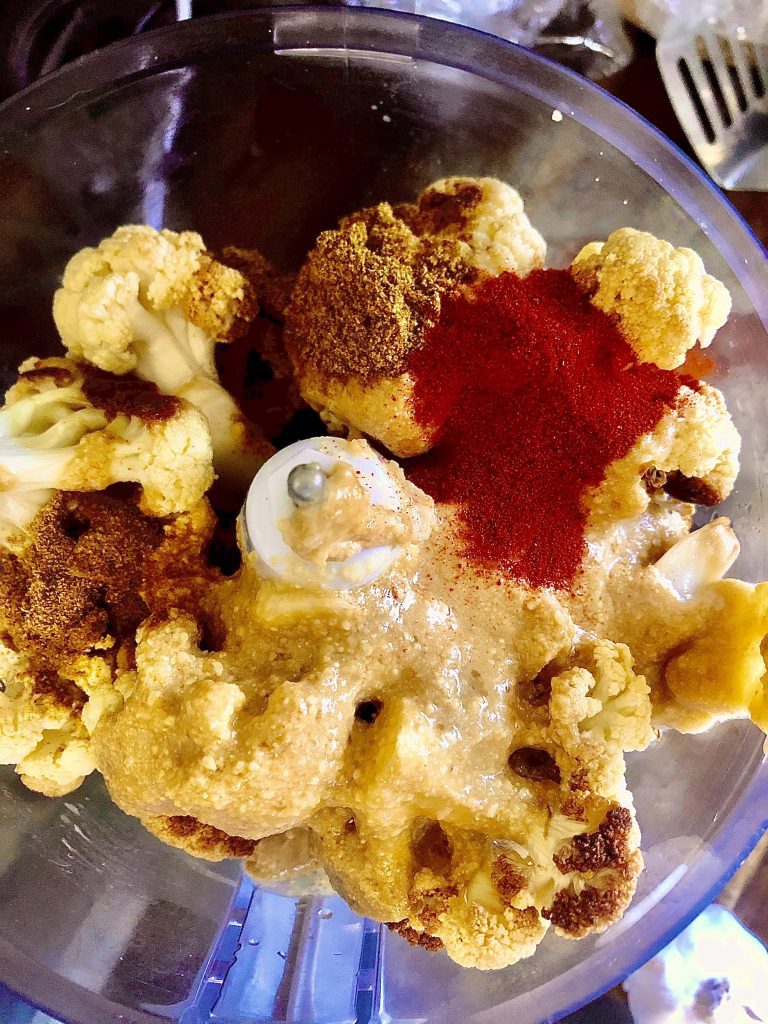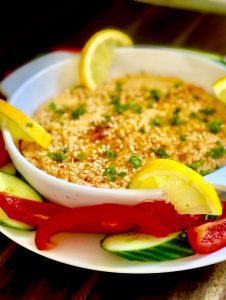 Print
KETO PALEO WHOLE30 ROASTED CAULIFLOWER HUMMUS
Keto Low-Carb Roasted Cauliflower Hummus is nutritious and delicious and can be served for lunch, brunch, as an appetizer, hors d'oeuvre or meal.  The recipe uses cauliflower, olive oil, homemade tahini, garlic, fresh lemon juice, sea salt, cumin, and paprika.  If you are hunting for a simple yet gourmet Keto Low-Carb Paleo hummus paired with wine, check out this recipe!
Author:
Prep Time:

30

Cook Time:

45 minutes

Total Time:

1 hour 15 minutes

Yield:

16 ounces

(

2 cups

)

1

x
Category:

KETO LOW-CARB PALEO

Method:

Baking

Cuisine:

APPETIZER, LUNCH, BRUNCH, DINNER

Diet:

Gluten Free
Tahini
2 cups hulled sesame seeds  
2 tablespoons extra virgin olive oil (or a neutral oil of choice)
Hummus:
4 cups cauliflower florets (about 1 lb)
1/4 cup olive oil, avocado oil, or grapeseed oil  (for drizzling over cauliflower)
1/2 cup homemade tahini* 
4 cloves garlic, minced
2 tbsp fresh lemon juice  
1 tsp sea salt (optional)
2 teaspoons cumin  
1 teaspoon paprika (plus more for garnish)    
¼ cup water (or more if needed)
Instructions
To make homemade tahini, heat a dry, clean skillet over medium high heat.  Add seeds.  Dry fry (toast), stirring constantly for 4-5 minutes until golden. Remove from heat and cool for a few minutes.  Transfer the cooled seeds to a food processor and process until crumbly.  Add olive oil, and process until creamy. Add more oil as needed to get the consistency you like.  During the process you will have to scrap down the sides of the processor with a rubber spatula.
Store tahini in a sterilized, airtight jar for up to 1 month in the fridge.
To make hummus: Preheat the oven to 400 degrees F.  Line a baking sheet with parchment.  Break up cauliflower head into florets and set on baking sheet.  Drizzle with olive oil.  Roast the cauliflower in the oven for about 35-45 minutes, until golden.   When done remove and let cool.
In a food processor or blender add tahini, garlic, lemon juice, salt, cumin, paprika, and half the water (2 tablespoons). Puree until very smooth.  Stop a couple of times to scrape down the sides to keep blending.  If the hummus is too thick, add more water as desired to thin out.   
Notes
Notes:  Making tahini for this dish: When making tahini from this dish, and even if you purchase toasted sesame seeds, still heat them in the frying pan to release the oils before processing in the food processor. I learned this the hard way, making this hummus the first time.  While the recipe calls for a specific amount of olive oil, use as much as needed to make the hummus smooth.  Depending on the type of food processor you own, you may want to make the hummus in a blender to ensure creaminess.
(Note: The nutritional information provided is a courtesy and is approximate only.  We cannot guarantee the nutritional accuracy of any recipe on this site.  We cannot now what brands you use or how accurately you follow the recipe or what you like to add creatively to the dish. Use the information as a general guideline only.  Net carbs are the total carbs minus the fibre.)
The recipe is based on the keto version and is approximate only.  One serving has 1 gram of net carbs. 
Nutrition
Serving Size:

1 ounce

Calories:

82

Sugar:

0

Sodium:

135

Fat:

7.3

Saturated Fat:

1

Carbohydrates:

3.6

Fiber:

1.5

Protein:

2

Cholesterol:

0
Keywords: keto, keto-recipes, ketogenic-diet, ketogenic-recipes, low-carb, low-carb-recipes, lazy-keto, sugar-free, sugar-free-recipes, keto-and-wine, paleo, paleo-diet, paleo-recipes, lazy-paleo, , paleo-and-wine, primal-diet, primal-diet-recipes, caveman-diet, caveman-diet-recipes, gluten-free, gluten-free-recipes, gluten-free-with-wine, grain-free, grain-free-diet, grain-free-recipes, grain-free-recipes-with-wine, anti-inflammatory-diet, anti-inflammatory-recipes, dairy-free-diet, dairy-free-recipes, dairy-free-recipes-with-wine,
FREE e-cookbook called OODLES OF LOW CARB NOODLES
Join our family to get your FREE e-cookbook OODKES OF LOW CARB NOODLES + new recipes in your inbox.