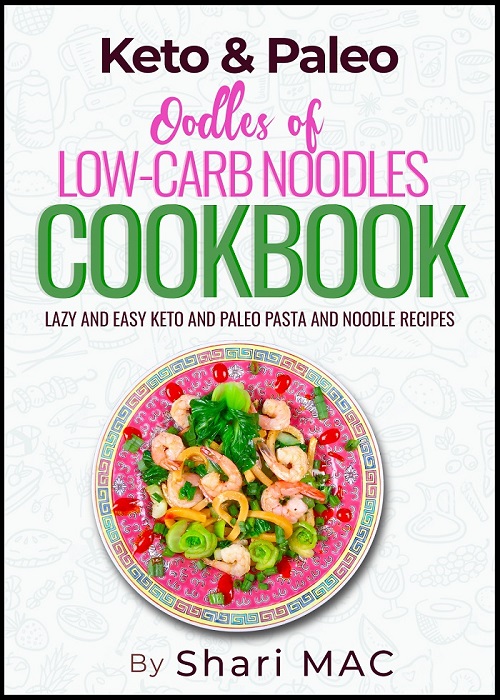 Your FREE copy of KETO & PALEO Oodles of Low-Carb Noodles Cookbook Signup Here
On the Keto, Low-Carb, Paleo path, there's a lot of recipes using zoodles made from shiralized zucchini. I don't care what anyone says. I plate full of spiralized and cooked zucchini ain't no plate of pasta!
But zoodles are still delicious and can be used in a variety of ways, especially in summer salads. Zoodles are an alternative way of serving salads with zucchini. Zoodles can also be the main ingredient of an otherwise cold pasta salad! Or shall I say zucchini salad? You can add zoodles to soups and casseroles too.
WHAT ARE THE HEALTH BENEFITS OF ZUCCHINI?
Zucchini is so nutritious and offers a plethora of health benefits, such as:
· Good for the skin: packed with vitamins A, E, and C that help lift sagging areas, reduce puffiness, builds collagen, and helps fights damage from free radicals.
· Good for the bowls and digestion: Zucchini contains both soluble and insoluble fiber and water, which contributes to healthy digestion and bowel movements.
· Good for the eyes, heart, and skin: Zucchini is loaded in the carotenoids called lutein, zeaxanthin, and beta-carotene, helping to reduce the risk of cancers and contributing to the health of our eyes and heart.
HOW DO YOU USE ZOODLES IN YOUR CULINARY PREPARATIONS?
The preparation of your zoodles will determine their resulting texture. Raw zoodles are refreshing and crunchy and ideal for summer salads tossed with a tasty vinaigrette or raw tomato sauce (with raw garlic). Just be sure to add your zoodles at the end of the dish preparation, as they continue to release water after cooking. Pat them dry before adding the dressing or sauce.
There are many ways to make your zoodles from using kitchen machines to hand-cutting.
Already Prepared Zoodles: The easiest method is to buy the zoodles already prepared. Almost every supermarket sells them! Make sure they are fresh.
Counter Top Spiralizer:
If you want to make the zoodles at home, a counter-top spiralizer is ideal, making zoodles of the same length and width. This spiralizer cuts noodles of the same width and consistency.
Spiralizing the Zoodles with a Spiralizer: Slice the ends off the zucchini to create a flat surface. Center the zucchini between both ends of the spiralizer. Start turning with the handle. It takes a few seconds to spiralize the entire zucchini. What is left is the core of the zucchini (the seeds). It looks like a long tube. Cut it up and use it in salads.
Julienne Peeler: The handheld julienne peeler is small and inexpensive and easy to store in the drawer of a small kitchen. It also makes the most delicate noodles. However, you need some strength to make these zoodles! This method takes a bit of time.
Spiralizing the Zoodles with a Julienne Peeler: Grip the zucchini in one hand. Run the peeler down the length of the zucchini. You'll do this several times until you start to see the seeds in the middle (the core). When you see the core, flip the zucchini a quarter turn and start peeling again. Do this around the entire zucchini. Use the core in a salad.
Preparing the Zoodles:
After making the zoodles, place them in a colander with some salt. The salt will draw out the excess moisture in the noodles that would otherwise make them taste soggy. Let them sit in the colander for a half-hour, and then gently squeeze the moisture out of the zoodles.
HOW DO YOU COOK ZOODLES?
Pay-Frying: Pan-frying is the easiest way to make your zoodles. Cook for about 3 to 4 minutes on medium heat. Cook them separately from your sauce.
Baking: Baking is by far the best method. This method requires no salting or squeezing. Baking has the zoodles come out very dry. Arrange the zoodles on a very large baking sheet covered in parchment so you can separate them. Preheat the oven to 350 F and when ready, bake the zoodles for about 15 minutes or until desired doneness.
Here is the recipe for the zoodles and a delicious summer dish using them. This salad can be made with raw or baked zoodles:
WHAT IS THE TASTE PROFILE OF KETO PALEO ZOODLE CAPRESE SALAD?
The predominant taste sensations of this delicious salad are fattiness, saltiness, and tanginess from the dressing. The fattiness comes from the oil and mayo in the dressing. Parmesan provides the saltiness and the vinegar provides the refreshing acidity in this salad.
WHAT WINE HARMONIZES WITH KETO PALEO ZOODLE CAPRESE SALAD?
This oil based dressing makes it a good choice for a white wine with some fattiness to match. Look for a high alcohol white (13.5 percent alcohol or higher). The higher the alcohol, the greater the weight or thickness in the wine, making it a fab partner for the fat-based dressing (oil and mayo). This dressing also has delicious saltiness from the parmesan cheese. If you're going with the Paleo vegan parmesan option be sure to add a tasty does of salt to ensure it complements the acidity in a white wine. The vinegar in the wine also nicely matches the crisp acidity in a white wine. Look for a big Chardonnay, Viognier, or Muscat.
HOW IS THE KETO LOW-CARB PALEO ZOODLE CAPRESE SALAD PREPARED?
Print
KETO PALEO ZOODLE CAPRESE SALAD
Keto Low-Carb Paleo Zoodle Caprese Salad is packed with delicious flavours.  You can serve it for lunch, brunch, or for dinner.  Refreshing yet filling!   The recipe uses zoodles, bocconcini, tomatoes, fresh basil and a delicious parmesan-based vinaigrette.   If you are hunting for a yummy and satisfying Keto Low-Carb salad recipe paired with wine, check out this recipe!
Author: KETO PALEO SHARI MAC
Prep Time:

15

Cook Time:

3

Total Time:

18

Yield:

4

1

x
Category:

KETO LOW-CARB PALEO

Method:

PREPARING

Cuisine:

LUNCH, BRUNCH, DINNER

Diet:

Gluten Free
Zoodles:
8 medium zucchini, spiralized*
Ingredients: 
1 cup (4 ounces) halved cherry tomatoes or baby cherry tomatoes
1 cup of bocconcini, cut in half (Keto) or shredded vegan mozzarella (Paleo)*
2 tablespoons chopped fresh basil
Dressing:
½ cup extra virgin olive oil  
3 tablespoons red wine vinegar 
1/4 cup parmesan (Keto) or vegan parmesan (Paleo)*
1 tablespoon Keto Paleo compliant mayonnaise
1 teaspoon stevia (Keto) or coconut sugar (Paleo)
1 garlic clove, freshly grated  
1 tablespoon Italian seasoning
Freshly ground black pepper to taste
*One zucchini makes about 1 cup zoodles or ½ cup of cooked zoodles  
For the vegan mozz recipe click the link below:
KETO PALEO WHOLE30 SHREDDABLE MOZZARELLA
For the vegan parmesan recipe click the link below:
KETO PALEO 3-MINUTE VEGAN PARMESAN
For the compliant mayo recipe click the link below:
Instructions
To make zoodles more like pasta (pretend I didn't say that), preheat the 350F. After making the zoodles, place them in a colander with some salt over the sink. The salt will draw out the excess moisture in the noodles that would otherwise make them taste soggy. Let them sit in the colander for a half-hour, and then gently squeeze the moisture from them. 
Rinse and dry very well with a paper towel.
Arrange the zoodles on 2 large baking sheets covered in parchment so you can separate them. 
Preheat the oven to 350 F and bake for about 15 minutes. Be sure to toss around the zoodles so that more of the moisture comes out. Remove from oven. Let cool. Drain on a paper towel. Set the zoodles in a serving bowl and put them in the refrigerator to cool.
Place tomatoes and cheese in a small bowl. Refrigerate until needed. 
To make the dressing, add all ingredients to a sterilized mason jar. Cover and shake well. Let sit until ready to use. Use as desired. Store remaining dressing for another use. It's delicious!
Notes
This salad is a meal!  The nutritional value is based on the keto version and is approximate. One serving has 15.8 net carbs.
Nutrition
Serving Size:

1

Calories:

577

Sugar:

8.9

Sodium:

566

Fat:

46.8

Saturated Fat:

16.4

Carbohydrates:

21.6

Fiber:

5.8

Protein:

24.1

Cholesterol:

21.6
Keywords: keto, keto-recipes, ketogenic-diet, ketogenic-recipes, low-carb, low-carb-recipes, lazy-keto, sugar-free, sugar-free-recipes, keto-and-wine, paleo, paleo-diet, paleo-recipes, lazy-paleo, , paleo-and-wine, primal-diet, primal-diet-recipes, caveman-diet, caveman-diet-recipes, gluten-free, gluten-free-recipes, gluten-free-with-wine, grain-free, grain-free-diet, grain-free-recipes, grain-free-recipes-with-wine, anti-inflammatory-diet, anti-inflammatory-recipes, dairy-free-diet, dairy-free-recipes, dairy-free-recipes-with-wine,
FREE e-cookbook called OODLES OF LOW CARB NOODLES
Join our family to get your FREE e-cookbook OODKES OF LOW CARB NOODLES + new recipes in your inbox.