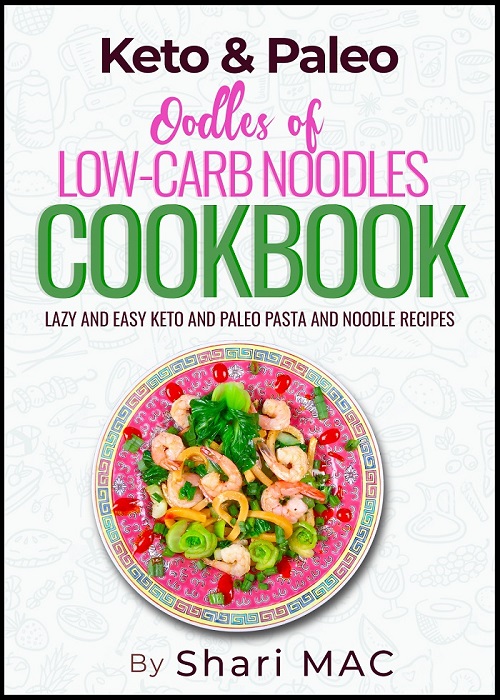 Your FREE copy of KETO & PALEO Oodles of Low-Carb Noodles Cookbook Signup Here
WANT A BRIMMING BOWL OF ITALIAN PASTA OR ASIAN NOODLES?
The good news? YOU CAN INDULGE RIGHT NOW!
In this e-cookbook you'll discover a plethora of Keto, Low-Carb, and Paleo Italian pasta and Asian noodle recipes.  The recipes are divided into the sections:
vegetables

seafood and fish

chicken

pork

beef

 
You'll also find compliant Italian and Asian noodle sauces, condiments, sweeteners, and seasonings to add to your Keto, Low-Carb and Paleo noodle dishes.
ARE THE COOKBOOK RECIPES HEALTHY?
Absolutely!

 
The pasta and noodles recipes are:
low in calories

low in net carbs

low in sodium

low in bad fat
The pasta and noodle recipes are also:
high in healthy fats

high in fibre
WITH WHICH "DIETS" DO THESE PASTA & NOODLE RECIPES COMPLY? 
Keto

Low-Carb

Paleo

Gluten-free

Dairy-free

Grain-free

Sugar-free

Whole food

All natural
ARE THE RECIPES TASTY?
Absolutely!

 
WHAT ARE SOME OF THE RECIPES?
These recipes offer more than just that 'al dente' satisfaction.

 

Here are some of the International recipes included in this FREE e-cookbook:
Fresh Pasta Pomodoro and Capers (Italian)

Spicy Sesame Shrimp and Bok Choy with Fresh Asian Noodles (Chinese)

Martha Stewart Inspired Fresh Pasta with Fennel Coated Salmon and Baby Spinach (American)

Cold Spicy Japanese Salad with Fresh Asian Noodles with Toasted Sesame Seeds (Japanese)

Spicy Chicken Pad Thai with Fresh Asian Noodles (Thai)

Vietnamese Banh Cahn Pork Soup with Fresh Asian Noodles (Vietnamese)

Korean Beef Stir Fry with Fresh Asian Noodles (Korean)

And so many more – all for FREE!
CHECK OUT THE RECIPES YOU CAN MAKE IN A SNAP!
Get Your FREE e-copy of Oodles of Low-Carb Noodles Cookbook. Sign up here:
FREE e-cookbook called OODLES OF LOW CARB NOODLES
Join our family to get your FREE e-cookbook OODKES OF LOW CARB NOODLES + new recipes in your inbox.