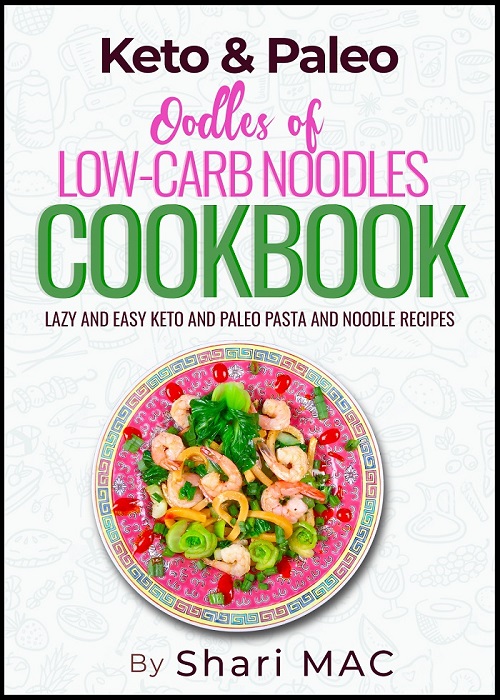 Your FREE copy of KETO & PALEO Oodles of Low-Carb Noodles Cookbook Signup Here
Sometimes while following a Keto, Low-Carb or Paleo path, the craving for pasta, specifically gnocchi, kicks in hard and strong, especially for me. I used to be a carboholic! Now you can make this pasta dish in less than a half hour and satisfy that incredible craving.
According to the Encyclopedia of Pasta by author Oretta Zanini De Vita, gnocchi is considered the ancestor of all noodles. Bartolomeo Scappi (c. 1500 – 13 April 1577) was a famous Italian Renaissance Vatican chef when Michelangelo Buonarroti worked on the Sistine Chapel. In Scappi's cookbook entitled "Opera di Bartolomeo Scappi, mastro dell'arte del cucinare, divisa in sei libri", and dating back to 1570, Scappi included a gnocchi recipe. This recipe called for the dough to be made with a combination of flour and breadcrumbs mixed with water and pushed through the holes of a cheese grater.
Later in this century gnocchi were made with egg, flour, and water. The dumplings became known as "malfatti" — meaning "badly made."
The use of potatoes in gnocchi came into existence around 1834. The recipe called for one part potato to three parts flour. Over time this classic recipe transformed to be mostly potato with flour only used as a binding agent.
Today every northern Italian region has its own gnocchi variation. In Piedmont and Lombardy, pasta lovers enjoy potato gnocchi with butter and Parmigiano-Reggiano. In Verona, potato gnocchi are smothered in tomato sauce. Still further south, on the Sorrento coast, potato gnocchi is baked in the oven with a bright tomato sauce, fresh mozzarella and basil and is known as Gnocchi alla Sorrentina.
Gnocchetti Sardi takes us back to Sardinia, where old traditions have changed little. Traditionally, in this region the dumplings were made in the late fall and winter, after the annual pig slaughter. Today they are prepared all year long.
WHAT IS THE NUTRITIONAL VALUE OF CAMPARI TOMATOES?
For this dish, I used Campari tomatoes. They are my favourite! Often referred to as the tomato lover's tomato, the Campari variety is slightly bigger than the cherry tomato. You'll find these tomatoes still on the vine in the grocery store. This variety offers a 'vinous' quality to the flavour, giving the perception of freshly picked tomatoes.
This vinous quality earns the Campari an extraordinary place in our culinary repertoire. Cherry tomatoes are ideal for hors d 'oeuvres and to toss in salads. Regular-sized tomatoes can be used in cooking. But the Campari is just the right-sized tomato to slice for appetizers, sandwiches, pasta, and as a pizza topping.
The Campari is aromatic, sweet, firm, and juicy. Its best quality, in my opinion, is low acidity, making this tomato a friendly ingredient in dishes to be paired with white wine or a light, fruity red wine. The natural acidity in fresh tomatoes typically demands the crisp acidity of white wine. Tomatoes, once cooked or slow-roasted, can work with red wine. But the Campari, when fresh, can complement Burgundy, Pinot Noir or Gamay.
Campari tomatoes should never be refrigerated, as cold temperatures tend to cause them to lose their flavour and become pulpous. They should be stored at room temperature, with stems up to avoid bruising. Keep these little gems out of sunlight as well, otherwise, they will dehydrate.
Like most tomato varieties, the Campari is packed with nutrition and health benefits. First of all, one Campari tomato contains only five calories! Tomatoes, in general, are rich in beta-carotene, lycopene, and vitamins A, C, and E. Their antioxidants support and strengthen the immune system and contain B vitamins and vitamin K.
WHAT IS THE TASTE PROFILE OF KETO LOW-CARB PALEO PAN-FRIED GNOCCHI WITH TOMATOES, PARMESAN, AND FRESH BASIL?
This dish sings with tastes, flavours, and textures. For texture the gnocchi are dense, but melt in your mouth quickly. The sauce possesses the taste sensations of tanginess from the tomatoes and saltiness and umami from the parmesan. The olive oil and cheese also give the dish some weight and fattiness.
WHAT WINE HARMONIZES WITH KETO LOW-CARB PALEO PAN-FRIED GNOCCHI WITH TOMATOES, PARMESAN, AND FRESH BASIL?
With the predominant taste sensations of this dish being tanginess, saltiness, and fattiness, choose a white wine with some decent acidity and weight to match. Think big, fat whites. A high alcohol Chardonnay from a warm climate would do the trick. Think Australia and South African.
HOW DO YOU PREPARE KETO LOW-CARB PALEO PAN-FRIED GNOCCHI WITH TOMATOES, PARMESAN, AND FRESH BASIL?
Print
KETO LOW-CARB PALEO PAN-FRIED GNOCCHI WITH TOMATOES, PARMESAN, AND FRESH BASIL
Keto Low-Carb Paleo Gnocchi with Campari Tomatoes, Parmesan, and Fresh Basil is filling and super nutritious and can be served for lunch, brunch, or dinner.  The recipe uses a grain-free pasta dough with fresh Campari tomatoes, Parmesan (Keto) or vegan Parmesan (Paleo, and fresh basil.   If you are hunting for a simple yet gourmet Keto Low-Carb Paleo pasta dish paired with wine, check out this recipe!
Author: KETO PALEO SHARI MAC
Prep Time:

20

Cook Time:

3

Total Time:

23

Yield:

4

1

x
Category:

KETO LOW-CARB PALEO

Method:

Boiling

Cuisine:

LUNCH, BRUNCH, DINNER

Diet:

Gluten Free
2 ½ to 3 cups almond flour
3 teaspoons xanthan gum
¼ cup flax 
4 eggs
1 teaspoon olive oil (for coating)
To pan fry:
1 tablespoon olive oil
1 cup Campari tomatoes, quartered (or cherry tomatoes, cut in half)
1 cup Parmesan (Keto) or vegan Parmesan (Paleo)
¼ cup fresh basil, chopped
Freshly ground black pepper as desired
To prepare vegan Parmesan click the link below?
KETO PALEO 3-MINUTE VEGAN PARMESAN
Instructions
To prepare the gnocchi, make the dough in a bowl and by hand or in a food processor or mixer. (Mixer is easiest.) Place all ingredients in the bowl.  Mix well. If making by hand pull the dough together with your hands. Start with 2 ½ cups of almond flour.  Add more if needed.  The dough should be firm. Transfer to a clean bowl.  Cover and refrigerate for 24 hours. 
Transfer dough to a larger piece of parchment paper on a work surface. Cut dough into 4 balls and then into 8 balls. Gently roll each ball of dough into a log, roughly the thickness of your thumb. Cut the log into ¾ inch pieces. (You will be cutting the gnocchi from the dough smaller than traditional pasta, as the dough expands in boiling water.)
Cut each log into pieces diagonally.  Or for a true gnocchi shape, hold a fork in one hand and place a gnocchi piece against the tines of the fork. Use your thumb and press in and down the length of the fork. The gnocchi should curl into a slight "C" shape, their backs will capture the impression of the tines as tiny ridges (good for catching sauce).  Set each piece of gnocchi on a small plate lined with parchment. Repeat, using all the dough.  Note: You don't need to add the fork marks.  Sometimes, it's nice to have dumplings without the marks. The choice is yours.
Boil the gnocchi for 4 minutes or until gnocchi float to the water's surface. Remove gnocchi from the boiling water with a slotted spoon. Place drained gnocchi in a bowl. Add 1 teaspoon of olive oil to coat the gnocchi until needed. Set aside.
Heat oil in a large skillet.  Add gnocchi.  Pan fry until golden.  Add tomatoes.  Saute until soft.  Add parmesan and fold together until cheese has melted.  Divide into bowls.  Garnish with fresh basil and freshly ground black pepper.
Notes
(Note: The nutritional information provided is a courtesy and is approximate only.  We cannot guarantee the nutritional accuracy of any recipe on this site.  We cannot now what brands you use or how accurately you follow the recipe or what you like to add creatively to the dish. Use the information as a general guideline only.  Net carbs are the total carbs minus the fiber.)
The recipe is based on the keto version and is approximate only.  One serving has 13.1 gram of net carbs. 
Nutrition
Serving Size:

1

Calories:

843

Sugar:

1,9

Sodium:

1039

Fat:

63.3

Saturated Fat:

13.4

Carbohydrates:

37.2

Fiber:

24.`

Protein:

44.4

Cholesterol:

204
Keywords: keto, keto-recipes, ketogenic-diet, ketogenic-recipes, low-carb, low-carb-recipes, lazy-keto, sugar-free, sugar-free-recipes, keto-and-wine, paleo, paleo-diet, paleo-recipes, lazy-paleo, , paleo-and-wine, primal-diet, primal-diet-recipes, caveman-diet, caveman-diet-recipes, gluten-free, gluten-free-recipes, gluten-free-with-wine, grain-free, grain-free-diet, grain-free-recipes, grain-free-recipes-with-wine, anti-inflammatory-diet, anti-inflammatory-recipes, dairy-free-diet, dairy-free-recipes, dairy-free-recipes-with-wine,
FREE e-cookbook called OODLES OF LOW CARB NOODLES
Join our family to get your FREE e-cookbook OODKES OF LOW CARB NOODLES + new recipes in your inbox.