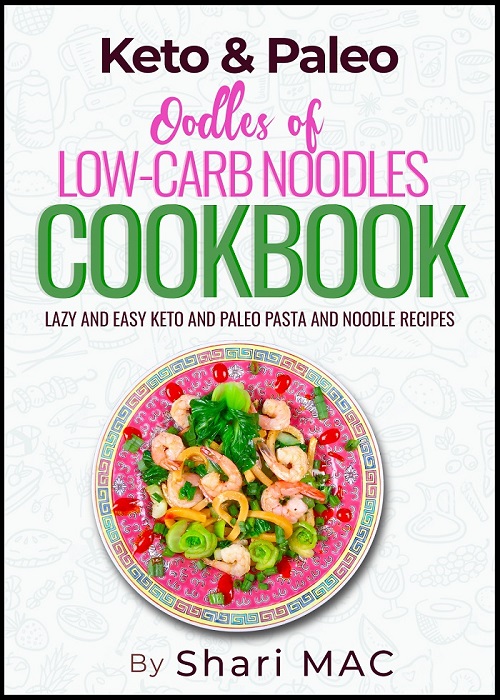 Your FREE copy of KETO & PALEO Oodles of Low-Carb Noodles Cookbook Signup Here
October is my favourite month. It's a time to celebrate Thanksgiving in Canada, as well as our wedding anniversary. For our wedding we celebrated with a Thanksgiving dinner for everyone. My husband's best friend, John Wilson, did the wedding feast. It was extraordinary!
For this blog, I knew that I would use my grandmother's and mom's secret ingredient to make this pie taste fabulous. The family secret to making this pie extra delicious is to add the secret ingredient– black pepper! Yes, black pepper! Sometimes when you add a certain seasoning it brings out other flavours of the main ingredient. For example, if you want the flavour of mango to "pop" in a salad or dish, add lime juice. The sourness of the lime juice actually heightens the sweetness of the mango. The lime juice can make the mango taste riper and sweeter. Well, the same holds true for my family's secret pumpkin pie ingredient. The black pepper makes the pumpkin taste sweeter. Truth be told, I've heard other cooks tell me that this secret was handed down through their family tree, as well. But if you have not tried this secret ingredient, now is the time!
Let's talk about sweetness. The Keto Low-Carb version uses a natural sweetener of choice, such as xylitol or erythritol. The Paleo Whole30 pie use date paste, honey, maple syrup, or coconut sugar. The choice is yours. Just stay away from refined sugar.
WHAT IS THE NUTRITIONAL VALUE OF KETO LOW-CARB PALEO PUMPKIN PIE CRUMBLE?
I am so jacked about this pumpkin pie recipe! Normally people compromise their healthy diet or 'go off the wagon' to eat dessert. Then they spend the next week dieting to offset the fat and carb-loading performed on Thanksgiving day. This pumpkin pie is so healthy that having a slice is good for you! The filling is made from unsweetened pumpkin combined with seasonings and a natural sweetener.
Pumpkin is rich in fibre, which slows digestion.
Pumpkin's brilliant orange colouring derives from its ample supply of beta-carotene, converted to vitamin A in the body. Vitamin A is essential for eye health and helps the our retina absorb and process light. Research also shows that a beta-carotene-rich diet may have a lower risk of some types of cancer, including prostate and lung cancer.
Pumpkin is packed with almost 20 percent of the recommended amount of daily vitamin C, helping you recover from colds faster.
Pumpkin has been shown to help reduce blood glucose levels, improving glucose tolerance and increasing the amount of insulin the body produces.
WHAT IS THE TASTE PROFILE OF KETO LOW-CARB PALEO PUMPKIN PIE CRUMBLE?
The predominant taste sensation of pumpkin pie is obviously sweet and fatty (from the butter and cream). This pie tastes decadent, despite being sugar-free. As for chemo-sensory sensations, they include crunchiness from the crust and rich and creaminess from the filling.
With the predominant taste sensation of this pie being sweetness you'll want a wine that offers more sweetness to bridge the pie with the wine. So, go for a small ounce of Tawny Port to match this pie!
WHAT WINE HARMONIZES WITH KETO LOW-CARB PALEO PUMPKIN PIE CRUMBLE?
Whenever you are pairing wine with dessert, make sure the wine is sweeter than the dessert. Remember in the case of sipping wine, a sweet wine will carry with it more carbs, so take that into consideration. This sweet pie deserves an ounce of Tawny Port to match.
Print
KETO LOW-CARB PALEO MOM'S PUMPKIN PIE CRUMBLE
Keto Low-Carb Paleo Pumpkin Pie Crumble is the ideal dessert for autumn and Thanksgiving.  So nutritious.  Have a slice for breakfast!  Or lunch or dinner.  The recipe uses a Keto Low-Carb almond flour crust, with a sugar-free (Keto Low-Carb) or refined sugar free filling (Paleo Whole30).  The filling also includes pumpkin spice, cream (Keto Low-Carb) or coconut cream (Paleo Whole30), maple extract, and a secret ingredient!  If you are hunting for a Keto Low-Carb pumpkin pie recipe paired with wine, check out this recipe!
Author: KETO PALEO SHARI MAC
Prep Time:

15

Cook Time:

55

Total Time:

1 HOUR/10 MINUTES

Yield:

12

slices

1

x
Category:

KETO LOW-CARB PALEO

Method:

BAKING

Cuisine:

DESSERT

Diet:

Gluten Free
Sweet Pie Crust:
2 cups almond flour
1/2 cup coconut flour
½ teaspoon xanthan gum
½ teaspoon gluten-free baking powder
½ cup erythritol
2 large eggs
½ cup grass-fed cold butter, small cubes
Pie Filling:
1 (15-oz.) can unsweetened pumpkin puree
1 cup 35% cream (Keto) or coconut cream (Paleo)*
1 teaspoon maple extract
1 tablespoon pumpkin spice (more to taste if desired)
½ teaspoon salt
2 to 3 large eggs, beaten (3 eggs makes a firmer filling)
1/2 cup erythritol (Keto) or coconut sugar (Paleo)
1 teaspoon freshly ground black pepper
*You can replace the cream with cream cheese if desired
Instructions
Preheat oven to 400 F.  In a food processor or mixer add dry ingredients.  With motor running add eggs.  Add butter cubes.  Make sure the butter remains crumbly.  Stop motor.  Pull dough into a ball.  Place ball in a clean bowl.  Cover with plastic wrap and refrigerate for an hour.
Once you're ready to bake, slice ¼ off the ball.  Take the large portion of the dough ball and place into the center of a 9-inch pie plate sprayed with non-stick cooking spray.   Using your fingers and palm of your hand, press the dough outward toward and up the sides of the plate.  Add a cup of slits to the pie crust so it doesn't fill with out.  Set the pie crust in the oven to blind-bake the shell for 15 minutes.
Meanwhile make the crumble.  Using the ¼ portion of the dough ball, crumble the dough into a crumble.  Set aside.
Make the pie filling.  In a large bowl combine all filling ingredients.  Refrigerate until needed.
When pie crust in blind-baked, remove from oven.  Let cool completely.  When cooled add pie filling to the crust.  Add crumble.  Bake for 45 to 50 minutes until filling is firm.  (You may want to cover the pie with foil to keep the crust from burning.)
When pie is done remove from oven.  Let cool.  Refrigerate overnight to firm and for best flavouring.
Notes
The recipe is based on the keto version and is approximate only.  One serving has  gram of net carbs.  (Note: The nutritional information provided is a courtesy and is approximate only.  We cannot guarantee the nutritional accuracy of any recipe on this site.  We cannot now what brands you use or how accurately you follow the recipe or what you like to add creatively to the dish. Use the information as a general guideline only.  Net carbs are the total carbs minus the fiber.)
Keywords: keto, keto-recipes, ketogenic-diet, ketogenic-recipes, low-carb, low-carb-recipes, lazy-keto, sugar-free, sugar-free-recipes, keto-and-wine, paleo, paleo-diet, paleo-recipes, lazy-paleo, , paleo-and-wine, primal-diet, primal-diet-recipes, caveman-diet, caveman-diet-recipes, gluten-free, gluten-free-recipes, gluten-free-with-wine, grain-free, grain-free-diet, grain-free-recipes, grain-free-recipes-with-wine, anti-inflammatory-diet, anti-inflammatory-recipes, dairy-free-diet, dairy-free-recipes, dairy-free-recipes-with-wine,
FREE e-cookbook called OODLES OF LOW CARB NOODLES
Join our family to get your FREE e-cookbook OODKES OF LOW CARB NOODLES + new recipes in your inbox.