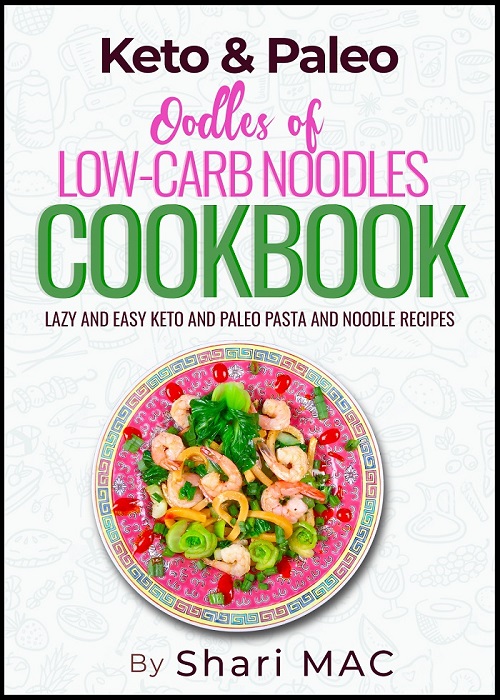 Your FREE copy of KETO & PALEO Oodles of Low-Carb Noodles Cookbook Signup Here
I love when I discover new, super easy Keto Low-Carb recipes to try out and share with you.
While getting my hair cut the other day, my stylist Krystal (who also lives a Keto lifestyle), shared a breakfast idea with me. I revised the recipe a little and tried it out with ideal results.
Hence the Breakfast Fat Bomb was born. Fat Bombs are loaded with healthy fat-rich ingredients, like coconut oil and avocado. Bombs satisfy cravings and fill you up quickly when you are on the go. Bombs can be savoury or sweet. Essentially, bombs provide energy and nutrition.
WHAT IS THE NUTRITIONAL VALUE OF KETO LOW-CARB BREAKFAST BOMBS?
These breakfast bombs combine protein from eggs. The avocado provides healthy fat high in Omega 3. The super seeds give you fibre.
WHAT IS THE TASTE PROFILE OF THE KETO LOW-CARB BREAKFAST BOMB?
This breakfast bomb has a salty and savoury taste with creaminess on the inside and crunchiness on the outside.
WHAT WINE WORKS WITH KETO LOW-CARB BREAKFAST BOMBS?
If you're on a strict keto diet or heading for ketosis, refrain from including any alcohol in your diet. If you are in maintenance, however, the odd glass of wine won't hurt you. If you want something in the morning or even to brunch, choose a brut sparkling wine or brut Champagne. The wine's crisp acidity will nicely contrast with the fattiness of the bombs.
WHAT ARE OTHER BREAKFAST BOMB COMBINATIONS?
There are so many wonderful ingredient combinations from which to choose for your breakfast bomb. Rather than rolling the bomb in super seeds, choose crumbled bacon.
Your bombs can also combine eggs with ground beef, chicken, or turkey. Add green pepper and/or onion if you like. Be sure to cut all ingredients very small so that you can still roll the bomb into a ball. And rather than mayo add cream cheese. The cream cheese will make the bombs a little firmer. Or you can add a healthy oil instead of mayo or cream cheese, such as avocado or MCT oil. The fat will keep you satisfied.
WHAT ARE THE INGREDIENTS IN THE KETO LOW-CARB BREAKFAST BOMB?
The ingredients in this particular bomb are hard-boiled eggs, fresh avocado, power seeds, and seasoned salt.
Eggs:
My husband and I eat a lot of eggs so we purchase them locally from a farmer. The eggs are free-range and are often roaming on the farm property. So we know the eggs come from happy chickens treated humanely. If you buy eggs at the supermarket, do a little research to find out if the eggs are actually free range. Dr Berg has a great video on eggs. Here is the link:
Fresh avocado: For this recipe, you are going to need a large and very ripe avocado. Firm ones won't work. Just make sure the avocado is not so ripe that it's browning inside.
If the avocado yields to firm gentle pressure you know it's ripe and ready to eat. Ripe, ready-to-eat avocados may have a darker colour. However, the colour can vary, so it is best to go by feel as well as colour. They have a soft, but firm touch. If very soft with dents, the avocado is probably overripe. Do not use under or over-ripe avocados. The creaminess is essential.
Mayonnaise: Hunt for a mayo that is free of any carbs.
Power seeds: Here is my power seed combination:
2 tbsp Golden flax seed
2 tsp hulled hemp seed
2 tbsp chia seed
The seed mix makes this salad super nutritious. Flax seeds possess protein, fibre and Omega 3. Hemp seeds are also packed with protein and Omega 3 and are also a great source of:
Vitamin E
Magnesium
Phosphorus
Iron and Zinc
B vitamins
* riboflavin
* thiamine
* vitamin B-6
* folate
Chia seeds are the new super good. Despite
their tiny size, chia seeds are highly nutritious
They're packed with fiber, protein, omega-3
fatty acids, and various micronutrients.
Keto Season Salt:
You can include whatever ingredients you prefer in your Keto season salt. The garlic powder and onion powder are high in umami, giving the seasoning depth and roundness of flavour. You can also add pepper if you like. I prefer to keep my pepper intake separate and add freshly ground black pepper to my meal.
HOW DO YOU PREPARE KETO LOW-CARB BREAKFAST BOMBS?
Cook 4 eggs until hard-boiled and peel. Set hard-boiled eggs in a bowl. Add the avocado and mash together until creamy. Add mayo to your liking to get the texture desired. Roll a heaping tablespoon of the mixture into a ball and roll in the super seeds until well covered. Set on a plate or tray lined with parchment. Refrigerate for a few hours until chilled.
Print
KETO LOW-CARB BREAKFAST BOMBS
If while following a Keto Low-Carb lifestyle, you sometimes have to eat on the run.  These breakfast bombs provide a good source of protein, healthy fat, and fibre!  Ideal for breakfast, brunch, or lunch.  The recipe includes hard-boiled eggs, ripe avocado, mayo, and super seeds (or chia seeds).  Rather than seeds, although seeds are healthy, you can also roll the bombs in crumbled bacon.  Check out this recipe!
Author: KETO LOW-CARB SHARI MAC
Prep Time:

10

Total Time:

10

Yield:

10

1

x
Category:

KETO LOW-CARB

Method:

PREPPING

Cuisine:

Breakfast, lunch, brunch, hors d'oeuvres, appetizers

Diet:

Gluten Free
4 hard-boiled eggs
1 large ripe avocado
2 heaping tablespoons zero carb mayo (or more if needed)
Season salt and pepper to taste.
¼ cup super seeds or chia seeds
Instructions
In a bowl mash eggs.  Add avocado.  Mash together until creamy.  Add mayo.  Add season salt and pepper to taste.  Place about 1 heaping tablespoon of mixture in the palm of your hand and roll into a ball.  Roll in seeds.   Set on tray lined with parchment or an egg dish.  Refrigerate, covered, for a couple of hours, allowing the seeds to gel together.  Serve cold.
Notes
Each bomb contains approximately 2.1 grams of net carbs.
(Note: The nutritional information provided is a courtesy and is approximate only.  We cannot guarantee the nutritional accuracy of any recipe on this site.  We cannot know what brands you use or how accurately you follow the recipe or what you like to add creatively to the dish. Use the information as a general guideline only.)
Nutrition
Serving Size:

1

Calories:

133

Sugar:

0

Sodium:

49 (without seasoning)

Fat:

10.1

Saturated Fat:

1.9

Carbohydrates:

7.3

Fiber:

5.2

Protein:

4.5

Cholesterol:

66
Keywords: keto bombs, keto breakfast bomb, low carb bomb, low carb breakfast bomb, keto, keto-recipes, ketogenic-diet, ketogenic-recipes, low-carb, low-carb-recipes, lazy-keto, sugar-free, sugar-free-recipes, keto-and-wine, paleo, paleo-diet, paleo-recipes, lazy-paleo, , paleo-and-wine, primal-diet, primal-diet-recipes, caveman-diet, caveman-diet-recipes, gluten-free, gluten-free-recipes, gluten-free-with-wine, grain-free, grain-free-diet, grain-free-recipes, grain-free-recipes-with-wine, anti-inflammatory-diet, anti-inflammatory-recipes, dairy-free-diet, dairy-free-recipes, dairy-free-recipes-with-wine,
FREE e-cookbook called OODLES OF LOW CARB NOODLES
Join our family to get your FREE e-cookbook OODKES OF LOW CARB NOODLES + new recipes in your inbox.