HEALTHY (PALEO) HEART OF PALM MANGO SALAD
I enjoyed this Healthy (Paleo) Heart of Palm Mango Salad for dinner at a friend's house and asked her for the recipe.
In this cold weather with an abundance of snow, it's fun to taste a little bit of Paleo tropical warmth and sunshine.   Hearts of palm is the ideal ingredient for a Paleo lifestyle as it has a natural affinity with other ingredients, such as artichokes, avocados, chicken, shrimp, to name a few.  This ingredient is mostly used in salads, but can also be incorporated into dips and sandwiches, pasta, and risottos. 
Hearts of Palm comes from the interior of palm trees.   The heart is bright white and tender and lies beneath the 5th layer of trunk within the tree.   Today, this vegetable is farmed in Costa Rica and Hawaii within the USA. It also grows wildly throughout Brazil and so is a staple in the Brazilian diet. An alternative to wild hearts of palm is a domesticated farm species called peach palm. Peach palm is the most widely harvested for canning. It is a multi-stem variety that grows as many as 40 stems per plant.  Due to all the stems, harvesting in moderation does not kill the tree.
Hearts of palm are hand-harvested and takes extensive time to undertake because of the many layers of bark that must be removed to get to the tender heart.  For this reason, it is considered a delicacy.  It is also nutritious, a carbohydrate with some protein and fiber, and high in calcium and vitamin C.   It adds such wonderful texture to dishes but is subtle in taste and so will let the other flavors within a dish take center stage.  It's the contribution of texture to a dish.
WHAT IS THE NUTRITIONAL VALUE OF HEALTHY (PALEO) HEARTS OF PALM MANGO SALAD?
Healthy (Paleo) Heart of Palm Mango Salad is super nutritious. Hearts of palm are a good source of many nutrients. They contain protein and fiber, and high in vitamin C and vitamin B6, calcium, niacin, phosphorous, and zinc. Not that many vegetables are high in protein, so this is good to know, especially for vegetarians. They also low in calories; about 40 calories in a cup.
WHAT IS THE TASTE PROFILE OF HEALTHY (PALEO) HEARTS OF PALM MANGO SALAD? 
Healthy (Paleo) Hearts of Palm Mango salad sings with the tropical flavors of mango and lime, a wonderful interlude to our winter blues.  
WHAT WINE HARMONIZES WITH HEALTHY (PALEO) HEARTS OF PALM MANGO SALAD?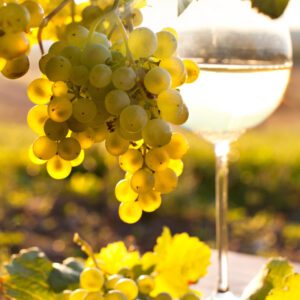 This Healthy (Paleo) Hearts of Palm Mango salad has refreshing tanginess from the lime vinaigrette.  Normally a crisp, white wine would be the ideal companion to match this lime tanginess.  However, because the mango is sweet, the salad requires an off-dry white with tanginess and sweetness to match.  Think off-dry Riesling, off-dry Gewurztraminer, or off-dry rose. 
WHAT OTHER HEALTHY (PALEO) RECIPES CAN YOU ENJOY?
Healthy (Paleo) Wet-Bottom Apple Cake
Healthy (Paleo) Pumpkin Muffins
Healthy (Paleo) Mom's Carrot Cake
Healthy (Paleo) Orange-Almond Cake
WHAT IS SHARI MAC'S PRODUCT RECOMMENDATION FOR YOUR PALEO DIET?
OMG, the Ninja NC301 CREAMi Ice Cream Maker is the BEST appliance I've bought for myself to support my diet. I stand behind this product 100%. I eat healthy high protein, sugar-free ice cream every night. I experiment with different ingredient combinations all the time. I purchased 5 additional containers so that I can make a week's worth of ice cream at one time. I've made ice cream with cottage cheese and almond milk with protein powder; tofu with almond milk and protein powder; fat-free plain yogurt with almond milk and more! The machine shaves frozen pints perfectly with its one-touch programs.. You can prepare ice cream, sorbet, gelato, milkshake, smoothie bowl, lite ice cream and more.  Prep your base, freeze overnight, process, and enjoy! Sometimes it takes more than one spin to get your desired texture. Select the re-spin function if, after processing, you want your processed treat softer and creamier. This unit is ONLY compatible with the Ninja CREAMi NC299 and NC300 pint accessories. It will NOT fit the NC100, NC200 or NC500 Series pints. With the Ninja Creami you can enjoy healthy treats that taste just as good as regular ice cream loaded in bad saturated fat, sugar, and preservatives.
Print
PALEO HEART OF PALM MANGO SALAD
---
Description
This Healthy (Paleo) Hearts of Palm Mango Salad is super delicious and healthy salad. The flavors nicely offset each other. The refreshing lime juice nicely offsets the mango sweetness. The dense and chewy hearts of palm perfectly offsets the softness of Boston lettuce and crunchy onion. The recipe includes fresh lime juice, hearts of palm, Boston lettuce, fresh cilantro, red onion, Dijon mustard, salt and pepper. Pair this salad with a seasoned chicken breast or salmon. Check out the recipe!
---
1/4 cup of fresh lime juice
4 tsp Dijon mustard
1 large ripe mango, peeled, pitted, and cut into 1/2-inch wedges
1/2 small red onion, finely chopped
1 can (14.5 oz) hearts of palm, drained, halved lengthwise, and cut into 1-inch pieces
Kosher salt as needed
Freshly ground black pepper as needed
2 heaping tablespoons of finely chopped fresh cilantro
1 head Boston lettuce, washed and dried
---
Instructions
In a bowl whisk together the lime juice and mustard.  Set vinaigrette aside.  In another bowl combine mango, onion, hearts of palm and half vinaigrette.  Season with salt and pepper.  Divide lettuce among 4 plates.  Top with mango mixture.  Drizzle remaining dressing.  Sprinkle with fresh cilantro.
Prep Time:

15

Category:

HEALTHY

Method:

MIXING

Cuisine:

BREAKFAST, LUNCH, BRUNCH, DINNER
Keywords: paleo, paleo recipes, paleo dinner, Whole30,#Whole30r recipes, whole30dinner, gluten free, gluten free recipes, gluten free dinner, gluten free recipes for dinner, anti-inflammatory diet, anti-inflammatory recipes, grain free, grain free diet, grain free recipes, grain free dinner, paleo and wine, gluten free and wine, dairy free diet, dairy free recipes, dairy free dinner,
FREE e-cookbook called OODLES OF LOW CARB NOODLES
Join our family to get your FREE e-cookbook OODKES OF LOW CARB NOODLES + new recipes in your inbox.
Latest posts by Shari MAC
(see all)