HEALTHY (PALEO) WARM SPINACH AND CHICKEN SALAD
As an Amazon Associate I earn from qualifying purchases.
Healthy (Paleo) Warm Spinach and Chicken Salad is a meal!  It is a heavenly meal.
I was speaking with my girlfriend Amy the other day.  Amy eats well, although she does not follow a specific lifestyle.  She shared with me in detail about the dinner she had created for friends.  She described her warm spinach salad with candied pecans.   My mouth was watering in delight in hearing the recipe. After that call, a warm spinach salad with candied pecans was all I thought about and craved.  After some research, I created this healthy (Paleo) spinach recipe using veggies that Shawn and I enjoy.  I tried making spicy candied pecans with no sugar added marmalade and they turned out!  We loved them!  I think the spicy candied pecans taste better when you toast the nuts first.  The toasty flavor of the nuts combined with the sweetness and spiciness of the coating makes these Paleo candied pecans delicious.  I decided to use the spicy rub that I made from the Cinnamon Marmalade Chicken blog.  Cinnamon is so healthy. 
WHAT IS THE NUTRITIONAL VALUE OF HEALTHY (PALEO) WARM SPINACH AND CHICKEN SALAD?
Lots of nutrition in this Healthy (Paleo) Warm Spinach and Chicken Salad!  As I wrote on another blog, every morning my father puts cinnamon on a quarter slice of toast with peanut butter and eats it. Since undertaking this morning ritual, he says he no longer experiences angina when he walks. Cinnamon has many health benefits for the body and the brain, including anti-viral and antibacterial properties to help to heal irritable bowel syndrome, gastric cancers and stomach flu, as well as colds, a sore throat and cough. It possesses two compounds called cinnamaldehyde and epicatechin that help prevent clumps of the tau protein from occurring in the brain and therefore is believed to help prevent Alzheimer's.  Cinnamon also helps to regulate insulin levels for diabetics. And for this reason, studies suggest that it may also contain anti-Alzheimer's properties.  Spinach, like collard and mustard greens, has concentrated levels of minerals, phytonutrients and vitamins B, E, K and C, as well as beta-carotene, zeaxanthin and lutein. They are also rich in iron, magnesium, calcium and potassium. The top leafy greens include spinach, mustard greens, collards, Swiss chard and romaine lettuce. We eat leafy greens on a regular basis. I make an Asian-inspired vinaigrette combining a dash of sesame oil with equal parts white wine vinegar and Coconut Aminos, sesame seeds and freshly grated ginger. These foods are rich in folate and B9, improving cognition and reducing depression.
Pecans contain monounsaturated fats (oleic acid) along with phenolic antioxidants.  Eating pecans can:
-help reduce the risk of heart disease
-improves digestion
– helps with weight loss
– help reduce the risk of certain cancers
– provide anti-Inflammatory benefits
– help boost your immunity
– help slow aging
– help prevent skin issues
WHAT IS THE TASTE PROFILE OF HEALTHY (PALEO) WARM SPINACH AND CHICKEN SALAD?
Big flavor explodes in this Healthy (Paleo) Warm Spinach and Chicken Salad with every bite.  Overall, you will enjoy the tanginess of the mustard dressing (due to the wine vinegar).  While vinegar is not technically considered "primal" most include it in their diet as fermented foods are optimal for our health.  Every once in a while you experience the spice and sweetness from the pecans, as well as the creaminess from the avocado.
WHAT WINE HARMONIZES WITH HEALTHY (PALEO) WARM SPINACH AND CHICKEN SALAD?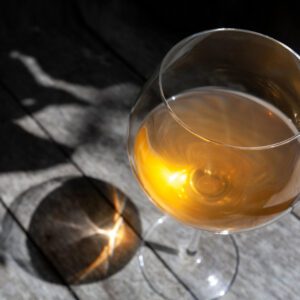 Let's look at wine that complements Healthy (Paleo) Warm Spinach and Chicken Salad …While it is true that tanginess is the predominant taste sensation of this salad due to the dressing, you cannot overlook or avoid the spiciness and sweetness of the candied pecans.  If you choose a crisp, dry white wine it will taste absolutely delicious…until you bit into a pecan!  The pecan's spiciness and sweetness will transform the wine's acidity into something that tastes like paint thinner.  Therefore, choose a white wine with great acidity to match the dressing and a hint of sweetness to ensure every bite is enjoyable.  I highly recommend an off-dry Riesling.  If you don't like a hint of sweetness in your wine a bone dry. Riesling is best as the fruitiness of the wine will help to ease that acidity class when biting into the candied pecans.
WHAT HEALTHY (PALEO) DESSERT RECIPES CAN YOU ENJOY?
Healthy (Paleo) Moms Carrot Cake
Healthy (Paleo) Apple Bundt Cakes
Healthy (Paleo) Wet-Bottom Apple Cake
WHAT IS SHARI MAC'S PRODUCT RECOMMENDATION FOR YOUR PALEO DIET?
I wanted to share with you the BEST thing you can do for yourself to support your diet.  Invest in a Vitamix Blender!  I stand behind this product 100%.  This Vitamix is a long-term investment worth every dollar! I use this Vitamix for almost daily all of my diet needs – smoothies, ice cream blends, hot soups (made right in the Vitamix), sauces, and more!  Every other blender I purchased before my Vitamix failed within a couple of years.  This blender is a work horse. My best-friend has had her Vitamix for over 20 years with NO issues!  I just got my Vitamix this past year and LOVE IT!
HOW IS HEALTHY (PALEO) WARM SPINACH AND CHICKEN SALAD?
Print
HEALTHY (PALEO) WARM SPINACH AND CHICKEN SALAD
---
Description
Heathy (Paleo) Warm Spinach & Chicken Salad is delicious with its sweet, salty, umami, tangy, and fatty flavors.  The recipe uses candied pecans, spinach, chicken, mushrooms, bacon, pecans, apple and avocado If you are hunting for a filling and satisfying salad recipe paired with wine, check out this recipe!
---
Cinnamon Spice
1 teaspoon of sea salt
1 teaspoon black pepper
1 teaspoon garlic powder
1 teaspoon onion powder
1 teaspoon cinnamon
1 teaspoon paprika
1/2 teaspoon chili flakes (more if you like hot and spicy)
Candied pecans:
2 cups plain or toasted pecans
1/4 cup no-sugar added marmalade
2 tablespoons cinnamon spice mix (see above)
Salad Ingredients:
1 (10 ounces) bag baby spinach leaves
1 cup cooked chicken
1/4 cup sliced mushrooms
1/4 cup crumbled Paleo compliant bacon
1/2 cup candied pecans*
1 apple, cubed (toss in lemon juice if not eating salad immediately to keep from browning)
1 avocado, sliced
Dressing:
1 large shallot, sliced
2 cloves garlic, chopped
1/3 cup red wine vinegar
1/3 cup Dijon mustard
1/3 cup olive oil
---
Instructions
To make cinnamon spice, mix all ingredients together.  Set aside.
To candy the pecans, in a bowl combine nuts, marmalade, and spice.  Make a paste. Toss together.  Line a baking tray or pan with parchment paper.  Lay pecans on parchment.  Bake for 10 minutes.  Remove pan from heat.  Let candied pecans cool.  Set aside.  Let cool.Place spinach and all salad ingredients in a bowl.  Set aside until ready to eat.
To make the dressing, heat a tablespoon olive oil in a small skillet over medium heat. Stir in shallots and garlic, and cook until softened and translucent, about 2 minutes. Let cool.  Place all dressing ingredients in a blender and blend until smooth.  Adjust seasoning.  When ready to eat, heat dressing in the microwave.  Pour dressing over salad and toss together.
Notes
Salad makes 4 side salads or 2 dinner salads.
Prep Time:

30

Category:

PALEO & WHOLE30

Method:

ARRANGING

Cuisine:

BREAKFAST, LUNCH, BRUNCH, DINNER
Keywords: Paleo dinner recipes, paleo dinner, whole30 dinner recipes, whole30 dinner, grain-free dinner, gluten-free dinner, paleo turkey burgers, whole30 turkey burgers, grain-free turkey burgers, gluten-free turkey burgers, paleo, paleo recipes, paleo dinner, Whole30, Whole30 recipes, gluten free, gluten free recipes, gluten free recipes ford dinner, anti inflammatory diet, grain free, grain free diet, grain free recipes, paleo and wine gluten free and wine
FREE e-cookbook called OODLES OF LOW CARB NOODLES
Join our family to get your FREE e-cookbook OODKES OF LOW CARB NOODLES + new recipes in your inbox.
Latest posts by Shari MAC
(see all)