The Ketogenic Diet was originally developed in 1924 by Dr Russell Wilder at the Mayo Clinic. Dr Wilder used this diet for the treatment of epilepsy. He discovered that certain epilepsy patients experienced fewer seizures when they consumed a high-fat, moderate protein, and low-carb meal plan. 
The diet became popular in the '90s for weight loss and improved health conditions. Some of these conditions include metabolic syndrome, diabetes, some cancers, autism, Parkinson's Disease, Alzheimer's, Obesity, Multiple Sclerosis, non-alcoholic fatty liver disease, migraine headaches, and others.
WHAT IS THE KETO DIET?
The Ketogenic Diet lowers blood sugar and insulin levels, thus shifting the body's metabolism. Instead of relying on sugar (glucose) from carbohydrates, such as pasta, potatoes, and bread, the Keto Diet relies on ketone bodies. Ketone bodies are a type of fuel that the liver produces from stored fat. Reaching ketosis means the body is in a metabolic state that uses this fat as fuel instead of carbs.
(BE SURE to consult your doctor before starting this diet to be sure it is right for you, especially if you have any health conditions involving the pancreas, liver, thyroid, or gallbladder.)
HOW DO YOU KNOW IF YOU ARE IN KETOSIS?
Fortunately, there are ways to measure whether or not you are in ketosis. Blood, urine, and breath tests can tell you. Keep in mind that everyone enters ketosis at a different rate. It depends on many factors, including your fitness level. Generally, it takes 2 to 7 days to reach the beginning state of ketosis. However, some people like myself find it takes a week or longer to reach this state. My husband Shawn reaches ketosis quickly because he is an athlete. Your body must go into ketosis to lose weight utilizing this diet.
WHAT ARE KETO STRIPS, AND HOW DO YOU USE THEM?
You can purchase a bottle of Keto strips at your local pharmacy. Strip prices vary depending on the brand. To use the urine ketone strip:
Dip the test end into fresh, morning urine or late evening urine.
Remove the strip from the urine and wait 15 seconds.
Compare the colour on the strip with the colour chart on the bottle.
The colour on the strip corresponds to the concentration of ketones in your urine, ranging from no ketones to high concentrations. The darker the colour, the higher your ketone levels. Any colour on the ketone strip, from pink to purple, indicates fat burning (ketosis).
Some people get a darker ketone strip colour and achieve the same weight loss results as someone with a lighter colour. Or vice versa. I notice that I start losing weight once the colour is darker.
On the other hand, my husband experiences weight loss faster with a lighter colour. Everyone is different. Refrain from judging your progress according to anyone else.
While many say the Keto strips are unreliable, my husband and I have successfully used them.
HOW DO YOU KNOW YOU ARE IN KETOSIS?
Even without the use of the ketone strips, you can tell your body is in ketosis if you experience the following:
· Bad breath
· Weight loss
· Appetite suppression
· Increased focus and energy
· Short-term fatigue
· Short-term decreases in performance
IS THE KETO DIET SUITABLE FOR EVERYONE?
The Keto Diet may not be suitable for everyone or sustainable for your lifestyle and preferences. Remaining on the Keto Diet long-term may also have negative effects, such as vitamin deficiency. I've heard that you should only remain on a diet for 6 months. Be sure to speak with your doctor about your short and long-term eating plan and goals to decide if the Keto Diet is right for you.
WHAT IS THE DIFFERENCE BETWEEN THE KETO DIET AND A LOW-CARB LIFESTYLE?
The Keto Diet comprises 75% fats, 20% protein, and 5% carbohydrates to reach a state of ketosis. Once you reach your optimal weight, move to a more enjoyable low-carbohydrate diet to maintain your desired weight for the rest of your life.
Remember that there are no set rules for how many carbohydrates you can consume within a low-carbohydrate lifestyle. It would help if you discovered your net carb limit for yourself. Watch your carb intake and weight to find the right balance. Some people can regularly consume up to 50 grams of carbohydrates daily, while others cannot go above 30 grams, or they begin to gain weight. Everyone's metabolism and energy output and lifestyle are different. It's trial and error to find that perfect balance that allows you to enjoy the culinary world while maintaining a healthy weight for YOU!
WHAT KINDS OF FOODS CAN I EAT ON THE KETO DIET?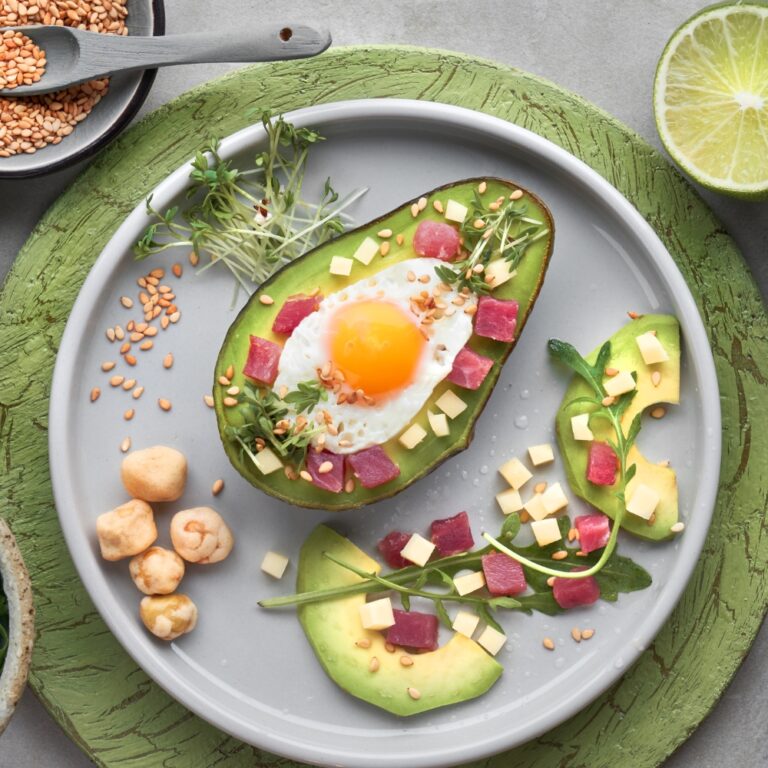 Your diet can incorporate countless dishes. Today you can enjoy the same meals as before, using low-carbohydrate ingredients. Within the Keto Diet, you can prepare bread, pizza, pasta, casseroles, cookies, desserts, and more! Stick to homemade meals at first. Proteins include wild game, beef, pork, lamb, poultry, fish and seafood. You can also eat eggs, butter, and cream. Choose natural, unprocessed cheeses like cheddar, mozzarella, goat, cream, blue, or mozzarella. Add nuts and seeds, such as almonds, walnuts, black seeds, pumpkin seeds, chia seeds, etc. Remember, nuts have carbohydrates, too, so measure the amount you consume. Healthy oils can also be used, including extra virgin olive oil, coconut oil, and avocado oil. Spice up your meals with moderate low-glycemic veggies and fruits, such as cucumber, radishes, daikon, bell peppers, lettuce, blueberries, strawberries, and blackberries. Be sure to measure the amount of fruit you consume to keep your carbohydrates low. Avoid carb-based foods like wheat-based bread and pasta, grains, refined and natural sugars (bananas, melon, honey, maple syrup), legumes, rice, potatoes, candy, juice, and alcohol.
Plenty of Proteins: Game meats, chicken, turkey, pork, beef (ground, roast, steak), lamb, sugar-free and grain-free sausage, sugar-free bacon, sugar-free cold cuts (in moderation).
Fatty seafood: Salmon (fresh and canned), snapper, tuna (fresh and canned), halibut, tilapia, cod, trout, catfish, scallops.
Shellfish: Crab, clams, oysters, lobster, shrimp, mussels.
Eggs: Chicken
Healthy fats: grass-fed butter, coconut oil, olive oil, ghee, avocado oil, sugar-free mayonnaise.
High-fat dairy: Whipping cream, half and half, soft and hard cheeses, cream cheese, and sour cream. Be sure to read the nutritional label on the cheese. Not all cheeses are zero carbs.
A selection of low glycemic vegetables: Cauliflower, cabbage, broccoli, zucchini, green beans, peppers, eggplants, tomatoes, asparagus, cucumber, onion, mushroom, spinach, a variety of lettuce, and green and black olives.
Most nuts: Almonds, peanuts, macadamia nuts, pecans, hazelnuts, walnuts, as well as their butters (look for natural ones that are sugar-free).
A selection of berries: Blueberries, blackberries, raspberries. (Consume in moderation).
All spices and sugar-free blends
Natural sweeteners: Stevia, erythritol, allulose, xylitol
HOW MUCH PROTEIN SHOULD I EAT ON THE KETO DIET?
Moderate your protein consumption. Protein can be converted into glucose if consumed in high amounts. This can slow your progress into ketosis.
SHOULD I PURCHASE KETO PACKAGED FOODS?
When you are beginning a Keto Diet stick to homemade meals and refrain from consuming any Keto packaged goods. Not all are healthy and could interrupt your goal to reach ketosis or remain in ketosis.