KETO LOW-CARB HOLLANDAISE SAUCE
This Keto Low-Carb Hollandaise Sauce is a rendition of the original French version.  Once called Dutch sauce, Hollandaise sauce is an emulsion of egg yolks, melted butter, and lemon juice.  Some chefs add Dijon mustard for zesty appeal. Others prefer lime to lemon juice for a slightly different taste.
You can enjoy Keto Low-Carb Hollandaise Sauce in a variety of ways, such as:
Over broccoli
Over asparagus
Drizzled over poached salmon (add dill or tarragon)
Over Eggs Benedict
Over chicken breasts (add morel mushrooms to the sauce)
On French toast
In Crab Imperial (instead of using mayo)
Keto Low-Carb Hollandaise sauce can also be a base ingredient for other sauces like:
Béarnaise sauce: Hollandaise Sauce with white wine, tarragon, vinegar, and peppercorns.
Charon Sauce: This is a tomato spiked Hollandaise Sauce. Made of Hollandaise sauce plus fresh tarragon and tomato paste (or purée). Can be served over steak, eggs, chicken, or vegetables.
Foyot Sauce: Make the Béarnaise sauce from the Hollandaise sauce and added glacé de viande (reduced brown stock) to serve over steak
Maltaise Sauce: This is a blood orange Hollandaise sauce (juice and rind of blood oranges). Can be served in Eggs Florentine or Eggs Benedict or over asparagus.
Mousseline Sauce: This is a Hollandaise sauce with whipped cream. It is often served with meat, seafood, and fish.
WHAT IS A QUICK WAY TO PREPARE KETO LOW-CARB HOLLANDAISE SAUCE?
To prepare your Keto Low-Carb Hollandaise Sauce here are the following steps:
Melt the butter in a microwave for about 1 minute until hot.
Combine the egg yolks, lemon juice, salt, and cayenne pepper into a high-powered blender and blend for 5 seconds.
Slowly stream the hot butter into the mixture as the blender is running.
Pour the sauce into a small bowl and drizzle over your meal!
HOW DO YOU FIX BROKEN KETO LOW-CARB HOLLANDAISE SAUCE?
The key to making a successful Keto Low-Carb Hollandaise Sauce is hot butter!
In making this sauce the hot butter is emulsified into the egg yolks and lemon juice. The butter must be hot and added in a steady stream. If the butter is not hot enough or added in this steady stream, the sauce can separate. If this happens, no need to worry. You can slowly add boiling water, whisking constantly to get the right consistency.  Or try adding an extra egg yolk.
While the blender is going (or you are whisking), add the yolk plus a teaspoon of boiling water to the blender until the sauce is creamy.
WHAT IS THE NUTRITIONAL VALUE OF KETO LOW-CARB HOLLANDAISE SAUCE?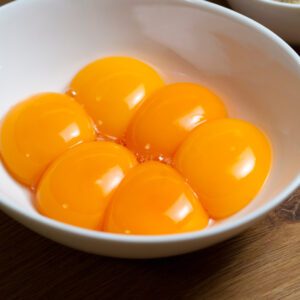 I remember the 'fat free' 90s when egg yolks were considered the bad guys.  Well, not anymore.  Egg yolks are super healthy, especially when following a Keto lifestyle or diet.
Pasture-raised egg yolks are known to be a great source of nutrition and are higher in certain nutrients compared to conventional eggs. They are rich in vitamins A, D, E, and K2, as well as omega-3 fatty acids, which are essential for brain function and heart health. In fact, pasture-raised egg yolks contain up to six times more vitamin D than conventional eggs. Vitamin D helps regulate calcium and phosphorus levels in the body, which are important for bone health. Additionally, pasture-raised egg yolks are rich in choline, which is important for brain and nervous system function, and also helps reduce inflammation. Overall, pasture-raised egg yolks are a great source of essential nutrients and can be a healthy addition to your diet.
WHAT IS THE TASTE PROFILE OF KETO LOW-CARB HOLLANDAISE SAUCE?
This is a rich and creamy Keto Low-Carb Hollandaise Sauce with a hint of tanginess from the lemon.
WHAT WINE HARMONIZES WITH KETO LOW-CARB HOLLANDAISE SAUCE?
This rich, creamy Keto Low-Carb Hollandaise Sauce is the ideal partner for big, buttery white wines like some Chardonnay or Viognier.  The wine's creaminess will partner well with the creaminess of this sauce.  The wine's acidity will also nicely sing with the slight tanginess of the sauce from the fresh lemon.
*Wine Tips: To support your Keto diet or low-carb lifestyle, choose low-carb, low-sugar, and low-alcohol wines that are free of additives and artificial coloring.  Include your wine carb macros as part of your meal.  Remember, your liver will process alcohol before nutrients, pausing ketone creation and slowing the ketosis process. Your body will also metabolize alcohol as fuel before using food. This can slow fat burning and may cause your body to store carbs, fat, and protein as excess body fat.  Alcohol consumption also stimulates the appetite.  So, drink low-sugar, low-carb, and low alcohol wines in moderation.
WHAT OTHER KETO LOW-CARB HEALTHY HEART RECIPES CAN I ENJOY?
Keto Low-Carb Caribbean Chicken
Keto Low-Carb Powerhouse Granola
Keto Low-Carb Maple Walnut Frozen Custard
Keto Low-Carb Tuna Cheddar Pasta Casserole
WHAT IS SHARI MAC'S PRODUCT RECOMMENDATION FOR YOUR KETO LOW-CARB DIET?
I wanted to share with you the BEST thing you can do for yourself to support your Keto Low-Carb diet.  Invest in a Vitamix Blender!  I stand behind this product 100%.  This Vitamix is a long-term investment worth every dollar! I use this Vitamix for almost daily all of my Keto diet needs – smoothies, ice cream blends, hot soups (made right in the Vitamix), sauces, and more!  Every other blender I purchased before my Vitamix failed within a couple of years.  This blender is a work horse. My best-friend has had her Vitamix for over 20 years with NO issues!  I just got my Vitamix this past year and LOVE IT!
HOW DO YOU PREPARE KETO LOW-CARB HOLLANDAISE SAUCE?
FREE e-cookbook called OODLES OF LOW CARB NOODLES
Join our family to get your FREE e-cookbook OODKES OF LOW CARB NOODLES + new recipes in your inbox.
Latest posts by Shari MAC
(see all)