KETO LOW-CARB MAPLE-WALNUT FROZEN CUSTARD
As an Amazon Associate I earn from qualifying purchases.
This Keto Low-Carb Maple-Walnut Frozen Custard is delicious all year round!
I was never a fan of vanilla ice cream. Chocolate all the way. However, I tasted frozen vanilla custard for the first time at an ice cream shop in York, Pennsylvania. Frozen custard can be created in 1919 in Coney Island in New York. Ice cream vendors Archie and Elton Kohr discovered that when they added egg yolks to ice cream, it had a smoother texture. The addition of egg yolks helped the ice cream stay cold longer. This was a fabulous discovery to help their frozen dessert stay cold on hot summer days along the Coney Island boardwalk. The treat made its way to Chicago for the World's Fair in 1933, where it was quickly adopted as a regional specialty.
I fell in love with this frozen dessert right away. Frozen custard is different from ice cream. It's the cooking. The process that makes this dessert taste so special.
My husband is not a big fan of ice cream. But he loves frozen custard, too. It has a whole different flavour because the egg yolks are slowly blended and cooked with the cream.  
This recipe is called French Vanilla rather than just vanilla because in the making of ice cream if egg yolks are added it's called the "French" recipe. Since this custard contains egg yolks I decided to call this custard French Vanilla!
WHAT IS THE NUTRITIONAL VALUE OF KETO LOW-CARB MAPLE-WALNUT FROZEN CUSTARD?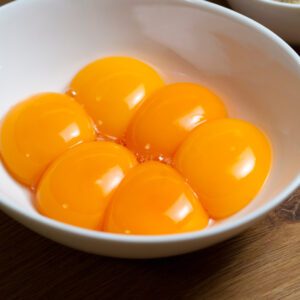 The addition of egg yolks (from pasture raised chickens) to cream (or full-fat coconut milk) and sweetener add more protein, calcium, and potassium to this Keto Low-Carb Maple-Walnut Frozen Custard. Pasture-raised egg yolks are known to be highly nutritious compared to those from caged hens. They are an excellent source of high-quality protein, vitamins, and minerals. The nutritional value of pasture-raised egg yolks is largely due to the hens' diet, which is rich in natural food sources such as insects, plants, and seeds. The yolk of a pasture-raised egg is packed with essential nutrients, including vitamins A, D, E, and K, as well as omega-3 fatty acids. Vitamin A is crucial for maintaining healthy vision and immune system function, while vitamin D helps the body absorb calcium and supports bone health. Vitamin E is a potent antioxidant that protects cells from damage, and vitamin K plays a vital role in blood clotting. In addition to vitamins, pasture-raised egg yolks are also rich in minerals such as iron, phosphorus, and selenium. Iron is essential for healthy blood cell production, while phosphorus is necessary for strong bones and teeth. Selenium is a powerful antioxidant that helps prevent cellular damage and supports thyroid function. Consequently, pasture-raised egg yolks are a highly nutritious food source that can provide a wide range of health benefits. Incorporating them into your diet can help ensure that you are getting the essential vitamins and minerals your body needs to function optimally.
WHAT IS THE FLAVOR PROFILE OF KETO LOW-CARB MAPLE-WALNUT FROZEN CUSTARD?
The predominant taste sensations in Keto Low-Carb Maple-Walnut Frozen Custard are richness (fattiness) and sweetness. The texture is velvety and ice-cold, adding to the mouth feel and pleasure.  
WHAT WINE HARMONIZES WITH KETO LOW-CARB MAPLE-WALNUT FROZEN CUSTARD?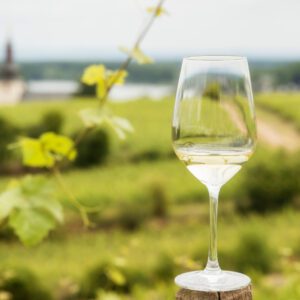 If you want to partner wine with your  Keto Low-Carb Maple-Walnut Frozen Custard, you have a couple of options.  In following a Keto diet or in living a low-carb lifestyle, we don't want to use up your carbs on a glass of wine.  Why add the extra carbs to your meal when you can find zero carb wines!  You have a couple of options:
Drink whatever wine you like (as long as it's bone dry) and don't worry about pairing the wine to dish. Enjoy your wine the way you like it. 
If you like to create harmony between the wine and the food, you'll need some sweetness in the wine to match the sweetness.  Add a pinch of stevia or monk fruit sweetener to your glass of wine.  Choose a white like Riesling or Gewurztraminer or a pink rose. These varieties taste great when bone dry or sweet.  So they taste great with the added sweetener.  The wine's sweetness will complement the sweetness in the dessert. 
*Wine Tips: To support your Keto diet or low-carb lifestyle, choose low-carb, low-sugar, and low-alcohol wines that are free of additives and artificial coloring.  Include your wine carb macros as part of your meal.  Remember, your liver will process alcohol before nutrients, pausing ketone creation and slowing the ketosis process. Your body will also metabolize alcohol as fuel before using food. This can slow fat burning and may cause your body to store carbs, fat, and protein as excess body fat.  Alcohol consumption also stimulates the appetite.  So, drink low-sugar, low-carb, and low alcohol wines in moderation.
WHAT'S THE DIFFERENCE BETWEEN ICE CREAM AND FROZEN CUSTARD?
While ice cream is classically made from milk or cream and sweetener, the Keto Low-Carb Maple-Walnut Frozen Custard is prepared with cream, sweetener, and egg yolks. During the preparation, the simmer custard, when added, heats without cooking the yolks, thus ensuring that they are not raw. The yolks thicken the custard.
WHAT DAIRY DO YOU USE TO PREPARE YOUR KETO LOW-CARB MAPLE-WALNUT FROZEN CUSTARD?
Your Keto Low-Carb Maple-Walnut Frozen Custard can be made with cream or full-fat coconut milk. It will thicken with the added egg yolks. You can sweeten your custard with a natural sweetener like Swerve granular or brown sugar, stevia or erythritol. You can also make custard using coconut yogurt rather than milk or cream.
WHAT FLAVORS OF KETO FROZEN CUSTARD CAN YOU MAKE?
Can you make other flavours other than the Keto Low-Carb Maple-Walnut Frozen Custard? The answer is yes!  At the bulk food store, you can buy different sugar-free extracts to flavour your custard, such as rum, caramel, vanilla, butterscotch, etc. Some of the countless frozen custard flavour combinations include the following"
Macha
Earl Grey 
Dark Chocolate
Espresso
Lemon or Lime
Crème Brulee Cupcakes
Crème Brulee Pie
Lemon Honey (using bee pollen)
Yogurt with Berries
Pistachio
Sesame seeds
Peanut Butter & Chocolate
Maple Walnut
Butter Pecan
Blueberry
Strawberry
Vanilla
The list is endless…
WHAT KETO LOW-CARB DESSERT RECIPES CAN YOU ENJOY?
Keto Low-Carb Chocolate and PB Cheesecake (Heart Healthy)
Keto Low-Carb No Bake Raspberry Cheesecake (Healthy Heart)
Keto Low-Carb Peanut Butter Cookies
Keto Low-Carb No Bake Raspberry Cheesecake (Heart Healthy)
WHAT IS SHARI MAC'S PRODUCT RECOMMENDATION FOR YOUR KETO LOW-CARB DIET?
OMG, the Ninja NC301 CREAMi Ice Cream Maker is the BEST appliance I've bought for myself to support my Keto diet. I stand behind this product 100%. I eat healthy high protein, sugar-free ice cream every night. I experiment with different ingredient combinations all the time. I purchased 5 additional containers so that I can make a week's worth of ice cream at one time. I've made ice cream with cottage cheese and almond milk with protein powder; tofu with almond milk and protein powder; fat-free plain yogurt with almond milk and sugar-free jello and more! The machine shaves frozen pints perfectly with its one-touch programs.. You can prepare ice cream, sorbet, gelato, milkshake, smoothie bowl, lite ice cream and more.  Prep your base, freeze overnight, process, and enjoy!
Sometimes it takes more than one spin to get your desired texture. Select the re-spin function if, after processing, you want your processed treat softer and creamier. This unit is ONLY compatible with the Ninja CREAMi NC299 and NC300 pint accessories. It will NOT fit the NC100, NC200 or NC500 Series pints.
With the Ninja Creami you can enjoy healthy treats that taste just as good as regular ice cream loaded in bad saturated fat, sugar, and preservatives.
HOW DO YOU PREPARE KETO LOW-CARB MAPLE-WALNUT FROZEN CUSTARD?
Print
KETO LOW-CARB MAPLE-WALNUT FROZEN CUSTARD
---
Author:

KETO LOW-CARB SHARI MAC

Total Time:

4 hours 5 minutes

Yield:

4

servings (1/2 cup each)

1

x

Diet:

Gluten Free
Description
Keto Low-Carb Maple-Walnut Frozen Custard is filling and super nutritious, especially for a dessert!  The recipe uses egg yolks, stevia, maple extract, and coconut cream.  If you are hunting for a dessert that you can enjoy and still get into or remain in ketosis, this is the recipe for you! 
---
1/2 cup walnut pieces toasted
4 egg yolks
2 tablespoons Swerve Brown Sugar
1 teaspoons glycerine*
1 teaspoon maple extract
2 1/2 cups of unsweetened coconut cream or whipping cream
---
Instructions
* The glycerin helps the frozen custard stay scoop-able in the freezer.
** 2 1/2 cups of coconut cream comes from 2 (400 mL) cans of coconut milk.  Use the cream and discard the coconut water.
Toast walnut pieces in a dry fry pan.  Set aside and let cool.  In a bowl combine egg yolks, sweetener, maple extract and glycerine (optional). Set aside.  Using an immersion blender, blend until smooth and frothy.  Pour coconut cream into a pot and heat, whisking constantly to a light simmer. Remove coconut cream from heat. Slowly pour the hot coconut cream, 1 tablespoon at a time, into the egg yolks, all the while keeping the immersion blender going.  Do this 5 or 6 times to mix the eggs with the hot cream without the eggs cooking and clumping. 
Once you've done this, you can slowly add more cream to the mix, blending the whole time, until all the cream in is the bowl with the eggs.  in the food processor, keeping the motor running. 
Transfer the custard to a boil coated in melted coconut oil.  This is a trick to keep the custard from sticking to the sides of the bowl. 
Set the custard in the freezer and freeze for about 3 to 4 hours (depending on the temp of your freezer).
When the custard becomes thick, fold the walnuts into the frozen custard.  Continue to freeze until hardened.
Notes
 The recipe is based on the keto version and is approximate only.  One serving has 0.4 (zero) grams of net carbs!
(Note: The nutritional information provided is a courtesy and is approximate only.  We cannot guarantee the nutritional accuracy of any recipe on this site.  We cannot know what brands you use or how accurately you follow the recipe or what you like to add creatively to the dish. Use the information as a general guideline only.)
Prep Time:

4 hours, 5 minutes

Category:

KETO LOW-CARB PALEO

Method:

FREEZING

Cuisine:

DESSERT
Nutrition
Serving Size:

1

Calories:

746

Sugar:

4.6

Sodium:

9

Fat:

74

Saturated Fat:

50.7

Carbohydrates:

9.3

Fiber:

8.9

Protein:

15.7

Cholesterol:

210
Keywords: keto, keto-recipes, ketogenic-diet, ketogenic-recipes, low-carb, low-carb-recipes, lazy-keto, sugar-free, sugar-free-recipes, keto-and-wine, paleo, paleo-diet, paleo-recipes, lazy-paleo, , paleo-and-wine, primal-diet, primal-diet-recipes, caveman-diet, caveman-diet-recipes, gluten-free, gluten-free-recipes, gluten-free-with-wine, grain-free, grain-free-diet, grain-free-recipes, grain-free-recipes-with-wine, anti-inflammatory-diet, anti-inflammatory-recipes, dairy-free-diet, dairy-free-recipes, dairy-free-recipes-with-wine,
FREE e-cookbook called OODLES OF LOW CARB NOODLES
Join our family to get your FREE e-cookbook OODKES OF LOW CARB NOODLES + new recipes in your inbox.
Latest posts by Shari MAC
(see all)