KETO NO-BAKE RASPBERRY CHEESECAKE (HEART HEALTHY)
As an Amazon Associate I earn from qualifying purchases.
Keto No-Bake Raspberry Cheesecake keeps me sane. After every meal I like to indulge in something a little sweet. Even if it is sugar-free, the sweetness satisfies my taste buds.
With summer on the horizon, I wanted to make something lighter and more refreshing. This cake is super healthy with zero cholesterol! I've prepared several versions of this recipe. Shawn loves blueberries. Raspberries are my favorite fruit. So, you can also do 3 rather than 2 layers to this cheesecake.
When following a Keto diet, many people stay away from fruit because fruits have sugar. It's important to note that all 3 philosophies allow for some carbohydrates and allow for certain fruits.  
If you want to keep your carb intake low and still enjoy fruits in your regime, choose ones, such as per 1 cup:
Avocados: 12.5 g total carbs/2.7 net carbs
Tomatoes: 5.84 g total carbs/3.92 net carbs
1 lemon or lime 4 to 5 net carbs
Blackberries: 14g total carbs, 6 net carbs
Raspberries: 15g total carbs, 7 net carbs
Strawberries: 13g total carbs, 10 net carbs
Watermelon: 11.5 total carbs/11 net carbs
Peaches: 15 total carbs/13 net carbs
Blueberries: 21g total carbs, 17 net carbs
Personally, I just consciously eat a low-carb diet regularly. On an odd day, I'll have more carbs if I'm doing cardio and lifting weights. My body needs them. I think it's important to try to include fruit in our diets because they offer vitamins and minerals that you cannot necessarily get elsewhere.  
WHAT IS THIS KETO NO-BAKE RASPBERRY CHEESECAKE?
This Keto No-Bake Raspberry Cheesecake is vegan and no-bake. You can enjoy a slice whether you're vegan or not. Serve to your family friends not following this lifestyle choice! The cake contains, almond flour, Swerve granular sugar, butter, raw cashews, vanilla extract, lemon juice, chia seeds, and frozen raspberries.
WHAT IS THE NUTRITIONAL VALUE OF KETO NO-BAKE RASPBERRY CHEESECAKE?
The center of this Keto No-Bake Raspberry Cheesecake is made from raw cashews Raw cashews are a great source of nutrition! They are high in protein, fiber, healthy fats, vitamins, and minerals. In a 1-ounce serving of raw cashews (approximately 18 cashews), there are 157 calories, 5 grams of protein, 12 grams of fat (mostly unsaturated), 1 gram of fiber, and 9 grams of carbohydrates. Cashews are also rich in minerals such as copper, magnesium, phosphorus, zinc, and iron, as well as vitamins B1, B5, and B6. Incorporating raw cashews into your diet can help improve heart health, support healthy brain function, and aid in weight management. However, it is important to consume cashews in moderation, as they are high in calories and should not be consumed in excess.
I added chia seeds to the raspberry topping. Its gelatin-like substance keeps the topping pulled together. The seeds also add nutrition as well as hold the topping together. Chia seeds contain large amounts of fiber and omega-3 fatty acids, plenty of high-quality protein, and several essential minerals and antioxidants. They may improve digestive health, blood levels of heart-healthy omega-3s, and risk factors for heart disease and diabetes.
WHAT IS THE TASTE PROFILE OF KETO NO-BAKE RASPBERRY CHEESECAKE?
So many wonderful competing flavors in this cheesecake. The raspberry topping is downright refreshing. The cheesecake is vanilla flavored and creamy. The crust is soft and buttery. A delicious cheesecake for spring, summer, and fall.
WHAT WINE HARMONIZES WITH KETO NO-BAKE RASPBERRY CHEESECAKE?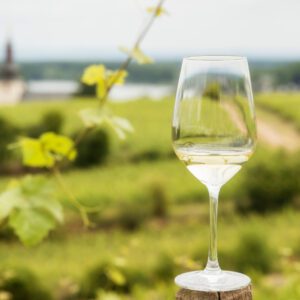 While this dessert is not overly sweet, it does have sweetness as its main taste sensation, along with some tanginess from the raspberries. Classically you might serve a dessert wine with this dessert, such as Framboise.  You have a couple of wine options…
Drink whatever wine you like (as long as it's bone dry) and don't worry about pairing the wine to dish. Enjoy your wine the way you like it. 
If you like to create harmony between the wine and the food, you'll need some sweetness in the wine to match the sweetness in this dessert.  Add a pinch of stevia or monk fruit sweetener to your glass of wine.  Choose a white like Riesling or Gewurztraminer or a pink rose. These varieties taste great when bone dry or sweet.  So they taste great with the added sweetener.  The wine's sweetness will nicely complement the dessert.  
Or, you can add fresh lemon or lime juice to the cheesecake to increase the tanginess and cut back in the sugar.  By doing so you can pair the desert with a bone-dry brut bubbly. 
*Wine Tips: To support your Keto diet or low-carb lifestyle, choose low-carb, low-sugar, and low-alcohol wines that are free of additives and artificial coloring.  Include your wine carb macros as part of your meal.  Remember, your liver will process alcohol before nutrients, pausing ketone creation and slowing the ketosis process. Your body will also metabolize alcohol as fuel before using food. This can slow fat burning and may cause your body to store carbs, fat, and protein as excess body fat.  Alcohol consumption also stimulates the appetite.  So, drink low-sugar, low-carb, and low alcohol wines in moderation.
USING A BLENDER OF FOOD PROCESSOR:
An important key to this recipe is making sure that you blend the cashews into a creamy, smooth cheese. If you are using an ordinary blender, soak your cashews overnight to ensure they are super soft the next day. Place the coconut cream and lemon juice into the blender first and then slowly add the cashews. This will ensure that the mixture mixes into a creamy ingredient. The Vitamix does an incredible job at transforming the nuts into cream cheese.
WHAT IS SHARI MAC'S PRODUCT RECOMMENDATION FOR YOUR KETO LOW-CARB DIET?
I'm a huge fan of the Ninja products. In the past, I've gone through a counter-top convection oven every couple of years. This Ninja 1800-watt oven is a work horse! It is a must for me to support my Keto diet. Since buying this Ninja I have not turned on my oven in months! Amazing in the summer! No heat in the kitchen from the traditional oven. I use the air-fryer for all our proteins every day. All my air-fried favorites have less bad saturated fat and therefore fewer calories. I cut chicken breasts in half, horizontally, and air-fry them for 20 minutes. You can set the temperature and timer for all sorts of foods and walk away from the kitchen. The machine will shut off automatically at the right time. My proteins are crispy on the outside and super juicy
WHAT OTHER KETO DESSERT RECIPES YOU CAN ENJOY?
Keto Low-Carb Chocolate and PB Cheesecake (Heart Healthy)
Keto Low-Carb Peanut Butter Cookies
Keto Lazy Frozen-Yogurt Berry Pie
Keto Low-Carb Maple Walnut Frozen Custard
Keto Low-Carb Chocolate Ice Cream
Keto Low-Carb Salted Caramel Creme Brulee
HOW DO YOU PREPARE KETO NO-BAKE RASPBERRY CHEESECAKE?
Print
KETO NO-BAKE RASPBERRY CHEESECAKE
---
Description
This Keto No-Bake Raspberry cheesecake contains, almond flour, Swerve granular sugar, butter, raw cashews, vanilla extract, lemon juice, chia seeds, and frozen raspberries.
---
Crust:
2 cups almond flour
1/2 cup butter (grass-fed butter for Heart Healthy)
1/4 cup Swerve Granular Sugar or monk fruit sweetener
Pinch salt
Vegan Cheese Filling:
2 cups raw cashews, soak 4 hours, then drain
1/2 cup coconut milk (cashew milk for Heart Healthy)
1/4 cup Swerve Granular Sugar or monk fruit sweetener
1/4 cup fresh lemon juice (plus 1 tablespoon zest, optional)
2 teaspoons pure vanilla extract
1/2 teaspoon sea salt
Raspberry Layer:
1 (500g/17-ounce) bag frozen raspberries, mostly thawed
1/2 teaspoon fresh lemon juice
1/4 cup Swerve Granular Sugar or monk fruit sweetener
2 tablespoons ground chia seeds
---
Instructions
To make crust, add all the ingredients for the crust into a bowl and mix until a sandy consistency.  Put the mixture in a 9″ (23 cm) springform pan. Using the bottom of a measuring cup or your fingers, press the crust into the bottom and up the sides of the pan. Put it in the fridge.
In a high-powered blender, blend the cashews, milk, sweetener, lemon juice, zest, vanilla and salt until completely creamy (about 1 minute). Pour the filling over the crust and smooth until even. Freeze until this layer is completely firm, at least 2 hours.
In the blender, combine the raspberries, lemon juice, sweetener and chia seeds. Blend until smooth. Pour the raspberry mixture on top of the frozen cheesecake layer and smooth until even. Freeze for 4 hours or overnight.
When ready to serve, remove the cake from the freezer and let it thaw for at least 20 minutes. Using the sides of the parchment paper, carefully lift the cheesecake out of the pan.
Use a sharp chef's knife to slice it into 8 to 10 slices. Let the individual slices thaw for an additional 15 to 20 minutes, until fully thawed so that the middle layer is creamy, and the raspberry layer is less icy. Re-freeze any remaining slices.
*A high-powered blender, such as a Vitamix, is recommended for this option in order for the cashews to get really creamy.
Notes
The recipe is based on the Keto version and using coconut milk and is approximate only.  One serving has grams of 2.3 grams of sugar per slice. I don't count the carbs in this case.  The reason is that fiber and sugar alcohols, like erythritol, are the main ingredient in Swerve, do not affect blood sugar in the same way that regular (impact) carbs do, you can subtract all or some of them from the total carb count in a serving of food.
(Note: The nutritional information provided is a courtesy and is approximate only.  We cannot guarantee the nutritional accuracy of any recipe on this site.  We cannot know what brands you use or how accurately you follow the recipe or what you like to add creatively to the dish. Use the information as a general guideline only.)
Prep Time:

20

Category:

KETO LOW-CARB

Method:

MIXING

Cuisine:

DESSERT
Nutrition
Serving Size:

1

Calories:

400

Sugar:

2.3

Sodium:

22

Fat:

32.3

Saturated Fat:

7

Carbohydrates:

144

Fiber:

4.1

Protein:

11.6

Cholesterol:

0
Keywords: keto, keto cheese cake, keto vegan cheese cake, keto vegan cheese cake with raspberries, keto recipes, paleo, paleo recipes, paleo dinner, Whole30, Whole30r recipes, whole30dinner, gluten free, gluten free recipes, gluten free dinner, gluten free recipes for dinner, anti-inflammatory diet, anti-inflammatory recipes, grain free, grain free diet, grain free recipes, grain free dinner, paleo and wine, gluten free and wine, dairy free diet, dairy free recipes, dairy free dinner,
FREE e-cookbook called OODLES OF LOW CARB NOODLES
Join our family to get your FREE e-cookbook OODKES OF LOW CARB NOODLES + new recipes in your inbox.
Latest posts by Shari MAC
(see all)