KETO CHOCOLATE AND PB CHEESECAKE (HEART HEALTHY)
As an Amazon Associate I earn from qualifying purchases.
This Keto Chocolate and PB Cheesecake is delicious and without cheese!  
In 1997, I co-hosted a TV show called Simply Wine and Cheese with our late Canadian icon, Al Waxman. Al played the police chief on the TV drama, Cagney and Lacy.  Waxman also played Bruch Cutler, Gotti's lawyer in the movie called Gotti with Armand Assante.   I landed this co-hosting spot because I was, at the time, specializing in Canadian cheese.  I had already written a cookbook on Canadian wine and cheese.  Suffice to say, I'm a cheese-hound.
I've come to love vegan cheeses made from nuts.  They are loaded with healthy fats. So good for the heart! I also love both savory and sweet cheesecakes. I decided to make a "Heart Healthy Keto Low-Carb Chocolate and PB Cheesecake.
WHAT IS THE NUTRITIONAL VALUE OF KETO CHOCOLATE AND PB CHEESECAKE?
The Keto Chocolate and PB Cheesecake is prepared with raw cashews.  The raw cashews we buy have been heat-treated and so are not really raw and are safe to eat. Cashews are low in sugar and rich in fiber, heart-healthy fats, and plant protein. They're also a good source of copper, magnesium, and manganese — nutrients important for energy production, brain health, immunity, and bone health.
WHAT IS THE TASTE PROFILE OF KETO CHOCOLATE AND PB CHEESECAKE?
The predominant taste sensation of this Keto Low-Carb Chocolate and PB Cheesecake is fattiness from the cashew-based filling. This cheesecake is rich and dense. A small piece will suffice.
WHAT WINE HARMONIZES WITH KETO CHOCOLATE AND PB CHEESECAKE?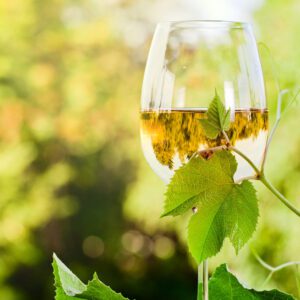 With the main taste sensations of this  Keto Chocolate and PB Cheesecake being fattiness (good fat from the cashews) and sweetness (sweeteners), you need a wine with richness, heaviness, and sweetness to match. In following a Keto diet or in living a low-carb lifestyle, we don't want to use up your carbs on a glass of wine.  Why add the extra carbs to your meal when you can find zero carb wines!  You have a couple of options:
Drink whatever wine you like (as long as it's bone dry) and don't worry about pairing the wine to dish. Enjoy your wine the way you like it. 
If you like to create harmony between the wine and the food, you'll need some sweetness in the wine to complement the sweetness in the dessert.  Add a pinch of stevia or monk fruit sweetener to your glass of wine.  Choose a white like Riesling or Gewurztraminer or a pink rose. These varieties taste great when bone dry or sweet.  So they taste great with the added sweetener.  The wine's sweetness will harmonize with the dessert sweetness.
*Wine Tips: To support your Keto diet or low-carb lifestyle, choose low-carb, low-sugar, and low-alcohol wines that are free of additives and artificial coloring.  Include your wine carb macros as part of your meal.  Remember, your liver will process alcohol before nutrients, pausing ketone creation and slowing the ketosis process. Your body will also metabolize alcohol as fuel before using food. This can slow fat burning and may cause your body to store carbs, fat, and protein as excess body fat.  Alcohol consumption also stimulates the appetite.  So, drink low-sugar, low-carb, and low alcohol wines in moderation.
WHAT KETO LOW-CARB RECIPES CAN I ENJOY?
Keto Low-Carb Tuna Cheddar Pasta Casserole
Keto Low-Carb Zoodle Caprese Salad
Keto Low-Carb Japanese Crab Noodle Salad
Keto Low-Carb Cheddar Biscuits
WHAT IS SHARI MAC'S PRODUCT RECOMMENDATION FOR YOUR KETO LOW-CARB DIET?
OMG, the Ninja NC301 CREAMi Ice Cream Maker is the BEST appliance I've bought for myself to support my Keto diet. I stand behind this product 100%. I eat healthy high protein, sugar-free ice cream every night. I experiment with different ingredient combinations all the time. I purchased 5 additional containers so that I can make a week's worth of ice cream at one time. I've made ice cream with cottage cheese and almond milk with protein powder; tofu with almond milk and protein powder; fat-free plain yogurt with almond milk and sugar-free jello and more! The machine shaves frozen pints perfectly with its one-touch programs.. You can prepare ice cream, sorbet, gelato, milkshake, smoothie bowl, lite ice cream and more.  Prep your base, freeze overnight, process, and enjoy!
Sometimes it takes more than one spin to get your desired texture. Select the re-spin function if, after processing, you want your processed treat softer and creamier. This unit is ONLY compatible with the Ninja CREAMi NC299 and NC300 pint accessories. It will NOT fit the NC100, NC200 or NC500 Series pints.
With the Ninja CREAMi you can enjoy healthy treats that taste just as good as regular ice cream loaded in bad saturated fat, sugar, and preservatives.
HOW DO YOU PREPARE KETO CHOCOLATE AND PB CHEESECAKE?
Print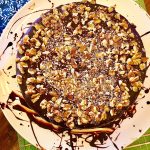 KETO CHOCOLATE AND PB CHEESECAKE
---
Description
How about a heart-healthy version of Keto Chocolate and PB Cheesecake?  Sometimes it is nice to get away from dairy for a while, even though dairy is compliant on a Keto Low-Carb diet.  This cheesecake can be enjoyed any time of the year. It's a fabulous food to bring to a friend's house for dinner.  The ingredients include almond flour, butter, cashews, yogurt, eggs, Swerve Brown Sugar, coconut oil, unsweetened chocolate.  Check out this recipe!
---
Almond Flour Crust:
2 cups almond flour
1/2 cup grass-fed butter
Filling:
2 cups raw cashews soaked in boiling water overnight, drained
1/4 cup plain yogurt
4 eggs
1/2 cup Swerve Brown Sugar
3 cups peanut butter (no sugar added)
1 teaspoon xanthan gum
Topping:
1 tablespoon grass-fed butter
8 ounces unsweetened chocolate
1/2 Swerve Brown Sugar
1/2 cup pecan pieces or walnut pieces (for garnish)
---
Instructions
*Keto Low-Carb Powerhouse Granola Link
Preheat oven to 400F.  Prepare a springform pan with parchment.  To make the crust, in a bowl combine granola and coconut oil.  Mix well.  Add mixture to the bottom of the springform pan.  Press granola into a crust, evenly across the bottom.  Transfer pan to the refrigerator to harden.
To make the filling, in a food processor add all filling ingredients and blend until creamy.  Transfer mixture to the springform pan.  Smooth top.  Bake for 60 minutes until golden and when checked with toothpick, it comes out of the cake clean.  Remove cake from oven and let cool for at least an hour.
To make the topping, in a pan add butter.  Melt chocolate on low heat.   Add sweetener.  Mix well.  Add chocolate.  Stir the mixture on low until chocolate has melted.  Remove from heat.
Pour chocolate into pan over cake. Smooth. Add pecans. Press pecans into soft chocolate. Refrigerate for at least 8 hours.  Serve.
Notes
The recipe is based on the keto version (with almond crust) and is approximate only.  One serving has 6.1 grams of sugar.   We don't count the carbs from your sweetener.  The reason is that fibre and sugar alcohols, like erythritol, are the main ingredient in sweeteners, such as Swerve.  This does not  affect blood sugar in the same way that regular (impact) carbs do, you can subtract all or some of them from the total carb count in a serving of food.
(Note: The nutritional information provided is a courtesy and is approximate only.  We cannot guarantee the nutritional accuracy of any recipe on this site.  We cannot know what brands you use or how accurately you follow the recipe or what you like to add creatively to the dish. Use the information as a general guideline only.) 
Prep Time:

15

Cook Time:

60

Category:

KETO LOW-CARB

Method:

BAKING

Cuisine:

DESSERT
Nutrition
Serving Size:

1

Calories:

906

Sugar:

6.1

Sodium:

355

Fat:

78.3

Saturated Fat:

21.9

Carbohydrates:

32.6

Fiber:

12.5

Protein:

33.3

Cholesterol:

75
Keywords: keto, keto recipes, gluten free, gluten free recipes, gluten free dinner, gluten free recipes for dinner, anti-inflammatory diet, anti-inflammatory recipes, grain free, grain free diet, grain free recipes, grain free dinner, paleo and wine, gluten free and wine, dairy free diet, dairy free recipes, dairy free dinner,
FREE e-cookbook called OODLES OF LOW CARB NOODLES
Join our family to get your FREE e-cookbook OODKES OF LOW CARB NOODLES + new recipes in your inbox.
Latest posts by Shari MAC
(see all)