KETO LOW-CARB GRANOLA (HEART HEALTHY)
As an Amazon Associate I earn from qualifying purchases.
Love this Keto Low-Carb Granola!  In following a Keto Low-Carb diet and consuming fewer carbs, my husband Shawn and I focus on making sure we get enough fiber.  When consuming high protein and low carbs (less than 20 grams per day), it can be challenging to get enough fiber to keep bowel movements healthy and regular.
In fact, North Americans on average, fall short of their daily fiber requirement when eating a regular diet.  The average man and woman eat about 15 to 18 grams of fiber.  The daily requirement for men is 38 grams and 25 grams for women.
Getting enough fiber daily is vital to our gut and overall health.  The scrub-brush effect of fiber cleans out bacteria and waste and helps buildup move smoothly through our intestines.  This reduces the risk of developing colon cancer.  Fiber also helps keep our bowel movements regular.
I made this grain-free granola packed with seeds and nuts that my husband and I eat daily.  I incorporate the granola into desserts.
The granola is super high in protein, and healthy fats and is made up of both soluble fiber and insoluble fiber.  It's also packed with super nutritional vitamins and minerals.  In fact, a couple of spoonfuls of this granola each day will not only keep your bowels operating effectively, but help to lower your risk of developing diabetes, help lower inflammation and keep your muscles, bones, and heart-healthy.
Our bowel requires both soluble and insoluble fiber to function.  Soluble fiber helps to improve digestion and lower blood sugar, while insoluble fiber softens the stool, making it easier to pass through the intestines.  Scientific evidence now shows that eating our daily fiber requirement will improve insulin resistance and lower the risk of type 2 diabetes.
WHAT ARE THE NUTRITIONAL BENEFITS OF THIS GRANOLA?
This Keto Low-Carb Granola contains the following:
WHAT IS THE TASTE PROFILE OF KETO LOW-CARB GRANOLA?
This Keto Low-Carb Granola is crunchy and chewy and satisfying!
WHAT WINE HARMONIZES WITH KETO LOW-CARB GRANOLA?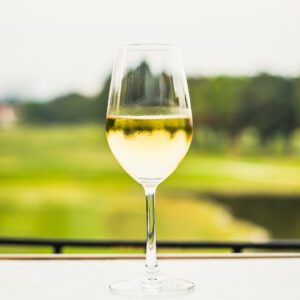 You can make recipes using this Keto Low-Carb Granola or enjoy a bowl with some almond milk.  The granola is nutty and crunchy and heavy in weight, so you don't need much.  Choose a white wine with some buttery character and weight, such as Chardonnay.  If you add berries to the granola you'll need to choose a wine with sweetness to match. In following a Keto diet or in living a low-carb lifestyle, we don't want to use up your carbs on a glass of wine.  Why add the extra carbs to your meal when you can find zero carb wines!  You have a couple of options:
Drink whatever wine you like (as long as it's bone dry) and don't worry about pairing the wine to dish. Enjoy your wine the way you like it.
If you like to create harmony between the wine and the food, you'll need some sweetness in the wine to match the granola and berries sweetness.  Add a pinch of stevia or monk fruit sweetener to your glass of wine.  Choose a white like Riesling or Gewurztraminer or a pink rose. These varieties taste great when bone dry or sweet.  So they taste great with the added sweetener.  The wine's sweetness will harmonize with the sweetness from the berries.
*Wine Tips: To support your Keto diet or low-carb lifestyle, choose low-carb, low-sugar, and low-alcohol wines that are free of additives and artificial coloring.  Include your wine carb macros as part of your meal.  Remember, your liver will process alcohol before nutrients, pausing ketone creation and slowing the ketosis process. Your body will also metabolize alcohol as fuel before using food. This can slow fat burning and may cause your body to store carbs, fat, and protein as excess body fat.  Alcohol consumption also stimulates the appetite.  So, drink low-sugar, low-carb, and low alcohol wines in moderation.
WHAT OTHER KETO LOW-CARB HEART HEALTHY RECIPES CAN I ENJOY?
Keto Low-Carb Zucchini Tapas (Heart Healthy)
Keto Low-Carb Cold Pasta Salad (Heart Healthy)
Keto Low-Carb Smoked Salmon Rolls (Heart Healthy)
Keto Low-Carb Pulled Pork (Heart Healthy)
Keto Low-Carb BLT Tart (Heart Healthy)
WHAT RECIPES CAN WE PREPARE USING GRANOLA?
Keto Low-Carb Chocolate Almond Bars
WHAT IS SHARI MAC'S PRODUCT RECOMMENDATION FOR YOUR KETO LOW-CARB DIET?
OMG, the Ninja NC301 CREAMi Ice Cream Maker is the BEST appliance I've bought for myself to support my Keto diet. I stand behind this product 100%. I eat healthy high protein, sugar-free ice cream every night. I experiment with different ingredient combinations all the time. I purchased 5 additional containers so that I can make a week's worth of ice cream at one time. I've made ice cream with cottage cheese and almond milk with protein powder; tofu with almond milk and protein powder; fat-free plain yogurt with almond milk and sugar-free jello and more! The machine shaves frozen pints perfectly with its one-touch programs.. You can prepare ice cream, sorbet, gelato, milkshake, smoothie bowl, lite ice cream and more.  Prep your base, freeze overnight, process, and enjoy!
Sometimes it takes more than one spin to get your desired texture. Select the re-spin function if, after processing, you want your processed treat softer and creamier. This unit is ONLY compatible with the Ninja CREAMi NC299 and NC300 pint accessories. It will NOT fit the NC100, NC200 or NC500 Series pints.
With the Ninja Creami you can enjoy healthy treats that taste just as good as regular ice cream loaded in bad saturated fat, sugar, and preservatives.
Print
KETO LOW-CARB GRANOLA (HEART HEALTHY)
---
Author:

Shari MAC

Total Time:

10

Yield:

7 Cups

1

x

Diet:

Gluten Free
Description
Keto Low-Carb Powerhouse Granola is downright delicious and super nutritious and can be enjoyed with coconut milk as a breakfast, sprinkled in salads or over ice cream, and used to make crusts for cheesecakes and other crust-like desserts.  The recipe includes pumpkin seeds, sunflower seeds, sesame seeds, chia seeds, almond pieces, walnut or pecan pieces, and almond flour.  If you are hunting for a filling and satisfying Keto Low-Carb granola check out this recipe!
---
1 cup pumpkin seeds
1 cup sunflower seeds
1 cup sesame seeds
1/2 cup chia seeds
1/2 cup hemp seeds
1 cup almond flour
1 cup almond pieces
1 cup pecan pieces
---
Instructions
Place all ingredients in a bowl and blend well.  Seal in an airtight bag.  Use as needed.
Notes
The recipe is based on the Keto version and is approximate only.  One serving has 1.7 grams of net carbs.
(Note: The nutritional information provided is a courtesy and is approximate only.  We cannot guarantee the nutritional accuracy of any recipe on this site.  We cannot know what brands you use or how accurately you follow the recipe or what you like to add creatively to the dish. Use the information as a general guideline only.)
Prep Time:

5

Cook Time:

5

Category:

KETO LOW-CARB

Method:

MIXING

Cuisine:

BREAKFAST, LUNCH, BRUNCH, DINNER, DESSERT
Nutrition
Serving Size:

1

Calories:

123

Sugar:

0

Sodium:

2

Fat:

10.6

Saturated Fat:

1.1

Unsaturated Fat:

NA

Trans Fat:

NA

Carbohydrates:

4.2

Fiber:

2.5

Protein:

4.2

Cholesterol:

0
Keywords: keto granola, low-carb granola, grain-free granola, keto, keto-recipes, ketogenic-diet, ketogenic-recipes, low-carb, low-carb-recipes, lazy-keto, sugar-free, sugar-free-recipes, keto-and-wine, paleo, paleo-diet, paleo-recipes, lazy-paleo, , paleo-and-wine, primal-diet, primal-diet-recipes, caveman-diet, caveman-diet-recipes, gluten-free, gluten-free-recipes, gluten-free-with-wine, grain-free, grain-free-diet, grain-free-recipes, grain-free-recipes-with-wine, anti-inflammatory-diet, anti-inflammatory-recipes, dairy-free-diet, dairy-free-recipes, dairy-free-recipes-with-wine,
FREE e-cookbook called OODLES OF LOW CARB NOODLES
Join our family to get your FREE e-cookbook OODKES OF LOW CARB NOODLES + new recipes in your inbox.
Latest posts by Shari MAC
(see all)