KETO LOW-CARB ZUCCHINI TAPAS (HEART HEALTHY)
ALL RECIPES
,
Keto Frying Recipes
,
Keto Heart Healthy Appetizer Recipes
,
Keto Heart Healthy Lunch Recipes
,
KETO HEART HEALTHY RECIPES
,
Keto Heart Healthy Side Dish Recipes
,
Keto Heart Healthy Snack Recipes
,
Keto Low-Carb Appetizer Recipes
,
Keto Low-Carb Lunch Recipes
,
KETO LOW-CARB RECIPES
,
Keto Low-Carb Side Dish Recipes
,
Keto Zucchini Recipes
As an Amazon Associate I earn from qualifying purchases.
I know you're going to love these Keto Low-Carb Zucchini Tapas! 
If entertaining family and friends, you can still serve a variety of hors d'oeuvres or tapas before dinner. Your guests would not even notice that the little nuggets are Keto Low-Carb compliant. I love Spanish tapas.  My husband Shawn loves zucchini for its taste and nutrition and mostly because it's anti-inflammatory. So I'm always searching for new ways to enjoy this fruit! Yes, it's a fruit.
WHAT ARE TAPAS?
Tapas are a type of Spanish cuisine that consist of a wide variety of small dishes or snacks, typically served with drinks at bars and restaurants. These dishes can range from cold plates such as olives, cheese, and cured meats, to hot dishes like croquettes, grilled shrimp, and fried potatoes. Tapas are meant to encourage socializing and conversation, and are often shared among a group of people. The tradition of tapas originated in Spain, and has since spread to many other parts of the world, becoming a popular and enjoyable way to experience different flavors and cuisines.
IS ZUCCHINI A VEGETABLE OR FRUIT?
While we enjoy this food in savory dishes like hors d'oeuvres, appetizers, soups, salads, and entrées, it's a fruit. It's summer squash. Zucchini contains seeds and grows on the flowering part of the zucchini plant.   
WHAT IS THE BEST WAY TO EAT ZUCCHINI?
Zucchini is a versatile and nutritious vegetable that can be enjoyed in a variety of ways. Here are some of the best ways to eat zucchini:
Grilled or roasted: Slice zucchini into rounds or lengthwise strips, drizzle with olive oil, sprinkle with salt and pepper, and grill or roast until tender and slightly charred.
Sauteed: Cut zucchini into bite-sized pieces and sauté in a pan with garlic, onion, and your favorite herbs and spices. You can also add other vegetables like bell peppers or mushrooms for added flavor and nutrition.
Spiralized: Use a spiralizer to turn zucchini into long, thin noodles that can be used as a healthy alternative to pasta. Top with your favorite sauce and enjoy!
Baked: Slice zucchini into thin rounds, dip in beaten egg, then coat with a mixture of breadcrumbs, Parmesan cheese, and Italian seasoning. Bake in the oven until golden brown and crispy.
Raw: Zucchini can be eaten raw in salads or as a crunchy snack. Cut into thin strips or use a mandoline to create thin ribbons, then toss with your favorite dressing or dip.
No matter how you choose to eat zucchini, it is a great source of fiber, vitamins, and minerals that can support a healthy and balanced diet.
WHAT IS THE TASTE PROFILE OF KETO LOW-CARB ZUCCHINI TAPAS?
These Keto Low-Carb Zucchini Tapas are dense and meaty with some fattiness from the pan-frying and lots of garlicky pleasure.
WHAT IS THE NUTRITIONAL VALUE OF KETO LOW-CARB ZUCCHIN TAPAS?  
Zucchini is a great addition to any diet as it is low in calories and high in nutrients. One medium-sized zucchini contains only about 30 calories but provides important vitamins and minerals such as vitamin C, vitamin A, potassium, and fiber. Additionally, zucchini is a good source of antioxidants which can help protect against certain diseases. When cooked, zucchini is also a good source of water which can help keep you hydrated. Overall, zucchini is a great vegetable to incorporate into your meals to boost your nutritional intake and support a healthy diet.
One cup (223 grams) of cooked zucchini provides:
• Calories: 17
• Protein: 1 gram
• Fat: less than 1 gram
• Carbs: 3 grams
• Sugar: 1 gram
• Fiber: 1 gram
• Vitamin A: 40% of the Reference Daily Intake (RDI)
• Manganese: 16% of the RDI
• Vitamin C: 14% of the RDI
• Potassium: 13% of the RDI
• Magnesium: 10% of the RDI
• Vitamin K: 9% of the RDI
• Folate: 8% of the RDI
• Copper: 8% of the RDI
• Phosphorus: 7% of the RDI
• Vitamin B6: 7% of the RDI
• Thiamine: 5% of the RDI
WHAT ARE ZUCCHINI'S HEALTH BENEFITS?
Zucchini is a type of summer squash that is packed with nutrients and health benefits. One of the main benefits of zucchini is that it is low in calories but high in fiber, which makes it a great food for weight loss and digestive health. Additionally, zucchini is a good source of vitamin C, which helps boost the immune system, and potassium, which is essential for maintaining healthy blood pressure levels.
Furthermore, zucchini contains antioxidants such as carotenoids and flavonoids, which can help protect against chronic diseases such as cancer and heart disease. These antioxidants may also help reduce inflammation in the body, which is a common factor in many chronic diseases. Additionally, the high water content in zucchini can help keep the body hydrated and promote healthy skin.
In summary, zucchini is a nutrient-dense vegetable that can provide a range of health benefits. Its high fiber and low calorie content make it a great addition to any weight loss or digestive health plan, while its rich antioxidant content may help protect against chronic diseases.
WHAT WINE HARMONIZES WITH KETO LOW-CARB ZUCCHINI TAPAS?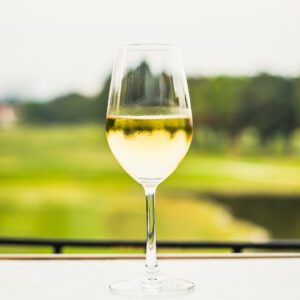 Keto Low-Carb Zucchini Tapas offer a delicious garlicky pleasure that needs to be paired with a wine to match. Zucchini even pan-fried has some vegetable flavour that works nicely with wines with similar herbal tones, such as Sauvignon Blanc. The wine's acidity will also nicely offset the little fattiness from the olive oil frying.  Choose a crisp, dry white, such as Sauvignon Blanc, Pinot Grigio, Pinot Gris, Chenin Blanc.
*Wine Tips: To maintain your Keto diet or low-carb lifestyle, choose low-carb, low-sugar, and low-alcohol wines that are free of additives and artificial coloring.  Include your wine carb macros as part of your meal.  Remember, your liver will process alcohol before nutrients, pausing ketone creation and slowing the ketosis process. Your body will also metabolize alcohol as fuel before using food. This can slow fat burning and may cause your body to store carbs, fat, and protein as excess body fat.  Alcohol consumption also stimulates the appetite.  So, drink low-sugar, low-carb, and low alcohol wines in moderation.
IS ZUCCHINI OKAY TO EAT RAW?
Zucchini is safe to eat raw, however, too much may cause bloating in some people. You may not enjoy it as much raw if you are a sensitive super taster. Raw zucchini can taste bitter to some people. This bitterness comes from cucurbitacins, which are a class of compounds found in members of the Cucurbitaceae family. Zucchini is a member of this family.
DO YOU PEEL ZUCCHINI?
Don't peel your zucchini!  The skin of zucchini contains a significant amount of nutrients, making it a healthy addition to your diet. In fact, the skin of zucchini has more antioxidants, fiber, and vitamin A than the flesh of the vegetable. It is also a good source of vitamin C, potassium, and magnesium.
Antioxidants are important nutrients that help protect your body against damage from harmful molecules called free radicals. Fiber promotes healthy digestion, helps to regulate blood sugar levels, and can help you to feel full, which is beneficial if you are trying to maintain a healthy weight. Vitamin A is important for healthy vision, while vitamin C helps to support a healthy immune system. Potassium is important for regulating blood pressure, and magnesium is important for healthy bones.
So, if you're cooking with zucchini, consider leaving the skin on to reap all of these nutritional benefits. Just be sure to wash the zucchini well before cooking to remove any dirt or debris.
WHAT KETO LOW-CARB RECIPES CAN I ENJOY?
Keto Low-Carb Tuna Cheddar Pasta Casserole
Keto Low-Carb Zoodle Caprese Salad
Keto Low-Carb Japanese Crab Noodle Salad
Keto Low-Carb Cheddar Biscuits
WHAT IS SHARI MAC'S PRODUCT RECOMMENDATION FOR YOUR KETO LOW-CARB DIET?
OMG, the Ninja NC301 CREAMi Ice Cream Maker is the BEST appliance I've bought for myself to support my Keto diet. I stand behind this product 100%. I eat healthy high protein, sugar-free ice cream every night. I experiment with different ingredient combinations all the time. I purchased 5 additional containers so that I can make a week's worth of ice cream at one time. I've made ice cream with cottage cheese and almond milk with protein powder; tofu with almond milk and protein powder; fat-free plain yogurt with almond milk and sugar-free jello and more! The machine shaves frozen pints perfectly with its one-touch programs.. You can prepare ice cream, sorbet, gelato, milkshake, smoothie bowl, lite ice cream and more.  Prep your base, freeze overnight, process, and enjoy!
Sometimes it takes more than one spin to get your desired texture. Select the re-spin function if, after processing, you want your processed treat softer and creamier. This unit is ONLY compatible with the Ninja CREAMi NC299 and NC300 pint accessories. It will NOT fit the NC100, NC200 or NC500 Series pints. With the Ninja Creami you can enjoy healthy treats that taste just as good as regular ice cream loaded in bad saturated fat, sugar, and preservatives.
HOW IS KETO LOW-CARB ZUCCHINI TAPAS PREPARED?
Print
KETO LOW-CARB ZUCCHINI TAPAS
---
Description
Keto Low-Carb Zucchini Tapas are so damn tasty!  The zucchini is meaty and dense and the topping adds that POW of flavour.  Enjoy these gems as hors d'oeuvres or for lunch, brunch, or as a dinner side dish.  The recipe uses fresh zucchini, garlic, parsley, and olive oil.  That's it!   If you are hunting for big flavoured hors d'oeuvre recipe paired with wine, check out this recipe!
---
3 zucchini, washed and sliced into 1/2" pieces
Salt as needed
6 cloves garlic, finely chopped
1/2 cup fresh parsley, finely chopped
4 tablespoons olive oil (1+1+1+1 as needed)
---
Instructions
Slice zucchini into 1/2" cubes (6 pieces per zucchini).  Lay zucchini cubes on a cookie sheet lined with paper towel.  Sprinkle salt on cubes and let sit for a half hour.  The salt brings the water inside the zucchini to the surface.  Turn the cubes over and sprinkle with more salt.  Let sit another half hour to draw moisture from cubes.

Rinse zucchini cubes.  Dry with paper towel.  Heat up dry iron skillet for 2 minutes until hot.  Add 1 tablespoon of olive oil.  Add as many cubes as you can to the pan.  Fry on one side for about 3 to 4 minutes or until golden.  Turn over and fry the other side.  Set golden cubes on clean paper towel.  Add another tablespoon of olive oil to hot pan and add more cubes.  When these are done, add remaining 1 tablespoon of olive oil and fry remaining cubes.  Let cool.

On a cutting board mix chopped garlic and chopped fresh parsley together and dice as small as possible.  (You can also grind together in a mortar and pestle.)

When skillet cools, wipe out old oil.  Add a new tablespoon of olive oil.  Heat for a minute and add garlic parsley mixture.  Sauté until garlic is aromatic.  Do not over fry or burn garlic.  Transfer mixture to a bowl.  Let cool.
Notes
The nutritional value of this recipe is based on the keto version and is approximate.  One serving (3 pieces) has 3.2 net carbs.
Prep Time:

10

Cook Time:

12

Category:

KETO LOW-CARB

Method:

SEARING

Cuisine:

LUNCH, BRUNCH, DINNER
Nutrition
Serving Size:

1 (3 pieces)

Calories:

99

Sugar:

1.9

Sodium:

21

Fat:

8.8

Saturated Fat:

1.3

Unsaturated Fat:

NA

Trans Fat:

NA

Carbohydrates:

5.5

Fiber:

1.8

Protein:

1.9

Cholesterol:

0
Keywords: keto, keto appetizer, keto hors d'oeuvre, keto-recipes, ketogenic-diet, ketogenic-recipes, low-carb, low-carb-recipes, lazy-keto, sugar-free, sugar-free-recipes, keto-and-wine, paleo, paleo-diet, paleo-recipes, lazy-paleo, , paleo-and-wine, primal-diet, primal-diet-recipes, caveman-diet, caveman-diet-recipes, gluten-free, gluten-free-recipes, gluten-free-with-wine, grain-free, grain-free-diet, grain-free-recipes, grain-free-recipes-with-wine, anti-inflammatory-diet, anti-inflammatory-recipes, dairy-free-diet, dairy-free-recipes, dairy-free-recipes-with-wine,
FREE e-cookbook called OODLES OF LOW CARB NOODLES
Join our family to get your FREE e-cookbook OODKES OF LOW CARB NOODLES + new recipes in your inbox.
Latest posts by Shari MAC
(see all)