KETO LAZY JAPANESE CRAB NOODLE SALAD
As an Amazon Associate I earn from qualifying purchases.
This Keto Lazy Japanese Crab Noodle Salad can be enjoyed all year round.  They work nicely with roasted or barbecued proteins like steak, chicken, planked fish, or ribs.  With a salad offering so much flavour, you can keep the barbecued protein lightly seasoned.  Too much flavor with all the foods within a dish can compete against each other and then be less flavorful.  Less is always more.
WHAT IS THE TASTE PROFILE FOR KETO LAZY JAPANESE CRAB NOODLE SALAD?
The noodles in this Keto Lazy Japanese Crab Noodle Salad dish are dense and chewy offer fabulous al dente satisfaction.  I say this salad falls under the category of lazy because it's 19 net carbs, close to 20. I set my own rule that if a dish has 20 or more net carbs, it's for maintaining your Keto path. The mayo provides lots of creaminess, while the raw matchstick carrots add crunch.  The hint of hot sauce adds that hot spicy bit to the mouth feel.  And last, of all, we have that richness from the crab.  The primary taste and flavor sensations in this dish are chewy and dense, creamy, crunchy, and hot.
WHAT ARE THE HEALTH BENEFITS OF HOMEMADE MAYONNAISE?
And if you use super healthy avocado oil, your mayo will contain tonnes of nutritional value. I add a tablespoon of avocado oil to my coffee latte every morning (along with MCT oil).  Avocado oil offers many healthful benefits, such as:
Lowering bad cholesterol
Lowering blood pressure
Detoxifies the body
Improves skin, nails, and hair
Reduces inflammation
Fights wrinkles
Stimulates weight loss
Boosts nutrient absorption
And more!
WHAT WINE HARMONIZES WITH KETO LAZY JAPANESE CRAB NOODLE SALAD?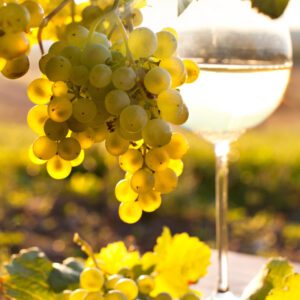 The overriding flavor sensation in this Keto Lazy Japanese Crab Noodle Salad is heat due to the hot sauce.  This is important when finding a wine to match.  Hot sauce can make a perfectly beautiful wine taste nasty and acidic if you try to ignore that heat.  Just like character Alex Forrest (Glen Close) states in the movie "Fatal Attraction."  She says, "I'm not going to be ignored!"  This hot sensation must be offset by sweetness in the wine to bring the palate to a neutral place so the other flavors in both the wine and food can shine through. In following a Keto diet or in living a low-carb lifestyle, we don't want to use up carbs on a glass of wine.  Why add the extra carbs when you can find zero carb wines?  So, you have a couple of options:
Drink whatever wine you like (as long as it's bone dry) and don't worry about pairing the wine to dish. Enjoy your wine the way you like it. 
If you like to create harmony between the wine and the food, you'll need some sweetness in the wine to offset the heat and spice.  Add a pinch of stevia or monk fruit to your glass of white wine.  Choose whites like Riesling or Gewurztraminer or a pink rose. These varieties taste great when bone dry or sweet.  So they will take well to the added sweetener.  The wine's sweetness will nicely offset the heat and spice.
*Wine Tips: To support your Keto diet or low-carb lifestyle, choose low-carb, low-sugar, and low-alcohol wines that are free of additives and artificial coloring.  Include your wine carb macros as part of your meal.  Remember, your liver will process alcohol before nutrients, pausing ketone creation and slowing the ketosis process. Your body will also metabolize alcohol as fuel before using food. This can slow fat burning and may cause your body to store carbs, fat, and protein as excess body fat.  Alcohol consumption also stimulates the appetite.  So, drink low-sugar, low-carb, and low alcohol wines in moderation.
WHAT OTHER KETO LOW-CARB RECIPES CAN I ENJOY?
Keto Low-Carb Tuna Cheddar Pasta Casserole
Keto Low-Carb Tuna Spring Rolls
Keto Low-Carb Zoodle Caprese Salad
WHAT IS SHARI MAC'S PRODUCT RECOMMENDATION FOR YOUR KETO LOW-CARB DIET?
I cannot tell you how awesome this product is!  I use my Instant Pot all the time.  Beats a crock pot any day.  This particular one has 11 different settings to air fry, roast, bake, dehydrate, pressure cook, slow cook, rice cooker, yogurt maker, steamer, sauté pan, yogurt maker, sterilizer and food warmer.  Can you believe you can use this as an air fryer!  OMG!  Cook fast or slow.  I love making pulled pork in my Instant Pot.  It's so juicy and tender and falls apart at your finger tips.  I stand behind this product 100%.  Check it out.
HOW DO YOU MAKE HOMEMADE MAYONNAISE?
Mayonnaise is one of those condiments that we love to utilize in our comfort food creations.
When following a Keto program, it's difficult to find a brand of mayonnaise that is both sugar-free and low in sodium or salt-free.  Making home-made mayonnaise is easy and takes only a few steps.  You can be sure that your home-made creation is both sugar and sodium-free and is prepared with quality ingredients.   
HOW DO YOU PREPARE KETO LAZY SPICY JAPANESE CRAB NOODLE SALAD?
HOW DO YOU PREPARE KETO HOMEMADE MAYONNAISE FOR THIS RECIPE?
HOW DO YOU PREPARE KETO LAZY SPICY JAPANESE CRAB NOODLE SALAD?
Print
KETO LAZY JAPANESE CRAB NOODLE SALAD
---
Description
Keto Lazy Japanese Crab Noodle Salad can be served as an entrée or as a side dish at room temp or chilled. Perfect for the summer, but all seasons.   The recipe uses low-carb pasta, crab, avocado, carrot, cucumber, mayo, and hot sauce. If you are hunting for a rich but easy-to-make Keto Low-Carb meatball and pasta recipe paired with wine, check out this recipe!
---
Noodles:
2 1/2 to 3 cups almond flour
3 teaspoons xanthan gum
1/4 cup flax meal
4 eggs
1 teaspoon olive oil
Salad:
1/2 cup mayonnaise
1/4 cup toasted sesame seeds
1 cup lump crab (or tuna)
3/4 cup of matchstick carrots
3/4 cup of matchstick cucumber or celery
2 avocados, sliced and divided into 4
Freshly ground black pepper to taste
2 teaspoons Franks Hot Sauce to taste
---
Instructions
These Keto Low-Carb pasta or noodles are very dense and filling. Make the dough in a bowl, by hand or in a food processor or mixer. (Mixer is easiest.) Place all ingredients in the bowl.  Mix well. If making by hand pull the dough together with your hands. Start with 2 ½ cup of almond flour.  Add more if needed.  Dough should be firm. Transfer to a clean bowl.  Cover and refrigerate for 24 hours.
When ready to use, cut the dough in half.  Cover half of the dough ball with a wet cloth.  Transfer the other half to a large piece of parchment paper.  Flatten the ball on the parchment. Using the flat side of a long knife or pastry cutter, shape the ball into a 4" X 4" square. Top the square with another sheet of parchment paper. Using a rolling pin, and roll out a square about 8" X 8". Lift the top parchment paper. Using a long knife or pizza cutter, cut the dough into 1/8th-inch noodles. 
When ready to dine, boil the water.  Add olive oil to water.  Add the noodles.  Boil the noodles for 3 minutes. Drain the noodles in a colander and run cool water over them to prevent sticking. 
To make salad, in a bowl combine all ingredients except for the hot sauce.  Fold together.  Cover and refrigerate until needed. Serve chilled or at room temperature.  Drizzle with hot sauce before serving (if desired).
Notes
The recipe is for a 'keto lifestyle' not a keto diet.  If you are working toward ketosis, the net carbs are too high.  But if you are maintaining your weight, this dish is okay once in a while.  The recipe is based on the keto version and is approximate only.  One serving has 14.2 grams. 
(Note: The nutritional information provided is a courtesy and is approximate only.  We cannot guarantee the nutritional accuracy of any recipe on this site.  We cannot know what brands you use or how accurately you follow the recipe or what you like to add creatively to the dish. Use the information as a general guideline only.)
Prep Time:

20

Cook Time:

5

Category:

KETO LAZY

Method:

BOILING

Cuisine:

DINNER
Nutrition
Serving Size:

1

Calories:

777

Sugar:

2.6

Sodium:

874

Fat:

56

Saturated Fat:

7.4

Carbohydrates:

35.4

Fiber:

21.2

Protein:

43.3
Keywords: keto pasta, keto Japanese recipes, keto spicy salad, keto-recipes, ketogenic-diet, ketogenic-recipes, low-carb, low-carb-recipes, lazy-keto, sugar-free, sugar-free-recipes, keto-and-wine, paleo, paleo-diet, paleo-recipes, lazy-paleo, , paleo-and-wine, primal-diet, primal-diet-recipes, caveman-diet, caveman-diet-recipes, gluten-free, gluten-free-recipes, gluten-free-with-wine, grain-free, grain-free-diet, grain-free-recipes, grain-free-recipes-with-wine, anti-inflammatory-diet, anti-inflammatory-recipes, dairy-free-diet, dairy-free-recipes, dairy-free-recipes-with-wine,
FREE e-cookbook called OODLES OF LOW CARB NOODLES
Join our family to get your FREE e-cookbook OODKES OF LOW CARB NOODLES + new recipes in your inbox.
Latest posts by Shari MAC
(see all)