KETO LOW-CARB TUNA SPRING ROLLS (HEART HEALTHY)
ALL RECIPES
,
Keto Fish Recipes
,
Keto Heart Healthy Dinner Recipes
,
Keto Heart Healthy Lunch Recipes
,
KETO HEART HEALTHY RECIPES
,
Keto Heart Healthy Snack Recipes
,
Keto Low-Carb Dinner Recipes
,
Keto Low-Carb Lunch Recipes
,
KETO LOW-CARB RECIPES
,
Keto Low-Carb Salad Recipes
,
Keto Low-Carb Snack Recipes
,
Keto Meal Prepping Recipes
As an Amazon Associate I earn from qualifying purchases.
Keto Low-Carb Tuna Spring Rolls taste fabulous in rice paper!  Yes rice paper.
A few years ago I offered to prepare all the hors d'oeuvres for my girlfriend's wedding and all the morsels paired with different wines. That was my career back then, pairing wine with food for TV, columns, and keynotes. For the wedding, I made gourmet pizzas, small bundles, and finger foods highlighting a variety of specialty cheeses. After preparing all the items I just felt I didn't have enough food for the guests. I went into my cupboard and spotted some rice wrappers and tuna. I pulled out the fresh greens from the refrigerator. I put together a tray of Tuna and Wasabi Salad Spring Rolls.
Interestingly the tuna rolls were the first to be devoured. I learned a valuable entertaining lesson that day. Keep things simple. Think comfort foods. From this day forward I have been preparing these spring rolls for home.
IS RICE PAPER HIGH IN CARBOHYDRATES?
You can prepare these Keto Low-Carb Tuna Spring Rolls with real rice paper.  Before writing this blog, I went to our local supermarket as well as our local Asian market to check out the net carbs on the various rice paper brands. Net carbs per paper can range from 14 grams to 25 grams. Super high for such a delicate ingredient that definitely won't fill up your tummy. Normally, I would not recommend consuming rice paper for this reason. But I found the Blue Dragon brand. Their papers are 7 grams of net carbs. Less than half of many. So, I was excited to try them. This rice paper is easy to use, tough for rolling, delicate in taste. Ideal.
WHAT IS THE NUTRITIONAL VALUE OF RICE PAPER?
Obviously, the nutritional value of rice paper will depend on the brand. The Blue Dragon rice paper is 0 fat, 14 grams of carbs per 2 papers (7 net carbs each), and 0.2 grams of protein. The nutrition of spring rolls really depends on the filling. In this recipe, we use canned tuna.
Tuna is a rich source of protein, vitamins, and minerals that are essential for good health. A single can of tuna contains about 20 grams of protein, which is about 40% of the recommended daily intake for an average adult. It is also low in fat, making it an ideal food for those who are watching their weight. In terms of vitamins and minerals, canned tuna is particularly rich in vitamin D, vitamin B12, and selenium. Vitamin D is important for bone health and helps the body absorb calcium, while vitamin B12 is essential for the production of red blood cells. Selenium is a powerful antioxidant that helps protect cells from damage. It is worth noting that not all canned tuna is created equal. Some brands may contain higher levels of mercury, which can be harmful in large amounts. It is recommended that pregnant women and young children limit their consumption of canned tuna and choose brands that are lower in mercury. Canned tuna can be a healthy and convenient addition to a balanced diet. It is a good source of protein and essential vitamins and minerals, but it is important to choose brands that are low in mercury.
WHAT CAN I USE INSTEAD OF RICE PAPER?
If you cannot find low-carb rice paper or prefer not to include any grains in your Keto lifestyle, even if the paper is low-carb, then you have a choice of other wrapper options.
Boiled green cabbage
Layered zucchini slices
Seaweed paper (Nori)
Boston lettuce
WHAT WINE HARMONIZES WITH KETO LOW-CARB TUNA SPRING ROLLS?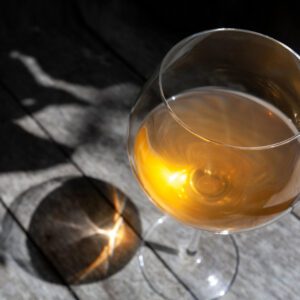 The predominant taste and flavor sensations of these rolls are fattiness from the mayo, heat from the wasabi, and saltiness from the coconut aminos. Choose a wine good acidity to match. Choose a light, fruity white wine like Sauvignon Blanc, Pinot Gris, Pinot Grigio, Chenin Blanc, or Vinho Verde.  The wine's light nature will complement the light nature of rice paper and tuna.  The wine's acidity will nicely offset the coconut aminos or soy sauce.  If the wasabi is too hot, you'll need a wine with sweetness.  In this case add a pinch of stevia to your wine glass.  The wine's new sweetness will nicely offset that wasabi heat.
*Wine Tips: To support your Keto diet or low-carb lifestyle, choose low-carb, low-sugar, and low-alcohol wines that are free of additives and artificial coloring.  Include your wine carb macros as part of your meal.  Remember, your liver will process alcohol before nutrients, pausing ketone creation and slowing the ketosis process. Your body will also metabolize alcohol as fuel before using food. This can slow fat burning and may cause your body to store carbs, fat, and protein as excess body fat.  Alcohol consumption also stimulates the appetite.  So, drink low-sugar, low-carb, and low alcohol wines in moderation.
WHAT KETO LOW-CARB RECIPES CAN I ENJOY?
Keto Low-Carb Salted Caramel Crème Brulee
Keto Low-Carb Peanut Butter Cookies
WHAT IS SHARI MAC'S PRODUCT RECOMMENDATION FOR YOUR KETO LOW-CARB DIET?
I'm a huge fan of the Ninja products. In the past, I've gone through a counter-top convection oven every couple of years. This Ninja 1800-watt oven is a work horse! It is a must for me to support my Keto diet. Since buying this Ninja I have not turned on my oven in months! Amazing in the summer! No heat in the kitchen from the traditional oven. I use the air-fryer for all our proteins every day. All my air-fried favorites have less bad saturated fat and therefore fewer calories. I cut chicken breasts in half, horizontally, and air-fry them for 20 minutes. You can set the temperature and timer for all sorts of foods and walk away from the kitchen. The machine will shut off automatically at the right time. My proteins are crispy on the outside and super juicy
HOW DO YOU PREPARE KETO LOW-CARB TUNA SPRING ROLLS?
Print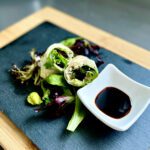 KETO LOW-CARB TUNA SPRING ROLLS (HEART HEALTHY)
---
Author:

Shari MAC

Total Time:

15 Mins

Yield:

8

rolls (2 ea.)

1

x

Diet:

Gluten Free
Description
Keto Low-Carb Tuna Spring Rolls are filling and super nutritious and can be served for lunch, brunch, or dinner.  The recipe uses low-carb rice paper, a can of tuna, mayo, wasabi, mixed greens, onion, and celery.  Serve the rolls with a small bowl of coconut aminos (instead of soy sauce).  Coconut aminos is lower in sodium.
---
Filling:
1 can tuna in water
1/2 cup mayonnaise (low-fat for Keto Heart Healthy)
1/4 cup chopped onion
1/4 cup chopped celery
2 tablespoons finely chopped fresh cilantro
1/2 teaspoon wasabi
Salt and pepper to taste
Large bunch of mixed greens
8 rice papers (Blue Dragon)
Low sodium soy sauce or coconut aminos (for dipping)
---
Instructions
To make filling in a bowl combine all ingredients.  Set aside.
To make rolls, fill a large shallow dish or pie plate with an inch or so of water.
Remove one rice paper wrapper from the package, and place it in the water to soak. Allow it to soak for about 10 to 15 seconds and then remove and place on a cutting board or countertop. The rice wrapper should still feel pretty firm at this point. It will soften as it sits and as you add the filling ingredients. (If you let it soak for too long it will tear more easily when rolled).
Add 2 heaping tablespoons of filling. Grab a handful of fresh greens and place with the filling on the rice paper.  Layer everything on the ⅓ of the spring roll that is closest to you.
To wrap, pick up the sides of the spring roll and fold them in over the toppings. Then pick up the edge closest to you and pull it up and snugly over the toppings. Continue rolling all the way up like a burrito. Practice will make perfect, but just try to keep all of the ingredients in tightly together as you roll everything up.
Notes
The nutritional value reflects 1 roll.  Each roll has 10.5 net carbs.  The recipe is based on the keto version and is approximate only.  One serving has 0 grams of net carbs.
(Note: The nutritional information provided is a courtesy and is approximate only.  We cannot guarantee the nutritional accuracy of any recipe on this site.  We cannot know what brands you use or how accurately you follow the recipe or what you like to add creatively to the dish. Use the information as a general guideline only.)
Prep Time:

15

Category:

KETO LOW-CARB

Method:

PREPPING

Cuisine:

APPETIZER, LUNCH, DINNER
Nutrition
Serving Size:

1 Roll

Calories:

76

Sugar:

0

Sodium:

82.5

Fat:

1.9

Saturated Fat:

0.4

Unsaturated Fat:

NA

Trans Fat:

NA

Carbohydrates:

10.4

Fiber:

0.5

Protein:

5.4

Cholesterol:

10
Keywords: Keto sushi, keto salmon roll, keto japanese salmon roll, keto, keto-recipes, ketogenic-diet, ketogenic-recipes, low-carb, low-carb-recipes, lazy-keto, sugar-free, sugar-free-recipes, keto-and-wine, paleo, paleo-diet, paleo-recipes, lazy-paleo, , paleo-and-wine, primal-diet, primal-diet-recipes, caveman-diet, caveman-diet-recipes, gluten-free, gluten-free-recipes, gluten-free-with-wine, grain-free, grain-free-diet, grain-free-recipes, grain-free-recipes-with-wine, anti-inflammatory-diet, anti-inflammatory-recipes, dairy-free-diet, dairy-free-recipes, dairy-free-recipes-with-wine,
FREE e-cookbook called OODLES OF LOW CARB NOODLES
Join our family to get your FREE e-cookbook OODKES OF LOW CARB NOODLES + new recipes in your inbox.
Latest posts by Shari MAC
(see all)