KETO LOW-CARB TUNA-CHEDDAR PASTA CASSEROLE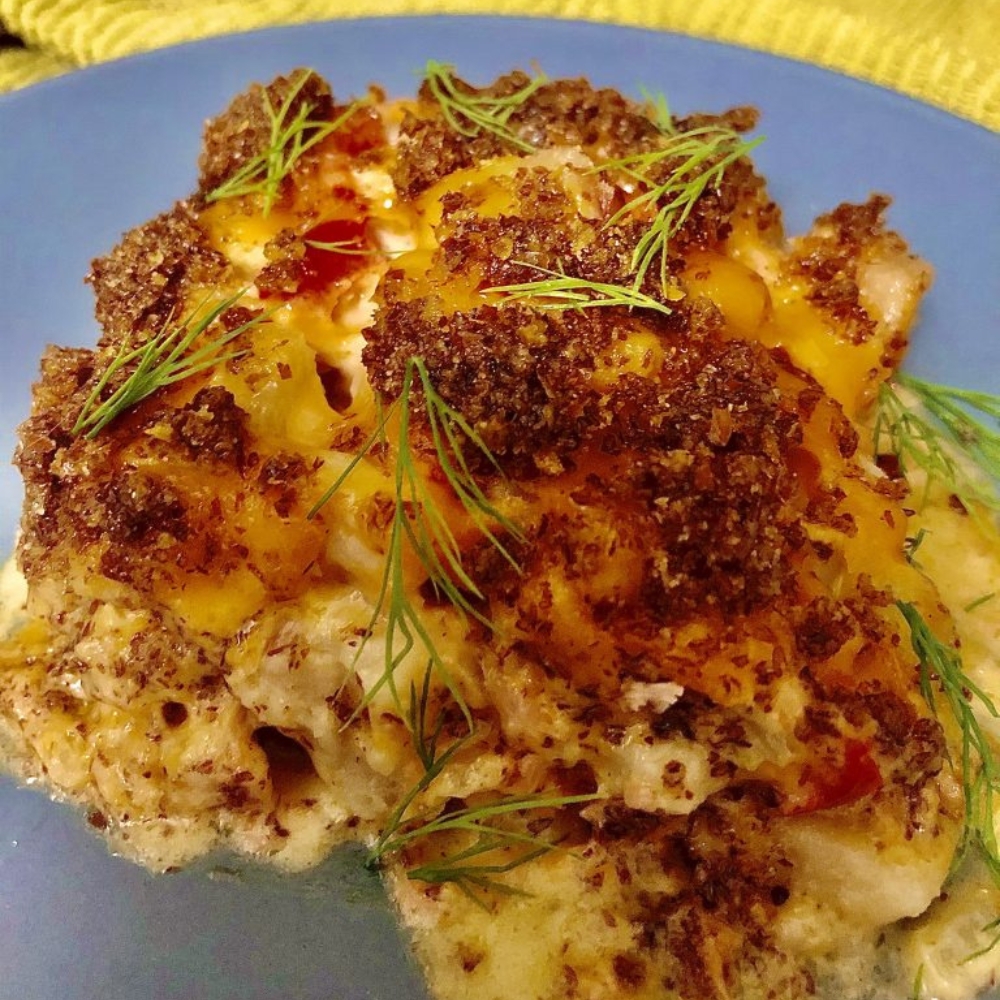 As an Amazon Associate I earn from qualifying purchases.
I got the original recipe for my Keto Low-Carb Tuna-Cheddar Casserole from my mom.  My mom's recipe was the best. She made this casserole regularly because canned tuna and dried pasta were and still are inexpensive. She had to feed the family on a strict food budget. Tuna casserole is one of those comfort foods that we crave. When starting on my Keto journey, I stopped eating foods like tuna casserole due to the added ingredient of wheat-based pasta. Now it is part of our culinary repertoire!
WHAT IS THE NUTRITIONAL VALUE OF KETO LOW-CARB TUNA-CHEDDAR PASTA CASSEROLE?
For this Keto Low-Carb Tuna-Cheddar Casserole you'll need canned tuna.
Canned tuna is a popular food item, especially for those who are looking for a quick and easy source of protein. In terms of nutritional value, canned tuna is an excellent source of protein, vitamins, and minerals. A 3.5-ounce (100-gram) serving of canned tuna typically contains around 20 grams of protein and less than 100 calories. It is also a good source of omega-3 fatty acids, which are important for heart health. Additionally, canned tuna contains vitamins B12 and D, as well as minerals such as selenium, phosphorus, and potassium. However, it is important to note that canned tuna can also be high in sodium, so it is best to choose varieties that are labeled as low-sodium or to rinse the tuna before consuming it. I believe canned tuna is a nutritious and convenient food choice that can be enjoyed in a variety of dishes.
It's important to choose canned tuna that's low in mercury, as high levels of mercury can be harmful to health. Look for canned tuna that's labeled as "light" or "skipjack," as these types of tuna tend to have lower levels of mercury than other varieties like albacore.  
WHAT IS THE TASTE PROFILE OF KETO LOW-CARB TUNA-CHEDDAR PASTA CASSEROLE?
The predominant taste sensation of Keto Low-Carb Tuna-Cheddar Casserole is fattiness due to the rich cream and cheese. The cheese is also a delicious source of umami.  This casserole is dense and chewy and downright satisfying.
WHAT WINE HARMONIZES WITH KETO LOW-CARB TUNA CHEDDAR PASTA CASSEROLE?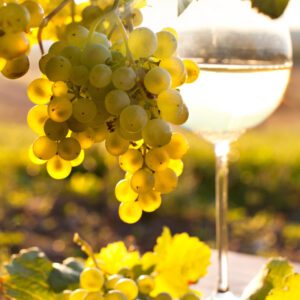 With the predominant taste sensation of Keto Low-Carb Tuna-Cheddar Casserole being fattiness in this dish, choose a buttery white wine, such as Chardonnay or Viognier to match. You want a wine with enough viscosity (thickness) to stand up to the rich and fattiness of the casserole.
*Wine Tips: To support your Keto diet or low-carb lifestyle, choose low-carb, low-sugar, and low-alcohol wines that are free of additives and artificial coloring.  Include your wine carb macros as part of your meal.  Remember, your liver will process alcohol before nutrients, pausing ketone creation and slowing the ketosis process. Your body will also metabolize alcohol as fuel before using food. This can slow fat burning and may cause your body to store carbs, fat, and protein as excess body fat.  Alcohol consumption also stimulates the appetite.  So, drink low-sugar, low-carb, and low alcohol wines in moderation.
WHAT KETO LOW-CARB RECIPES CAN I ENJOY?
Keto Low-Carb Tuna Cheddar Pasta Casserole
Keto Low-Carb Zoodle Caprese Salad
Keto Low-Carb Japanese Crab Noodle Salad
WHAT IS SHARI MAC'S PRODUCT RECOMMENDATION FOR YOUR KETO LOW-CARB DIET?
I wanted to share with you the BEST thing you can do for yourself to support your Keto Low-Carb diet.  Invest in a Vitamix Blender!  I stand behind this product 100%.  This Vitamix is a long-term investment worth every dollar! I use this Vitamix for almost daily all of my Keto diet needs – smoothies, ice cream blends, hot soups (made right in the Vitamix), sauces, and more!  Every other blender I purchased before my Vitamix failed within a couple of years.  This blender is a work horse. My best-friend has had her Vitamix for over 20 years with NO issues!  I just got my Vitamix this past year and LOVE IT!
WHAT CHEESE CAN WE USE IN KETO LOW-CARB TUNA-CHEDDAR PASTA CASSEROLE?
I prepare this Keto Low-Carb Tuna-Cheddar Casserole with aged Cheddar. But that may be too strong for you. Any cheese that is already shredded or easily shredded will work. Other delicious cheeses include Tex Mex, Mozzarella, Italian combo cheeses, and Gruyere.
I have included a recipe and instructional video below on how to make Keto Low-Carb grain and gluten-free fresh pasta.  Remember, the noodles don't have gluten elasticity!  Don't roll them too thin or narrow.  They will break.  But if they do, no worries.  Broken noodles taste just as delicious.  The noodles are thick and chewy and ideal for this casserole. The noodles have their very own taste profile and have that wonderful chewy density.   
WHAT PASTA CAN I USE FOR KETO LOW-CARB  TUNA-CHEDDAR PASTA CASSEROLE?
You can use a wide variety of pasta for your Keto Low-Carb Tuna-Cheddar Pasta Casserole.  In my opinion Fiber Gourmet (fibergourmet.com) produces the best tasting low-carb pasta.  However this pasta will not suffice if you're striving for ketosis.  In this case you can prepare your own pasta noodles from scratch.  The noodle recipe is included below with a video for instructions.
Here is a video to show you how to make the pasta for this dish:
This casserole will stay in the refrigerator for up to 4 days.  For freezing seal in an airtight containing and free for up to about 3 months.  Gently reheat the casserole at 300F.
HOW DO YOU PREPARE KETO LOW-CARB TUNA CHEDDAR PASTA CASSEROLE?
Making this casserole is super easy.  The recipe is below.  But here are the basic instructions.  Make your pasta noodles and set them aside.  Saute your vegetables.  Pour your cooked vegetables in a bowl with cream, cheese, tuna, and pasta.  Mix and season.  Pour the mixture into a casserole dish.  Top with cheese (optional) and sprinkle with your butter-parmesan topping.  Bake for 20 minutes at 350F.  Serve hot.
Print
KETO LOW-CARB TUNA-CHEDDAR PASTA CASSEROLE
---
Description
This Keto Low-Carb Tuna-Cheddar Pasta Casserole is a bit time consuming to prepare, but worth every bit of the effort.  The noodles take a little time and effort.  If you don't want to make your own noodles there are many Keto pasta products available on the market.  But I love making these noodles because they are so nutritious.   You can enjoy this casserole all year long.  However, it's also a fabulous choice for a summer picnic, a pot-luck dinner, or to take to a friend's house for dinner.  The ingredients are almond flour, xanthan gum, flax meal, olive oil, butter, onion, celery, carrot (optional), red pepper, whipping cream, tuna, Cheddar, black pepper, and Parmesan.  Check out the recipe!
---
Noodles:
2 1/2 to 3 cups almond flour
3 teaspoons xanthan gum
1/4 cup flax meal
4 eggs
1 teaspoon olive oil
Or Zoodles:
3 medium zucchini, spiralized*
Filling:
2 tablespoons grass-fed butter
1 small onion diced
2 stalks celery diced
1 medium carrot, finely chopped
1/2 red pepper diced
1 cup whipping cream
2 (5-oz) cans tuna packed in water drained
3 cups shredded Cheddar
Freshly ground black pepper to taste
Topping:
1/2 cup grass-fed butter
1/2 cup grated Parmesan
*Zoodle noodle directions below.
---
Instructions
To make noodles, make the dough in a bowl and by hand or in a food processor or mixer. (Mixer is easiest.) Place all ingredients in the bowl.  Mix well.
If making by hand pull the dough together with your hands. Start with 2 ½ cups of almond flour.  Add more if needed.  The dough should be firm. Transfer to a clean bowl.  Cover and refrigerate for 24 hours.
When ready to use, cut the dough in half.  Cover half of the dough ball with a wet cloth.  Transfer the other half to a large piece of parchment paper.  Flatten the ball on the parchment. Using the flat side of a long knife or pastry cutter, shape the ball into a 4" X 4" square. Top the square with another sheet of parchment paper. Using a rolling pin, and roll out a square about 8" X 8". Lift the top parchment paper. Using a long knife or pizza cutter, cut the dough into 1/8th-inch noodles.
When ready to dine, boil the water.  Add olive oil to water.  Add the noodles.  Boil the noodles for 3 minutes. Drain the noodles in a colander and run cool water over them to prevent sticking. 
To make filling and casserole: preheat the oven to 350 degrees and spray or oil an 8"X8" baking dish.  Set aside.
In a saucepan add oil and vegetables.  Saute until tender.  Remove from heat.  Let cool.  In a bowl combine vegetable mixture, cream, cheese, tuna.  Mix together.  Fold in noodles.  Transfer to baking dish.  Sprinkle another cup of shreddable Cheddar on top.  (This layer is optional).
Prepare the topping.  In a small bowl combine parmesan and butter.  Sprinkle chunks of topping over the tuna mixture.
Bake for 15-20 minutes until the cheese has melted and topping is browned.  Let rest for 10 minutes before serving.

Zoodles (Keto):

To make zoodles, 

lightly spray the bottom of a 9×13-inch baking dish with cooking spray. Place the zoodles in the dish and spread out as much as possible. Bake at 10-minute intervals. Remove and stir every 10 minutes, and continue baking at 10-minute intervals until the moisture has evaporated.   While the zoodles are baking, make the filling. 
Notes
The recipe is based on the keto version and is approximate only.  One serving has 4.6 grams of net carbs.

(Note: The nutritional information provided is a courtesy and is approximate only.  We cannot guarantee the nutritional accuracy of any recipe on this site.  We cannot know what brands you use or how accurately you follow the recipe or what you like to add creatively to the dish. Use the information as a general guideline only.)
Prep Time:

30 Minutes

Cook Time:

20 Minutes

Category:

KETO LOW-CARB

Method:

BAKING

Cuisine:

LUNCH, BRUNCH, DINNER
Nutrition
Serving Size:

1

Calories:

414

Sugar:

1.1

Sodium:

496

Fat:

31.1

Saturated Fat:

11.3

Carbohydrates:

12.3

Fiber:

7.7

Protein:

24.6

Cholesterol:

108
Keywords: keto pasta, keto pasta casserole, keto tuna casserole, keto tuna casserole recipe, keto tuna casserole pasta recipe, keto, keto-recipes, ketogenic-diet, ketogenic-recipes, low-carb, low-carb-recipes, lazy-keto, sugar-free, sugar-free-recipes, keto-and-wine, gluten-free, gluten-free-recipes, gluten-free-with-wine, grain-free, grain-free-diet, grain-free-recipes, grain-free-recipes-with-wine, anti-inflammatory-diet, anti-inflammatory-recipes,
FREE e-cookbook called OODLES OF LOW CARB NOODLES
Join our family to get your FREE e-cookbook OODKES OF LOW CARB NOODLES + new recipes in your inbox.
Latest posts by Shari MAC
(see all)