KETO LOW-CARB CHEDDAR BACON BISCUITS
As an Amazon Associate I earn from qualifying purchases.
This Keto Low-Carb Cheddar Bacon Biscuits recipe is so simple you'll want to make these babies regularly!
I've continued to love bread and everything like bread – pies, biscuits, buns, etc.
This dough recipe is high in protein and possesses almost zero carbs.  I say "almost" zero, as 1 teaspoon of raw honey used to proof the yeast has 6 grams of carbs.  Even if you count the carbs, this is less than .05 grams of carbs per biscuit.  And I have read that the yeast eats the sugar, so you don't need to count the honey at all in your net carbs.
I add the proofed yeast mostly for flavour and moisture. The dough won't rise a lot (if at all), but the yeast gives you more of that 'bread' craving satisfaction.  You can always leave out the yeast if desired.
With this basic dough recipe, you can prepare a wide variety of bread, biscuit, and bun combinations, such as:
Garlic and rosemary
Italian seasoning
Herbs de Provence
Cheese and garlic
If making this recipe, the bacon and cheese, you don't need to add salt to the dough.  The bacon and cheese are both salty.
WHAT IS THE NUTRITIONAL VALUE OF KETO LOW-CARB CHEDDAR BACON BISCUITS?
The psyllium husks in the Keto Low-Carb Cheddar Bacon Biscuits not only help to bind the dough, but also contribute super health values.  Psyllium is a form of fiber made from the husks of the Plantago ovata plant's seeds.
Psyllium is a soluble fiber that contributes immensely to your gut health.  As a fiber, it makes bowl movements soft and healthy.  It's also prebiotic. Prebiotic is a substance needed to help probiotic colonies grow in your gut.  Adding psyllium to your diet also helps to lower bad cholesterol, lower the risk of heart disease, and lower blood pressure.  Besides being good for your heart and blood sugar levels, psyllium may help you lose weight.  Because psyllium absorbs liquid in your stomach, it can help give you that feeling of being full.  This can help you control the amount of food you eat.
WHAT IS THE TASTE PROFILE OF KETO LOW-CARB CHEDDAR BACON BISCUITS?
The predominant taste sensations of these biscuits are fattiness and saltiness from the bacon and cheese.  The biscuits are fluffy and flaky, dense, and satisfying. 
WHAT WINE HARMONIZES WITH KETO LOW-CARB CHEDDAR BACON BISCUITS?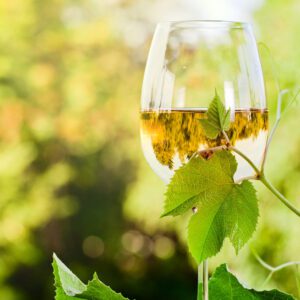 With the predominant taste sensations of  Keto Low-Carb Cheddar Bacon Biscuits being fattiness and saltiness in the biscuits, choose a big, buttery white wine to match.  This buttery character will complement the fattiness in the cheese and bacon.  The wine's acidity will nicely offset the saltiness of cheese and bacon.  Think Chardonnay.  Cheddar also works nicely with red wine.  Keep the wine light-bodied to not over power the delicate nature of biscuits in general.  Pinot Noir has the acidity to offset the saltiness of cheese and bacon.  It also won't over power biscuits.
*Wine Tips: To support your Keto diet or low-carb lifestyle, choose low-carb, low-sugar, and low-alcohol wines that are free of additives and artificial coloring.  Include your wine carb macros as part of your meal.  Remember, your liver will process alcohol before nutrients, pausing ketone creation and slowing the ketosis process. Your body will also metabolize alcohol as fuel before using food. This can slow fat burning and may cause your body to store carbs, fat, and protein as excess body fat.  Alcohol consumption also stimulates the appetite.  So, drink low-sugar, low-carb, and low alcohol wines in moderation.
WHAT OTHER KETO LOW-CARB RECIPES CAN I ENJOY?
Keto Low-Carb Hollandaise Sauce
Keto Low-Carb Tuna Cheddar Pasta Casserole
Keto Low-Carb Japanese Crab Noodle Salad
WHAT PRODUCT DO YOU ABSOLUTELY NEED FOR YOUR KETO LOW-CARB DIET?
I wanted to share with you the BEST thing you can do for yourself to support your Keto Low-Carb diet.  Invest in a Vitamix Blender!  I stand behind this product 100%.  This Vitamix is a long-term investment worth every dollar! I use this Vitamix for almost daily all of my Keto diet needs – smoothies, ice cream blends, hot soups (made right in the Vitamix), sauces, and more!  Every other blender I purchased before my Vitamix failed within a couple of years.  This blender is a work horse. My best-friend has had her Vitamix for over 20 years with NO issues!  I just got my Vitamix this past year and LOVE IT!
HOW DO YOU PREPARE KETO LOW-CARB CHEDDAR BACON BISCUITS?
How do you prepareKeto Low-Carb Cheddar Bacon Biscuits? Here is a few pics to give you the simple instructions.
Print
KETO LOW-CARB CHEDDAR BACON BISCUITS
---
Description
Keto Low-Carb Cheddar Bacon Biscuits are the bomb!  Biscuits complement a plethora of meals.  Enjoy homemade biscuits with stew, soup, casseroles, salads, chicken, pork or roast beef dinners, pasta, and more!  How about a cheddar bacon biscuit for breakfast with a cup of coffee?  In fact, slice the biscuit in half and add a fried egg and peameal bacon and you have a delicious breakfast to enjoy on the way to work.  These Keto Low-Carb biscuits are downright scrumptious!  And so easy to prepare.  The recipe uses almond flour, yeast, raw honey (for fermentation of the yeast), psyllium, baking powder, onion powder, and garlic. 
---
Proofing (Optional):
1 tablespoon fast activating yeast
1 teaspoon raw honey
2 tablespoons water
Dry Ingredients:
2 cups almond flour
4 tablespoons psyllium
1 tablespoon baking powder
1 tablespoon onion powder
1 tablespoon garlic powder
Wet Ingredients:
3 eggs
2 tablespoons apple cider vinegar
6 tablespoons olive oil
1/4 cup boiling water
Flavourings:
6 slices cooked sugar-free bacon
2 cups Old Cheddar
---
Instructions
Preheat the oven to 350F.  In a bowl combine yeast, honey, and water.  Mix well.  Let sit 10 minutes to proof.
In same bowl add dry ingredients and fold together.  In a separate bowl, mix the wet ingredients . Pour the wet ingredients into the dry ingredients and using a spatula, mix well.
Add boiling water and mix well.  Let the dough sit for about 10 minutes so the psyllium absorbs the water and makes the dough drier.
Fold in the bacon and cheese.  Pull dough together with your hands.  If dough is still wet, place in the refrigerator for about 10 minutes.
Line 2 baking sheets with parchment.  Using a spoon, scoop about 1 heaping tablespoon of dough and roll into a ball.  The ball should be the size of a golf ball.  Place the balls on the parchment paper.  Once you've made all the balls the same size, flatten them all into disks.
Bake for about 15 to 20 minutes until biscuits are lightly golden. Remove and let cool.
Notes
The recipe is based on the keto version and is approximate only.  One serving has 4.8 grams of net carbs.
(Note: The nutritional information provided is a courtesy and is approximate only.  We cannot guarantee the nutritional accuracy of any recipe on this site.  We cannot know what brands you use or how accurately you follow the recipe or what you like to add creatively to the dish. Use the information as a general guideline only.) 
Prep Time:

10

Cook Time:

20

Category:

KETO LOW-CARB

Method:

BAKING

Cuisine:

BREAKFAST, LUNCH, BRUNCH, DINNER
Nutrition
Serving Size:

1

Calories:

214

Sugar:

1.2

Sodium:

293

Fat:

13.1

Saturated Fat:

3.2

Carbohydrates:

15

Fiber:

10.2

Protein:

12.1

Cholesterol:

49
Keywords: keto, keto biscuits, keto biscuits recipe, keto recipes, paleo, paleo recipes, paleo dinner, Whole30, Whole30 recipes, whole30dinner, gluten free, gluten free recipes, gluten free dinner, gluten free recipes for dinner, anti-inflammatory diet, anti-inflammatory recipes, grain free, grain free diet, grain free recipes, grain free dinner, paleo and wine, gluten free and wine, dairy free diet, dairy free recipes, dairy free dinner,
FREE e-cookbook called OODLES OF LOW CARB NOODLES
Join our family to get your FREE e-cookbook OODKES OF LOW CARB NOODLES + new recipes in your inbox.
Latest posts by Shari MAC
(see all)