KETO LOW-CARB BBQ PORK (HEART HEALTHY)
As an Amazon Associate I earn from qualifying purchases.
Ever tried Keto Low-Carb BBQ Pork?  It's also called Char Siu. When my husband Shawn and I were dating, I insisted we head to Toronto (1.5 hours away) for Chinese BBQ pork called Char Siu sold at my favorite Asian restaurant in Toronto's China Town called King Noodle (296 Spadina Avenue).  If you've been to China town chances are you've seen Char Sui with its red and gold shimmering skin hanging side by side alongside roasted ducks and soy sauce chicken, visible through the restaurant window.  The most traditional version uses 4 obscure ingredients only found in Chinatown — fermented brown bean sauce, red fermented bean curd cubes, rose cooking wine, and Maltose sugar.   
In ancient times wild boar was used to prepare this delicacy. Today domestic pork is used.  The term 'char siu' refers to meats marinated in char siu seasoning.  The meats are prepared either from scratch or from store-bought version, then roasted in the oven, over a fire, or on the BBQ. 
Shawn always agreed to head to Toronto, no doubt, for no other reason that I seemed super excited to introduce him to one of my favorite culinary dishes. When he tried the Chinese BBQ pork for the first time, he moaned in delight. His pound of pork disappeared within minutes. Since this early introduction to King Noodle's Char Siu, Shawn and I have been indulging ever since — when I choose to vacate my sugar-free lifestyle.  Char Sui has a sweet and salty taste.  The sauce is often used in Cantonese cooking.   The meat is often served in a bun or with noodles or rice.  
WHAT IS THE NUTRITIONAL VALUE OF KETO LOW-CARB BBQ PORK?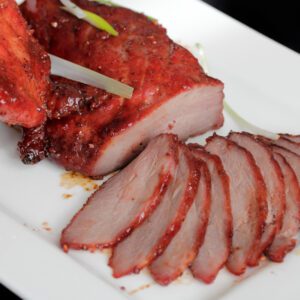 The nutritional value for Keto Low-Carb BBQ Pork is positive.  I think pork continues to get a bad rap. I am a fan of this protein but do eat it in moderation. Pork offers a powerhouse of essential vitamins and minerals. Three ounces of pork provides a third of our daily requirement for thiamine, niacin, selenium, and vitamin B6. This meat is also rich in B12, potassium, iron, magnesium, and zinc. Three ounces of pork also gives you approximately 22 grams of protein. Did you know that pork contains all nine essential amino acids necessary for your body's growth and maintenance?
Yes, pork is saturated fat. The good news is that some cuts are leaner than others. The nutritional value of pork varies greatly, depending on the weight and cut. The most lavish cuts are bacon, ribs, and butt. Three ounces of pork ribs have about 232 calories, 22 grams of protein, and 15 grams of fat.
The cuts that have 'loin' in their name tend to be the leanest. A three-ounce portion of pork tenderloin generally offers about 163 calories, about 21 grams of protein, and only about 2.98 grams of total fat. (This is as lean as a skinless chicken breast.)
WHAT IS THE TASTE PROFILE OF KETO LOW-CARB BBQ PORK?  
The predominant flavour of  Keto Low-Carb BBQ Pork comes from the Chinese 5 spice seasoning.  This spice blend adds warmth, complexity, and spiciness to the pork. Due to 2 of the 5 ingredients offering licorice notes, the spice blend works incredibly well with the sweetness.  Pork is considered sweet-tasting meat, so the spice is highly complementary. 
WHAT ARE THE HEALTH BENEFITS OF CHINESE 5 SPICE?
This Keto Low-Carb BBQ Pork seasoning on the pork is full of health benefits.  The seasoning possesses two compounds called cinnamaldehyde and epicatechin that help prevent clumps of the tau protein from occurring in the brain and therefore is believed to help prevent Alzheimer's.  Cinnamon also helps to regulate insulin levels for diabetics. And for this reason, studies suggest that it may also contain anti-Alzheimer's properties.
WHAT WINE HARMONIZES WITH KETO LOW-CARB BBQ PORK?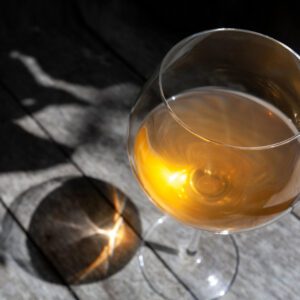 Due to the predominant flavors of spiciness and licorice, this Chinese spice blend on the Keto Low-Carb BBQ Pork makes it compatible with wines offering some sweetness.   The spice has sweetness and heat and spice.  For this reason you'll need a white with some sweetness to match and to off-set the heat and spice. In following a Keto diet or in living a low-carb lifestyle, we don't want to use up your carbs on a glass of wine.  Why add the extra carbs to your meal when you can find zero carb wines!  You have a couple of options:
Drink whatever wine you like (as long as it's bone dry) and don't worry about pairing the wine to dish. Enjoy your wine the way you like it. 
If you like to create harmony between the wine and the food, you'll need some sweetness in the wine to match the sweetness and offset the heat and spice.  Add a pinch of Stevia or monk fruit sweetener to your glass of wine.  Choose a white like Riesling or Gewurztraminer or a pink rose. These varieties taste great when bone dry or sweet.  So they taste great with the added sweetener.  The wine's sweetness will nicely match and offset the heat and spice.
*Wine Tips: To support your Keto diet or low-carb lifestyle, choose low-carb, low-sugar, and low-alcohol wines that are free of additives and artificial coloring.  Include your wine carb macros as part of your meal.  Remember, your liver will process alcohol before nutrients, pausing ketone creation and slowing the ketosis process. Your body will also metabolize alcohol as fuel before using food. This can slow fat burning and may cause your body to store carbs, fat, and protein as excess body fat.  Alcohol consumption also stimulates the appetite.  So, drink low-sugar, low-carb, and low alcohol wines in moderation.
WHAT OTHER KETO LOW-CARB HEART HEALTHY RECIPES CAN YOU ENJOY?
Keto Low-Carb Turkey Frittata (Heart Healthy)
Keto Low-Carb Cream Cheese (Heart Healthy)
Keto Low-Carb Tilapia Parmesan (Heart Healthy)
Keto Low-Carb Montreal Chicken Quarters (Heart Healthy)
Keto Low-Carb Stuffed Peppers (Heart Healthy)
WHAT IS SHARI MAC'S PRODUCT RECOMMENDATION FOR YOUR KETO LOW-CARB DIET?
OMG, the Ninja NC301 CREAMi Ice Cream Maker is the BEST appliance I've bought for myself to support my Keto diet. I stand behind this product 100%. I eat healthy high protein, sugar-free ice cream every night. I experiment with different ingredient combinations all the time. I purchased 5 additional containers so that I can make a week's worth of ice cream at one time. I've made ice cream with cottage cheese and almond milk with protein powder; tofu with almond milk and protein powder; fat-free plain yogurt with almond milk and sugar-free jello and more! The machine shaves frozen pints perfectly with its one-touch programs.. You can prepare ice cream, sorbet, gelato, milkshake, smoothie bowl, lite ice cream and more.  Prep your base, freeze overnight, process, and enjoy!
Sometimes it takes more than one spin to get your desired texture. Select the re-spin function if, after processing, you want your processed treat softer and creamier. This unit is ONLY compatible with the Ninja CREAMi NC299 and NC300 pint accessories. It will NOT fit the NC100, NC200 or NC500 Series pints.
With the Ninja Creami you can enjoy healthy treats that taste just as good as regular ice cream loaded in bad saturated fat, sugar, and preservatives.
HOW DO YOU PREPARE KETO LOW-CARB BBQ PORK?
Print
KETO LOW-CARB BBQ PORK
---
Description
Keto Low-Carb BBQ Pork is absolutely delicious!  Tasty! Scrumptious! The recipe uses pork shoulder, sugar-free and gluten-free Chinese 5 Spice Seasoning, sugar-free (or no sugar added) apricot jam and unsweetened coconut.   If you are hunting for a super easy and tasty Keto Low-Carb rib recipe paired with wine, check out this recipe!
---
Sauce:
1/2 cup sugar-free apricot jam or marmalade
1/4 cup coconut aminos or low sodium soy sauce
2 tablespoons sesame oil
1 teaspoon Red Boat fish sauce
Meat:
3 pounds of pork shoulder (pork tenderloin for Keto Heart Healthy)
Chinese 5 spice Seasoning:
1/2 cup Chinese 5 spice (as needed)*
1/2 cup Swerve brown sugar
Chopped cilantro for garnish (optional)
---
Instructions
Preheat oven to 350 F with the rack in the middle of the oven.  Line a pan with tinfoil or parchment paper (to make clean up easier).  Set a wire rack on top of the baking pan.  Spray the rack with avocado non-stick cooking spray (to make clean up easier).  Set the pork on the wire rack.
Coat the pork with the sauce.  Generously sprinkle Chinese 5 spice seasoning over the sauce. (Note: you can marinate the pork in the sauce overnight in a zip lock bag if you prepare dish in advance.)
Bake pork for 40 to 45 minutes until pork is done.  Rest for 15 minutes before slicing.  Garnish with fresh cilantro or scallions.  Serve with cauliflower rice.
Notes
The recipe is based on the keto version and is approximate only.  One serving has 26.9 net carbs but only 1.2 grams of sugars.  Not all carbohydrates, such as the ones in natural sweeteners, affect the body in the same way.  When using natural sweeteners in a recipe, look at the sugar content instead.
(Note: The nutritional information provided is a courtesy and is approximate only.  We cannot guarantee the nutritional accuracy of any recipe on this site.  We cannot now what brands you use or how accurately you follow the recipe or what you like to add creatively to the dish. Use the information as a general guideline only.  Net carbs are the total carbs minus the fibre.)
Prep Time:

15

Cook Time:

45

Category:

KETO LOW-CARB

Method:

ROASTING

Cuisine:

DINNER
Nutrition
Serving Size:

1/2 pound per person

Calories:

880

Sugar:

1.2

Sodium:

424

Fat:

58.4

Saturated Fat:

24.1

Carbohydrates:

29.1

Fiber:

2.2

Protein:

54.4

Cholesterol:

204
Keywords: keto, keto bbq pork, keto bbq pork recipe, keto char siu, keto-recipes, ketogenic-diet, ketogenic-recipes, low-carb, low-carb-recipes, lazy-keto, sugar-free, sugar-free-recipes, keto-and-wine, paleo, paleo-diet, paleo-recipes, lazy-paleo, , paleo-and-wine, primal-diet, primal-diet-recipes, caveman-diet, caveman-diet-recipes, gluten-free, gluten-free-recipes, gluten-free-with-wine, grain-free, grain-free-diet, grain-free-recipes, grain-free-recipes-with-wine, anti-inflammatory-diet, anti-inflammatory-recipes, dairy-free-diet, dairy-free-recipes, dairy-free-recipes-with-wine,
FREE e-cookbook called OODLES OF LOW CARB NOODLES
Join our family to get your FREE e-cookbook OODKES OF LOW CARB NOODLES + new recipes in your inbox.
Latest posts by Shari MAC
(see all)