KETO LOW-CARB CHICKEN STOCK (HEART HEALTHY)
Keto Low-Carb Chicken Stock and chicken bone broth are culinary staples in our kitchen. I use chicken stock and bone broth for a whole plethora of recipes. (We also give this broth to our dogs regularly). Stock and broths are prepared differently and both add too much nutritional value to your dishes. The recipe is not new. Its origins trace as far back as 2,500 years ago where it was used in Chinese medicine for supporting kidney and digestive health.
It's so easy to make stock and bone broth and is so much more flavorful than the chicken broth you buy at the supermarket. I make homemade stock and bone broth to avoid the high sodium levels in store-bought versions. Just a little over a half cup of Campbell's chicken broth possesses 570 mg of sodium.
Who drinks that small amount of broth in their bowl of stew, soup, or pasta dish? Not us…that's for sure. When our sodium intake should be about 750 mg per meal, 570 for such a small amount of broth is not an attractive choice to my husband and me. We are adamant about watching our Sodium intake for health and weight purposes. I make both the stock and broth with zero salts.
This recipe is for chicken stock as I make it more regularly than bone broth. It is far easier and faster to prepare. At our local supermarket, I can pick up 6 chicken quarters for under $10.00. I remove the skin from the quarters. (I fry the skins and give them to the doggies as a treat).
I set the 6 chicken quarters in a pot with 12 cups of water. After bringing the liquid to a boil, I reduce the heat to simmer and let the broth bubble for about 3 hours. From this mixture, I end up with about 6 cups of broth and loads of chicken meat for Keto Low-Carb chicken salad sandwiches, soups, stews, casseroles, etc.. After about 3 hours, I remove the quarters from the broth and de-bone them. I pour the broth through a sieve to make sure all bones are removed. I de-bone the cooked chicken quarters, setting the meat back into the pot with the broth. No need to throw out all those bones!
Now you can take those bones and roast them to make chicken bone broth accompanied by some onion, carrots, garlic, and parsley.
So much goodness from 6 quarters for under $10.00! We get plenty of stock and bone broth, as well as fatty, crunchy treats for the kids (German Shepard and Dalmatian).
WHAT IS THE NUTRITIONAL VALUE OF KETO LOW-CARB CHICKEN STOCK?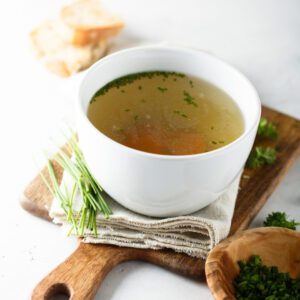 What's the nutritional value of Keto Low-Carb Chicken Stock?  The chicken stock offers so many nutritional values and health benefits. The broth contains an amino acid called cysteine that is released during the cooking process. This amino acid thins mucus in the lungs, aiding in the healing process. Chicken also plays its role as a great source of protein for your muscles, as well as the following vitamins and minerals:
Vitamin B12
Vitamin C
Antioxidants
Vitamin A
Vitamin D
Vitamin E
Vitamin K
Carnosine
WHAT IS THE TASTE PROFILE OF KETO LOW-CARB CHICKEN STOCK?
Keto Low-Carb Chicken Stock sings with the fifth taste sensation of umami, as well as fattiness. Highly flavorful!
WHAT WINE HARMONIZES WITH KETO LOW-CARB CHICKEN STOCK?
It is difficult to say what wine works with Keto Low-Carb Chicken Stock. The reason is that chefs and cooks often use chicken broth as a base ingredient in more sophisticated recipes like casseroles, stews, soups, etc.
Suffice to say that its umami (roundness and depth of flavor) will contribute to the overall richness of any dish. Therefore, choose a white or red wine (whatever works best with your recipe).  Generally speaking, crisp whites like Sauvignon Blanc and Pinot Gris have lovely acidity that complements umami in a dish.  Reds with silky tannin like Pinot Noir also works well. *Wine Tips: To support your Keto diet or low-carb lifestyle, choose low-carb, low-sugar, and low-alcohol wines that are free of additives and artificial coloring.  Include your wine carb macros as part of your meal.  Remember, your liver will process alcohol before nutrients, pausing ketone creation and slowing the ketosis process. Your body will also metabolize alcohol as fuel before using food. This can slow fat burning and may cause your body to store carbs, fat, and protein as excess body fat.  Alcohol consumption also stimulates the appetite.  So, drink low-sugar, low-carb, and low alcohol wines in moderation.
WHAT KETO LOW-CARB RECIPES CAN I ENJOY?
Keto Low-Carb Maple Walnut Frozen Custard
Keto Low-Carb Zoodle Caprese Salad
Keto Low-Carb Japanese Crab Noodle Salad
HOW DO YOU STORE HOMEMADE CHICKEN STOCK?
Keto Low-Carb Chicken Stock can be stored in the refrigerator for about 4–5 days.  It can be frozen for between 6–9 months, or pressure-canned for 1 year, for best results. Once cooled, freeze stock in various increments—ice cube trays work great when needing a few tablespoons; 1/2 cup, 1 cup, 2 cups are common in recipes; 6–8 cups work best for soups.
HOW CAN YOU TELL IF THE CHICKEN STOCK HAS GONE BAD?
Keto Low-Carb Chicken Stock should be consumed within 3 to 4 days. If the broth becomes cloudy, or bits of sediment form, it can be a sign that the broth has spoiled, and should not be consumed. Smell is another good indicator that chicken broth has gone bad. If the broth begins to smell sour, or in any way unpleasant, it should not be consumed. \
WHAT IS SHARI MAC'S PRODUCT RECOMMENDATION FOR YOUR KETO LOW-CARB DIET?
I wanted to share with you the BEST thing you can do for yourself to support your Keto Low-Carb diet.  Invest in a Vitamix Blender!  I stand behind this product 100%.  This Vitamix is a long-term investment worth every dollar! I use this Vitamix for almost daily all of my Keto diet needs – smoothies, ice cream blends, hot soups (made right in the Vitamix), sauces, and more!  Every other blender I purchased before my Vitamix failed within a couple of years.  This blender is a work horse. My best-friend has had her Vitamix for over 20 years with NO issues!  I just got my Vitamix this past year and LOVE IT!
HOW CAN YOU USE KETO LOW-CARB HOMEMADE CHICKEN STOCK?
Homemade chicken stock can be used in countless ways. Some of the most common ways of using chicken stock is the following:
Soups
Stews
Cauliflower rice
Braising meats
Pan sauces
Keto Low-Carb Italian pasta dishes
Keto Low-Carb Asian noodle dishes
Casseroles
Stroganoff
And more!…
HOW DO YOU PREPARE KETO LOW-CARB CHICKEN STOCK?
Print
KETO LOW-CARB HOMEMADE CHICKEN STOCK
---
Description
Keto Low-Carb Chicken Stock is super nutritious and can be enjoyed alone or in Keto Low-Carb Italian pasta and Asian noodles dishes, casseroles, soups, stews, and more.  The recipe uses chicken, water, and salt. If you are hunting for an easy chicken stock, check out this recipe!
---
6 chicken quarters, skins removed (850 grams)
12 cups water
---
Instructions
Remove skin from chicken quarters.  Wash them.  Set the chicken in a deep pot.  Fill the pot with 12 cups of water.  Bring water to a boil.  Reduce heat to simmer and simmer the broth for 3 hours or until liquid is reduced to about half (6 cups).  Remove quarters from stock.  Take all meat off of bones.  Set bones aside for another use.  Drain the stock through a sieve to remove unwanted bones.  Pour stock and chicken pieces into a container, cover, and refrigerate for future use or use in a soup, stew, pasta dish, casserole, or more.
Prep Time:

10

Cook Time:

3 HOURS

Category:

KETO LOW-CARB

Method:

SIMMERING

Cuisine:

BREAKFAST, LUNCH, BRUNCH, DINNER
Nutrition
Serving Size:

1

Calories:

15

Sugar:

1.1

Sodium:

136

Fat:

10.5

Saturated Fat:

2.9

Unsaturated Fat:

NA

Trans Fat:

NA

Carbohydrates:

0

Fiber:

0

Protein:

41

Cholesterol:

126
Keywords: keto, keto chicken stock, keto stock, keto soup, keto recipes, paleo, paleo recipes, paleo dinner, Whole30, Whole30r recipes, whole30dinner, gluten free, gluten free recipes, gluten free dinner, gluten free recipes for dinner, anti-inflammatory diet, anti-inflammatory recipes, grain free, grain free diet, grain free recipes, grain free dinner, paleo and wine, gluten free and wine, dairy free diet, dairy free recipes, dairy free dinner,
FREE e-cookbook called OODLES OF LOW CARB NOODLES
Join our family to get your FREE e-cookbook OODKES OF LOW CARB NOODLES + new recipes in your inbox.
Latest posts by Shari MAC
(see all)