KETO LAZY WILD MUSHROOM PATE
As an Amazon Associate I earn from qualifying purchases.
You are going to love the flavours of this Keto Lazy Wild Mushroom Pate!  Our Keto path allow us to enjoy nuts. I love to incorporate nuts into my cooking because they add flavour, texture, and substance to almost every course within a meal, from appetizers to desserts. They are also a super healthy source of fat, a high source of protein, and calcium!
Pate is super easy to make and yet it has this gourmet appeal. As a food and wine writer, I ate a lot of different pates made by professional chefs. While we can enjoy meat-based pate on the Keto and Paleo paths, nut-based versions are extremely healthy, easy to make, and super filling.
WHAT IS THE NUTRITIONAL VALUE OF KETO LAZY WILD MUSHROOM?
What is the nutritional valu of this Keto Lazy Wild Mushroom Pate? I used to be under the impression that nuts are high in fat and hard to digest, so should be avoided. But nuts have too much goodness to ignore.
Cashews are my favorite. A native of eastern Brazil, cashews are the seeds of the cashew apple that grows on the cashew tree. Contrary to popular belief, cashews have less fat than other nuts. About 75% of the fat within this seed is an unsaturated fatty acid called 'oleic acid.' Oleic acid is the same monounsaturated fat found in olive oil. And we know the benefits of olive oil!
Science now reveals that oleic acid is good for the heart. Research tells us that monounsaturated fat, when added to a low-fat diet, can help to reduce high triglyceride levels. Elevated triglycerides are related to heart disease.
Pistachios should be considered a super food. Full of fiber and protein, they are low in calories and fat and contain a good source of 30 different vitamins, minerals, and phyto-nutrients, including copper, phosphorus, potassium, magnesium, and B6. And like red wine, pistachios also possess phenolic compounds, an antioxidant. Have you heard of plant sterols or phytosterol? Well, pistachios possess this benefit, too. Plant sterols contain cholesterol-lowering properties.
I've always incorporated walnuts into my pesto, as their pleasant bitterness complements red wine. Like other nuts, walnuts are high in fiber, vitamins B and E, magnesium, antioxidants, plant sterols, monounsaturated, and polyunsaturated fats. Of all the varieties, walnuts contain higher amounts of omega-3 fatty acids.
WHAT IS THE TASTE PROFILE OF KETO LAZY WILD MUSHROOM PATE?
What are the predominant taste sensations of Keto Lazy Wild Mushroom Pate? The predominant sensations in this hors d'oeuvre includes nuttiness from the cashews and fattiness from the cashews.  
WHAT WINE HARMONIZES WITH KETO LAZY WILD MUSHROOM PATE?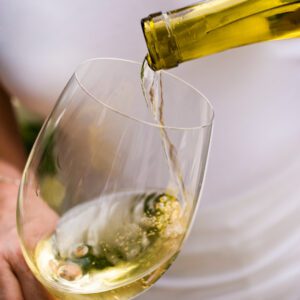 What wine harmonizes with Keto Lazy Wild Mushroom Pate? So, there's every reason to incorporate almonds, cashews, pistachios, walnuts, and other nut varieties into one's diet. Be sure to include a glass of wine, however. That's my advice.  I had to bring wine into this column, as it's a great love of mine, and it was my career (wine and food journalist, author) for over 3 decades.  
For variety, consider nuts for appetizers when entertaining. Their weight, texture, and flavor can create extraordinary recipes that partner well with wine. Be sure to use unsalted nuts to keep sodium intake reasonable and to control the salt content of your recipe.
Make sure that you consider the weight, texture, and flavor of the appetizer featuring nuts when choosing an accompanying vintage.
Mildly flavored nuts such as almonds and pistachios in appetizers complement white wines. Because nuts have a heavy texture and healthy fat, in general, choose a full-bodied white. Consider buttery Chardonnay.
Your nut appetizer might be too heavy to partner with a light-bodied, crisp, dry white, such as Sauvignon Blanc or Pinot Gris. Pine nuts might be an exception to this rule if sprinkled sparingly on the dip or appetizer.  Go with a light, fruity red like Pinot Noir or Gamay.
Cashews and walnuts demand reds.   The heavy weight and earthy flavor of this appetizer demand a full-bodied, rich earthy red wine, such as Amarone from Italy. In the making of Amarone, the grapes are left to dry, shrivel and become concentrated. This process is called appassimento or rasinate (to dry and shrivel) in Italian and gives the resulting wine richness, depth, and concentrated flavors.
*Wine Tips: To support your Keto diet or low-carb lifestyle, choose low-carb, low-sugar, and low-alcohol wines that are free of additives and artificial coloring.  Include your wine carb macros as part of your meal.  Remember, your liver will process alcohol before nutrients, pausing ketone creation and slowing the ketosis process. Your body will also metabolize alcohol as fuel before using food. This can slow fat burning and may cause your body to store carbs, fat, and protein as excess body fat.  Alcohol consumption also stimulates the appetite.  So, drink low-sugar, low-carb, and low alcohol wines in moderation.
WHAT OTHER KETO LOW-CARB HEALTHY HEART RECIPES CAN I ENJOY?
Keto Lazy Sunflower Seed Risotto
WHAT IS SHARI MAC'S PRODUCT RECOMMENDATION FOR YOUR KETO LOW-CARB DIET?
OMG, the Ninja NC301 CREAMi Ice Cream Maker is the BEST appliance I've bought for myself to support my Keto diet. I stand behind this product 100%. I eat healthy high protein, sugar-free ice cream every night. I experiment with different ingredient combinations all the time. I purchased 5 additional containers so that I can make a week's worth of ice cream at one time. I've made ice cream with cottage cheese and almond milk with protein powder; tofu with almond milk and protein powder; fat-free plain yogurt with almond milk and sugar-free jello and more! The machine shaves frozen pints perfectly with its one-touch programs.. You can prepare ice cream, sorbet, gelato, milkshake, smoothie bowl, lite ice cream and more.  Prep your base, freeze overnight, process, and enjoy!
Sometimes it takes more than one spin to get your desired texture. Select the re-spin function if, after processing, you want your processed treat softer and creamier. This unit is ONLY compatible with the Ninja CREAMi NC299 and NC300 pint accessories. It will NOT fit the NC100, NC200 or NC500 Series pints.
With the Ninja Creami you can enjoy healthy treats that taste just as good as regular ice cream loaded in bad saturated fat, sugar, and preservatives.
Print
KETO LAZY WILD MUSHROOM PATE
---
Description
Keto Lazy Wild Mushroom Pate is gourmet and exotic yet easy to make.  Ideal as a lunch with veggies or as an hors d'oeuvre before your entree. The recipe uses wild mushrooms, roasted cashews, garlic, curry, cumin, and scallions. seasonings.   If you are hunting for a gorgeous pate paired with wine, check out this recipe!
---
2 tablespoons avocado oil
1/2 cup chopped scallions
1 pound shiitake mushrooms, chopped (or mixed or wild mushroom of choice)*
2 to 4 cloves garlic, minced
2 teaspoons curry powder
1/2 teaspoon cumin
1 cup roasted, unsalted cashews
1/4 cup avocado or olive oil
Freshly ground black pepper to taste
2 tablespoons finely chopped fresh basil
2 teaspoons finely grated lemon zest
4 English cucumbers, sliced (for serving with pate)
---
Instructions
*If fresh shiitake mushrooms are not in season, or you're working on a budget, choose a less expensive wild mushroom (such as Portobello) and buy a small bag of dried shiitake mushrooms (2.5 to 4 ounces). Soak the dried mushrooms in the 1/3 cup of avocado oil, as the oil will absorb much of the exotic shiitake taste. Add the oil and hydrated.  Add shiitake and Portobello mushrooms to the sauté pan.
Heat avocado oil in a skillet on high heat. Add the scallions, mushrooms, garlic, curry, and cumin. Sauté for about 5 minutes. Meanwhile, in a food processor, grind up cashews.
Slowly add oil

until it is a thick paste. Transfer nut paste into a bowl. Add mushroom mixture to food processor and purée. Transfer the mushroom mixture into the same bowl as nut mixture and fold them together. Season with pepper.

Cover pate with plastic wrap and refrigerate for at least 1 hour to allow flavors to meld. As guests arrive, serve pate with cucumber canapés.
Notes
The nutritional value of this recipe is based on the Keto version and is approximate.  One serving contains 12.3 net carbs.
(Note: The nutritional information provided is a courtesy and is approximate only.  We cannot guarantee the nutritional accuracy of any recipe on this site.  We cannot know what brands you use or how accurately you follow the recipe or what you like to add creatively to the dish. Use the information as a general guideline only.)
The recipe baking temperature and time is an estimate.  Follow your own oven's temperature and cooking time. It takes a gas oven 10-15 minutes to reach the desired temperature. Electric ovens can take 10 minutes longer than that.  The age of your oven will also determine the temperature, time for roasting or baking, and where you want to place your dish in the oven.  The bottom of your oven may be hotter than the top, depending on its condition.  This also includes where to set your dish under the broiler.  So use your own best judgment based on the type, condition, and age of your oven.  Prep times will also vary depending on how slow or quickly you like to work. 
Prep Time:

15

Cook Time:

3

Category:

KETO LAZY

Method:

SAUTE

Cuisine:

BRUNCH, LUNCH, DINNER
Nutrition
Serving Size:

1

Calories:

209

Sugar:

2.9

Sodium:

138

Fat:

16.2

Saturated Fat:

2.6

Carbohydrates:

14.7

Fiber:

2.4

Protein:

4.6
Keywords: keto, keto pate, keto pate recipe, keto mushroom pate, keto cashew and mushroom pate, keto-recipes, ketogenic-diet, ketogenic-recipes, low-carb, low-carb-recipes, lazy-keto, sugar-free, sugar-free-recipes, keto-and-wine, paleo, paleo-diet, paleo-recipes, lazy-paleo, , paleo-and-wine, primal-diet, primal-diet-recipes, caveman-diet, caveman-diet-recipes, gluten-free, gluten-free-recipes, gluten-free-with-wine, grain-free, grain-free-diet, grain-free-recipes, grain-free-recipes-with-wine, anti-inflammatory-diet, anti-inflammatory-recipes, dairy-free-diet, dairy-free-recipes, dairy-free-recipes-with-wine,
FREE e-cookbook called OODLES OF LOW CARB NOODLES
Join our family to get your FREE e-cookbook OODKES OF LOW CARB NOODLES + new recipes in your inbox.
Latest posts by Shari MAC
(see all)