KETO LAZY CHICKEN PAD THAI
As an Amazon Associate I earn from qualifying purchases.
I'm in love with this Keto Lazy Chicken Pad Thai!
It is so exciting to transform some of my favorite dishes into KETO LAZY version!
While I lived in Toronto for most of my life and was exposed to foods from around the world, I actually didn't taste Pad Thai for the first time until age 34.   This was at a hip-cool downtown Toronto joint with a fabulous menu.  I tried Pad Thai for the first time and loved it.   When I started to follow a Keto path, Pad Thai was one of the foods I thought I had to give up in order to be faithful to my health and culinary commitment. 
Pad Thai, also called "Phad Thai, is a stir-fried rice noodle dish.  Because the noodles are made from rice, it is typically gluten-free, but not grain-free.  Known as street food in Thailand, Pad Thai is typically made with rice noodles, spuds, chicken, beef or tofu, peanuts, a scrambled egg, and bean sprouts, among other vegetables.   
This recipe uses coconut aminos instead of soy sauce as it is soy-free, gluten-free, and far lower in sodium.  Coconut aminos is made from coconut tree sap, which comes right out of the tree.  It is loaded with nutrients, such as 17 amino acids, potassium, vitamin C and vitamin B. It's also a low glycemic condiment.   
WHAT IS THE NUTRITIONAL VALUE OF KETO LAZY PAD THAI?
Keto Lazy Pad Thai has lot of nutritious ingredients including mung bean sprouts.  Mung bean sprouts are ideal for the Keto diet or low-carb lifestyle. Mung bean sprouts are a highly nutritious Keto food that are packed with essential vitamins and minerals. They are a rich source of protein, fiber, and antioxidants, and are low in calories, making them an excellent addition to any healthy diet. In terms of specific nutrients, mung bean sprouts are high in vitamin C, iron, and potassium. They also contain significant amounts of vitamin K, folate, and vitamin E. Additionally, mung bean sprouts are a good source of essential amino acids, which are the building blocks of protein. Consuming mung bean sprouts regularly can offer a range of health benefits, including improved digestion, lower blood pressure, and reduced inflammation. They are also believed to help boost the immune system and promote healthy skin and hair. Overall, mung bean sprouts are a healthy and nutritious food that can be enjoyed in a variety of dishes, from salads and sandwiches to stir-fries and soups.
WHAT IS THE TASTE PROFILE OF KETO LAZY CHICKEN PAD THAI?
This Keto Lazy Chicken Pad Thai dish sings with perfect balance, celebrating all 5 taste and flavor sensations, including our chemo-sensory perception.  The sauce is spicy (red chilies), tangy (lime juice), salty and high in umami (Coconut Aminos), and sweet (marmalade).  The grain-free noodles in this dish also offer lovely texture or chemo-sensory perception.  They are dense and chewy and fulfilling.
WHAT WINE PARTNERS WELL WITH KETO LAZY CHICKEN PAD THAI?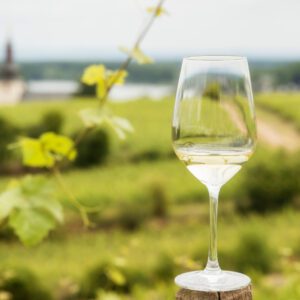 While this Keto Lazy Chicken Pad Thai is balanced in its taste sensations, the most predominant one that must be considered is sweetness if you are sipping wine.  That's because any sweetness in a dish will clash even with the most lovely acidity, turning it into paint thinner.  The acidity becomes offensive.  So it's important with this dish that you choose a wine partner with a hint of sweetness to match.  And make sure the wine is sweeter than the sweetness in this dish or the acid will change in flavor. 
In following a Keto diet or in living a low-carb lifestyle, we don't want to use up carbs on a glass of wine with carbs.  Why add the carbs when you can find wines with zero carbs!  So, you have a couple of options:
Drink whatever wine you like (as long as it's bone dry) and don't worry about pairing the wine to dish. Enjoy your wine the way you like it. 
If you like to create harmony between the wine and the food, you'll need some sweetness in the wine to offset the heat and spice.  Add a pinch of stevia or monk fruit to your glass of white wine.  Choose whites like Riesling or Gewurztraminer or a pink rose. These varieties taste great when bone dry or sweet.  So they will take well to the added sweetener.  The wine's sweetness will nicely offset the heat and spice. 
*Wine Tips: To support your Keto diet or low-carb lifestyle, choose low-carb, low-sugar, and low-alcohol wines that are free of additives and artificial coloring.  Include your wine carb macros as part of your meal.  Remember, your liver will process alcohol before nutrients, pausing ketone creation and slowing the ketosis process. Your body will also metabolize alcohol as fuel before using food. This can slow fat burning and may cause your body to store carbs, fat, and protein as excess body fat.  Alcohol consumption also stimulates the appetite.  So, drink low-sugar, low-carb, and low alcohol wines in moderation.
WHAT ARE OTHER KETO LAZY RECIPES CAN I ENJOY?
Keto Lazy Sunflower Seed Risotto
WHAT IS SHARI MAC'S PRODUCT RECOMMENDATION FOR YOUR KETO LOW-CARB DIET?
OMG, the Ninja NC301 CREAMi Ice Cream Maker is the BEST appliance I've bought for myself to support my Keto diet. I stand behind this product 100%. I eat healthy high protein, sugar-free ice cream every night. I experiment with different ingredient combinations all the time. I purchased 5 additional containers so that I can make a week's worth of ice cream at one time. I've made ice cream with cottage cheese and almond milk with protein powder; tofu with almond milk and protein powder; fat-free plain yogurt with almond milk and sugar-free jello and more! The machine shaves frozen pints perfectly with its one-touch programs.. You can prepare ice cream, sorbet, gelato, milkshake, smoothie bowl, lite ice cream and more.  Prep your base, freeze overnight, process, and enjoy!
Sometimes it takes more than one spin to get your desired texture. Select the re-spin function if, after processing, you want your processed treat softer and creamier. This unit is ONLY compatible with the Ninja CREAMi NC299 and NC300 pint accessories. It will NOT fit the NC100, NC200 or NC500 Series pints.
With the Ninja Creami you can enjoy healthy treats that taste just as good as regular ice cream loaded in bad saturated fat, sugar, and preservatives.
HOW TO I MAKE KETO NOODLES FOR MY KETO LAZY PAD THAI?
Print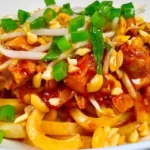 KETO LAZY CHICKEN PAD THAI
---
Description
Keto Lazy Chicken Pad Thai is a super tasty and filling dish.  The recipe uses chicken, low-carb noodles, garlic, lime juice, coconut aminos, onions, and cashews.  If you are hunting for a Thai pasta dish paired with wine, check out this recipe!
---
Noodles:
2 1/2 to 3 cups almond flour
3 teaspoons xanthan gum
1/4 cup flaxseed meal
4 large eggs
1 teaspoon olive oil (for water)
Sauce:
2 garlic cloves, crushed
2 small red chilies, thinly sliced
1 tablespoon Swerve Brown Sugar
Juice from one lime
2 tablespoon Coconut Aminos
3 tablespoons water
1 tablespoon avocado oil
4 skinless chicken thighs, cut into 1-inch cubes (preferably free-range)
2 egg, lightly beaten with a drop of water
4 scallions chopped
1 cup bean sprouts (optional for garnish)
1/2 cup chopped roasted cashews, chopped
4 lime wedges (optional for garnish)
---
Instructions
These Keto pasta or noodles are very dense and filling. Make the dough in a bowl and by hand or in a food processor or mixer. (Mixer is easiest.) Place all ingredients in the bowl.  Mix well. If making by hand pull the dough together with your hands. Start with 2 ½ cup of almond flour.  Add more if needed.  Dough should be firm. Transfer to a clean bowl.  Cover and refrigerate for 24 hours.
When ready to use, cut the dough in half.  Cover half of the dough ball with a wet cloth.  Transfer the other half to a large piece of parchment paper.  Flatten the ball on the parchment. Using the flat side of a long knife or pastry cutter, shape the ball into a 4" X 4" square. Top the square with another sheet of parchment paper. Using a rolling pin, and roll out a square about 8" X 8". Lift the top parchment paper. Using a long knife or pizza cutter, cut the dough into 1/8th-inch noodles.
When ready to dine, boil the water.  Add olive oil to water.  Add the noodles.  Boil the noodles for 3 minutes. Drain the noodles in a colander and run cool water over them to prevent sticking.
To make the sauce, in a sauté pan over medium heat, heat oil. Add the garlic and chili, and cook, stirring, for 1 minute or until fragrant.  Add sweetener, lime juice, Coconut Aminos, and water, and cook, stirring, until sweetener dissolves. Bring to a simmer and cook for 2-3 minutes or until reduced slightly. Remove from heat.  Transfer to a small bowl and set aside.  Wipe sauté pan clean and add oil. Add chicken and cook, stirring occasionally, for 5-6 minutes or until golden and cooked through.  Add egg and scramble. Add chives and pad Thai sauce to skillet with chicken.  Mix well.  Turn off heat and add noodles. Gently toss (so as to not break noodles) until well coated and heated through. Divide noodles between bowls.  Garnish each with bean sprouts, roasted peanuts, and lime wedges.
Notes
You can add any protein to this dish like salmon, ground pork or turkey or beef.  The nutritional value of this dish is based on the keto version and is approximate.  The net carbs per serving is 13.7.
(Note: The nutritional information provided is a courtesy and is approximate only.  We cannot guarantee the nutritional accuracy of any recipe on this site.  We cannot know what brands you use or how accurately you follow the recipe or what you like to add creatively to the dish. Use the information as a general guideline only.)

 
Prep Time:

20

Cook Time:

3

Category:

KETO LAZY

Method:

BOIL

Cuisine:

DINNER
Nutrition
Serving Size:

1

Calories:

658

Sugar:

1.4

Sodium:

994

Fat:

45

Saturated Fat:

7.7

Carbohydrates:

46.8

Fiber:

33.1

Protein:

41.1

Cholesterol:

229
Keywords: keto, keto Pad Thai, keto Pad Thai recipe, Lazy Keto Pad Thai recipe, keto-recipes, ketogenic-diet, ketogenic-recipes, low-carb, low-carb-recipes, lazy-keto, sugar-free, sugar-free-recipes, keto-and-wine, paleo, paleo-diet, paleo-recipes, lazy-paleo, , paleo-and-wine, primal-diet, primal-diet-recipes, caveman-diet, caveman-diet-recipes, gluten-free, gluten-free-recipes, gluten-free-with-wine, grain-free, grain-free-diet, grain-free-recipes, grain-free-recipes-with-wine, anti-inflammatory-diet, anti-inflammatory-recipes, dairy-free-diet, dairy-free-recipes, dairy-free-recipes-with-wine,
FREE e-cookbook called OODLES OF LOW CARB NOODLES
Join our family to get your FREE e-cookbook OODKES OF LOW CARB NOODLES + new recipes in your inbox.
Latest posts by Shari MAC
(see all)