KETO LAZY APPLE BUTTER RIBS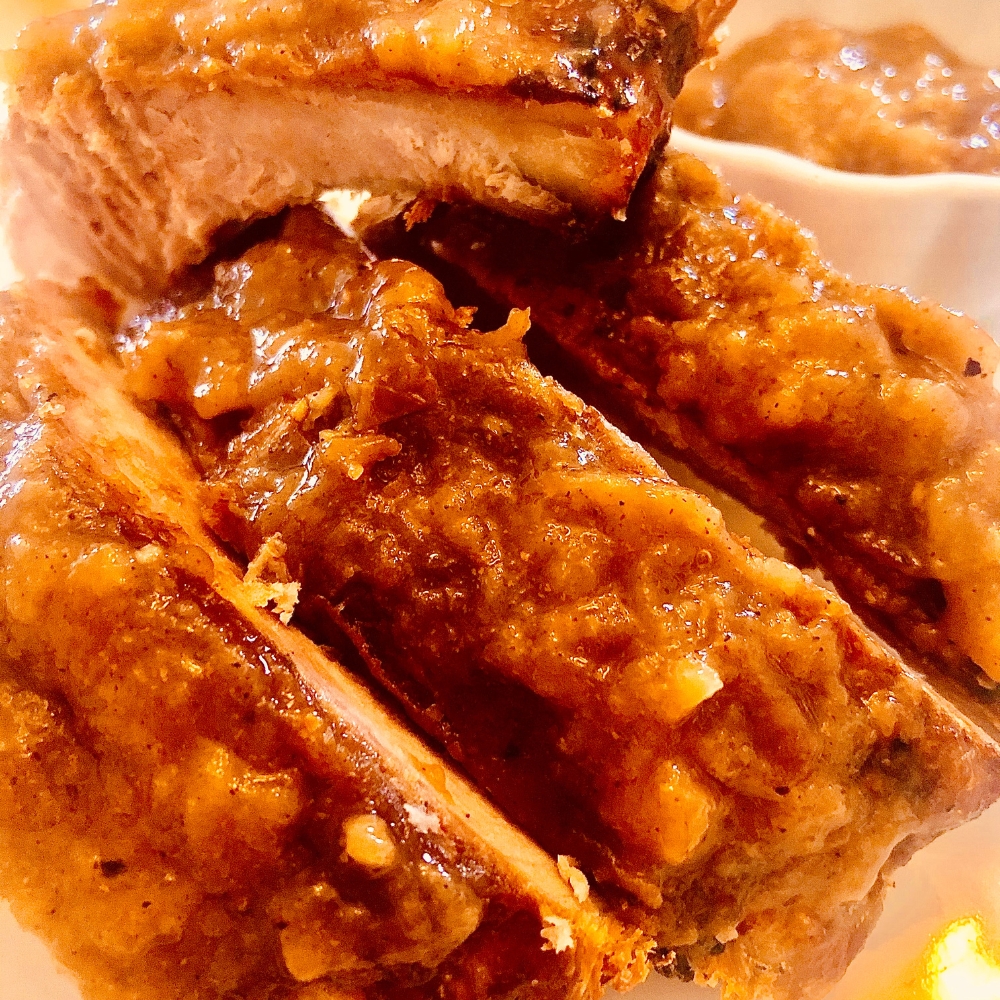 On the occasion I enjoy Keto Lazy Apple Butter Ribs.  Pork ribs are one of my all-time favorite comfort foods.  I absolutely LOVE ribs!  For this reason, I'm always hunting for different, interesting, or even classic dry rub and sauce recipes to switch it up for Shawn and me.  While day-tripping to nowhere, but everywhere, Shawn and I found this little smoked rib joint not far from our home.   I broke away from my strict Keto lifestyle, and enjoyed the apple butter ribs.  They are Keto Lazy — over 10 net carbs per meal, but under 20 net carbs. Classic apple butter is loaded with sugar – besides the natural sugar from the apples.
WHAT IS THE NUTRITIONAL VALUE OF KETO LAZY APPLE BUTTER RIBS?
Do we get any nutritional value from Keto Lazy Apple Butter Ribs? Pork contains both saturated and mono-saturated fat in almost equal amounts.  Pork ribs tend to be fattier unless you remove most of the fat around each rib.  In general, pork possesses 9 essential nutrients — potassium, riboflavin and zinc, vitamin B6, thiamin, phosphorus, niacin, and protein.
WHAT IS THE TASTE PROFILE OF KETO LAZY APPLE BUTTER RIBS?
The predominant taste sensation in the Keto Lazy Apple Butter Ribs is the sweetness (from the sweetener, depending on what you use) in the apple butter.  The apple butter is also spicy from the cloves.
WHAT WINE HARMONIZES WITH KETO LAZY APPLE BUTTER RIBS?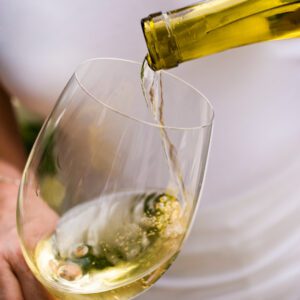 Let's talk wine with Keto Lazy Apple Butter Ribs. With the predominant taste sensation being sweetness from the apple butter, you'll need to pair these delicious ribs with a crisp, white wine with excellent acidity and sweetness to match.  Remember if the dish is sweeter than the wine, the wine will taste like paint thinner. 
In following a Keto diet or in living a low-carb lifestyle, we don't want to use up carbs on a glass of sweet wine, especially when we can enjoy zero carb wine!  So you have a couple of options.  Drink whatever you like and don't worry about pairing the wine to the apple butter sweetness.  And by the way, the sweetness is subtle as the savory ribs also take center stage.  But there is still sweetness to consider. 
If you like to create harmony between the wine and the food, you'll need some sweetness in the wine.  Add a pinch of stevia or monk fruit to your glass of white wine.  Choose a fruity white with this added sweetness to pair with the apple butter sweetness. 
*Wine Tips: To support your Keto diet or low-carb lifestyle, choose low-carb, low-sugar, and low-alcohol wines that are free of additives and artificial coloring.  Include your wine carb macros as part of your meal.  Remember, your liver will process alcohol before nutrients, pausing ketone creation and slowing the ketosis process. Your body will also metabolize alcohol as fuel before using food. This can slow fat burning and may cause your body to store carbs, fat, and protein as excess body fat.  Alcohol consumption also stimulates the appetite.  So, drink low-sugar, low-carb, and low alcohol wines in moderation.
WHAT OTHER KETO LAZY RECIPES CAN YOU PREPARE?
Keto Lazy Sunflower Seed Risotto
WHAT IS SHARI MAC'S PRODUCT RECOMMENDATION FOR YOUR KETO LOW-CARB DIET?
I wanted to share with you the BEST thing you can do for yourself to support your Keto Low-Carb diet.  Invest in a Vitamix Blender!  I stand behind this product 100%.  This Vitamix is a long-term investment worth every dollar! I use this Vitamix for almost daily all of my Keto diet needs – smoothies, ice cream blends, hot soups (made right in the Vitamix), sauces, and more!  Every other blender I purchased before my Vitamix failed within a couple of years.  This blender is a work horse. My best-friend has had her Vitamix for over 20 years with NO issues!  I just got my Vitamix this past year and LOVE IT!
HOW DO YOU PREPARE KETO LAZY ROASTED APPLE BUTTER RIBS?
Remove ribs from oven. Spread apple butter evenly over ribs and set back in the oven.
When ribs are done, remove from oven. Let cool on the rack. Cut into individual ribs and serve warm with a side of apple butter.
Print
KETO LAZY APPLE BUTTER RIBS
---
Description
These Keto Lazy Apple Butter Ribs are downright delicious!  Ribs are ribs!  But when you add that Keto Low-Carb Apple Butter it all changes.  Coat the ribs in the dry rub first.  The dry rub includes paprika, garlic powder, onion powder, ground black pepper, cumin, and dry mustard.  Roast those babies to tenderness.  Just before serving coat the ribs in the apple butter and let the butter caramelize.  The apple butter recipe uses apples, Swerve brown sugar, cinnamon, nutmeg, cloves, and salt.   If you are hunting for a delicious pork ribs smothered in Fall flavours, check out this recipe!
---
Seasoning:
2 teaspoons himalayan salt
2 teaspoons black pepper
2 teaspoons smoked paprika
1 teaspoon garlic powder
1 teaspoon onion powder
1 teaspoon ground mustard
1/2 teaspoon cinnamon
1/2 teaspoon celery salt
1/4 teaspoon cayenne pepper
Ribs:
2 slabs baby back ribs, membrane removed.
1 cup apple butter*
For the Keto Low-Carb Apple Butter recipe click this link:
https://ketopaleosharimac.com/keto-lazy-apple-butter-ribs/
---
Instructions
Mix all ingredients in a bowl. Use a fork to crush any clumps of seasoning. Store in an airtight container for up to a month.
Preheat oven to 300 F.  Place ribs over an oven-safe cooling rack that is placed on top of a pan or cookie sheet sprayed with non-stick spray to make clean up easier. Generously sprinkle seasoning over ribs.  Bake at 300 degrees for 1 1/2 hours.  Cover ribs with foil and return to the oven for 1 hour.  Remove from the oven. Brush apple butter over ribs.  Continue baking an additional 30 minutes until cooked through.  (A total baking time of 3 hours).   Allow ribs to rest uncovered for 10 minutes before slicing and serving.  Serve with a side of apple butter.
Notes
The recipe is based on the Keto version and is approximate only.  One serving has 19.6 grams of net carbs.
(Note: The nutritional information provided is a courtesy and is approximate only.  We cannot guarantee the nutritional accuracy of any recipe on this site.  We cannot know what brands you use or how accurately you follow the recipe or what you like to add creatively to the dish. Use the information as a general guideline only.)
Prep Time:

10

Cook Time:

3 HOURS

Category:

KETO LAZY

Method:

ROASTING

Cuisine:

DINNER
Nutrition
Serving Size:

1 Pound

Calories:

853

Sugar:

17.6

Sodium:

177

Fat:

67.5

Saturated Fat:

27.2

Carbohydrates:

23.6

Fiber:

4

Protein:

51.4

Cholesterol:

193
Keywords: keto ribs, keto ribs recipe, keto apple butter ribs, keto, keto-recipes, ketogenic-diet, ketogenic-recipes, low-carb, low-carb-recipes, lazy-keto, sugar-free, sugar-free-recipes, keto-and-wine, gluten-free, gluten-free-recipes, gluten-free-with-wine, grain-free, grain-free-diet, grain-free-recipes, grain-free-recipes-with-wine, anti-inflammatory-diet, anti-inflammatory-recipes,
FREE e-cookbook called OODLES OF LOW CARB NOODLES
Join our family to get your FREE e-cookbook OODKES OF LOW CARB NOODLES + new recipes in your inbox.
Latest posts by Shari MAC
(see all)