KETO LAZY FRESH PASTA SALMON
As an Amazon Associate I earn from qualifying purchases.
You need to try Keto Lazy Fresh Pasta Salmon is a big part of my Keto lifestyle.  I eat it at least once every 2 weeks.  It's such a delicious Keto protein to enjoy.
WHAT ARE THE DIFFERENT KINDS OF SALMON?
Five types of salmon are enjoyed in our culinary repertoire: 
Chinook (also known as King salmon) is native to New Zealand and is considered the best-tasting variety.  They have a high-fat content, rich flesh with a silky texture.  King is considered the most expensive salmon variety.   
Coho salmon (Oncorhynchus kisutch) are sometimes called silver salmon or "silvers" due to their silver skin.  Their flesh is bright red.  They possess a delicate flavour and soft texture.  While King salmon offers more Omega-3 per gram, Coho is considered one of the best-tasting.
Pink salmon (Oncorhynchus gorbusha) are the most common Pacific salmon. There are sometimes called humpies or humpback because of the hump they develop on their back when they spawn.  They have bright-colored, milky flavour, and delicate texture with low fat.  This is the variety normally used in canned versions.  However, this variety is also sold fresh, frozen, and smoked.   A 14.07 ounce can of pink salmon contains 12 grams of protein.
Sockeye (Oncorhynchus nerka) salmon possess bright red-orange flesh and offer deep rich flavor.  Known as "reds" for their dark flesh. 
Atlantic salmon is commercially farmed.  (It is important to note that salmon farming has dramatically improved toward sustainability.) This variety offers a milder flavour and medium-firm texture.  It also has a medium fat content.
Chum salmon (Oncorhynchus keta) is also called a dog due to its dog-like teeth.  It is pale to medium-colored and is drier in texture with lower fat content.  This variety is usually canned or sold frozen. 
HOW DO WE BUY SALMON?
How to you buy salmon for Keto Lazy Fresh Pasta Salmon? When buying salmon, make sure it is MSC certified.  This certification ensures the fish is wild, traceable, and sustainable. The bluefish label is only applied to wild fish or seafood from fisheries that have been certified to the MSC Fisheries Standard, a science-based set of requirements for sustainable fishing.
Salmon can be served in a variety of ways and in recipes, depending on how it is cooked.  This fatty fish can be pan-fried, baked, barbecued, broiled, poached, cooked in parchment, and cured.  
WHAT IS THE NUTRITIONAL VALUE OF KETO LAZY FRESH PASTA SALMON?
What's the nutritional value of Keto Lazy Fresh Pasta Salmon? Did you know that consuming two meals per week of fatty fish, such as salmon, can reduce your risk of fatal heart disease by 40%? A 3-ounce serving of salmon provides 1.9 grams of Omega-3 fatty acids.   Salmon is one of the best sources of the long-chain omega-3 fatty acids EPA and DHA.  It's also a great source of protein (3.5 ounces = 22 to 25 grams), vitamin B, potassium, and selenium.  Salmon contains the antioxidant Astaxanthinhelp, which helps reduce high blood pressure, improves heart health, helps to prevent diabetes, and aids in decreasing the risk of brain damage due to a stroke. 
WHAT IS THE TASTE PROFILE OF KETO LAZY FRESH PASTA SALMON?
What is the predominant taste sensation of Keto Lazy Fresh Pasta Salmon? The predominant sensation of this dish is chemo-sensory (texture) due to the fattiness due to the salmon and coconut cream.  The noodles are also dense and chewy adding to the full weight of this dish.
WHAT WINE HARMONIZES WITH KETO LAZY FRESH PASTA SALMON?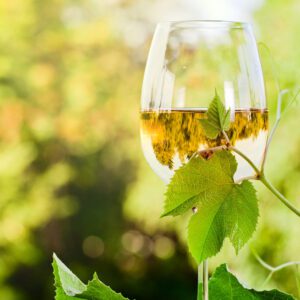 What wine harmonizes with Keto Lazy Fresh Pasta Salmon? The predominant sensation of this dish is fattiness due to the fattiness of salmon and coconut cream.  Therefore, this dish demands a full-bodied white wine to math.  Think buttery Chardonnay.
*Wine Tips: To support your Keto diet or low-carb lifestyle, choose low-carb, low-sugar, and low-alcohol wines that are free of additives and artificial coloring.  Include your wine carb macros as part of your meal.  Remember, your liver will process alcohol before nutrients, pausing ketone creation and slowing the ketosis process. Your body will also metabolize alcohol as fuel before using food. This can slow fat burning and may cause your body to store carbs, fat, and protein as excess body fat.  Alcohol consumption also stimulates the appetite.  So, drink low-sugar, low-carb, and low alcohol wines in moderation.
WHAT OTHER KETO LOW-CARB RECIPES CAN I ENJOY?
Keto Lazy Sunflower Seed Risotto
Keto Low-Carb Tuna Cheddar Pasta Casserole
Keto Low-Carb Zoodle Caprese Salad
WHAT IS SHARI MAC'S PRODUCT RECOMMENDATION FOR YOUR KETO LOW-CARB DIET?
I'm a huge fan of the Ninja products. In the past, I've gone through a counter-top convection oven every couple of years. This Ninja 1800-watt oven is a work horse! It is a must for me to support my Keto diet. Since buying this Ninja I have not turned on my oven in months! Amazing in the summer! No heat in the kitchen from the traditional oven. I use the air-fryer for all our proteins every day. All my air-fried favorites have less bad saturated fat and therefore fewer calories. I cut chicken breasts in half, horizontally, and air-fry them for 20 minutes. You can set the temperature and timer for all sorts of foods and walk away from the kitchen. The machine will shut off automatically at the right time. My proteins are crispy on the outside and super juicy
 WHAT ARE THE BENEFITS OF FRESH FENNEL?
HOW DO YOU PREPARE KETO NOODLES?
Print
KETO LAZY FRESH PASTA SALMON
---
Description
Keto Lazy pasta salmon dish was inspired by a Martha Stewart recipe. The dish is yummy in every season for lunch, brunch, or dinner. The recipe uses low-carb pasta, salmon, fennel, cream, olive oil, lemon juice. If you are hunting for a rich but easy-to-make Keto Low-Carb pasta and salmon recipe paired with wine, check out this recipe!
---
Noodles:
2 1/2 to 3 cups almond flour
3 teaspoons xanthan gum
1/4 cup flaxseed meal
4 eggs
1 teaspoon olive oil
Ingredients:
1 tablespoon fennel seeds
1/4 cup minced fresh Italian flat-leaf parsley
1/2 teaspoon freshly ground black pepper to taste
1 (1 pound) salmon fillet (variety of your choice) with skin, about 1 inch thick
1 teaspoon olive oil
1 1/2 cups baby spinach, trimmed and washed
1/2 cup whipping cream
2 to 3 tablespoons fresh lemon juice
---
Instructions
*Purchase whole coconut milk in the can.  The cream rises to the top of the can leaving the coconut water below.  Scoop out the coconut cream.
These Keto Low-Carb pasta or noodles are very dense and filling. Make the dough in a bowl and by hand or in a food processor or mixer. (Mixer is easiest.) Place all ingredients in the bowl.  Mix well. If making by hand pull the dough together with your hands. Start with 2 ½ cup of almond flour.  Add more if needed.  Dough should be firm. Transfer to a clean bowl.  Cover and refrigerate for 24 hours.
When ready to use, cut the dough in half.  Cover half of the dough ball with a wet cloth.  Transfer the other half to a large piece of parchment paper.  Flatten the ball on the parchment. Using the flat side of a long knife or pastry cutter, shape the ball into a 4" X 4" square. Top the square with another sheet of parchment paper. Using a rolling pin, and roll out a square about 8" X 8". Lift the top parchment paper. Using a long knife or pizza cutter, cut the dough into 1/8th-inch noodles.
When ready to dine, boil the water.

 

Add olive oil to water.

 

Add the noodles.

 

Boil the noodles for 3 minutes. Drain the noodles in a colander and run cool water over them to prevent sticking. Set aside.

Heat the broiler. Put fennel seeds in a small, self-sealing plastic bag, and crush them with a rolling pin. Add parsley, salt, and pepper to the plastic bag. Shake to mix together.
Press the mixture onto the skinless side of the salmon. Broil salmon, skin side down, until it is no longer red in the center, about 8 to 10 minutes.
To prepare, in a large dish fold together noodles and fresh spinach. Set aside.  In another bowl mix together cream and lemon juice.  Pour cream mixture into bowl with noodle/spinach mixture. Gently toss (to not break noodles) until well coated. Divide noodles between plates, top each with a piece of salmon.
Notes
The nutritional values are based on the keto version of this recipe and are approximate.  The net carbs per serving are 13.1.

(Note: The nutritional information provided is a courtesy and is approximate only.  We cannot guarantee the nutritional accuracy of any recipe on this site.  We cannot know what brands you use or how accurately you follow the recipe or what you like to add creatively to the dish. Use the information as a general guideline only.)
Prep Time:

15

Cook Time:

15

Category:

KETO LAZY

Method:

BAKING AND BOILING

Cuisine:

DINNER
Nutrition
Serving Size:

1

Calories:

696

Sugar:

2.7

Sodium:

237

Fat:

46.8

Saturated Fat:

7.7

Carbohydrates:

48.9

Fiber:

35.8

Protein:

40.7

Cholesterol:

230
Keywords: keto, keto pasta, keto pasta recipe, keto noodles, keto-recipes, ketogenic-diet, ketogenic-recipes, low-carb, low-carb-recipes, lazy-keto, sugar-free, sugar-free-recipes, keto-and-wine, paleo, paleo-diet, paleo-recipes, lazy-paleo, , paleo-and-wine, primal-diet, primal-diet-recipes, caveman-diet, caveman-diet-recipes, gluten-free, gluten-free-recipes, gluten-free-with-wine, grain-free, grain-free-diet, grain-free-recipes, grain-free-recipes-with-wine, anti-inflammatory-diet, anti-inflammatory-recipes, dairy-free-diet, dairy-free-recipes, dairy-free-recipes-with-wine,
FREE e-cookbook called OODLES OF LOW CARB NOODLES
Join our family to get your FREE e-cookbook OODKES OF LOW CARB NOODLES + new recipes in your inbox.
Latest posts by Shari MAC
(see all)