7 BEST APPLE CIDER VINEGARS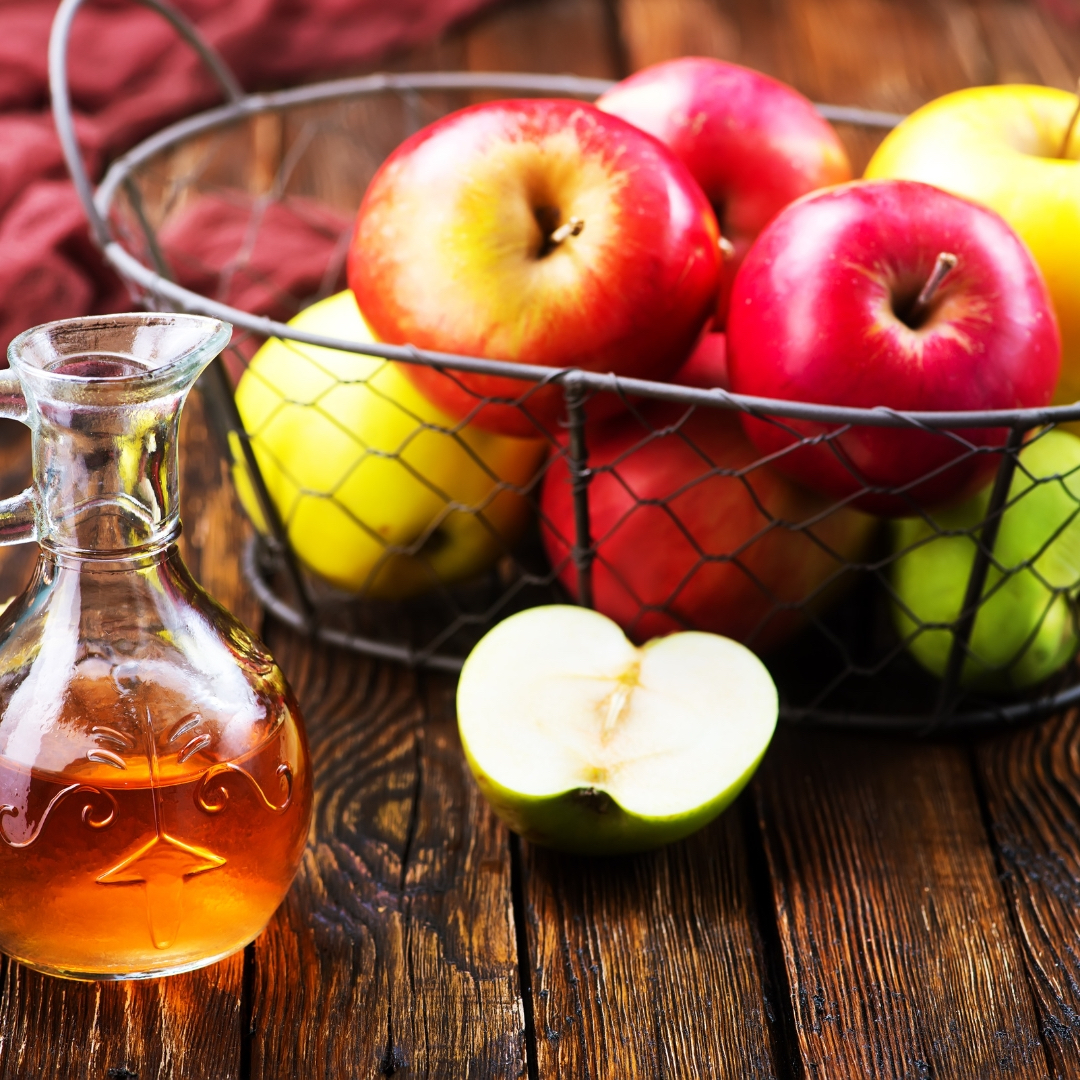 Viola!  Here are the 7 Best Apple Cider Vinegars to consider.  ACV is a staple in our house.  I use it in salad dressings, BBQ sauces, muffins, bread, and more. My husband Shawn and I both take a tablespoon of the vinegar in a glass of water every morning.  I also add it to my afternoon tea while I finish working and get ready to start my workout.  This healthy elixer has been used for centuries and continues to be a natural remedy for health. Discover this healthy product in more detail in my Ultimate Guide. Here is the link:
Some of the ACV benefits for health include:
Natural probiotic to improve immune system and gut health
Antioxidants to prevent damage to your body's cells
Aids in digestion
Reduces and/or eliminates bloat
Believed to calm GURD and acid reflex
Regulates blood sugar levels
Helping to kill bacteria and viruses
Detoxifies the body
Supporting weight-loss
HOW IS ACV MADE?
Apple Cider Vinegar comes from fresh apples of various varieties.  The apples are crushed and then twice fermented.  The first fermentation turns the juice into hard cider.  Hard cider means alcoholic.  The cider then undergoes fermentation with an acetobacter 'Mother.' This process transforms the hard cider into vinegar. Not all vinegars are created equally. Some are organic, raw, and/or unpasteurized.  Others are highly processed.
HOW MUCH ACV SHOULD I TAKE PER DAY?
If you are new to using apple cider vinegar as a supplement, start slowly.  Add a half teaspoon into a glass of 8 to 16 ounces.  Try this for a few days to see if the elixir feels good and does not upset your stomach.  After a week increase the amount to 1 teaspoon in 8 to 16 ounces of water.  At your own pace based on how you feel, eventually increase the amount to 1 tablespoon in 16 ounces of water.  You do not need to increase the dosage from 1 tablespoon per day.  More is not better.  Daily amounts of larger quantities may cause health issues, such as kidney damage, low potassium levels and/or leading to osteoporosis.  Always dilute the apple cider vinegar in water to avoid damaging the enamel on your teeth.
WHY BUY ORGANIC ACV?
Organic apples are grown without the use of synthetic pesticides, fertilizers, or other harmful chemicals. The apples are free from potentially harmful residues that can be found on the skins of conventionally grown apples.
WHAT IS FILTERED VERSUS UNFILTERED ACV?
The Uunfiltered and filtered vinegars differ in a variety of ways, such as in their appearance, taste, and nutritional content.
Unfiltered apple cider vinegar is also referred to as 'raw.'  The product contains a cloudy residue known as "the mother," composed of enzymes, proteins, and friendly bacteria. Unfiltered apple cider vinegar has a strong, pungent taste and cloudiness in the bottle.
The filtered version undergoes a filtration process that removes the mother and sediment. This makes the resulting product a clear, amber-colored with a milder taste.
WHAT ARE THE 7 BEST APPLE CIDER VINEGARS?
Here is a breakdown of what I believe are the best apple cider vinegars for various uses.  Prices may change:
Best overall: Bragg Organic Apple Cider Vinegar With the Mother– USDA Certified Organic – Raw, Unfiltered All Natural Ingredients, 16 ounce, 2 PackBragg
This organic vinegar makes the top of my list for its quality and reasonable price. Bragg's is organic, raw, unfiltered, and unpasteurized. The company is 100 years old. Paul Bragg, the original founder, opened the first health food store in the United States. In 1912 he started selling apple cider vinegar from his own apples.  This ACV offers a higher concentrations of acetic acid (5%, according to the brand) and "good" bacteria that may help support your gut microbiome.
Benefits:
Zero sugar, zero carbs, zero calories
USDA Organic Certified
Live
Unfiltered
Non GMO
Vegan, Kosher, Gluten-Free
No artificial colors, flavors, or preservatives
No high fructose corn syrup
Best For Cooking:

Dynamic Health Organic Raw Apple Cider Vinegar with Mother | Vegan, Gluten Free, Non-GMO, Unpasteurized | 128 FL OZ ($27.99)
This product offers the best value for cooking.  When adding this vinegar to recipes you don't need the product to be raw.  Pasteurization gives the product a longer shelf life, idea to keep for recipes.
Benefits:
Simply Organic: Organic and raw, unpasteurized, unfiltered 

Full of Goodness: Contains the Mother of vinegar consisting of protein, enzymes & friendly bacteria

Powerful Benefits: May provide health benefits including healthy internal cleansing & much more

Zippy Taste: Adds delicious flair and a nutritional boost to salads, veggies, snacks and beverages

High Quality: Vegan, no gluten, non-GMO, Halal & Kosher, we ensure you get the very best
Best Nutrition: Wellbeing Nutrition USDA Organic Himalayan Apple Cider Vinegar (2X Mother) with Amla (Vitamin C for Immunity), Turmeric, Cinnamon & Black Pepper | Raw, Unfiltered, Unpasteurized – 500ml ($26.98)
When taking a tablespoon of this vinegar in water you might as well also enjoy other healthful benefits from tumeric, cinnamon and black pepper.
Benefits:
Boosts metabolism
Boosts immunity
Detoxifies body
Regulates PH levels
Prevents bloating, acid reflux
Best Flavored:

Country Farms Apple Cider Vinegar Tonic, 16 Fluid Ounce ($9.99)
Enjoy flavored apple cider vinegar to make the daily habit of a tablespoon in water enjoyable.
Benefits:
Added ginger, cayenne, maple

USDA Organic with ginger, cayenne and maple

Raw and unfiltered with benefits of the "Mother"

Supports healthy weight loss, digestive health, and water balance

16 oz
Best

Gummies:

Apple Cider Vinegar Gummies – 1000mg -Formulated to Support Weight Loss Efforts, Normal Energy Levels & Gut Health* – Supports Digestion, Detox & Cleansing* – ACV Gummies W/VIT B12, Beetroot ($12.99)
Great for people on the go, traveling a lot, or keeping in your desk at work.
Benefits:
Not a fan of drinking sour liquids or swallowing large capsules? Our Acv gummies taste good & go down easy. Each serving has 1000mg of ACV to help with digestive health, and support digestion & weight loss efforts.*

Helps Maintain Healthy Weight* – Taking these ACV gummies can help support your weight management efforts!*

Each serving (2 gummies) is made with 1000mg of ACV, which supports your overall health*.

Energy Support* – Formulated with Vitamin B-12 to support your normal energy levels.* A great addition to your routine, these ACV gummies will support your productivity & overall health.*

These statements have not been evaluated by the Food and Drug Administration. This product is not intended to diagnose, treat, cure or prevent any disease.
Best For Weight Loss:

Clean Nutraceuticals Ceylon Cinnamon 3000mg Turmeric 3000mg Apple Cider Vinegar 3000mg Ginseng 2000mg Berberine 1200mg Plus Bitter Melon Gymnema Milk Thistle Fenugreek ($29.99)
An ideal product that contains more than just apple cider.  Offers other beneficial ingredients to support weight loss.
Advanced Blood Sugar Support Supplements for Women and Men – Our Cinnamon Ceylon capsules and ACV Pill  include 16 types of ingredients such as Turmeric With Black Pepper, Panax Ginseng Capsules, Berberine With Ceylon Cinnamon, and more. Ceylon Cinnamon Supplement with Apple Cider Capsules have been combined. Clean Nutra has officially created the world's most inclusive 16 in 1 ceylon cinnamon pills and apple cider vinegar pills with the mother available.

The Ultimate Ceylon True Cinnamon and ACV Supplements You've Been Looking For – Clean Nutra's Gluco Defend provides 5 full-dose products in one, containing a full acv capsules with mother organic, cinnamon from ceylon, berberine complex, and korean red ginseng capsules in a convenient 2 capsule dosage! Stronger than ceylon cinnamon 2000mg, apple cider vinegar pills with the mother, turmeric gummies for adults, ginseng powder organic, and ceylon cinnamon capsules 1000mg.

Introducing the Gluco Defend Blend – In addition to Ceylon Cinnamon True, ACV With The Mother, berberine capsules and red panex ginseng pills, our formula also contains 11 additional powerhouse ingredients such as Bitter Melon, Milk Thistle, Gymnema Sylvestre, Ginger, Cayenne Pepper, and more! This is a powerful apple cider vinegar pills with the mother, cinnamon cyelon, and tumeric formula. These aren't typical apple cider vinegar tablets mother, cinnamon pills 2000 mg, panax ginseng 1000mg.

Powerful Blend Of Herbs & Minerals – Gluco Defend is overflowing with potent ACV Supplements, Ceylon Cinnamon, Tumeric Pills, Berberine and Chromium, and Korean Panax Ginseng. Clear out those countless supplements in your supplement cabinet, and replace it with just one cinnamon verum, acv, tumeric, berberine extract, and red korean ginseng 16-in-1 complex formula by Clean Nutraceuticals. Better alternative to cinnamon 1000mg, cinnamon 500 mg capsules, and ceylon organic cinnamon.

Vetted and Trusted Ingredients – We pride ourselves in offering quality ACV capsules, cinnamon essential oil capsules, turmeric pills and panax ginseng extract supplements for our customers. Our ceylon, apple cider vinegar, and turmeric cinnamon powder formulas are proudly made in the USA in a registered and certified facility to create trusted cinnamon supplements, ACV pills, and ginseng red panax. Better than berberine hcl 1000mg. No unneeded preservatives or fillers.
Best hair rinse:

dpHUE Apple Cider Vinegar Hair Rinse, 8.5 oz – Shampoo Alternative & Scalp Cleanser – Removes Buildup & Protects Natural Hair Oils ($37.00)
Apple cider vinegar contains acetic acid, which helps balance the pH of the scalp and detangle hair. Acetic acid is also beneficial for removing buildup on the hair from styling products and shampoos. Its antimicrobial properties help fight against bacteria and fungi that can cause dandruff and other scalp conditions.
Don't Over-Shampoo; Our rinse removes impurities without stripping the natural oils that are essential to the health of your scalp and hair; Shampoo less at home; Add ACV to your routine for a clean and soft head of hair

Help Soothe Your Scalp; This ACV can help control scalp dryness and irritation; ACV Hair Rinse also incorporates Lavender Extract and Aloe Vera for added softness and conditioning

Keep It Colorful; dpHUE Apple Cider Vinegar Hair Rinse Lite seals the hair's cuticle with color-locking technology so you can keep your gorgeous color fresh and vibrant; It's a color-safe breakthrough for all hair types

Shine On; Dull, brittle or frizzy hair can be a result of high acidity brought on by perspiration and environmental factors; Apple cider vinegar helps to maintain the scalp's pH, resulting in healthy, shiny hair

Stay Strong; ACV Hair Rinse is made with proteins that can triple the strength of your hair; Argan Oil is high in vitamin E and fatty acids to support your hair's strength and shine; Great for braids and extensions!
WHAT ARE RECIPES I CAN USE THAT INCORPORATES APPLE CIDER VINEGAR?
Keto Low-Carb Apple Butter Ribs
Healthy (Paleo) Wet-Bottom Apple Cake
Keto Lazy Zoodle Caprese Salad (Heart Healthy)
WHAT ARE SOME OTHER KETO GUIDES I CAN CHECK OUT?
KETO GUMMIES FOR WEIGHT-LOSS; THE ULTIMATE GUIDE
KETOGENIC DIET FOR BEGINNERS; ULTIMATE GUIDE
CASTOR OIL; THE ULTIMATE GUIDE
KETO GUMMIES FOR WEIGHT-LOSS; ULTIMATE GUIDE
APPLE CIDER VINEGAR FOR WEIGHT LOSS; ULTIMATE GUIDE
FREE e-cookbook called OODLES OF LOW CARB NOODLES
Join our family to get your FREE e-cookbook OODKES OF LOW CARB NOODLES + new recipes in your inbox.
Latest posts by Shari MAC
(see all)