HEALTHY (PALEO) WET-BOTTOM APPLE CAKE
As an Amazon Associate I earn from qualifying purchases.
My girlfriend Amy does not follow a Paleo path, but she decided to make my Healthy (Paleo) Wet-Bottom Apple Cake. Amy is athletic and eats well, but doesn't suffer from any wheat or grain-related ailments. She still wanted to try the recipe because while it's grain-free, it's also all-natural, non-GMO, and healthy to eat.
"I want to make something with apples," she said this morning on the phone.
So, I decided to make this Healthy (Paleo) Wet-Bottom Apple Cake with an almond flour-based recipe. You can put the crumble on the bottom of the cake instead of the top, turning it into a "Wet-Bottom Apple Cake with Butter Cream Icing. Raw honey is Paleo compliant and so you can include the vanilla cream.
WHAT IS THE NUTRITIONAL VALUE OF HEALTHY (PALEO) WET-BOTTOM APPLE CAKE?
Let's look at the nutritional value of this Healthy (Paleo) Wet-Bottom Apple Cake. While there is no scientific evidence to support the notion that eating an apple a day keeps the doctor away, the fruit is still nutritious. Apples are a low glycemic fruit, low in calories, and high in fiber and vitamin C. A low-glycemic diet can support you in controlling your weight by minimizing spikes in your blood sugar and insulin levels. A low glycemic diet is important for those who live with type 2 diabetes. Shawn and I do not have diabetes, but we choose to eat low glycemic fruits and vegetables more regularly.
WHAT IS THE TASTE PROFILE OF HEALTHY (PALEO) WET-BOTTOM APPLE CAKE?
The predominant taste sensation of this Healthy (Paleo) Wet-Bottom Apple Cake is sweetness due to the date paste, apples, and buttercream. The cake has a dense, spongy texture with crunchy bits from the toasted almonds.
WHAT WINE HARMONIZES WITH HEALTHY (PALEO) WET-BOTTOM APPLE CAKE?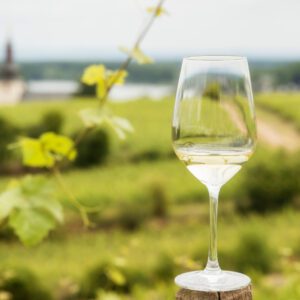 With the predominant taste sensation of this Healthy (Paleo) Wet-Bottom Apple Cake being sweetness, choose a late harvest wine as a match. Late Harvest Gewürztraminer or Late Harvest Riesling would work well. Riesling Icewine is also a good choice. If you want something tasty other than wine, go for a cider!
WHAT OTHER SWEET HEALTHY (PALEO) RECIPES CAN I ENJOY?
Healthy (Paleo) Moms Carrot Cake
Healthy (Paleo) Apple Bundt Cakes
WHAT IS SHARI MAC'S PRODUCT RECOMMENDATION FOR YOUR PALEO DIET?
I wanted to share with you the BEST thing you can do for yourself to support your diet. Invest in a Vitamix Blender! I stand behind this product 100%. This Vitamix is a long-term investment worth every dollar! I use this Vitamix for almost daily all of my diet needs – smoothies, ice cream blends, hot soups (made right in the Vitamix), sauces, and more! Every other blender I purchased before my Vitamix failed within a couple of years. This blender is a work horse. My best-friend has had her Vitamix for over 20 years with NO issues! I just got my Vitamix this past year and LOVE IT!
HOW DO YOU PREPARE HEALTHY (PALEO) WET-BOTTOM APPLE CAKE?
To prepare this Healthy (Paleo) Wet-Bottom Apple Cake, place all ingredients, except for the almonds in a bowl and mix together to make the crumble. Fold in almonds. Refrigerate until needed. For Paleo's directions, pour crumble into a cake pan sprayed with avocado nonstick cooking spray. Use wet fingers to smooth the edges. Place all cake ingredients, except for apples, in a mixer. Mix until a smooth batter forms. Fold in apples. Pour batter over crumble in cake pan. Bake at 350 F for about 40 minutes until done. Let cool. Add buttercream if going Paleo. Let cake cool.
Print
HEALTHY (PALEO) WET-BOTTOM APPLE CAKE
---
Description
This Healthy (Paleo) Apple Cake is simple to make, healthy, and delicious.  Can be served as a snack or as dessert. The recipe uses an almond-based flour dough with dates, almonds, apples and more.  It is dense and sweet with lovely apple and vanilla flavours. If you are hunting for simple apple-based dessert recipe paired with wine, check out this recipe!
---
Butter Cream (optional):
1 cup refined coconut oil, softened but solid
1/3 cup plus 1 tablespoon cup tapioca flour
1/4 cup raw honey 
1 teaspoon apple cider vinegar
1 ½ teaspoon vanilla extract
Pinch salt 
Cake:
First Ingredients:
1.5 cups almond flour (170 g)
1.5 cups tapioca flour (228 grams)
1 teaspoon sea salt (6 grams)
1 teaspoon Guar Gum (2 grams)
2 eggs
1 tablespoon gluten-free baking powder 
Almond Crumble (or Wet-Bottom):
½ cup of cake dough (crumbled in fingers)
½ cup plant-based butter or Ghee, melted
½ cup date paste*
1/4 teaspoon cinnamon
1 cup toasted chopped almonds** 
Cake: Second Cake Ingredients:
¼ cup plant-based butter or ghee
1 cup date paste
2 eggs
1 tsp vanilla extract
2 large apples, skin on, diced
Orange zest from one orange (optional for garnish) 
---
Instructions
**toast almonds in the oven in a dry fry pan until slightly golden.
To make the buttercream, in a bowl combine coconut oil and beat until fluffy.  Add honey and vinegar.  Beat slowly while adding tapioca, vanilla, and salt.  Beat until creamy.  Set in refrigerator until needed.
Preheat the oven to 350°F.  Spray a cake pan with avocado non-stick cooking spray.
To make crumble, in a mixer add the first cake ingredients of almond flour, tapioca flour, salt, guar gum, eggs, baking powder.  Mix well.  Take out a ½ cup of this first cake mixture and pour it into a large mixing bowl for the crumble.
To the ½ cup of first cake ingredients in the mixing bowl add the butter, date paste, cinnamon, and almonds.  Fold everything together well.  Pour the crumble mixture from the mixing bowl into the pan.  Using wet fingers press the crumble to cover the whole pan bottom.  Set aside.
To finish the cake mix, in the mixer bowl add the second cake ingredient of butter, date paste, eggs, vanilla extract.  Mix in electric mixer.  Remove bowl from mixer.  Fold in diced apple.  Pour batter into the cake pan over the crumble. 
Bake cake for 35 to 40 minutes, or until a cake tester or toothpick comes out clean.  Let cake cool in the pan for 10 minutes, then turn out onto the rack to cool completely.
When cooled, cover in buttercream.  Sprinkle with zest and refrigerate until ready to eat.
Notes
The recipe baking temperature and time is an estimate.  Follow your own oven's temperature and cooking time. It takes a gas oven 10-15 minutes to reach the desired temperature. Electric ovens can take 10 minutes longer than that.  The age of your oven will also determine the temperature, time for roasting or baking, and where you want to place your dish in the oven.  The bottom of your oven may be hotter than the top, depending on its condition.  This also includes where to set your dish under the broiler.  So use your own best judgment based on the type, condition, and age of your oven.  Prep times will also vary depending on how slow or quickly you like to work.
Prep Time:

30

Cook Time:

40

Category:

HEALTHY

Method:

BAKING

Cuisine:

DESSERT
Keywords: paleo, paleo cake, paleo apple cake, paleo apple cake recipe, paleo recipes, paleo dinner, Whole30,#Whole30 recipes, whole30 dinner, grain-free cake, grain-free dessert, gluten free, gluten free recipes, gluten free dinner, gluten free recipes for dinner, anti-inflammatory diet, anti-inflammatory recipes, grain free, grain free diet, grain free recipes, grain free dinner, paleo and wine, gluten free and wine, dairy free diet, dairy free recipes, dairy free dinner,
FREE e-cookbook called OODLES OF LOW CARB NOODLES
Join our family to get your FREE e-cookbook OODKES OF LOW CARB NOODLES + new recipes in your inbox.
Latest posts by Shari MAC
(see all)