HEALTHY (PALEO) APPLE BUNDT CAKES
As an Amazon Associate I earn from qualifying purchases.
Healthy (Paleo) Apple Bundt Cakes are yummy!  On this Paleo path, you can eat versions of almost anything, including desserts. I often hunt through the kitchen section at our local non-profit thrift shop in search of interesting, rare, or unusual plates, cooking utensils, or equipment super usually available at reasonable rates.  I like shopping for these gems to use in my Healthy (Paleo) blogs.  
While hunting there a few days ago I happen to find this mini bundt cake pan and decided to try my hand at making Paleo mini bundt cakes. I figured making these desserts might be possible since I had already made delicious banana bread from this same dough, as well.
A Bundt cake is a cake baked in a Bundt pan. The pan shapes the cake (or in this case cakes) into a distinctive doughnut shape. The shape is inspired by a traditional European cake known as Gugelhupf. There is no single recipe for Bundt cake. So my recipe is ideal for our Paleo lifestyle.
WHAT ARE THE NUTRITIONAL BENEFITS OF HEALTHY (PALEO) APPLE SAUCE?
My Healthy (Paleo) Bundt Cake recipe uses apple sauce.  Apple sauce is low in saturated fat, cholesterol, and sodium. It is also a decent source of fiber and vitamin C. Apple sauce is unlikely to spike blood sugar levels. The reason is that the DOH, primarily made with almond flour, helps to slow the digestion of the sugar in the apple sauce, jam, and coconut.
EAT ONE APPLE PER DAY AND SEE WHAT HAPPENS TO YOUR BODY:
WHAT IS THE TASTE PROFILE OF HEALTHY (PALEO) APPLE BUNDT CAKES?
What is the taste profile of  Healthy (Paleo) Bundt Cakes? I used unsweetened apple sauce to sweeten the mini cakes and to provide moisture. The cakes possess the texture of bread pudding, dense and chewy, and not too sweet. I love the caramelized apricot jam and dusted coconut icing sugar on top.
WHAT WINE HARMONIZES WITH HEALTHY (PALEO) APPLE BUNDT CAKES?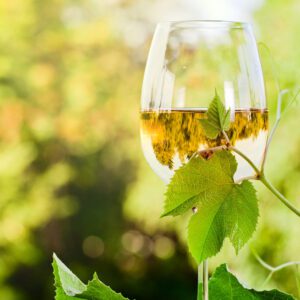 With the predominant taste sensation of these Healthy (Paleo) Bundt Cakes being sweetness, choose a wine with more sweetness than the dessert. Otherwise, the sweet dessert will make the wine taste offensively acidic. Wines that are sweeter include late harvest like Riesling or Gewürztraminer, Riesling or Vidal Icewine, Sauternes, and sweet Sherry. What's great about these little treasures is that they are not too sweet, allowing the wine to be sweeter.
WHAT OTHER HEALTHY (PALEO) RECIPES CAN I ENJOY?
Healthy (Paleo) Moms Carrot Cake
WHAT IS SHARI MAC'S PRODUCT RECOMMENDATION FOR YOUR PALEO DIET?
I cannot tell you how awesome this product is!  I use my Instant Pot all the time.  Beats a crock pot any day.  This particular one has 11 different settings to air fry, roast, bake, dehydrate, pressure cook, slow cook, rice cooker, yogurt maker, steamer, sauté pan, yogurt maker, sterilizer and food warmer.  Can you believe you can use this as an air fryer!  OMG!  Cook fast or slow.  I love making pulled pork in my Instant Pot.  It's so juicy and tender and falls apart at your finger tips.  I stand behind this product 100%.  Check it out.
HOW DO YOU PREPARE HEALTHY (PALEO) APPLE BUNDT CAKES?
Print
HEALTHY (PALEO) APPLE BUNDT CAKES
---
Description
Healthy (Paleo) Apple Bundt Cakes is a decadent dessert! The recipe uses fresh apple, no sugar added apricot jam, and an easy dough mix.  If you are hunting for a filling and satisfying Healthy (Paleo) dessert recipe paired with a dessert wine, check out this recipe!
---
Coconut Icing Sugar:
½ cup unsweetened shredded coconut 
Topping:
¾ cup no-sugar-added apricot jam 
Dough:
1.5 cups almond flour (170 g)
1.5 cups tapioca flour (228 grams)
1 teaspoon sea salt (6 grams)
1 teaspoon Guar Gum (2 grams)
2 eggs1
tablespoon gluten-free baking powder
2 cups unsweetened apple sauce
---
Instructions
Place shredded coconut in a Magic Bullet or coffee grinder.  Grind into a powdered dust.  Transfer to a bowl.  Set aside.

Preheat oven to 350F.  Transfer all dough ingredients to food processor or mixer. Mx until dough is goowy. Spray your bundt cake tin or mini bundt cake tin with avocado non-stick cooking spray.  Add 2 tablespoons of no sugar added apricot jam to each of the bundt cake cups.  (Or coat the bottom of a large bundt cake mold with ¾ cup of no sugar added jam.).
Next add about 3 heaping tablespoons of dough to each cavity. (Or transfer all the dough to the pan.). Transfer pan to oven.
Bake for 50 to 60 minutes, until a toothpick inserted into the center of the loaf, comes out clean. Place cooling rack over the tin. Turn over tin onto a cooling rack. Bunt cakes will drop onto the cooling rack.  Sprinkle each cake (or the whole cake) with coconut icing sugar. Serve warm or room temperature.
Notes
The recipe baking temperature and time is an estimate.  Follow your own oven's temperature and cooking time. It takes a gas oven 10-15 minutes to reach the desired temperature. Electric ovens can take 10 minutes longer than that.  The age of your oven will also determine the temperature, time for roasting or baking, and where you want to place your dish in the oven.  The bottom of your oven may be hotter than the top, depending on its condition.  This also includes where to set your dish under the broiler.  So use your own best judgment based on the type, condition, and age of your oven.  Prep times will also vary depending on how slow or quickly you like to work.This recipe can be used to make one large bundt cake or made into muffins, using a 6 cup standard sized muffin tin.
Prep Time:

10

Cook Time:

50

Category:

HEALTHY

Method:

BAKING

Cuisine:

DESSERT
Nutrition
Serving Size:

1

Calories:

371

Sugar:

9.7

Sodium:

122

Fat:

15.5

Saturated Fat:

10

Carbohydrates:

53

Fiber:

5.9

Protein:

5.2

Cholesterol:

55
Keywords: paleo desserts, anti-inflammatory recipes, grain free, grain free diet, grain free recipes, grain free dinner, grain free recipes, paleo and wine, dairy free diet, dairy free recipes, dairy free dinner,
FREE e-cookbook called OODLES OF LOW CARB NOODLES
Join our family to get your FREE e-cookbook OODKES OF LOW CARB NOODLES + new recipes in your inbox.
Latest posts by Shari MAC
(see all)