HEALTHY (PALEO) MOM'S CARROT CAKE
As an Amazon Associate I earn from qualifying purchases.
I've been thinking about making this Paleo Mom's Carrot Cake for some time!  I used to enjoy this cake whenever my mom prepared it for us kids.
I'm so happy that this Paleo version turned out exactly as I had intended.  This carrot cake is absolutely delicious!  It's all-natural, non-GMO, wheat-free, grain-free, and refined sugar-free. 
Just a couple of tips…It's important to shred the carrots yourself.  Do not use any precut carrots from the supermarket.  For the perfect texture, use the large holes of a box grater to grate your carrots.  Two-layered carrot cakes baked in 2 pans bake quickly.  That's why it is important that the carrot be shredded thin by hand in order to cook.  If the carrots are in chunks they will remain raw. 
You can add all sorts of ingredients to this cake such as coconut and pineapple to give a tropical flavor.  You may want to add raisins, too.  While this recipe calls for pecans, you can use walnut pieces instead.
WHAT ARE THE NUTRITIONAL BENEFITS OF PALEO MOM'S CARROT CAKE?
Let's look at the nutritional value of Healthy (Paleo) Mom's Carrot Cake serving of carrots (about ½ cup) contains:
25 calories
6 grams of carbohydrates
2 grams of fiber
3 grams of sugar
0.5 grams of protein 
Carrots are also a fabulous source of vitamins and minerals . A half-cup can give you up to:
73% of your daily requirement of vitamin A 
9% of your daily vitamin K 
8% of your daily potassium and fiber  
5% of your daily vitamin C 
2% of your daily calcium and iron  
Carrots have a plethora of anti-oxidants, offering many health benefits, such as:  
Good for Your Eyes: Carrots are super rich in beta-carotene. This is a compound that your body turns into vitamin A.
Vitamin A keeps your eyes healthy.  This beta-carotene helps protect your eyes from the sun and  helps to reduce the risk of cataracts and other eye issues.
Yellow carrots contain lutein.  Lutein is also excellent for your eyes. Recent studies show that lutein can help to prevent macular degeneration and vision loss.
Lowers Cancer Risks: The anti-oxidants (carotenoids and anthocyanin) in carrots has shown to help fight off harmful free radicals, this helping to reduce the risk of cancers. Carotenoids give carrots their orange and yellow colors.  Anthocyanin are responsible for the red and purple coloring in carrots.
Helps The Heart: Carrot anti-oxidants help to keep the heart healthy.  They lower blood pressure, help to maintain blood circulation, and helps to clear plaque from the arteries.  
WHAT IS THE TASTE PROFILE OF PALEO MOM'S CARROT CAKE?
The predominant taste sensation of Paleo Mom's Carrot Cake is sweetness from the raw honey and date paste. The cake has the subtle flavor of carrots and is also moist, while the icing is rich and creamy. It's sooooo satisfying.
WHAT WINE HARMONIZES WITH PALEO MOM'S CARROT CAKE?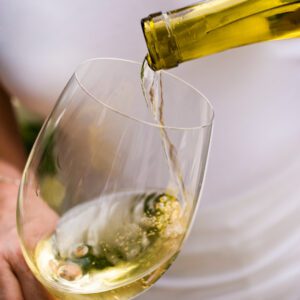 With the predominant taste sensation of Paleo Mom's Carrot Cake being sweetness, you'll need a wine with equal or more sweetness. For this reason serve a Late Harvest Riesling, Late Harvest Gewurztraminer or Vidal Icewine. With these sweeter wines you need nothing more than one or two ounces.
WHAT OTHER PALEO RECIPES CAN I ENJOY?
Healthy (Paleo) Apple Bundt Cakes
Healthy (Paleo) Wet-Bottom Apple Cake
WHAT IS SHARI MAC'S PRODUCT RECOMMENDATION FOR YOUR PALEO DIET?
OMG, the Ninja NC301 CREAMi Ice Cream Maker is the BEST appliance I've bought for myself to support my Keto diet. I stand behind this product 100%. I eat healthy high protein ice cream every night. I experiment with different ingredient combinations all the time. I purchased 5 additional containers so that I can make a week's worth of ice cream at one time. I've made ice cream with cottage cheese and almond milk with protein powder; tofu with almond milk and protein powder; fat-free plain yogurt with almond milk and more! The machine shaves frozen pints perfectly with its one-touch programs.. You can prepare ice cream, sorbet, gelato, milkshake, smoothie bowl, lite ice cream and more.  Prep your base, freeze overnight, process, and enjoy!
Sometimes it takes more than one spin to get your desired texture. Select the re-spin function if, after processing, you want your processed treat softer and creamier. This unit is ONLY compatible with the Ninja CREAMi NC299 and NC300 pint accessories. It will NOT fit the NC100, NC200 or NC500 Series pints.
With the Ninja CREAMi you can enjoy healthy treats that taste just as good as regular ice cream loaded in bad saturated fat, sugar, and preservatives.
HOW TO YOU PREPARE PALEO MOM'S CARROT CAKE?
Print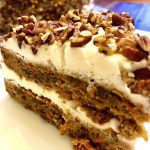 PALEO MOM'S CARROT CAKE
---
Description
You can enjoy this Paleo Carrot Cake all year.  It's rich and creamy and delicious.  You would not even know that the cake is gluten and grain free.  All the sugars are natural!  The recipe uses coconnut oil, tapioca flour, plant-based butter, lemon juice, raw honey, carrot, eggs,  date paste, cinnamon, maple extract, almond flour, sea salt, guar gum, eggs, baking powder, and pecans. Enjoy this cake for a snack or dessert.  I think you'll love this cake!
---
Buttercream Icing:
2 cups refined coconut cream*
2/3 cups plus 2 tablespoon cup almond flour
¼ cup plant-based butter
1 teaspoon maple extract
2 tablespoons freshly squeezed lemon juice
½ cup raw honey 
Pinch salt 
Cake:
3 cups shredded carrot
2 eggs
1 ½ cup date paste**
½ cup plant-based butter or ghee
1 teaspoon cinnamon
1 teaspoon maple extract
1.5 cups almond flour (170 g)
1.5 cups tapioca flour (228 grams)
1 teaspoon sea salt (6 grams)
1 teaspoon guar gum (2 grams)
2 eggs
1 tablespoon gluten-free baking powder
3 cups pecan pieces (2 for the cake, 1 cup for the garnish) 
---
Instructions
*To make coconut cream set 4 cans of full-fat coconut milk in the refrigerator overnight.
When ready to use open the cans and separate the fat from the coconut water.  Use the coconut cream in the icing recipe.
To make the icing, in a bowl combine all ingredients.  Using a hand mixer, mix together until smooth and creamy.  Cover and refrigerate until needed. To make the icing, set cans of coconut milk in the refrigerator.
When ready to use remove from the refrigerator.  Separate the coconut fat from the coconut water.  Use the coconut fat as icing.
Preheat the oven to 350 °F.  Spray 2 cake pans with avocado non-stick cooking spray.  Set aside.
In a mixer add all cake ingredients, except for pecan pieces.  Mix briefly until a thick batter forms.  Do not over mix.  Fold in the pecans.  Pour half the batter into one cake pan. Pour the other half into the other cake pan.
Bake for 25 to 30 minutes, or until a cake tester or toothpick comes out clean for both cakes.  Let cakes cool in the pan for 30 minutes, then turn them out onto a cake tray to cool completely.
Remove icing from refrigerator and let warm to room temperature.  Turn cakes upside down.  Using a knife, coat the top of one of the cake with icing.  Place the other cake on top, making sure the bottom of the cake is facing upward.  Cover sides of the cakes with icing.  Take a handful of pecan pieces and set them into the icing on the sides of the cakes.  Lastly, cover the top of the cake with icing and set pecans on the top of the cake as well.  Refrigerate until ready to eat.
Notes
The recipe baking temperature and time is an estimate.  Follow your own oven's temperature and cooking time. It takes a gas oven 10-15 minutes to reach the desired temperature. Electric ovens can take 10 minutes longer than that.  The age of your oven will also determine the temperature, time for roasting or baking, and where you want to place your dish in the oven.  The bottom of your oven may be hotter than the top, depending on its condition.  This also includes where to set your dish under the broiler.  So use your own best judgment based on the type, condition, and age of your oven.  Prep times will also vary depending on how slow or quickly you like to work.
Prep Time:

30 mins

Cook Time:

30 mins

Category:

HEALTHY

Method:

BAKING

Cuisine:

DESSERT
Nutrition
Serving Size:

NA

Calories:

NA

Sugar:

NA

Sodium:

NA

Fat:

NA

Saturated Fat:

NA

Unsaturated Fat:

NA

Trans Fat:

NA

Carbohydrates:

NA

Fiber:

NA

Protein:

NA

Cholesterol:

NA
Keywords: Paleo dessert, healthy dessert, healthy carrot cake, paleo carrot cake, paleo carrot cake recipe, paleo, paleo recipes,
FREE e-cookbook called OODLES OF LOW CARB NOODLES
Join our family to get your FREE e-cookbook OODKES OF LOW CARB NOODLES + new recipes in your inbox.
Latest posts by Shari MAC
(see all)