HEALTHY (PALEO) BANANA BREAD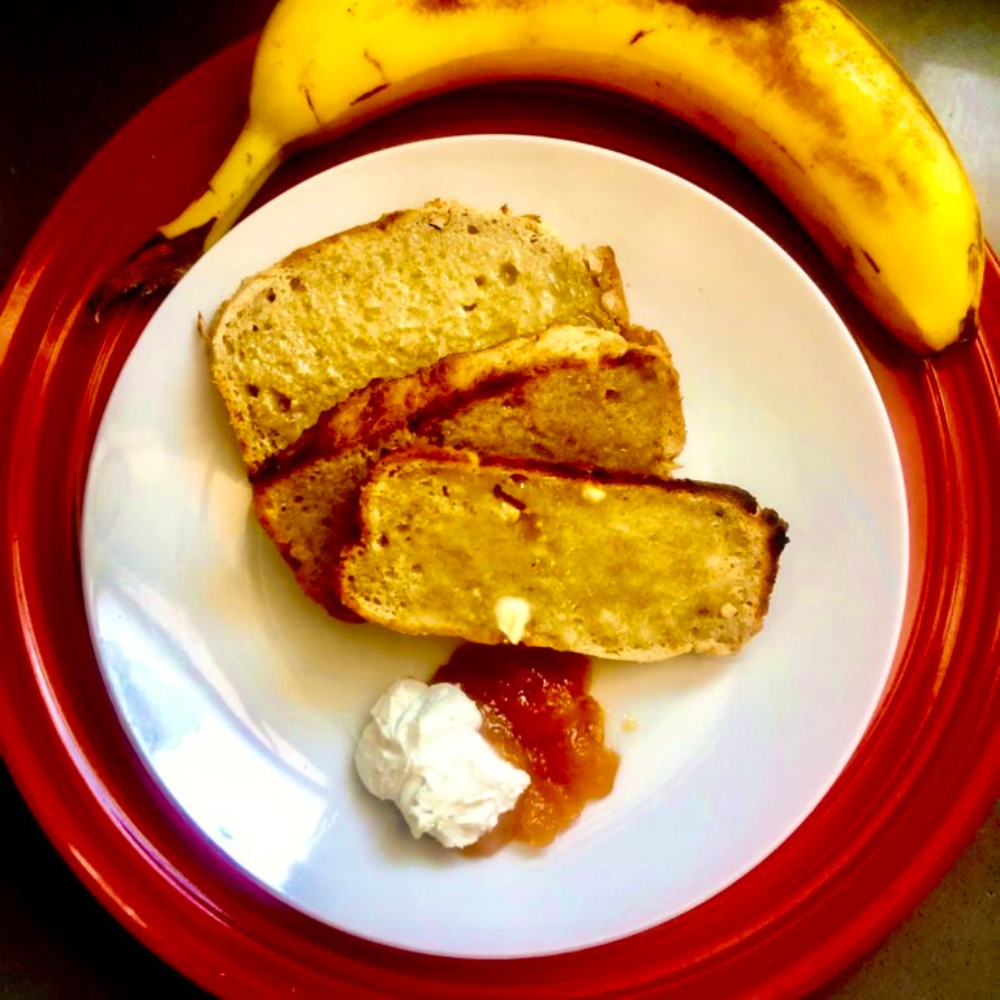 As an Amazon Associate I earn from qualifying purchases.
Love this Health (Paleo) Banana Bread!
When I think of making healthy homemade banana bread heartwarming childhood memories come to mind.  At age 12, banana bread was the first food I baked from scratch.   Throughout my childhood, my parents took us to our Bobcaygeon cottage (north of Toronto) every summer weekend.  Baking banana bread for the family became my role and eventually a duty.  On Saturday night when the mosquitos made it impossible to sit by the fire, we headed indoors to watch movies on cassette tapes.  I went straight to for the kitchen to bake banana bread.  While the bread baked, we relished in the aromas of sweet baking banana.  My youngest brother would say every 15 minutes, "Is it ready yet?"  Once cooked I would let the bread cool, keeping my sibling's appetites in further anticipation.  Once cooled, I cut the bread into slices thicker than normal, but just thin enough to fit into the toaster.  I toasted the slices giving them crunchy ends and bits, then smothered them with butter.  My family loved my bread.   Their approval of my cooking has certainly helped shape my love of and career around food.   
This recipe is super easy and turns out a mean banana bread.   After the bread has cooled, you can toast it or put slices in the Panini press.  On the Paleo path, dairy is prohibited.  So, I've smothered this grain-free version in avocado butter!  Add whatever ingredients you like to the DOH before baking.  Dried fruit, seeds, and nuts are all lovely additions to this sweet bread.
WHAT IS THE TASTE PROFILE OF HEALTHY (PALEO) BANANA BREAD?
The most appropriate way to describe this Healthy (Paleo) Banana Bread is dense, spongy, chewy, and sweet!  Delicious!  It's hard to believe it has no wheat! The pleasant bitterness from the walnut pieces nicely offsets the banana sweetness.  
WHAT ARE THE HEALTH BENEFITS OF BANANA?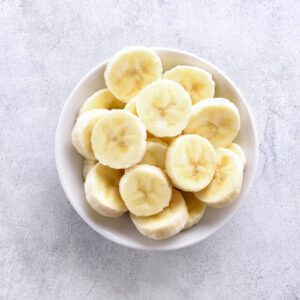 Bananas are a popular fruit and for good reason, they are nutritious and provide many health benefits. First of all, bananas are a great source of fiber, which helps to regulate digestion and keep you feeling full for longer. They are also high in potassium, which is essential for maintaining healthy blood pressure and heart function. Bananas are also a good source of vitamin C and vitamin B6, which play important roles in maintaining a healthy immune system and nervous system. In addition, they contain antioxidants which help to protect the body against damage from harmful free radicals. Eating bananas regularly may also help to reduce the risk of certain diseases such as heart disease, stroke, and some types of cancer. They are also a great snack option for athletes and active individuals, as they provide a quick source of energy. Overall, there are many health benefits to be gained from incorporating bananas into your diet.
WHAT IS THE NUTRITIONAL VALUE OF HEALTHY (PALEO) BANANA BREAD?
What is the nutrional value of this Healthy (Paleo) Banana Bread?  While both Paleo compliant, bananas are also high in carbohydrates. In my opinion, they should be eaten sparingly, especially if you're trying to lose some extra weight. Bananas are, however, super healthy. Some of banana's benefits include:
Being high in potassium, banana can be eaten every day, some doctors believe. Due to the high potassium, bananas helps maintain proper heart function by offsetting sodium that would otherwise raise your blood sugar. This helps to reduce the risk of heart disease and stroke. This high potassium is also believed to help prevents kidney stones.
The natural sugars and soluble fiber in banana also provides energy. One banana is a good morning meal.
Bananas are also high in fiber and prebiotic oligosaccharides, which feeds good bacteria to your digestive tract and keeps bowl movements regular.
One banana per day also provides you body with its need for vitamin B6. B6 helps maintain correct blood sugar levels, helps create hemoglobin for healthy blood, and breaks down amino acids in the body. 
Eating bananas can help prevent acid reflux by enhancing the protective mucus layer, which relieves pain and helps food to move faster through the digestive tract.
The tryptophan in banana can also help to reduce stress.
WHAT WINE HARMONIZES WITH HEALTHY (PALEO) BANANA BREAD?
The predominant taste sensation of this Healthy (Paleo) banana bread is sweetness, due to the fruit. For this reason choose a wine with natural sweetness. Because bananas are sweet, you'll need a very sweet wine to match. Choose a late harvest wine, such as Late Harvest Riesling, Vidal, or Gewürztraminer.  Just always make sure that the wine is sweeter than all the sweet items on your dessert plate.
WHAT OTHER HEALTHY (PALEO) RECIPES CAN I ENJOY?
Healthy (Paleo) Meatloaf Sante Fe
Healthy (Paleo) Bacon Wrapped Dates
Healthy (Paleo) Hears of Palm Mango Salad
Healthy (Paleo) Coconut Pineapple Drumsticks
WHAT IS SHARI MAC'S PRODUCT RECOMMENDATION FOR YOUR PALEO DIET?
OMG, the Ninja NC301 CREAMi Ice Cream Maker is the BEST appliance I've bought for myself to support my diet. I stand behind this product 100%. I eat healthy high protein ice cream every night. I experiment with different ingredient combinations all the time. I purchased 5 additional containers so that I can make a week's worth of ice cream at one time. I've made ice cream with cottage cheese and almond milk with protein powder; tofu with almond milk and protein powder; fat-free plain yogurt with almond milk and more! The machine shaves frozen pints perfectly with its one-touch programs.. You can prepare ice cream, sorbet, gelato, milkshake, smoothie bowl, lite ice cream and more.  Prep your base, freeze overnight, process, and enjoy!
Sometimes it takes more than one spin to get your desired texture. Select the re-spin function if, after processing, you want your processed treat softer and creamier. This unit is ONLY compatible with the Ninja CREAMi NC299 and NC300 pint accessories. It will NOT fit the NC100, NC200 or NC500 Series pints. With the Ninja Creami you can enjoy healthy treats that taste just as good as regular ice cream loaded in bad saturated fat, sugar, and preservatives.
HOW DO YOU MAKE HEALTHY (PALEO) BANANA BREAD?
Print
HEALTHY PALEO BANANA BREAD
---
Description
This Healthy Paleo banana bread is a fabulous way to start the day or to enjoy at lunch, brunch, or for dessert!  Super filling and highly nutritious!   The recipe uses almond flour, tapioca starch, bananas, guar gum, and eggs.  Add nuts if you like. If you are hunting for a filling and satisfying banana bread to enjoy on its own or with a glass of wine, check out this recipe!
---
1.5 cups almond flour (170 g)
1.5 cups tapioca flour (228 grams)
1 teaspoon sea salt (6 grams)
1 teaspoon guar gum (2 grams)
2 eggs
1 tablespoon gluten-free baking powder
3 very ripe bananas
1/2 cup unsalted walnut pieces or favourite nuts (optional)
Avocado butter (optional)
No sugar added marmalade (optional)
Coconut cream (optional)
---
Instructions
Preheat oven to 350 F (170 C).  Add all ingredients to a food processor or mixer and mix into a goowey dough.  Remove bowl from machine.  Fold in nuts (optional).  Transfer goowey dough to well-greased loaf pan (4 cup/4″ X 8″).   Bake for 50 to 60 minutes, until a toothpick inserted into the center of the loaf, comes out clean. Let bread cool in the pan for 10 minutes, then turn out onto a wire rack.   Slice and serve or put in toaster or panini press and toast until golden.  Serve with avocado butter, marmalade, and coconut cream for a yummy dessert experience.
Notes
(Note: The nutritional information provided is a courtesy and is approximate only.  We cannot guarantee the nutritional accuracy of any recipe on this site.  We cannot know what brands you use or how accurately you follow the recipe or what you like to add creatively to the dish. Use the information as a general guideline only.)

 
Prep Time:

5

Cook Time:

1 Hour

Category:

HEALTHY

Method:

Baking

Cuisine:

Breakfast, lunch, brunch, dessert
Nutrition
Serving Size:

1

Calories:

508

Sugar:

3.7

Sodium:

377

Fat:

7.5

Saturated Fat:

0.8

Carbohydrates:

102.6

Fiber:

4.6

Protein:

4.2

Cholesterol:

27
Keywords: paleo banana bread, paleo banana bread recipe, healthy banana bread, banana bread, Paleo dinner recipes, paleo dinner, whole30 dinner recipes, whole30 dinner, grain-free dinner, gluten-free dinner, paleo turkey burgers, whole30 turkey burgers, grain-free turkey burgers, gluten-free turkey burgers, paleo, paleo recipes, paleo dinner, Whole30, Whole30 recipes, gluten free, gluten free recipes, gluten free recipes ford dinner, anti inflammatory diet, grain free, grain free diet, grain free recipes, paleo and wine gluten free and wine
FREE e-cookbook called OODLES OF LOW CARB NOODLES
Join our family to get your FREE e-cookbook OODKES OF LOW CARB NOODLES + new recipes in your inbox.
Latest posts by Shari MAC
(see all)