HEALTHY (PALEO) COCONUT PINEAPPLE DRUMSTICKS
Health (Paleo) Coconut Pineapple Drumsticks is one of the dishes Shawn enjoys.  Shawn loves drumsticks much more than I do, and he eats pineapple.  Shawn is not always on the Keto diet, depending on his weight-lifting and running routines.  I made up this recipe one evening. I had a 5 pound batch of drumsticks.  I went into the cupboard and found a can of whole fat coconut milk and a can of unsweetened pineapple.  We both advocate and love Turmeric.  I decided to make this recipe with these 3 ingredients.  The dish turned out well and super tasty, not to mention quick to make.
Turmeric is so important in our diet.  Turmeric is a native plant of south-east Asia.  It is also cultivated in India, Sri Lanka, Indonesia, China, Taiwan, Peru, Haiti, and Jamaica.  The largest production of turmeric comes from Indian.  In fact, India grows and consumes about 80 percent of the world's production. 
WHAT IS THE NUTRITIONAL VALUE OF HEALTHY (PALEO) COCONUT PINEAPPLE  DRUMSTICKS?
These Healthy (Paleo) Coconut Pineapple Drumsticks hit the nutritional spot.  The recipe includes Turmeric.  Turmeric is a spice that has been used for thousands of years in traditional medicine and cuisine. It contains a compound called curcumin, which has been shown to have powerful anti-inflammatory and antioxidant properties. These properties make turmeric a valuable addition to any diet.
In terms of nutrition, turmeric is a good source of iron, potassium, and vitamin B6. It also contains small amounts of vitamin C and magnesium. Additionally, studies have shown that curcumin may help improve brain function, reduce the risk of heart disease, and even help prevent certain types of cancer. Overall, incorporating turmeric into your diet can offer a range of health benefits. It can be used to add flavor and color to a variety of dishes, including curries, soups, and stews. You can also find turmeric in supplement form if you prefer not to use it in cooking. As with any supplement, it's always a good idea to talk to your doctor before adding it to your regimen.
WHAT IS THE TASTE PROFILE OF HEALTHY (PALEO) COCONUT PINEAPPLE DRUMSTICKS?
The predominant taste sensations of Healthy (Paleo) Coconut Pineapple Drumsticks are sweetness from the coconut and pineapple, pleasant bitterness and warmth from the tumeric, and spicy zing from the fresh ginger.
WHAT WINE HARMONIZES WITH HEALTHY (PALEO) COCONUT PINEAPPLE DRUMSTICKS?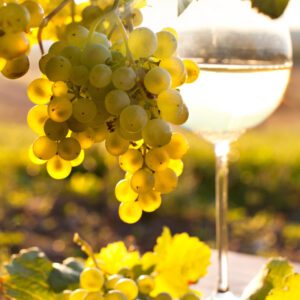 The savoury nature of this Healthy (Paleo) Coconut Pineapple Drumsticks dish reduces the sweetness of the coconut and pineapple.  But it's still sweet. So choose a white wine with some sweetness.  Examples include off-dry Riesling or off-dry Gewurztraminer.  An off-dry rose also works.
WHAT OTHER HEALTHY (PALEO) RECIPES CAN I ENJOY?
Healthy (Paleo) Meatloaf Sante Fe
Healthy (Paleo) Bacon Wrapped Dates
Healthy (Paleo) Hears of Palm Mango Salad
WHAT IS SHARI MAC'S PRODUCT RECOMMENDATION FOR YOUR PALEO DIET?
I wanted to share with you the BEST thing you can do for yourself to support your diet.  Invest in a Vitamix Blender!  I stand behind this product 100%.  This Vitamix is a long-term investment worth every dollar! I use this Vitamix for almost daily all of my diet needs – smoothies, ice cream blends, hot soups (made right in the Vitamix), sauces, and more!  Every other blender I purchased before my Vitamix failed within a couple of years.  This blender is a work horse. My best-friend has had her Vitamix for over 20 years with NO issues!  I just got my Vitamix this past year and LOVE IT!
HOW DO YOU PREPARE HEALTHY (PALEO) COCONUT PINEAPPLE DRUMSTICKS?
Print
HEALTHY (PALEO) COCONUT PINEAPPLE DRUMSTICKS
---
Description
This healthy (Paleo) Coconut Pineapple Drumbstick recipe sings with Caribbean goodness. The dish is so delicious with its sweet pineapple and coconut flavour and nutritional turmeric! You can enjoy these drumsticks for dinner throughout the year. All the ingredients are easily found in any local supermarket. The recipe uses chicken drumsticks, fresh garlic, coconut milk, unsweetened canned pineapple, red pepper, fresh ginger, garlic powder, onion powder, and fresh cilantro. Check out the recipe!
---
5 lb package drumsticks
6 cloves garlic, coarsely chopped
1 can coconut milk (about 1.5 cups)
1 can unsweetened pineapple chunks with juice (about 1.5 cups)
1 red pepper, chopped into pieces
1 tablespoon ground turmeric
1-inch piece fresh ginger, grated
1 tablespoon garlic powder
1 tablespoon onion powder
Fresh cilantro, parsley, or mint (optional for garnish)
---
Instructions
Preheat oven to 350 F.   Spray a large pan with non-stick cooking spray.  Lay drumsticks in pan.  Set aside.  In a large bowl combine all ingredients.  Pour ingredients over drumsticks.  Bake for 1.5 hours until drumsticks are cooked.  Set on the broiler.  Set pan under the broiler to turn crispy and golden on top.  Serve hot, sprinkled with fresh cilantro.
Notes
The recipe baking temperature and time is an estimate.  Follow your own oven's temperature and cooking time. It takes a gas oven 10-15 minutes to reach the desired temperature. Electric ovens can take 10 minutes longer than that.  The age of your oven will also determine the temperature, time for roasting or baking, and where you want to place your dish in the oven.  The bottom of your oven may be hotter than the top, depending on its condition.  This also includes where to set your dish under the broiler.  So use your own best judgment based on the type, condition, and age of your oven.  Prep times will also vary depending on how slow or quickly you like to work.
Prep Time:

15 minutes

Cook Time:

1.5 Hours

Category:

HEALTHY

Method:

BAKING

Cuisine:

DINNER
Keywords: paleo, paleo chicken, paleo drumsticks, paleo drumsticks recipes, paleo recipes, paleo dinner, Whole30, Whole30r recipes, whole30dinner, gluten free, gluten free recipes, gluten free dinner, gluten free recipes for dinner, anti-inflammatory diet, anti-inflammatory recipes, grain free, grain free diet, grain free recipes, grain free dinner, paleo and wine, gluten free and wine, dairy free diet, dairy free recipes, dairy free dinner,
FREE e-cookbook called OODLES OF LOW CARB NOODLES
Join our family to get your FREE e-cookbook OODKES OF LOW CARB NOODLES + new recipes in your inbox.
Latest posts by Shari MAC
(see all)