KETO LOW-CARB BAKED FETA (HEART HEALTHY)
ALL RECIPES
,
Keto Almond Flour Recipes
,
Keto Cashew Recipes
,
Keto Cheese Recipes
,
Keto Heart Healthy Condiment Recipes
,
Keto Heart Healthy Lunch Recipes
,
KETO HEART HEALTHY RECIPES
,
Keto Heart Healthy Snack Recipes
,
Keto Low-Carb Condiment Recipes
,
KETO LOW-CARB RECIPES
,
Keto Meal Prepping Recipes
,
Keto Nuts Recipes
,
Keto Yogurt Recipes
As an Amazon Associate I earn from qualifying purchases.
On this Keto Low-Carb journey, I absolutely love experimenting with the world of vegan cheese.  I think you'll like this Keto Low-Carb Baked Feta.   I'm a big cheese fan as it stands.  So, I'm pretty picky about dishes tasting as good as possible when it comes to vegan cheese.  I absolutely love this feta!  It can be served as a dip or in chunks within a salad.  You can make the feta using raw almonds, but it's more and messier work.  Just use almond flour.  I like this recipe because it's fast and simple.
It's the yogurt and lemon juice that gives this feta tang.  I add the lemon zest, so there is a hint of bitterness on the finish just like dairy feta. And you may want to experiment with the amount of salt used.  Greek feta is very salty.  So, this recipe can take more salt if you desire.
WHAT IS THE NUTRITIONAL VALUE OF KETO LOW-CARB BAKED FETA?
What is the nutritional value of this Keto Low-Carb Baked Feta? Almond flour is a popular gluten-free alternative to wheat flour that is used in baking and cooking. It is made by grinding blanched almonds into a fine powder. Almond flour is high in healthy fats, protein, fiber, vitamins, and minerals. One-quarter cup of almond flour contains around 160 calories, 6 grams of protein, 14 grams of fat (mostly monounsaturated), 3 grams of fiber, and several important micronutrients such as vitamin E, magnesium, and manganese. It is also low in carbohydrates, making it a great option for people following a low-carb or keto diet. Almond flour is a nutrient-dense and versatile ingredient that can be used in a variety of recipes, from cookies and cakes to bread and pancakes. It has a slightly nutty taste and can add a delicious flavor and texture to your baked goods. Incorporating almond flour into your diet is a great way to boost your nutrient intake and support overall health and wellness.
The predominant taste sensations in this Keto Low-Carb Baked Feta are tangy and salty.  Delicious!
WHAT WINE HARMONIZES WITH KETO LOW-CARB BAKED FETA?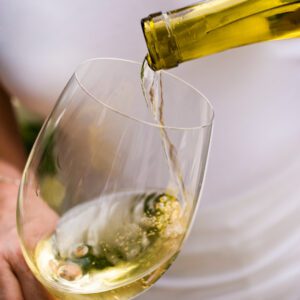 With the predominant taste sensations of this Keto Low-Carb Baked Feta being tangy and salty, choose a white wine with lots of clean acidity to match.  A crisp, dry white wine is just right. The wine's acidity will nicely offset the saltiness while harmonizing with the tangy flavour from the fresh lemon. Wines to consider include: Sauvignon Blanc, Pinot Gris, Pinot Grigio, dry Riesling, will work nicely. 
*Wine Tips: To support your Keto diet or low-carb lifestyle, choose low-carb, low-sugar, and low-alcohol wines that are free of additives and artificial coloring.  Include your wine carb macros as part of your meal.  Remember, your liver will process alcohol before nutrients, pausing ketone creation and slowing the ketosis process. Your body will also metabolize alcohol as fuel before using food. This can slow fat burning and may cause your body to store carbs, fat, and protein as excess body fat.  Alcohol consumption also stimulates the appetite.  So, drink low-sugar, low-carb, and low alcohol wines in moderation.
WHAT OTHER KETO LOW-CARB RECIPES CAN I ENJOY?
Keto Low-Carb Tuna Cheddar Pasta Casserole
Keto Low-Carb Zoodle Caprese Salad
Keto Low-Carb Japanese Crab Noodle Salad
Keto Low-Carb Korean Short Ribs
WHAT IS SHARI MAC'S PRODUCT RECOMMENDATION FOR YOUR KETO LOW-CARB DIET?
I'm a huge fan of the Ninja products. In the past, I've gone through a counter-top convection oven every couple of years. This Ninja 1800-watt oven is a work horse! It is a must for me to support my Keto diet. Since buying this Ninja I have not turned on my oven in months! Amazing in the summer! No heat in the kitchen from the traditional oven. I use the air-fryer for all our proteins every day. All my air-fried favorites have less bad saturated fat and therefore fewer calories. I cut chicken breasts in half, horizontally, and air-fry them for 20 minutes. You can set the temperature and timer for all sorts of foods and walk away from the kitchen. The machine will shut off automatically at the right time. My proteins are crispy on the outside and super juicy
HOW DO YOU MAKE KETO LOW-CARB BAKED FETA?
Print
KETO LOW-CARB BAKED FETA
---
Description
Keto Low-Carb Baked Feta is delicious hot or cold as a dip or sliced for sandwiches or chunked for salads.  Ideal  for lunch, brunch, or dinner.  The recipe uses almond flour, yogurt, lemon juice, garlic, black pepper or basil. If you are hunting for a low-carb cheese alternative that is super healthy, check out this recipe!
---
2 cups almond flour
1/2 cup water
3 tablespoons low-carb yogurt
1/2 cup olive oil
3 cloves minced garlic
1/2 teaspoon sea salt
2 tablespoons lemon juice
2 teaspoons lemon zest (divided in half)
Freshly ground black pepper (for garnish)
2 tablespoons finely chopped fresh basil (for garnish)
---
Instructions
In a food processor or blender add all ingredients except for 1 teaspoon lemon zest and black pepper.  Blend to a creamy consistency, about 1 minute.
Transfer mixture to a baking dish or loaf pan (4 cup/4″ X 8″) sprayed with non-stick avocado cooking spray.  Garnish with lemon zest and black pepper.   Bake for 30 minutes. Let rest. Refrigerate until cool, at least an hour.
Notes
Serve the feta hot as a dip.  Or transfer to a plate, chill, cut into cubes and add to salads, pizza, pasta, etc.
The nutritional value of this recipe is based on the Keto version and is approximate.  1 serving (1 ounce) contains less than 1 net carb.
(Note: The nutritional information provided is a courtesy and is approximate only.  We cannot guarantee the nutritional accuracy of any recipe on this site.  We cannot know what brands you use or how accurately you follow the recipe or what you like to add creatively to the dish. Use the information as a general guideline only.)
The recipe baking temperature and time is an estimate.  Follow your own oven's temperature and cooking time. It takes a gas oven 10-15 minutes to reach the desired temperature. Electric ovens can take 10 minutes longer than that.  The age of your oven will also determine the temperature, time for roasting or baking, and where you want to place your dish in the oven.  The bottom of your oven may be hotter than the top, depending on its condition.  This also includes where to set your dish under the broiler.  So use your own best judgment based on the type, condition, and age of your oven.  Prep times will also vary depending on how slow or quickly you like to work.
Prep Time:

10

Cook Time:

25

Category:

KETO LOW-CARB

Method:

BAKING

Cuisine:

BREAKFAST, LUNCH, BRUNCH, DINNER
Nutrition
Serving Size:

1 ounce

Calories:

78

Sugar:

0.4

Sodium:

61

Fat:

8.1

Saturated Fat:

1.1

Carbohydrates:

1.2

Fiber:

0.4

Protein:

1

Cholesterol:

1.2
Keywords: keto, keto feta, keto feta recipe, keto vegan feta, keto vegan feta recipe, keto recipes, keto-and-wine, paleo, paleo recipes, paleo dinner, paleo-and-wine, Whole30, Whole30r recipes, whole30dinner, gluten free, gluten free recipes, gluten free dinner, gluten free recipes for dinner, anti-inflammatory diet recipes, anti-inflammatory recipes, grain free, grain free diet, grain free recipes, grain free dinner, grain free recipes, paleo and wine, dairy free diet, dairy free recipes, dairy free dinner,
FREE e-cookbook called OODLES OF LOW CARB NOODLES
Join our family to get your FREE e-cookbook OODKES OF LOW CARB NOODLES + new recipes in your inbox.
Latest posts by Shari MAC
(see all)