KETO LOW-CARB PASTA SALAD (HEART HEALTHY)
As an Amazon Associate I earn from qualifying purchases.
Keto Low-Carb Cold Pasta Salad is so yummy.  I love this simple KETO LOW-CARB pasta dish on hot, summer days and in every other season.  It's like macaroni salad which we enjoy all year!  This KETO cold salad is so easy to make and brings so much color and appetite to the table!  While most beans are not allowed on a Keto diet, French beans are an exception to the rule, if consumed in moderation.
Strict KETO LOW-CARB diets dictate that beans of all kinds (black, red, pinto, navy, white, kidney, lima, fava, etc.), peas, chickpeas, lentils, and peanuts are disallowed.  The reason is that these beans are legumes with a high content of lectins and phytic acid.  However, green beans, sugar snap peas, and snow peas are included because they contain a small amount of potentially negative constituents found in most other legumes.  Use whatever vegetables you prefer.
I've included fresh tomatoes in this recipe.  You may want to substitute the tomatoes for red peppers.  Tomatoes are nightshade fruit and are believed to contribute toward leaky gut syndrome.  Some doctors advocate this fact while others debunk it.  Substitute the tomatoes with another vegetable, such as red peppers.
WHAT IS THE RIGHT QUALITY OLIVE OIL FOR COLD PASTA SALAD?
This Keto Low-Carb Cold Pasta Salad demands quality olive oil!  A while back I hosted a class on olive oil with one of the world's best Italian producers of Italian olive oil named Olearia San Giorgio Olive Oils.  This company is based in Toronto, Ontario, Canada.  I have learned so much from this company about quality olive oil.  Sarafino Inc. is a small importing and distribution company that handles only quality artisanal products true to their origins. They have a commitment to educating their retailers and customers about their products and how they are made. Sarafino specializes in Internationally renowned Virgin and Extra Virgin Olive Oils and their newest child, Organic Extra Virgin Olive Oil, all produced on the family estate.  (And no I'm not getting sales or commission from this company.)
Olearia San Giorgio olive oils have won several international awards for their products and are regarded as one of the best olive oil producers in the world. The company is owned by 5 brothers (they inherited the family company.) Angelo, the son of one of the brothers, distributes the oils.
The workshop was outstanding, and I learned a great deal about this healthy oil.
First, there's more Italian olive oil distributed throughout the world than there are Italian olives growing! How is this possible? Well, according to Angelo, this industry has many manipulations and falsehoods. Said another way, the public is purposefully misled about oil authenticity and quality.
Many olive oils are not pure. Many are blended with other oils, such as canola. People (like me) use these inferior blends, thinking they're doing good things for their body.
How do you find pure olive oil?
Look for the family's name on the bottle. Also, the product should be "made in Italy" NOT imported from or bottled in Italy. The address of the estate should be present on the bottle, as well. And most importantly, there MUST have a Lot #. Every pure bottle that leaves Italy (sealed) is given a lot #.
Since this workshop, I've been using olive oil as a face and body moisturizer. "Pure extra virgin olive oil" is the best thing for one's skin and for preventing skin cancer, Angelo told us. You use it right on your skin. This protects the skin from all the bad ultraviolet rays that cause skin cancer. The best sunscreen.
WHAT IS THE TASTE PROFILE OF KETO LOW-CARB COLD PASTA SALAD?
The grain-free noodles in this Keto Low-Carb Pasta Salad are dense and chewy.  This offers a lovely contrast to the slight crunchiness of the beans.  The sweetness in the tomatoes (or red peppers) also nicely offsets the saltiness from the cheese.  Garlic offers both roundness and depth of flavour as well as a hint of pleasant bitterness.  So in this dish, you are offering in every bite a nice palate of taste and flavor sensations — noodles that are dense and chewy (mouth feel) versus crunchy texture of French beans; saltiness (cheese) offsetting the sweetness of tomatoes.  The tomatoes also give this dish roundness and depth of flavour due to their basic umami — fifth taste sensation.
WHAT IS THE NUTRITIONAL VALUE OF KETO LOW-CARB PASTA SALAD?
The Keto Low-Carb Pasta in this salad is the main ingredient, made predominantly of almond flour. Almond flour is a great alternative to wheat-based flours for those on a Keto diet or low-carb lifestyle.  It's also a fabulous choice for those with gluten intolerance. In terms of nutrition, almond flour is high in healthy fats, protein, and fiber. It is also a good source of vitamin E, magnesium, and potassium. One cup of almond flour contains approximately 90 grams of fat, 24 grams of protein, and 12 grams of fiber. It is important to note that almond flour is also high in calories and should be consumed in moderation. Overall, almond flour is a nutritious and delicious option for those looking for a healthy alternative to traditional flour.
WHAT WINE HARMONIZES WITH KETO LOW-CARB COLD PASTA SALAD?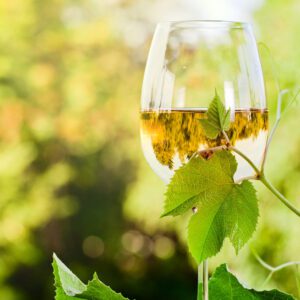 The predominant taste sensation in this Keto Low-Carb Pasta Salad is saltiness due to the cheese or plant-based cheese.  The noodles are also thick and dense.  So we need a white wine that has lots of viscosity (thickness or body) to stand up to the texture of the noodles.  The wine also needs enough acidity to offset the saltiness of the cheese. Buttery Chardonnay would work well here.
*Wine Tips: To support your Keto diet or low-carb lifestyle, choose low-carb, low-sugar, and low-alcohol wines that are free of additives and artificial coloring.  Include your wine carb macros as part of your meal.  Remember, your liver will process alcohol before nutrients, pausing ketone creation and slowing the ketosis process. Your body will also metabolize alcohol as fuel before using food. This can slow fat burning and may cause your body to store carbs, fat, and protein as excess body fat.  Alcohol consumption also stimulates the appetite.  So, drink low-sugar, low-carb, and low alcohol wines in moderation.
WHAT OTHER KETO LOW-CARB HEALTHY HEART RECIPES CAN I ENJOY?
Keto Low-Carb (Healthy Heart) Breakfast Bombs
Keto Low-Carb (Healthy Heart) Tuna Salad Spring Rolls
Keto Low-Carb (Healthy Heart) Zoodle Caprese Salad
Keto Low-Carb (Healthy Heart) Turkey Pot Pie
WHAT IS SHARI MAC'S PRODUCT RECOMMENDATION FOR YOUR KETO LOW-CARB DIET?
OMG, the Ninja NC301 CREAMi Ice Cream Maker is the BEST appliance I've bought for myself to support my Keto diet. I stand behind this product 100%. I eat healthy high protein, sugar-free ice cream every night. I experiment with different ingredient combinations all the time. I purchased 5 additional containers so that I can make a week's worth of ice cream at one time. I've made ice cream with cottage cheese and almond milk with protein powder; tofu with almond milk and protein powder; fat-free plain yogurt with almond milk and sugar-free jello and more! The machine shaves frozen pints perfectly with its one-touch programs.. You can prepare ice cream, sorbet, gelato, milkshake, smoothie bowl, lite ice cream and more.  Prep your base, freeze overnight, process, and enjoy!
Sometimes it takes more than one spin to get your desired texture. Select the re-spin function if, after processing, you want your processed treat softer and creamier. This unit is ONLY compatible with the Ninja CREAMi NC299 and NC300 pint accessories. It will NOT fit the NC100, NC200 or NC500 Series pints.
With the Ninja Creami you can enjoy healthy treats that taste just as good as regular ice cream loaded in bad saturated fat, sugar, and preservatives.
HOW DO YOU MAKE KETO LOW-CARB NOODLES FOR THIS DISH?
Here is a video to show you how to make the Keto fresh pasta noodles:
Print
KETO LOW-CARB PASTA SALAD (HEART HEALTHY)
---
Author:

Shari MAC

Total Time:

30

Yield:

6

1

x

Diet:

Gluten Free
Description
Keto Low-Carb Cold Pasta Salad is satisfying yet filled with summer flavour.   The recipe uses low-carb pasta, garlic, onion, French beans (optional), tomatoes, and Parmigiano -Reggiano.
---
Noodles:
3 cups almond flour
3 teaspoons xanthan gum
1/4 cup golden flaxseed meal
4 eggs
1 teaspoon olive oil
Sauce:
1/4 cup olive oil
3 cloves garlic, minced
8 French green beans, trimmed (optional)* (2 each)
1 tomatoes, chopped
1 tablespoon reserved noodle water
Parmigiano -Reggiano (for garnish)
*French beans are not strictly Keto compliant so choose at your own discretion.
---
Instructions
These Keto Low-Carb pasta or noodles are very dense and filling. Make the dough in a bowl and by hand or in a food processor or mixer. (Mixer is easiest.) Place all ingredients in the bowl.  Mix well. If making by hand pull the dough together with your hands. Start with 2 ½ cups of almond flour.  Add more if needed.  The dough should be firm. Transfer to a clean bowl.  Cover and refrigerate for 24 hours.
When ready to use, cut the dough in half.  Cover half of the dough ball with a wet cloth.  Transfer the other half to a large piece of parchment paper.  Flatten the ball on the parchment. Using the flat side of a long knife or pastry cutter, shape the ball into a 4" X 4" square. Top the square with another sheet of parchment paper. Using a rolling pin, and roll out a square about 8" X 8". Lift the top parchment paper. Using a long knife or pizza cutter, cut the dough into 1/8th-inch noodles.
When ready to dine, boil the water.  Add olive oil to water.  Add the noodles.  Boil the noodles for 3 minutes. Drain the noodles in a colander and run cool water over them to prevent sticking.
To make the sauce, in a sauté pan over medium heat, heat olive oil.  Add garlic.  Sauté until garlic is aromatic. Add green beans.  Sauté, shaking the pan until tender, about 2 minutes.  Add tomato.  Sauté another minute to heat through.  Keep warm.
Meanwhile, make your KETO LOW-CARB noodles.  Boil for 3 minutes.  When noodles float to the water's surface.  Drain and rinse under hot water.  Cut the noodles into smaller pieces.
In the same sauté pan over low heat, add noodles with noodle water, beans, and tomatoes. Gently toss (so as to not break noodles) until well coated and heated through.  Divide between bowls. Garnish each bowl with cheese and season with pepper.
Notes
The recipe is based on the keto version and is approximate only.  One serving has 7.5 grams of net carbs. The calculation does not include the addition of Parmigiano as a garnish.
(Note: The nutritional information provided is a courtesy and is approximate only.  We cannot guarantee the nutritional accuracy of any recipe on this site.  We cannot know what brands you use or how accurately you follow the recipe or what you like to add creatively to the dish. Use the information as a general guideline only.)
Prep Time:

20

Cook Time:

20

Category:

KETO LOW-CARB

Method:

BOILING

Cuisine:

DINNER
Nutrition
Serving Size:

1

Calories:

286

Sugar:

2.6

Sodium:

337

Fat:

21.4

Saturated Fat:

3.1

Unsaturated Fat:

NA

Trans Fat:

NA

Carbohydrates:

23.8

Fiber:

16.3

Protein:

11.1

Cholesterol:

109
Keywords: keto pasta, low-carb pasta, keto pasta salad, low-carb pasta salad, keto cold pasta salad, keto, keto-recipes, ketogenic-diet, ketogenic-recipes, low-carb, low-carb-recipes, lazy-keto, sugar-free, sugar-free-recipes, keto-and-wine, paleo, paleo-diet, paleo-recipes, lazy-paleo, , paleo-and-wine, primal-diet, primal-diet-recipes, caveman-diet, caveman-diet-recipes, gluten-free, gluten-free-recipes, gluten-free-with-wine, grain-free, grain-free-diet, grain-free-recipes, grain-free-recipes-with-wine, anti-inflammatory-diet, anti-inflammatory-recipes, dairy-free-diet, dairy-free-recipes, dairy-free-recipes-with-wine,
FREE e-cookbook called OODLES OF LOW CARB NOODLES
Join our family to get your FREE e-cookbook OODKES OF LOW CARB NOODLES + new recipes in your inbox.
Latest posts by Shari MAC
(see all)