KETO LEMON GARLIC CHICKEN THIGHS (HEART HEALTHY)
 try to come up with new recipes to enjoy our proteins.  Love this easy Keto Lemon Garlic Chicken thighs recipe.  Shawn and I don't eat a lot of potatoes.  But I decided to do this dish with a few potatoes, so we could enjoy some healthy carbs.  If you don't like potatoes, place the chicken and sauce over cauliflower rice. 
Lemon chicken is made around the world, such as in China, Greece, Italy, and Portuguese.   This dish uses thighs with bone-in (for added flavor) and the skin.  The crispy skin kicks up the texture in the dish, adding to the culinary experience.  You can add salt if you like.  But the chicken already has sodium.  Shawn and I tend to cook without salt to keep our sodium intake low. 
WHAT IS THE NUTRITIONAL VALUE OF KETO LEMON GARLIC CHICKEN THIGHS? 
Good nutrition in Keto Low-Carb Lemon Garlic Chicken. One medium, baked chicken thigh with the skin on provides 140 calories, 14 grams of protein, 0 grams of carbohydrate, 9 grams of fat (3 grams of saturated fat, 4 grams of monounsaturated fat, 2 grams of polyunsaturated fat), and about 275 milligrams of sodium.
WHAT IS THE TASTE PROFILE OF KETO LEMON GARLIC CHICKEN THIGHS?
The predominant taste sensations of Keto Lemon Garlic Chicken are fattiness (from the butter), tanginess (from the lemon), and pleasant toasty bitterness (from the cooked garlic). 
WHAT WINE HARMONIZES KETO LEMON GARLIC CHICKEN THIGHS?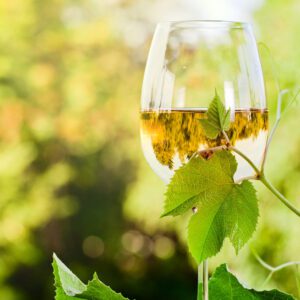 With the predominant taste sensations Keto Low-Carb Lemon Garlic Chicken being fattiness and tanginess, this dish works extremely well with rich, buttery white like Chardonnay or Viognier.  The wine's viscosity complements the fattiness of the butter and thighs.  The wine's acidity marries well with the tanginess of lemon.
*Wine Tips: To support your Keto diet or low-carb lifestyle, choose low-carb, low-sugar, and low-alcohol wines that are free of additives and artificial coloring.  Include your wine carb macros as part of your meal.  Remember, your liver will process alcohol before nutrients, pausing ketone creation and slowing the ketosis process. Your body will also metabolize alcohol as fuel before using food. This can slow fat burning and may cause your body to store carbs, fat, and protein as excess body fat.  Alcohol consumption also stimulates the appetite.  So, drink low-sugar, low-carb, and low alcohol wines in moderation.
WHAT KETO LOW-CARB HEART HEALTHY RECIPES CAN YOU ENJOY?
Keto Low-Carb Montreal Strip Loin (Healthy Heart)
Keto Low-Carb Hamburger Buns (Healthy Heart)
Keto Low-Carb Stuffed Pork Chops (Heart Healthy)
Keto Low-Carb Egg Foo Young (Heart Healthy)
Keto Low-Carb Bacon-Wrapped Salmon Asparagus (Heart Healthy)
WHAT IS SHARI MAC'S PRODUCT RECOMMENDATION FOR YOUR KETO LOW-CARB DIET?
I wanted to share with you the BEST thing you can do for yourself to support your Keto Low-Carb diet.  Invest in a Vitamix Blender!  I stand behind this product 100%.  This Vitamix is a long-term investment worth every dollar! I use this Vitamix for almost daily all of my Keto diet needs – smoothies, ice cream blends, hot soups (made right in the Vitamix), sauces, and more!  Every other blender I purchased before my Vitamix failed within a couple of years.  This blender is a work horse. My best-friend has had her Vitamix for over 20 years with NO issues!  I just got my Vitamix this past year and LOVE IT!
HOW DO YOU PREPARE KETO LEMON GARLIC CHICKEN THIGHS?
Print
KETO LEMON GARLIC CHICKEN THIGHS
---
Description
Keto Lemon Garlic Chicken can be served for lunch, brunch, or dinner. The recipe uses chicken thighs, lemon, butter, garlic, and thyme. If you are hunting for a simple and delicious chicken thigh dish paired with wine, check out this recipe.
---
8 chicken thighs (bone in) (chicken breasts for Keto Healthy Heart)
Zest of 1 lemon
3/4 cup grass-fed butter
12 cloves garlic, minced
1 tablespoon dried thyme
10 to 15 small white potatoes, cut*
1 lemon, sliced into rounds
Freshly ground black pepper as desired
---
Instructions
*

A quick rinse under cold water can wash away surface starch. More starch is removed from a cut potato than a whole peeled potato, because a greater surface area is exposed on cut potatoes. Soak potato in cold water for as long as a few hours to remove more starch and then blanch in boiling water to remove even more starch.

Preheat oven to 425°.  Or pre-heat air-fryer to 400F.  Grease a baking pan.  Pat chicken thighs dry with a paper towel. Set aside.  Zest the lemon.  Set aside.  In a blender or Magic Bullet add garlic and butter.  Puree until garlic is almost liquefied, butter melted.  Pour butter mixture, lemon zest, and thyme into a bowl.
Dip each thigh into butter moisture and set it in the pan.  Using a small spoon add a little butter mixture under the skin of each thigh.  Repeat the process for all the thighs.  Toss potatoes in the remaining butter mixture and set potatoes into the pan with the thighs.  Add lemon slices atop thighs.  Season with pepper.
Bake chicken for about 35 minutes or until chicken is cooked.  Or air-fry for 15 to 20 minutes until chicken is cooked and juices run clear.  To crisp, the skins and potatoes set pan under the broiler for about 2 to 5 minutes or until golden.  Remove the pan, turn the potatoes, and continue broiling to make potatoes golden all over.  Set chicken and potatoes on a plate.  Drizzle with lemon, garlic, butter sauce.
Notes
The recipe is based on the keto version and is approximate only.  One serving has 4.7 grams of net carbs. Potatoes not included.
(Note: The nutritional information provided is a courtesy and is approximate only.  We cannot guarantee the nutritional accuracy of any recipe on this site.  We cannot know what brands you use or how accurately you follow the recipe or what you like to add creatively to the dish. Use the information as a general guideline only.  Net carbs are the total carbs minus the fiber.)
Prep Time:

15

Cook Time:

35

Category:

KETO LOW-CARB

Method:

BAKING

Cuisine:

DINNER
Nutrition
Serving Size:

2 thighs

Calories:

971

Sugar:

0.5

Sodium:

540

Fat:

59.9

Saturated Fat:

28.8

Carbohydrates:

4.7

Fiber:

0.8

Protein:

99.6

Cholesterol:

394
Keywords: keto, keto chicken, keto chicken thighs, keto chicken thighs recipes, keto-recipes, ketogenic-diet, ketogenic-recipes, low-carb, low-carb-recipes, lazy-keto, sugar-free, sugar-free-recipes, keto-and-wine, paleo, paleo-diet, paleo-recipes, lazy-paleo, , paleo-and-wine, primal-diet, primal-diet-recipes, caveman-diet, caveman-diet-recipes, gluten-free, gluten-free-recipes, gluten-free-with-wine, grain-free, grain-free-diet, grain-free-recipes, grain-free-recipes-with-wine, anti-inflammatory-diet, anti-inflammatory-recipes, dairy-free-diet, dairy-free-recipes, dairy-free-recipes-with-wine,
FREE e-cookbook called OODLES OF LOW CARB NOODLES
Join our family to get your FREE e-cookbook OODKES OF LOW CARB NOODLES + new recipes in your inbox.
Latest posts by Shari MAC
(see all)